ISA BOULDER is making awkwardly sexy swimwear
The label's experimental designs place sustainability and Balinese craftsmanship at the forefront.
Photos by Jimin Son.
Considering the standard moda operandi of social media's newest and most popular swimwear labels -- the model-cum-CEO promoting their latest suits via mirror selfie -- it might be surprising to learn that the founders of Bali-based swim label ISA BOULDER have both never worn a bikini in public. Although interesting to note, this hook-worthy tidbit is only a small thread in the web of what makes ISA BOULDER one of the most unique and exciting swimwear brands in recent memory. Since its inception, co-founders and friends Cecilia 'Lia' Basari and Yuli Suri have placed sustainability and Balinese craftsmanship at the label's forefront, all while redefining 'sexy' from the inside out.
While Lia possesses a BA in womenswear from Central Saint Martins and Yuli, years of experience in the Bali's garment industry, the pair founded ISA BOULDER -- and came upon swim as a category -- almost serendipitously. When a local clothing production company began laying off staff, in favor of cheaper production overseas, the duo took on its seamstresses to form what is now known as ISA BOULDER. As their newly-formed team happened to be highly-trained in swimwear, Yuli and Lia decided to focus their first collection on this specialty, although they are already expanding the brand's vision – into knitwear – for autumn/winter 20.
Upon founding ISA BOULDER, Yuli and Lia agreed to keep the label based entirely in their native Bali. By keeping the brand local, the pair are able to oversee in-house manufacturing (keeping it as sustainable as possible by reappropriating uncut fabrics and offering made-to-order pieces) and take part in the studio's day-to-day. ISA BOULDER's production team is comprised entirely of women, who have built a near-familial bond through their previous work together. "It was this instantaneous chemistry within our production team that makes everything smooth-sailing," Lia says. "Coming to work always feels like a friendly gathering because the production area will be putting on Dangdut (local techno-folk music) and singing along loudly." They're also perfectionists who approach their work -- be it cutting, sewing or quality control -- with the utmost delicacy and the highest standards.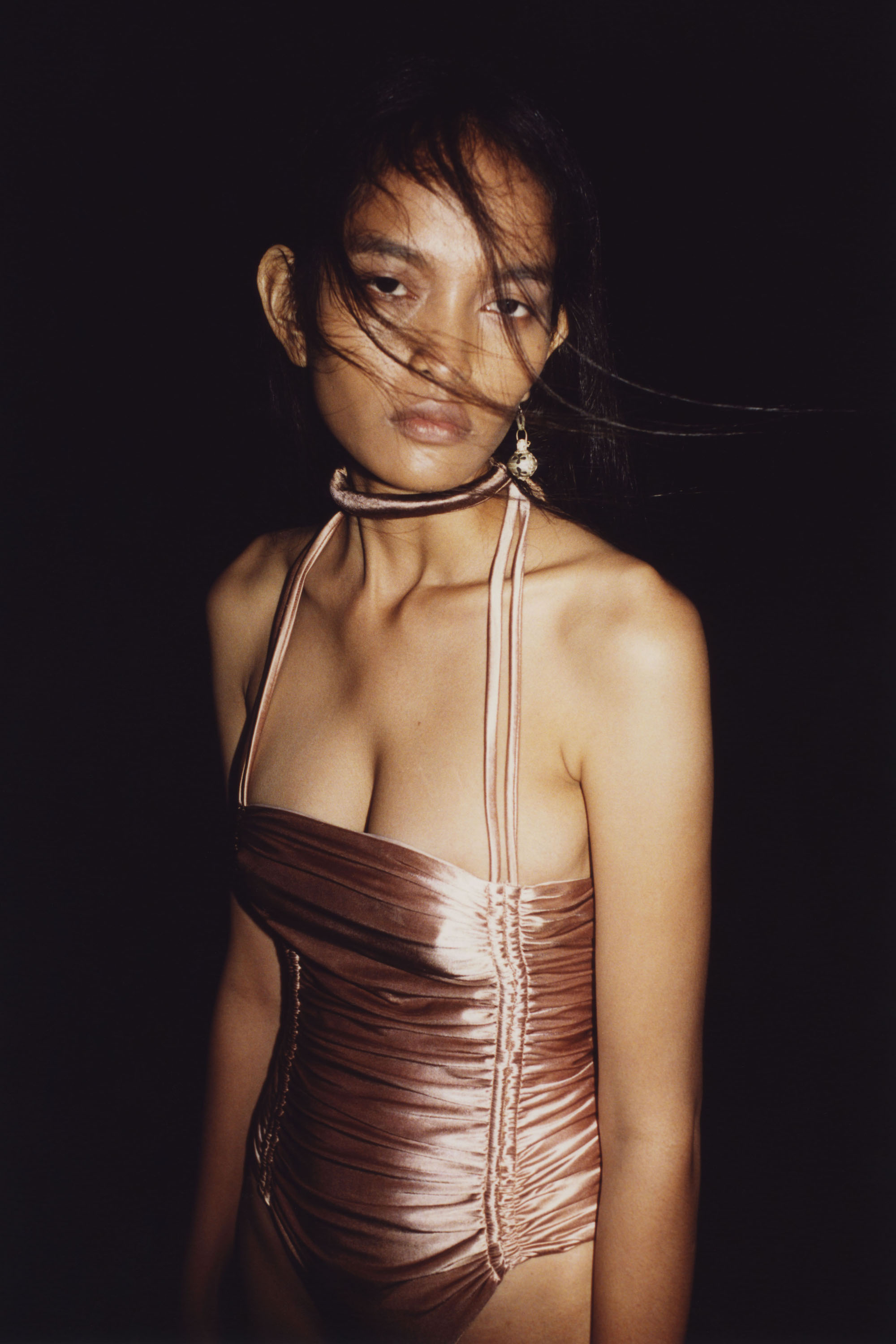 Since establishing their studio in the Bali garment industry, the designers have made it a common goal to showcase the craftsmanship and quality behind the 'Made in Indonesia' label. "We are a country with a very rich culture and history in arts and crafts. We have to give credit to that and understand that [Indonesians] are more than capable of just producing your typical 'rattan' bags or some cheap souvenirs. There is a bevy of talented artisans whose skills are overlooked because production is cheaper in other parts of Asia," Lia says.
But keeping production local was not without its challenges. "As the company grew, we realized that, for us, it was more than just selling clothes. We had become the livelihood of many of our staff, with the majority being women who are breadwinners in their household," Lia says. "In this bad economy and declining tourist climate, we had to continuously figure out ways to create a sustainable and stable company that would ensure a good livelihood for our team."
Yuli and Lia have, each, never worn a bikini in public. The former, due to religious reasons ("But it doesn't mean that I can't appreciate a woman's beauty when they're in a bikini," she notes) and the latter, due to her disposition ("I am generally a tomboyish persona, so I choose not to wear a bikini and just wear a one-piece because it covers all my body hair. Yes, it is everywhere!" she laughs). But rather than act as a detractor, this fact actually helps the duo refine their designs: "If a person who wouldn't usually wear a bikini or one-piece would be tempted to wear the design, then we have succeeded," Lia says.
The designers hope to offer women swimwear and lingerie options that highlight their bodies. Albeit in their signature, unconventional way with layered one-pieces that add volume and strangely placed cut-outs. As they've honed their craft, the design process has become empowering for the duo, themselves: "It's actually fun to explore [the effect of] exposing certain areas of the body, which are [either] taboo or acceptable. Blurring that line is our way to liberating a part of us, as women, who have self-esteem issues."
Among the nihilistic captions sprinkled across ISA BOULDER's Instagram feed ("I will miss this sunset when the apocalypse comes 🌞") are more sobering entries, veiled in the subtlest of sarcasm. "My eyes are up here 👀" subtitles a close crop of breasts in one of the label's suits. "Shift your male gaze elsewhere 👓" accompanies a photograph, taken from below, of a model wearing the new Edie one-piece. As a pair of women creating swimwear for women, Lia and Yuli feel a sense of duty to design against the patriarchal standards that have governed the category since its inception. "When we design, there is almost this rebellious streak and intention to design against what men would typically find sexy," Lia explains. "To subvert that archetype and hopefully confuse them with it to emphasize the point that sometimes women would like the power of feeling sexy not for the benefit of men, but for ourselves."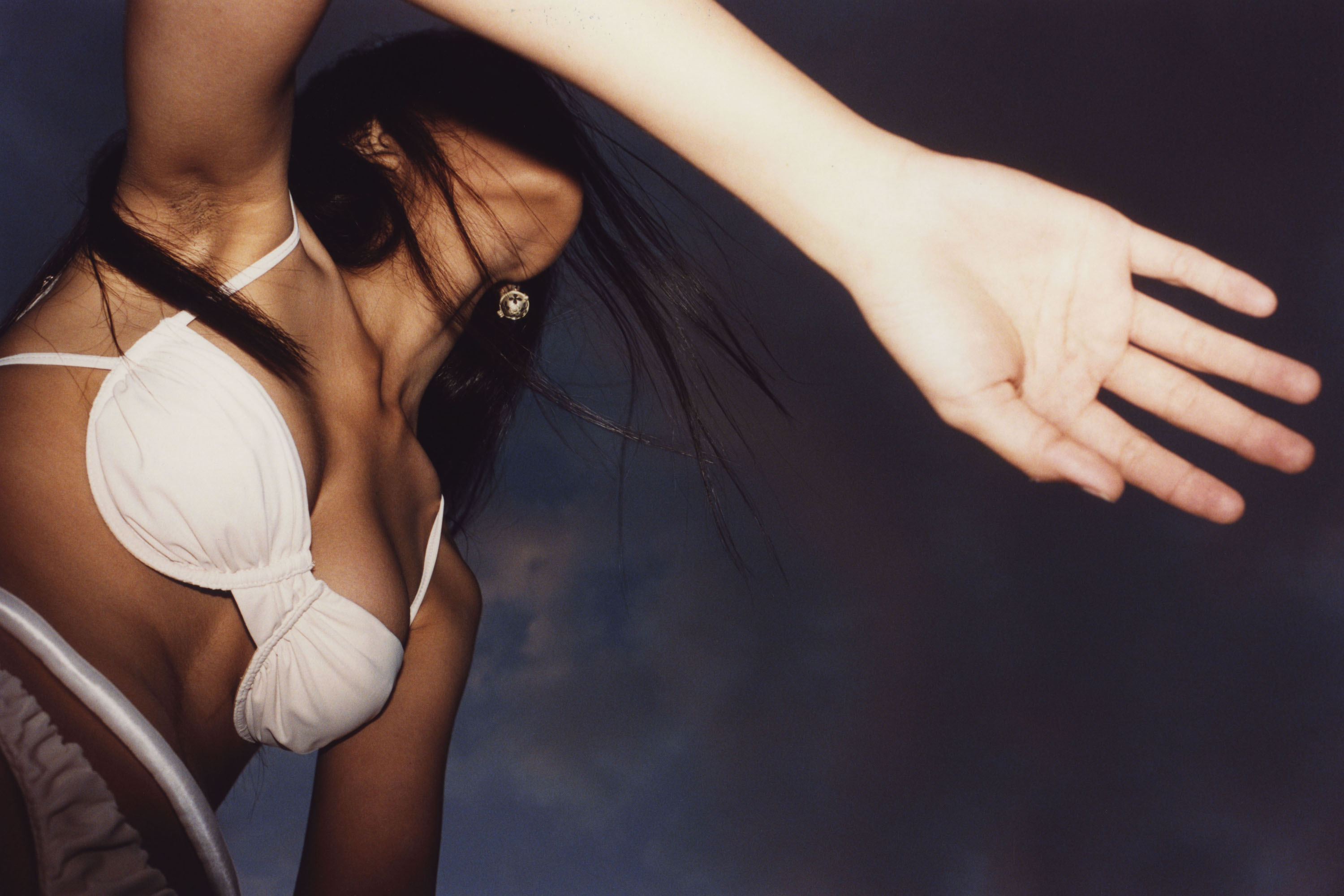 The duo define ISA BOULDER's aesthetic as "awkwardly sexy." Despite its immediate connotations, the term isn't meant to be derogatory, but aspirational. It's a means of expanding the standard definition of 'sexy.' "Sexiness is an interesting subject to touch on because we are probably the two most unsexy people you will find in a room," Lia elaborates. "And this is also exactly why we would like to present sexiness in a less polished, more raw and questionable form."
Lia reaches to a photograph of singer Kelsey Lu as an example of this new kind of sexy. "Kelsey Lu, one of our muses, wore our bikini bottoms with her pubic area unshaved and it's one of the most inspiring pictures. Women like Kelsey continually inspire us and, by showing us the true meaning of sexy, she serves as a constant reminder that we are designing for women who are actually dressing sexy for themselves, not others," she says. "Hopefully someday we could all embrace being selfish and sexy, because it's really about feeling sexy for ourselves while not confining to patriarchal standards of female beauty."
The bikini Lu is wearing belongs to ISA BOULDER's spring/summer 20 collection, which represents a marked departure from the label's previous look. "The first collection was a familiarization process for us," says Lia. "For our second collection, we had more time to actually explore fabrication." The designers have patiently built their expertise and this work comes across in a newfound experimentalism. Chunky tubular straps, appealing in a unsettlingly way, wrap like tentacles around the curve of a hip, the dip of a décolletage; ruched bikini briefs are what Lia calls "a scrunchie for your bottoms"; pillowy draping in abundance.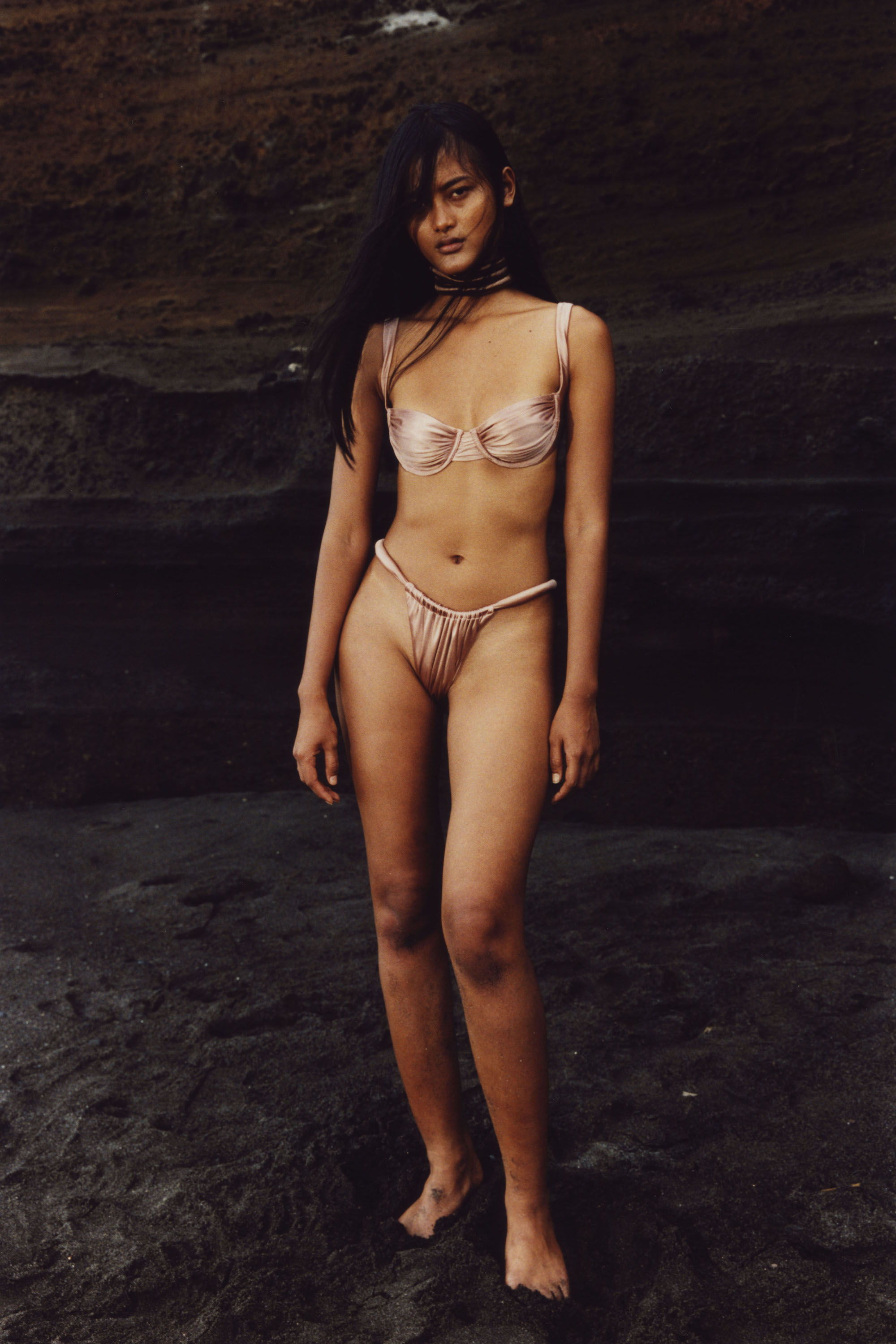 Most evident is the collection's lustrous satin-like jersey, a first for the brand. "To be honest, [the fabric] is so beautiful but is quite a nightmare to work with," Lia laughs. "[It] exudes such a glamorous mood and elevates the swimwear pieces to have a more night-ready look. You could easily wear the one-piece as a bodysuit and it looks super luxe." Incidentally, the designers titled the collection "By Night;" the lookbook, photographed by Jimin Son and styled by Shayna Arnold, was shot on the beach, at dusk. "With flash photography, the satin-like fabric [comes] alive and allows the chiaroscuro effect to create a more dramatic tone." It's easy to picture these pieces being worn to the beach, folds of fabric catching sparkles of sunlight, and then 'out', after hours, ready to light up under the flash of an iPhone camera.
So what is next for the label? For autumn/winter 20, ISA BOULDER is expanding its offbeat vision across a selection of knitwear. Since starting their label, Yuli and Lia have been keen on creating knitted garments as they're some of the most sustainable to produce -- using only the necessary yarns and leaving virtually zero material waste. As with their swimwear, the duo continue to work closely with local knitwear and crochet artisans, who possess such vast experience and knowledge that the pair felt their design process was near-limitless.
The label's upcoming collection is inspired by female angst -- the kind driven by reckoning with and embracing one's womanly duality -- the push-pull, but also the complementariness, of fragility and strength, emotionality and rationality. While traditional knitwear carries associations to domesticity, or even homeliness, ISA BOULDER's AW20 collection is designed to empower women and to embrace their sexuality. Open-knit bodysuits that insinuate the curves of a lingerie set, crocheted garter belts and stockings to convey the multiplicity of women.
Despite the lush beauty and covetable strangeness of ISA BOULDER's garments, conversations of design or aesthetics always return to the currents that have guided the designers since they founded the label: "Beyond attempting to make experimental clothing, or following our crazy whims, it is a priority for us to produce our clothing in a meaningful and conscious manner."