Fredrik Tjærandsen's bubbles are coming to the V&A
Ahead of his presentation as part of the museum's Fashion in Motion series, we catch up with the CSM grad to hear more about what he has in store.
Image courtesy of V&A
When the Victoria and Albert Museum debuted its Fashion in Motion series back in 1999, it was a slightly more humble affair than today. Models would amble through the South Kensington institution's galleries, with visitors happening upon them by chance. This poetic format went off without a hitch for its first few iterations, though the programme's rapid growth in popularity meant that a change of tact was soon required. "The models were so mobbed by the crowds, and people pushing to get to see them, that they had difficulties walking around the museum as they walked," says Oriole Cullen, the V&A's Curator of Modern Textiles and Fashion. Baying crowds and priceless art hardly make for an ideal mix, after all.

The series now calls the Raphael Gallery home, a vast barrel-vaulted hall that houses the High Renaissance painter's treasured Cartoons. But despite the change in setting, the programme's founding principles of the series have remained intact. Three times a year, members of the public are invited to ballot for free tickets, breaking down the barrier of exclusivity that typically exists between fashion shows and their wider, interested audience.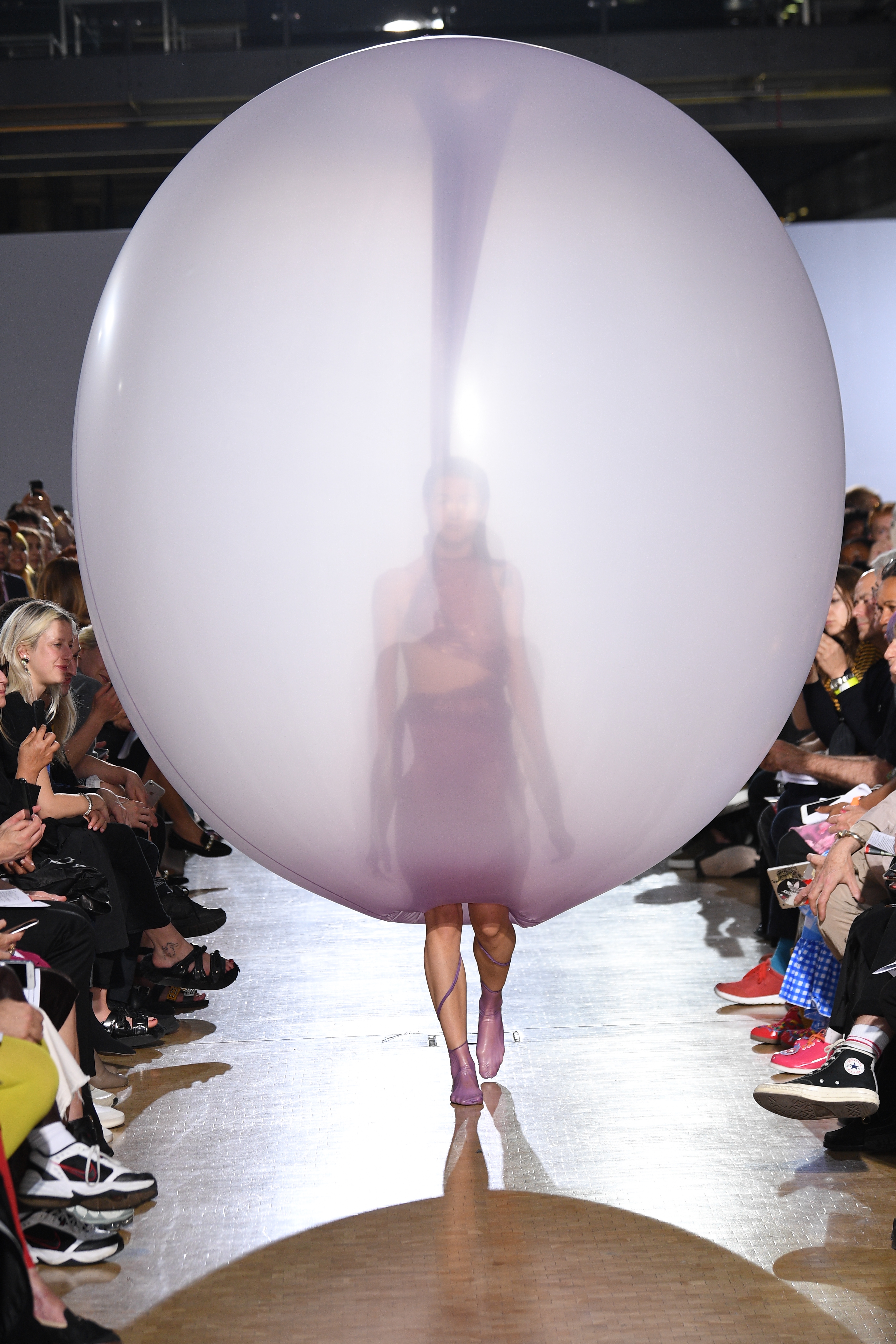 In its 20 year history, Fashion In Motion has democratised access to the work of established designers like Alexander McQueen, Yohji Yamamoto and Jean-Paul Gaultier, and introduced emerging talents like Molly Goddard and Grace Wales Bonner, to fresh eyes beyond the industry's often-insular parameters, as Oriole explains: "We have a great opportunity and platform to be able to intersperse our presentations with established designers with those by younger designers and experimental designers."
Few could argue that the next designer in the storied series doesn't fit the bill then. After enchanting the fashion world with his CSM graduate presentation, Norwegian designer Fredrik Tjӕrandsen will be showing a developed version of Moments of Clarity, his collection of sculptural 'bubbles', to the general public on the 24th of January.
They probably won't need much of an introduction to his work though. Almost as soon as the designer's surreal, richly-hued rubber bubbles had deflated into artfully draped skirts and gowns, word -- or rather video -- quickly spread. It only took a matter of days for a fresh-out-of-school Fredrik to acquire a legion of fans across the world, with few more ardent than Oriole. "The CSM BA shows are always fantastically interesting, and there's always that one person where you think... they're definitely one to watch," she says. "His show was just such a transporting experience -- lots of people were really overcome, and so many people were talking about it for so long afterwards. I immediately thought it would be amazing to work with him."
During a run-through of Friday's show, we caught up with Fredrik to learn more about the meaning of the collection's title, how his work interacts with the incredible setting, and why he doesn't consider his work a garment practice.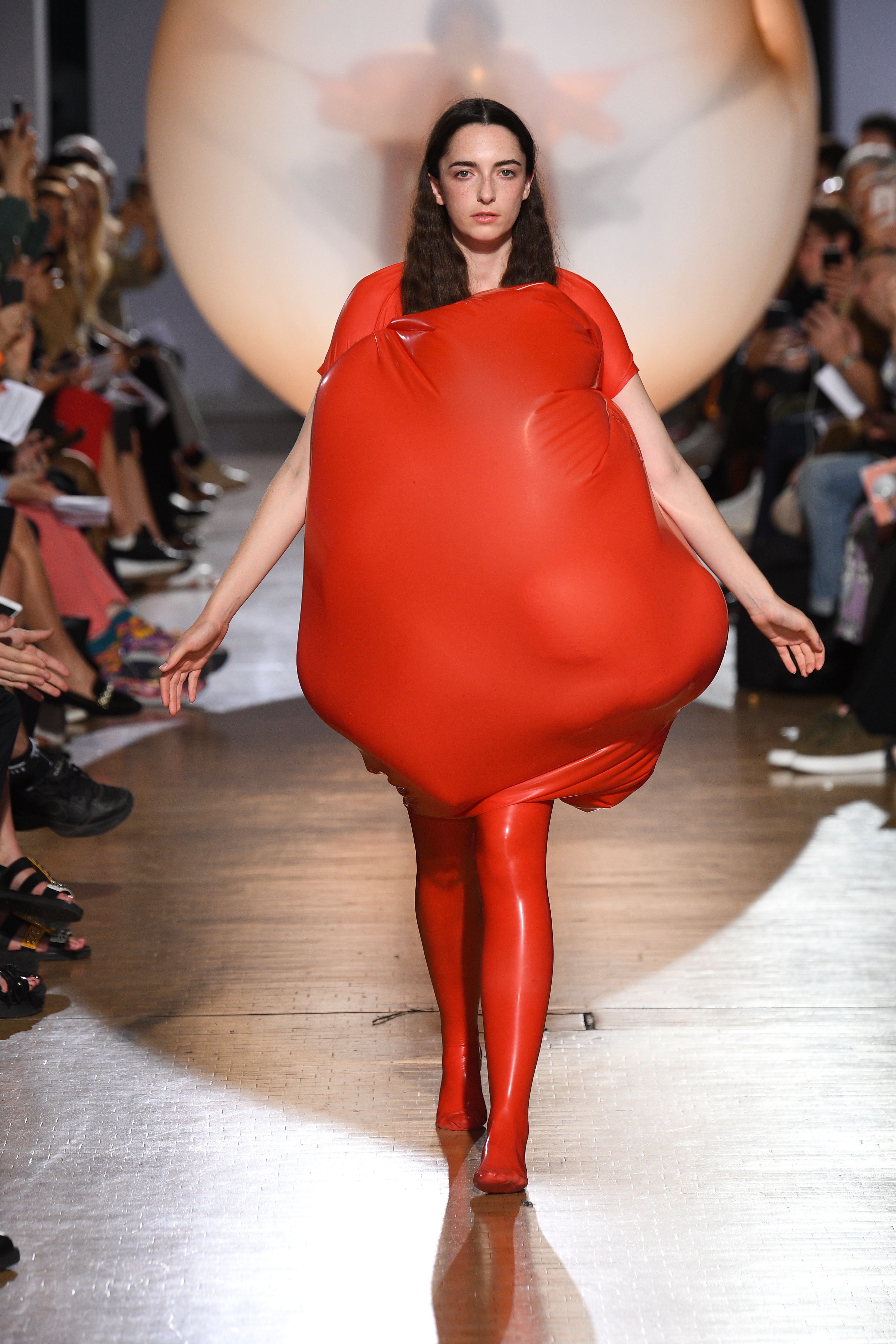 What's behind the collection's title, Moments of Clarity?
I'm fascinated with where identity originates, so my collection centres on examining early childhood memories. I wanted to explore the question of how I became the person I am today, and, to be able to answer it, had to go back as far as I possibly could to assess who I was and who I am now. To do that, I played with the idea of transitional processes, which relate to the different ways we perceive things.
The bubble serves a metaphor -- when you're inside it, you feel as if you're in your own space, just like you are in your own mind. But when you're looking at it from the outside, your perspective's entirely different. I think of it as a visualisation of how we understand the world around us: how, if we transcend the borders of our bubbles, we ultimately reach these moments of clarity in the here and now.
Given that the transition of form in real-time is quite central to your work, Fashion in Motion seems like an ideal setting. What has it allowed you to achieve that you might not have been able to with your graduate presentation?
With my graduate collection, space was quite a limiting factor, as the narrow catwalk restricted the free movement of the bubbles. This setting, on the other hand, is much more open. It's really allowed me to explore how my work relates to space and to the viewer.
For example, the audience won't be seated and will be free to walk around the bubbles in the centre of the room. They'll have the opportunity to experience my work as they like, from their own perspectives. They'll also be free to touch the bubbles if they want to, which adds a tactile element -- though that does entail a certain responsibility, as they're quite fragile and can easily burst.
With regard to the space itself, I think it really complements the ideas in my work. The Raphael Gallery has an incredible barrel-vaulted ceiling, so it's almost like the viewers are in a bubble themselves, entering a dream when they walk into the room.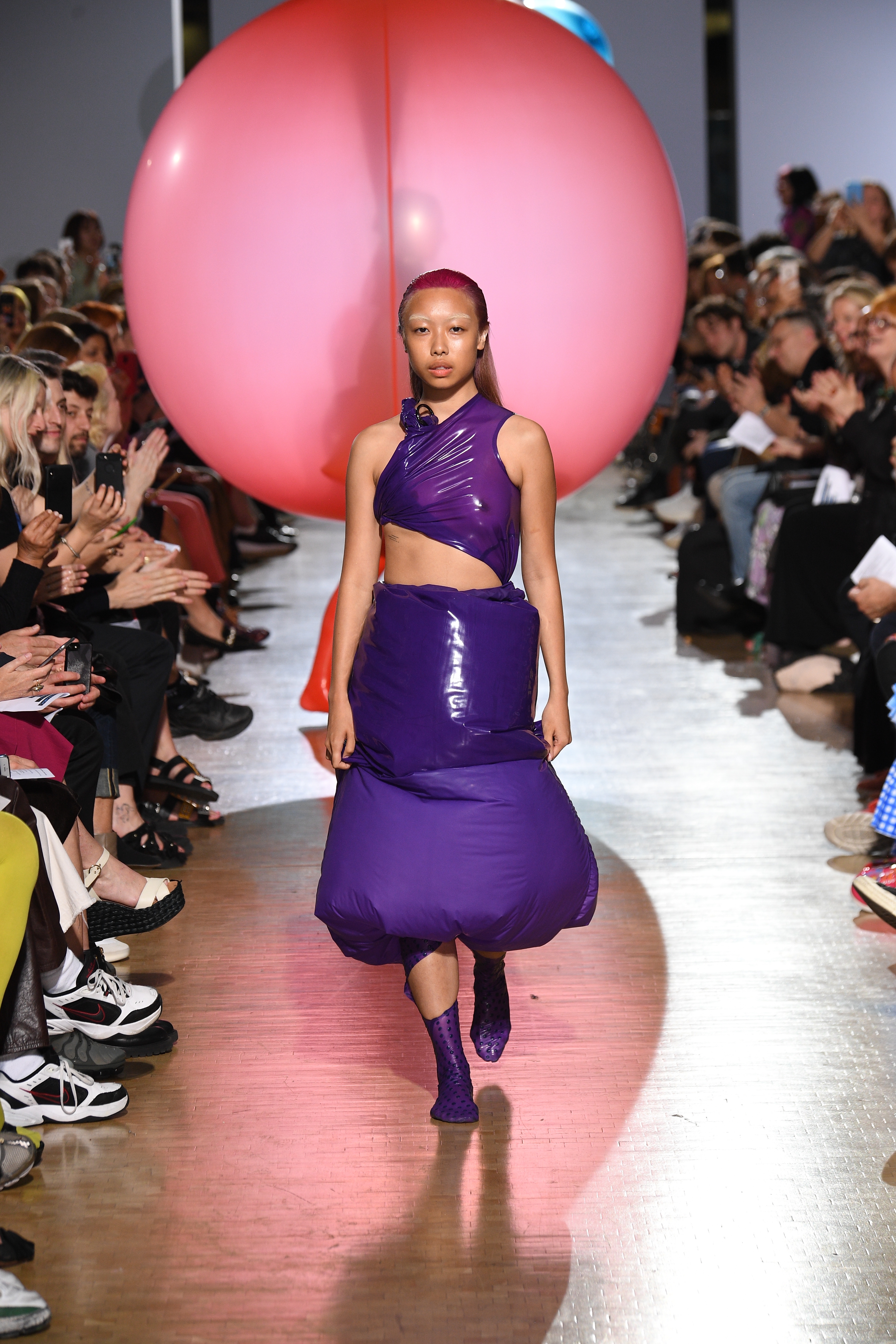 A lot of attention has been on the spectacle and performative elements of your work, do you think of your work as a garment practice?
No, not really! I think of it more as a design practice that works with different elements, though my fashion education has obviously had a strong influence: working with the human body, and using it as an expressive tool, is a crucial part of my practice. The performative value of my work is also important, but at the same time, it really is all about design. I love constructing things out of different materials, pattern-cutting and making things to a really exacting standard… I just love good design, basically.
So where do you think your work sits most comfortably?
I like different types of spaces, and I'm interested in exploring my work on as many different platforms as possible, both physical and digital. So it's a great opportunity to be able to show my work in the context of historical buildings and artworks -- it's quite a shift from your typical fashion context. But I don't like to be comfortable with anything in my work. I'm always striving to explore things further, and the development and research stages are crucial. My whole process, as well as this collection, is about transition -- which also translates to the different contexts in which I show my work.
How do you feel the museum context of Fashion in Motion will affect the way your work's perceived?
It's much less exclusive than a fashion context for one thing, as the fashion industry is, at its core, still so niche. As this performance is free, anyone who is interested can come to see it. I'm really excited to see how people will react to my work here, as their first impressions won't be as conditioned by a fashion lens. I've often been asked whether the bubbles are fashion, and how they can be worn, so I'm curious to see whether this question will change given the setting in which the work is shown.
Fashion in Motion: Fredrik Tjærandsen at The V&A Museum, Friday 24 January, 15.00 & 19.00. Tickets available here

Credits

---
Images courtesy of V&A