Everything that went down at last night's Golden Globes
For good reasons and bad, this year's TV and movie bash was unpredictable as hell.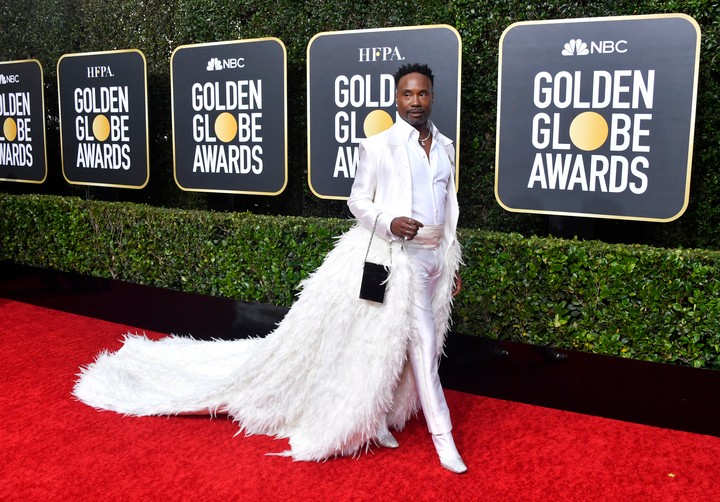 This article originally appeared on VICE UK.
Now, any awards ceremony that has the gall to snub Florence Pugh in Little Women and yet still find space for a song from the Cats soundtrack seems like an absolute hellscape to me. Unbelievably, that's what happened last night, as the Golden Globes returned to formally kick off the glitzy awards circuit for 2020. It's been a year since the last one, when Timmy Chalamet donned that glittery LV harness and we all went mental, and although he didn't show face tonight it was, as always, a starry affair. Everybody who's anybody rocked up: Jennifer Lopez looked like a literal gift, Billy Porter wore a train that threatened to wipe out everybody in a mile radius (and we love him for it), and Joey King wore Iris van Herpen haute couture (we stan!!!). There was lots to talk about -- some of it good, some of it bad, a lot of it quite surprising, actually. So without further ado, here's a few pointers as to what went down at Hollywood's first big red carpet event of the year.

Parasite deserved better
So Parasite, the masterful Bong Joon-Ho home invasion thriller that everybody's going mad for, was a real front-runner before things kicked off. Some critics had labelled it their film of the year, and rumours of it beating big, English-language favourites to the top prize had begun circulating. Alas, last night, director Bong walked home with the Best Foreign Language Motion Picture Prize -- missing out on Best Drama and Best Director. Both of which, we'd argue, it deserved. Plus, if Parasite had won best picture, it could have given one of the less-likely features in the Foreign Language category, like Sundance breakout The Farewell or Celine Sciamma's scintillating Portrait of a Lady on Fire, a moment in the spotlight. Still, Bong used his speech to point out the ignorance of people who've chosen to avoid cinema not in the English language so far: "Once you overcome the one-inch tall barrier of subtitles, you will be introduced to so many more amazing films."
1917 swept the boards
This much-talked about one-take war drama from Skyfall director Sam Mendes appeared late last month and positioned itself as a likely nominee for most of the big categories at this year's awards season. But the lack of accumulative hype (Parasite's been on the scene since May; most of the other nominees since August or September) meant few expected it to do much. Turns out we were wrong: the two big prizes, Best Drama and Best Director, went to 1917 and Mendes, respectively. After lots of talk about Marriage Story and The Irishman, could this be the flick that winds up winning awards season? It didn't seem likely just a day ago, but the Globes could have switched things up dramatically.
Awkwafina made history
In one of the night's sweetest and most surprising moments, The Farewell's lead star Awkwafina managed to make history by winning the Best Actress in a Comedy or Musical prize. It's the first time in the award show's history that an East Asian actor has won a top acting gong which, alongside Parasite's recognition, feels like the beginning of a shift in crusty old Hollywood's attitude towards the cinematically-rich region. Considering The Farewell wound up in the Best Foreign Language category instead of Best Picture, it's a surprising and worthy win for Awkwafina.
As did the Joker composer, Hildur Guðnadóttir
After many pointed out the severe lack of shine on women filmmakers and creatives outside of the gendered categories, it's good to see that one of the few nominations they did get ended up in a win. In a busy category, battling against industry heavyweights like Randy Newman and Alexandre Desplat, the Icelandic composer Hildur Guðnadóttir took home the prize for her chilling Joker score. Women have famously been shut out of technical categories at movie award shows: Mica Levi was the last woman to earn an Oscar nomination for her Jackie score in 2017, and only six other women preceded her.
Netflix lost out
This was meant to be another knockout year for Netflix at the Golden Globes. Across movies and TV, they'd racked up a cool 34 nominations -- the most of any studio in 2020. But they wound up taking home just two prizes: Laura Dern for her savage and iconic performance in Noah Baumbach's Marriage Story, and Olivia Colman for her turn in The Crown. It's a strange call, considering all of the hype that surrounded the films the streaming service dropped this year. Laura's prize aside, fan favourite Marriage Story failed to gain any other wins, and Martin Scorsese's super-long, super-expensive gang film The Irishman? Not a single one. It's a blow they'll probably recover from a little later in the awards season, but for now, they must be feeling a bit bruised.
What was Tom Hanks' son thinking?
I wish we had some sort of explanation as to why this clip exists, but Tom Hanks' son Chet hit the Globes red carpet and decided to speak to a reporter… on camera… in patois? Here's hoping Tom pulled him aside after this.
And honestly, can we just give Little Women and Uncut Gems some love? :(
Long story short, Quentin Tarantino's Once Upon a Time... in Hollywood won the Best Picture – Musical or Comedy prize; Joaquin Phoenix won Best Actor – Drama for Joker; Renee Zellweger's turn as Judy Garland in the star's sweet, eponymous biopic managed to win over crowds for the respective Actress prize, while Rocketman's Taron Egerton seemed to appear out of nowhere and beat Leonardo DiCaprio. Meanwhile, Little Women and Uncut Gems -- two of our favourites -- managed to get pretty much completely snubbed. Does Greta Gerwig deserve better? Do the Safdie brothers deserve better? The answer is yes. But we guess that this microcosmic representation of the movie industry (just 80 people vote for the Golden Globes) leads to plenty of more-than-competent filmmakers being slept on. Let's just hope that, in just under a month's time, Florence Pugh is clutching the Oscar she deserves.