The young London brand making mental armour for testing times
LUEDER's tailored approach to casual menswear speaks to the desire for protection, and the will to find positivity amid chaos.
Courtesy Marie Lüder
Had you been wandering around the British Fashion Council's Discovery LAB during the most recent London Fashion Week in February, you might have happened upon a group of young men loitering about a small installation made of scaffolding. The models cut menacing figures, either leaning against the metal poles, staring at self-recorded films on iPads and phones, or stood upright and perfectly still. At first the clothes they wore seemed to fit perfectly into a familiar urban scenario: casual and apt for hard day's graft. A closer, longer look, however, and the quiet intelligence and delicate precision of their making came to the fore, casting their wearers in a much more nuanced, modern light.
"I've always thought of my work as a sort of mental armour for the protagonist at the heart of the brand's narrative," explains Marie Lüder, the designer behind LUEDER. "I develop clothes and talismans to accompany us on our journey towards an uncertain future, but that we can also enjoy in the here-and-now." Marie's vision is optimistic but wary, a mood that couldn't resonate more strongly with the current state of affairs. Yet, while it's certainly of the moment, her drive to make clothes that lift the wearer's spirit and offer a sense of protection traces back over a decade, to her time with a former partner who frequently struggled with his mental health. "I started thinking about how I could improve the situation for him, and that was by making garments for him to wear that would make him feel empowered," says Marie. It's an ethic she's continued to carry forward into her practice today.
For her AW20 collection, L'Amateur, Marie researched the term's etymology. "It comes from the French aimer, 'to like' or 'to love', so it's about prioritising passion over professionalism, relishing in the journey rather than focussing on the final destination," she says. "To me, being an 'amateur' really encapsulates this idea of forging your own path, and having the curiosity to discover the world however you like." That's not to say that a 'passion-over-professionalism' approach informs her making process. "I did a very classical three-year apprenticeship in the tailoring department at the opera in Hamburg, where you train to cut the perfect bespoke suit for the performers," she says.
From there she went on to study an MA in Menswear at the Royal College of Art in London, but rather than stick to her formal background in tailoring, she chose to apply these artisanal skills to contemporary designs. "I love suiting as it is, and didn't want to work on reinventing the craft. At the same time, I love the feeling that someone gets from wearing a well-tailored suit, that feeling of being hugged, in a way. So I tried to take that approach to other garments -- I want to make trousers that look like a casual pair of jeans, for example, but that recreate the feeling of a well-fitted, tailored pair."
Despite what the collection's easy, active-ready silhouette of fitted knit tops offset by generously proportioned trousers and roomy outerwear might suggest, each piece is intricately wrought. "I try to achieve the look of a normal straight-leg pair of jeans, but they're actually draped, with the fabric cut as one long spiral that wraps around the leg," she says, a detail you clock on closer inspection of their warped seams and accentuated knee panels. The nuance of her method is shown to full effect in the cream leather and two-tone denim variations, where broad swathes of contrasting fabric swoop from the fold-over button panel down each leg, opening at a buckle-secured knee. A similar approach is taken with spiral striped knit tops, as well as along the sleeve seams of a tailored roll-neck shirt.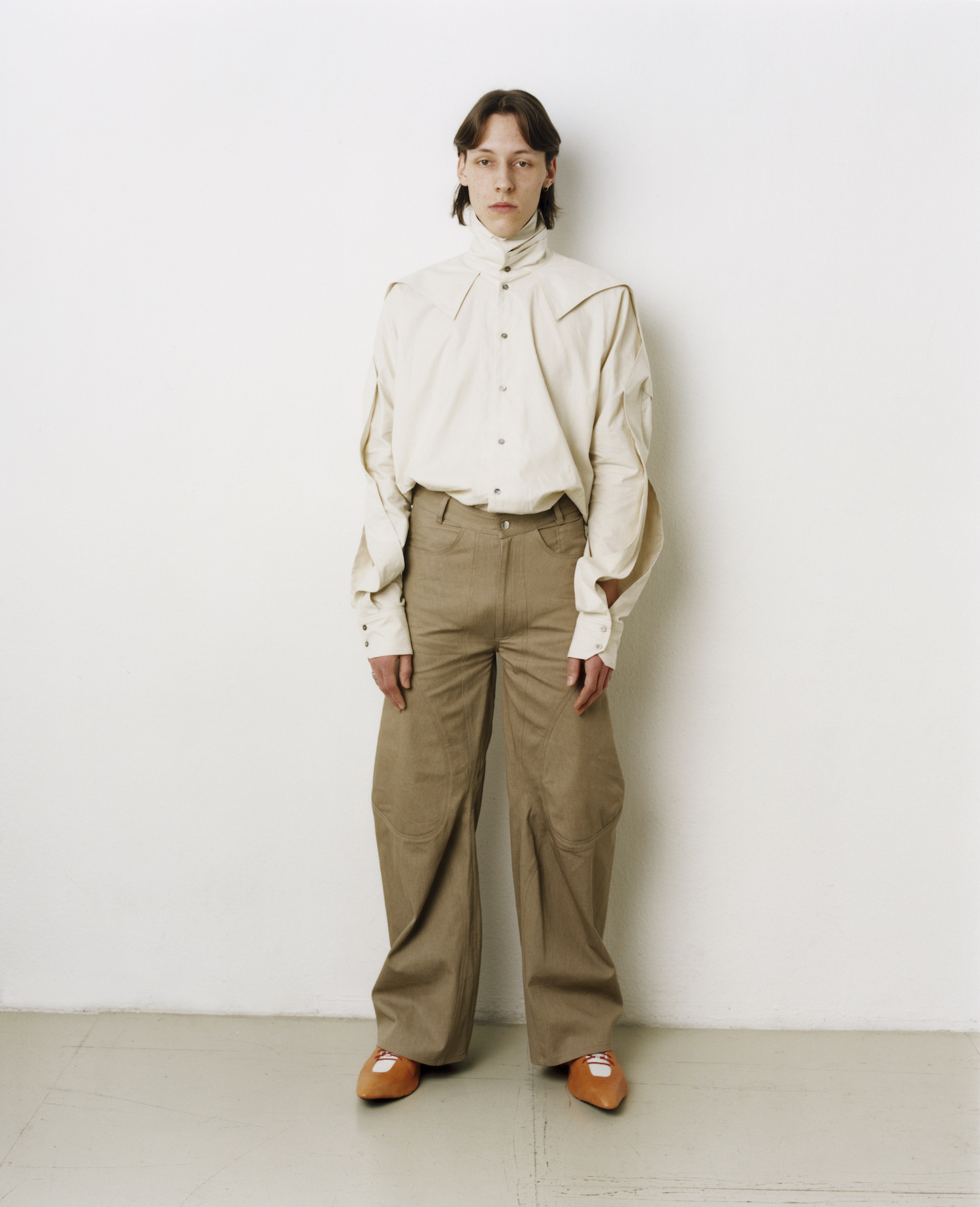 More than just a means of formal innovation, the repeated spiral motifs in Marie's work are of symbolic significance, too, epitomising the precarious nature of contemporary life. "It communicates a sense of chaos. With the spirals I use, there's a way in which it represents the chaos of reality as we currently experience it," she says. "But then there's also a way out, representing a future that's unforeseen, but is there for us to create." There are cotton T-shirts upcycled from a miscellaneous mish-mash of 80s corporate merch, the logos -- "neoliberal work signifiers", Marie calls them -- crossed-out by the spiral talisman appliquéd over the top. "It's my way of recognising that our generation won't make easy money like they did back then," she says. "But it's saying: ok, things are as they are, and we have to make the most of the situation we're living in."
The precariousness of modern labour conditions is also broached through colour, with pops of orange leather and turquoise against an otherwise uniform beige-to-brown palette. "It's funny, I think of this particular hue as a sort of new signifier for the gig economy," Marie explains. "In the same way that we associate certain greens with medical products, or a blue with the police, this turquoise reminds me of things like Deliveroo."
It's this desire to equip her protagonist for his journey through an ominous contemporary urban landscape that motivated the choice of scaffolding for her presentation, on which she collaborated with artist Thomas Grogan. "I thought, how can I show a microcosm of his world, the difficulties he has to overcome?" she says. "The scaffolding acts a bit like a parkour course -- a stylised manifestation of the hurdles and difficulties we all face in life." There's beauty to be found amid the bleakness though. The film each model watched on their phones or iPads was recorded via wearable glasses and edited from the footage they'd amassed going about their daily routines in London.
"A key part of living here as a young creative is that it's quite a harsh place," Marie continues. "It's a grey urban environment, and there are struggles that you go through just trying to pay the rent. But what I really like about the recording glasses I gave them is they render everything in these pastel tones. Everything becomes prettier, somehow. I wanted them to be able to look at that and realise how beautiful their lives are." In current times, it's a welcome reminder that there's always colour to be found along life's journey, no matter how grey things may seem.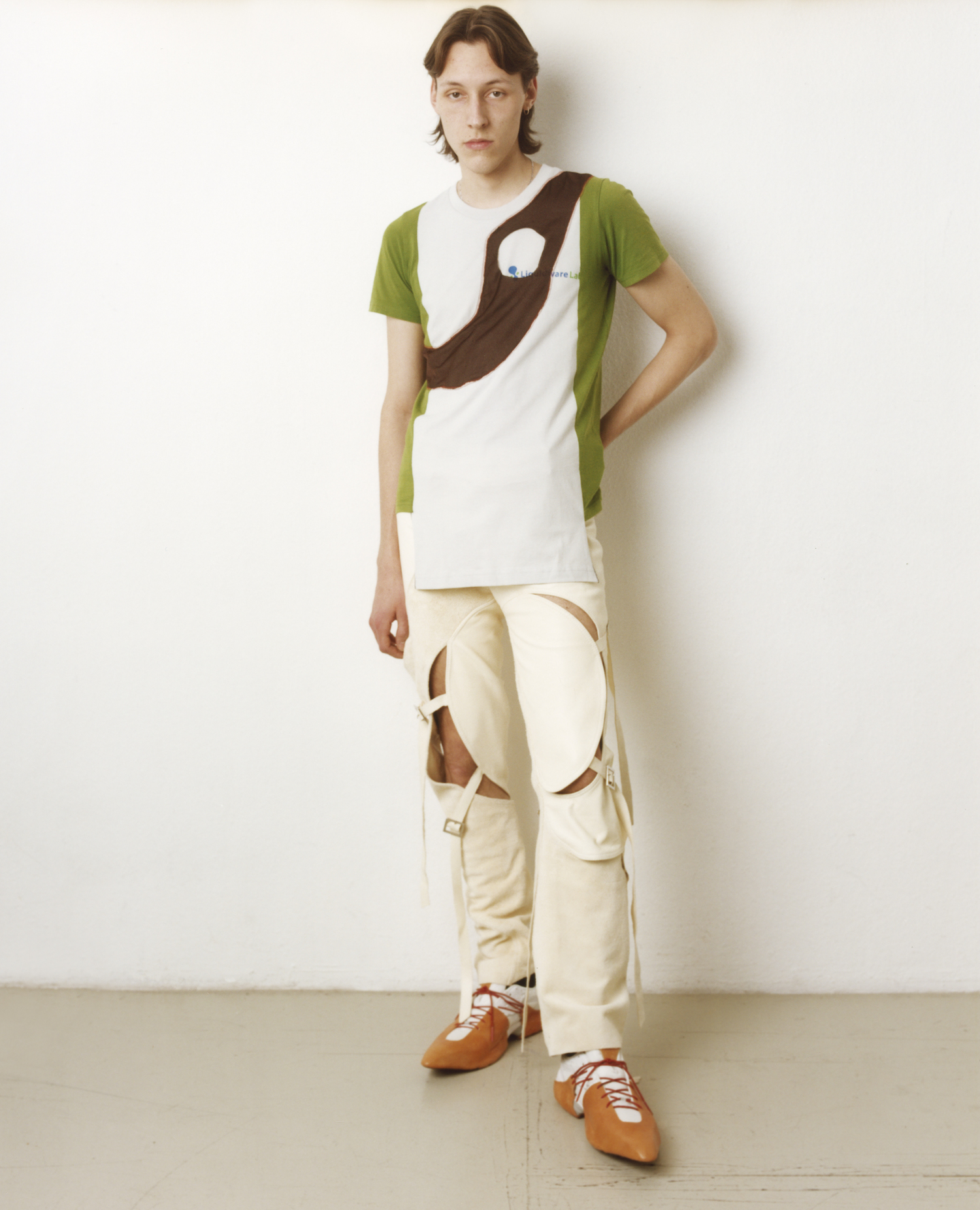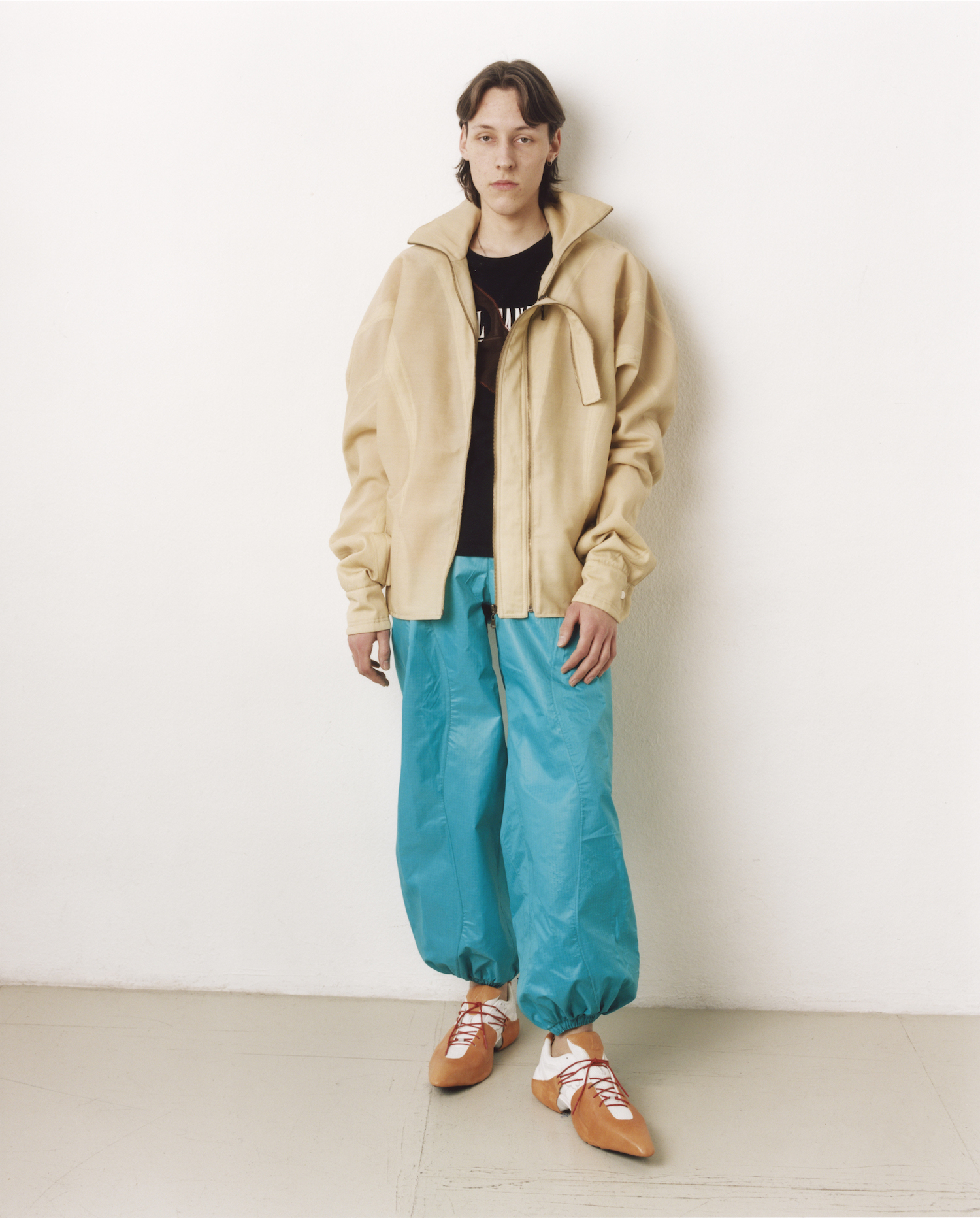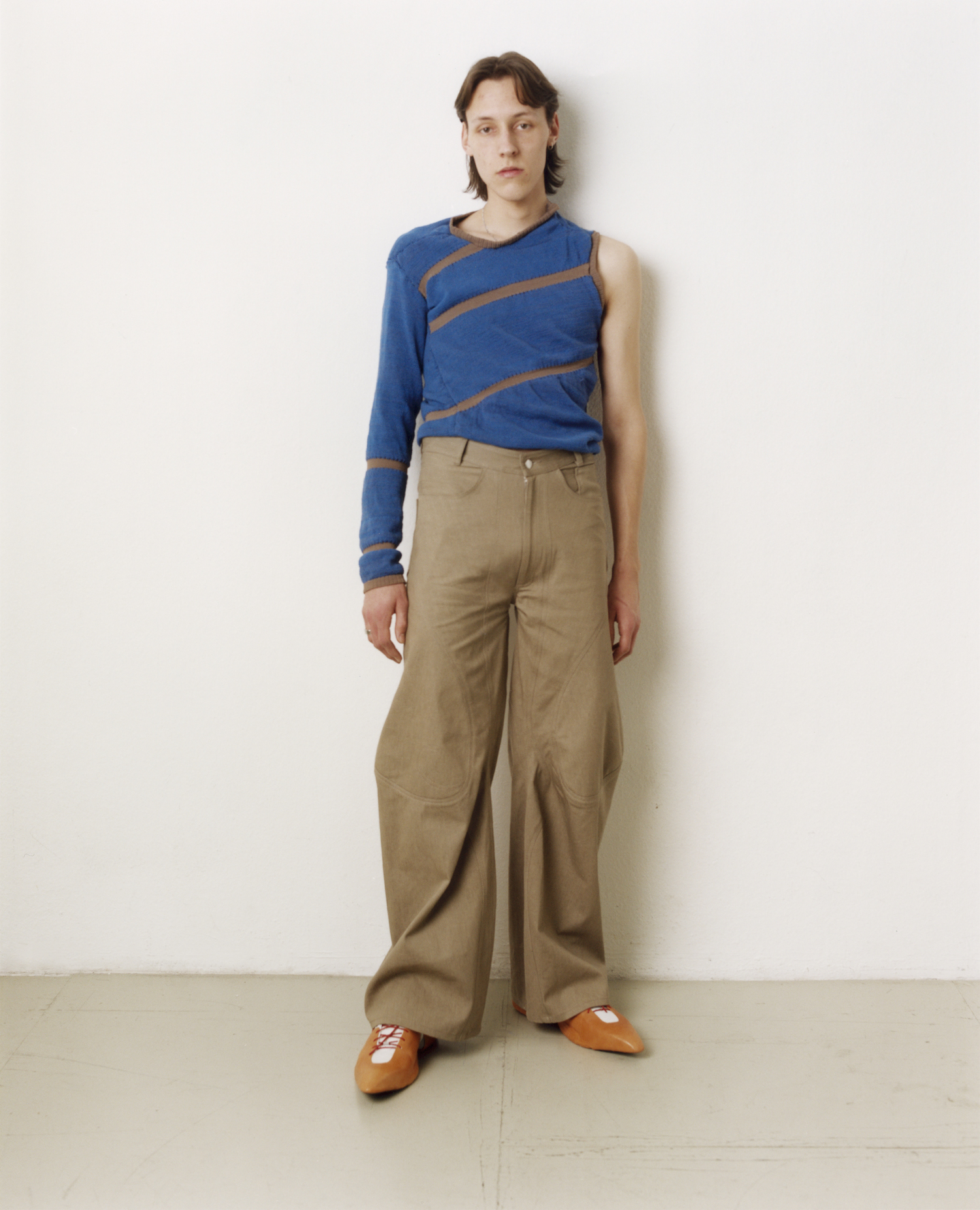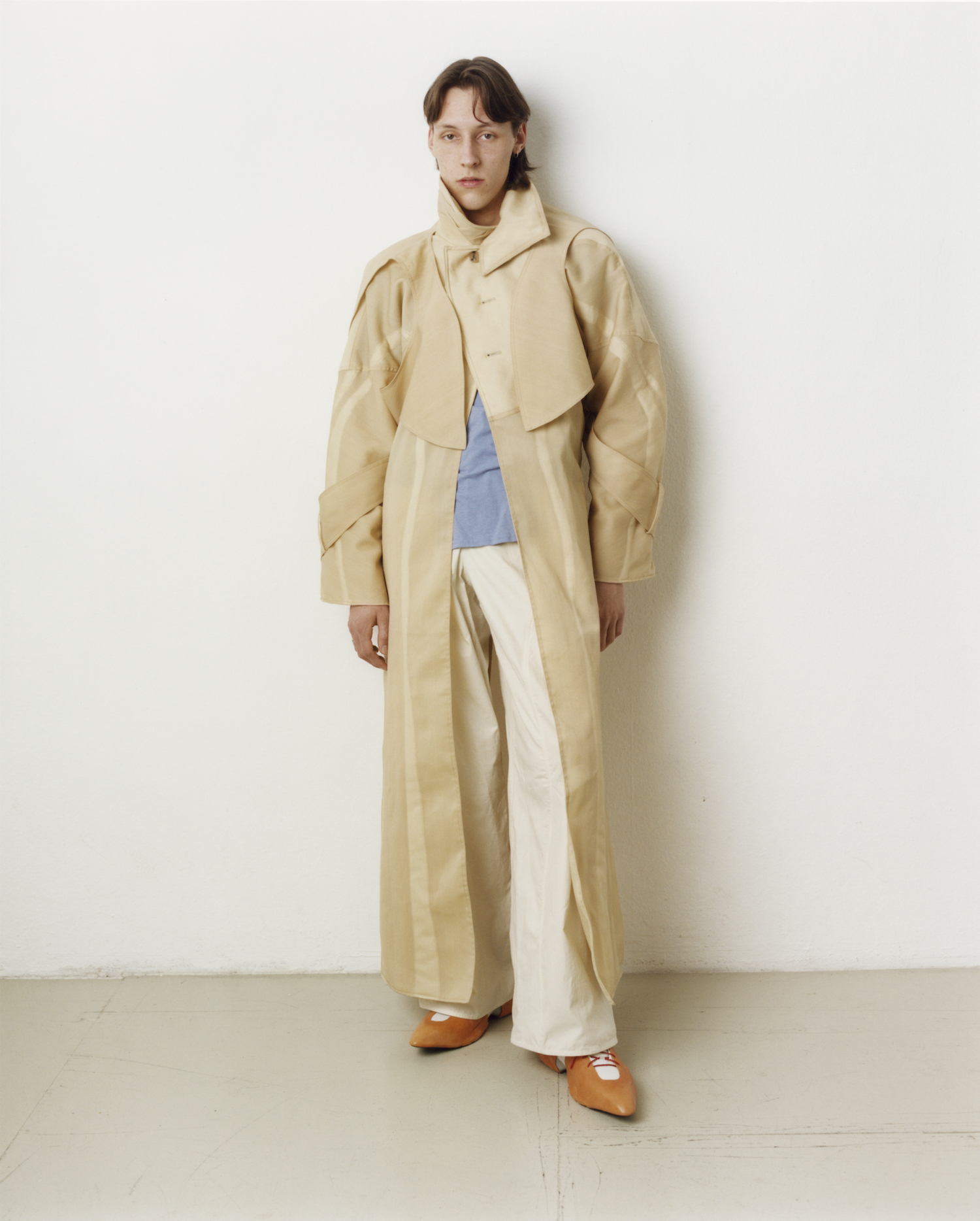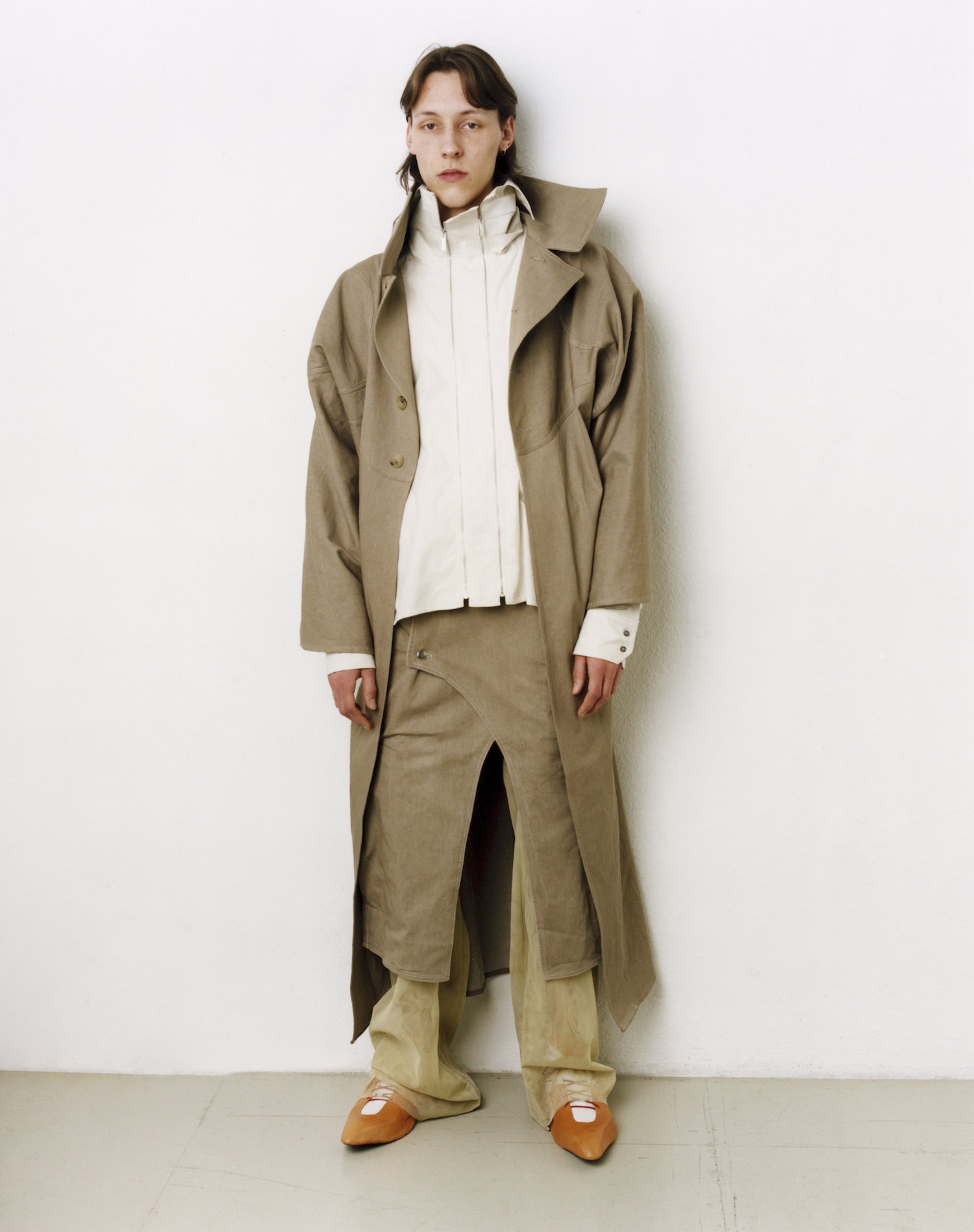 Credits
---
Images via Marie Lüder