watch the fabulous trailer for netflix's 'dumplin'
A pageant film with Jennifer Aniston, Danielle Macdonald, drag queens, and Dolly Parton - what more could you want?
|
15 November 2018, 7:12pm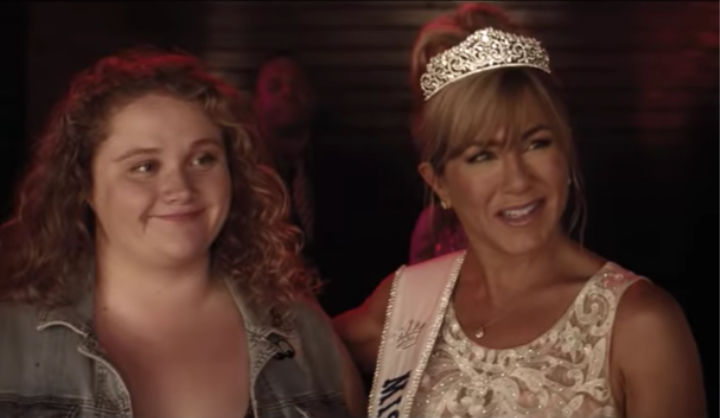 Photo via YouTube.
Netflix's Dumplin' takes its name from the not-so-nice nickname Rosie Dickson, a former beauty queen played by Jennifer Aniston, has given her outspoken, Dolly Parton-obsessed teenage daughter Willowdean (Danielle Macdonald). In case you couldn't tell from Aniston's sort-of Southern accent, this new movie takes place in a small Texas town, where Rosie runs the local Miss Teen Blue Bonnet pageant. Fed up with her mother's barbed comments about her weight, Willowdean decides to enter the pageant as a form of protest. "I'm not the Joan of Arc of fat girls," Willowdean says in the trailer, still managing to inspire other unlikely participants to join forces, accidentally staging a coup (!!) against traditional pageant beauty standards. As her best friend Ellen (Lady Bird's Odeya Rush) says: "Viva la revolution, baby!"
While there's plenty of hairspray and sequins, what started out as a mere joke to upset her mother spirals into Willowdean's journey of self-discovery with some help along the way from a few local drag queens (Harold Perrineau and Rupaul's Drag Race alum Ginger Minj) at their Dolly-inspired show. In a pep talk, one of the queens says: "You know that Dolly saying? Figure out who you are and do it on purpose."
Dumplin' (based on Julie Murphy's namesake novel) confronts body image and challenges beauty standards, though these aren't new topics for Danielle, who played the aspiring young rapper Patti Cake$ in Geremy Jasper's coming of age film of the same name. While Willowjean struggles with self-doubt, Danielle is comfortable and confident in her own skin. "I'm pretty sure everyone experiences it at some point. When I was a teenager I had friends of all shapes and sizes. It was something we all went through, but I think as you grow up you just learn to accept yourself more," the 27-year-old actress told i-D last year.
Netflix will release the film, directed by Anne Fletcher with a script by Kristin Hahn, on December 7, and it's set to screen in select theaters. Watch the charming trailer below.