thundercat discusses life, music, and everything in between
Jazz saviour, bass god, and massive nerd, Thundercat is the man who shaped the sound of Kendrick's To Pimp a Butterfly. We discuss the LA music scene, jazz as a response to the bullshit in the world, and his unwavering obsession with gaming.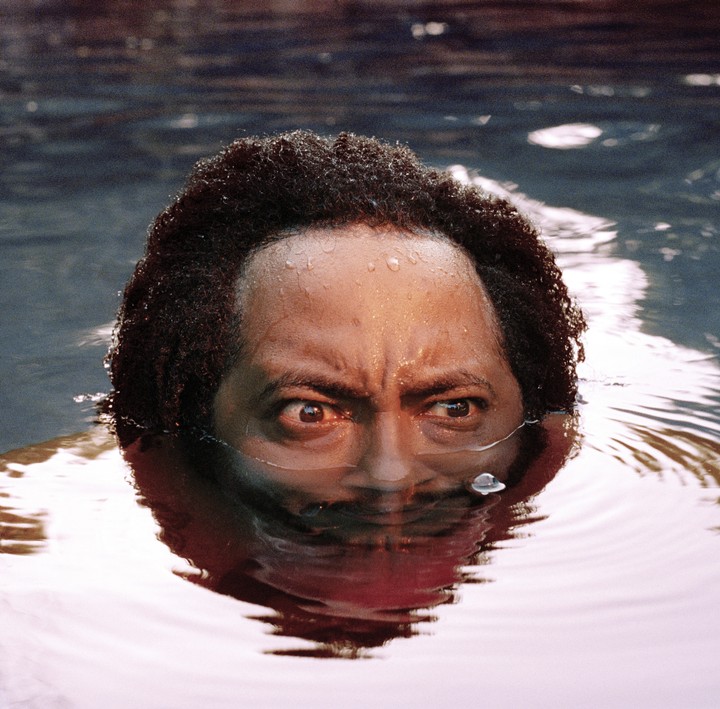 Thundercat's lyrics are soberingly relatable: "From the minute I wake up I'm staring at the screen, watching the world go insane," goes recent single Bus in These Streets, as if we need reminding us just how predictable we are and how terrible our planet is. Named after the popular kid's cartoon (he used to wear a Thunder Cats T-shirt and the name stuck), the 32-year-old known to his family as Stephen Bruner is pushing back at the dark side of 2017 with totally wild jazz and smooth yet hilarious social commentary.
After a childhood of playing in jazz bands with his friend, saxophonist, and fellow Kendrick contributor, Kamasi Washington, Thundercat joined cult thrash metal band Suicidal Tendencies on bass when he was in tenth grade and played with them until 2011. So far he's laid down the underneath business for Kendrick, Erykah Badu, Flying Lotus (who suggested he start singing -- more of that in a second), Childish Gambino, Mac Miller, Vic Mensa, Wiz Khalifa… you get the picture.
This year saw the release of his third album, Drunk. Released on Brainfeeder records, it blasts the listeners with a mix of his soul, jazz, weird ramblings video game style cheers, and an adventure through his Japanophile dreams all delivered over the course of 23 tracks. He meows melodically throughout A Fan's Mail (Tron Song Suite II), an ode to his beloved cat TURBO TRON OVER 9000 BABY JESUS SALLY. If you're a cat owner you'll know that it's a given that your cat must have more than three names -- and that's a fact. But back to Thundercat. The record also boasts features from Pharrell, Kendrick Lamar, Wiz Khalifa and Kenny Loggins, and was named after FlyLo told him that it was so insane that he should just call it drunk. So that's two facts in three sentences! We got on the catphone with the LA resident to meow the breeze with the mew-sician ( sorry).
Hey Thundercat! What's happening musically in LA right now?
People dream a lot in LA. It's the City of Angels, you know? There are so many denotations to the magic there. I think of it as like a big wheel that we watch turn. And if you've lived long enough to see it through from the 60s to the internet age, you've watched a few revolutions of life over and over. I think that the amount of art that comes out of LA has come a lot faster than in previous generations. The wheel's turning faster. I think that it's always been a budding music place, from the days of Roy Ayres coming out of Inglewood. From that to Patrice Rushen, the Earth Wind and Fire horn section, Dexter Gordon, Gerald Wilson. You know, there's a very rich history of jazz in Los Angeles.
Did not know. As an outsider, it really does seem to be coming to the forefront now in pop music. What do you think made people ready for it?
Christian Scott described it as kind of like an outcry, an overflow. It's based on the climate. Everyone's watching the world go crazy. You get a front row seat to everybody's bullshit, be it China or Korea. Everybody's in a volatile state and there's a lot of fear and hate cultivated. A lot of the finer arts come out and jazz is usually right on the front line of that. There no bounds to jazz. Social music, that's what it is. It's a conversation, and this is the soundtrack.
Other than turning to music, what do you do when the world all gets a bit much?
I'm also a visual artist… and I like to play video games. I was gifted the Nintendo Switch and Zelda, Street Fighter and Mario Kart are just killing me! I'm still a PC gamer, plus Playstation, Wii, and I didn't get the last XBox because I think they lost that battle. I've been playing Overwatch, and Tekken 7 just came out! I've been into that.
I really loved the video game style cheers hidden throughout Drunk .
Oh yeah, thanks. It's interweaved in the music a lot of the time and I think people don't realise the degree to which it is. I've always looked at video games for inspiration. It inspires you to create something that makes you feel a certain way, and I spend a lot of time playing video games because I try to hone in on that.
"I think that Japanese people really take care in everything they do, and it makes you love them for it. I have a real infatuation with Japanese culture because, you know, I'm not a perfectionist."
That's a great excuse for excessive gaming.
I feel like on every album there's been a reference to some degree. There have been songs that I've made that are actual tributes to Nintendo and Final Fantasy. There's a song that I did called Bowzer's Ballad when the head of Nintendo, Hiroshi Yamauchi, passed away a couple of years ago. It's an instrumental but there's a part where you hear it and you feel what video game soundtracks do to you. I try to keep them a part of my regimen, they make me think very melodically.
Oh for sure. The music in Zelda is beautiful. You also have a song called Tokyo , so I'm assuming you're a massive Japan fan?
I'm a really big fan. There are so many things that made me wind up falling in love with Japan and the people though. Everything I talk about on the track; from finding the Dragon Ball Z bracelet, to working at a comic store and seeing Street Fighter the cartoon for the first time as a teenager; seeing the amount of work that goes into an animation, and watching people make anime and overworking themselves with their work ethic. I think that Japanese people really take care in everything they do, and it makes you love them for it. I have a real infatuation with Japanese culture because, you know, I'm not a perfectionist.
Is there a particular song that you associate most with your childhood?
Jaco Pastorius, Portrait of Tracy. That song has taken on so many different meanings throughout the years for me. I remember the first time I heard it, I around 10 or 12 and I was with my dad. He used to record this radio show at like two or three in the morning, and the next day he played it for me, and in that moment I freaked out, just to hear my dad describe what was happening. I think the next day he got me the album. I was playing Return of the Jedi on Super Nintendo and listening to Jaco Pastorius's first album and it was one of the most meaningful musical moments in my life.
Ultimate combo! So what took you from there to Suicidal Tendencies?
Well I was always a bit of a rocker as a kid too. I ended up staying with them for about 13 years. I was listening to a lot of Rage Against The Machine, Korn and hip-hop at that point, but still committed to Stanley Clarke, Herbie Hancock, George Duke, Jean Luc Ponty and John McLaughlin.
What do you think you'll be like as an old man?
I think I'll be an old pervert! No, I think I'll be the same guy… like, give me my video games and leave me alone. Telling stories of the great meme wars of 2017.
This article originally appeared on i-D UK.