Rick Owens by Mitchell Sams
unpicking fashion's unlikely fixation with face masks
Face masks made appearances on and off the catwalks at the spring/summer 19 men's shows. Are designers finally responding to the global pollution crisis, or is there something else at play?
Rick Owens by Mitchell Sams
In fashion, the discussion about designers creating collections primarily to be seen through the lens of social media is a hot topic. It's a conversation fueled by the rise of highly-Instagrammable head-turning pieces, and right now there's little that captures the mood quite like the ever-increasing prominence of face masks.

While face masks are something of a norm in East Asia, where protection against poor air conditions in over-populated cities is fairly essential, it's still a rarity to see them in the west. As of late, however, their ubiquity on the catwalk is becoming unquestionable: Gucci, Palm Angels and Takahiromiyashita The Soloist (to name a few) all championed face masks for autumn/winter 18. Yet it was the spring/summer 19 menswear shows that cemented its rising sartorial status -- the accessory in question not only masked models faces on the catwalks, but those on the front row too.
At A-COLD-WALL* in London, guests were advised to adorn the following equipment handed out upon entry to the show: plastic safety goggles, earplugs and a face mask -- all branded, of course. "The idea behind it was from a very practical standpoint," explained creative director Samuel Ross. Those familiar with the work of A-COLD-WALL* will know concept is key and it's often told through physical experience. In this instance, practically in touching distance of the front row, a clan of models covered in a clay-like substance smashed the walls of a large square sculpture, freeing a naked individual from the confinement -- a metaphor for destructing the barriers of social class. "The inclusion of artificial mist within the space meant that there were minor particles and debris in the air."

Although purely practical and absent from the catwalk, it wouldn't be hard to imagine hypebeasts distorting their identities with the masks marked with A-C-W* on the streets at the next round of shows. Naturally, those who attended the spectacle were caught taking selfies in the protective gear. But Instagram likes aside, perhaps there's another reason to consider covering-up. According to Ross: "They are fully functional dust masks that provide a barrier for use within an inner city environment." So are designers finally responding to the global pollution crisis?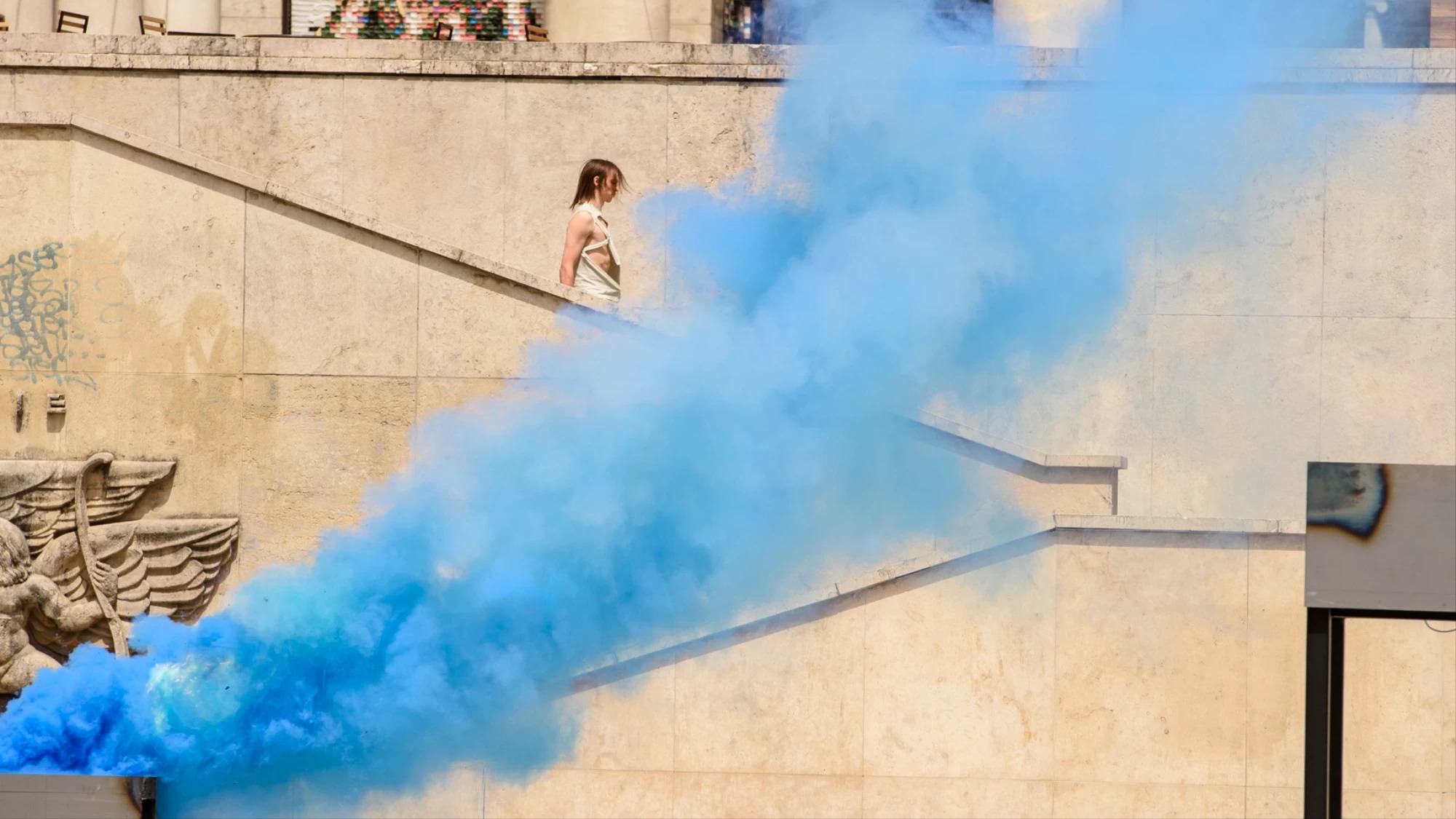 It's a question that begged to be answered at Rick Owens in Paris too. Prior to the show, invites were disguised as face masks and sent out to attendees, which was telling: in what was one of the most Instagrammed moments of the season, Owens's army of models walked out as clouds of Crayola-colored sulphur wafted in the air. The face masks were more than simply indicators for what was to come: they were a necessity. Select models were blessed with face masks too, except theirs were crafted from a sheer fabric that concealed the entire face and were finished with fringing that fell to the knees.
Rick Owens is, of course, a designer known for socio-political references in his work, so it would seem unlikely that such striking staging was solely for visual delight. The masks may have protected onlookers from the smell of burning chemicals but what about in real life? Unlike Owens's brilliant and beautiful primary-hued smoke, it's near impossible to witness the fumes contaminating the air around us on a daily basis. But imagine if you could -- if the smog from cars, planes and power plants shared the same vivid palette as that at Rick Owens. Perhaps then, the global pollution crisis would garner more attention.
Later that week, 1017 ALYX 9SM presented its collection on the final day of the Paris menswear shows. The label's utilitarian aesthetic is defined by hardware detailing, harnesses and technical fabrics -- an aesthetic that's currently rippling through the rest of the industry. These sensibilities, which are so integral to the 1017 ALYX 9SM brand, depict protection; so it made perfect sense when an anti-pollution face mask made an appearance on the catwalk. This wasn't the first time 1017 ALYX 9SM has been behind a face mask either -- earlier this year, founder Matthew Williams partnered with sports behemoth Nike and launched a collection, which along with your typical sportswear pieces, included face masks.
Do fashion face masks possess the potential to become the norm? It's an interesting thought and if anyone can take a trend that at first seems so utterly bizarre to the masses it's Vetements -- the enigmatic collective has been responsible for some of the most improbable trends over the past few seasons.
The face masks at Vetements' spring/summer 19 were, of course, typically extreme. They were not too dissimilar from gimp masks and had teeny-tiny slits for eyes and the nose -- the ease of breathing appeared questionable. It was a deeply personal, political collection, an homage to Georgian designer Demna Gvasalia's war-torn past -- the masks a representation of how he felt at the time, stripped of identity.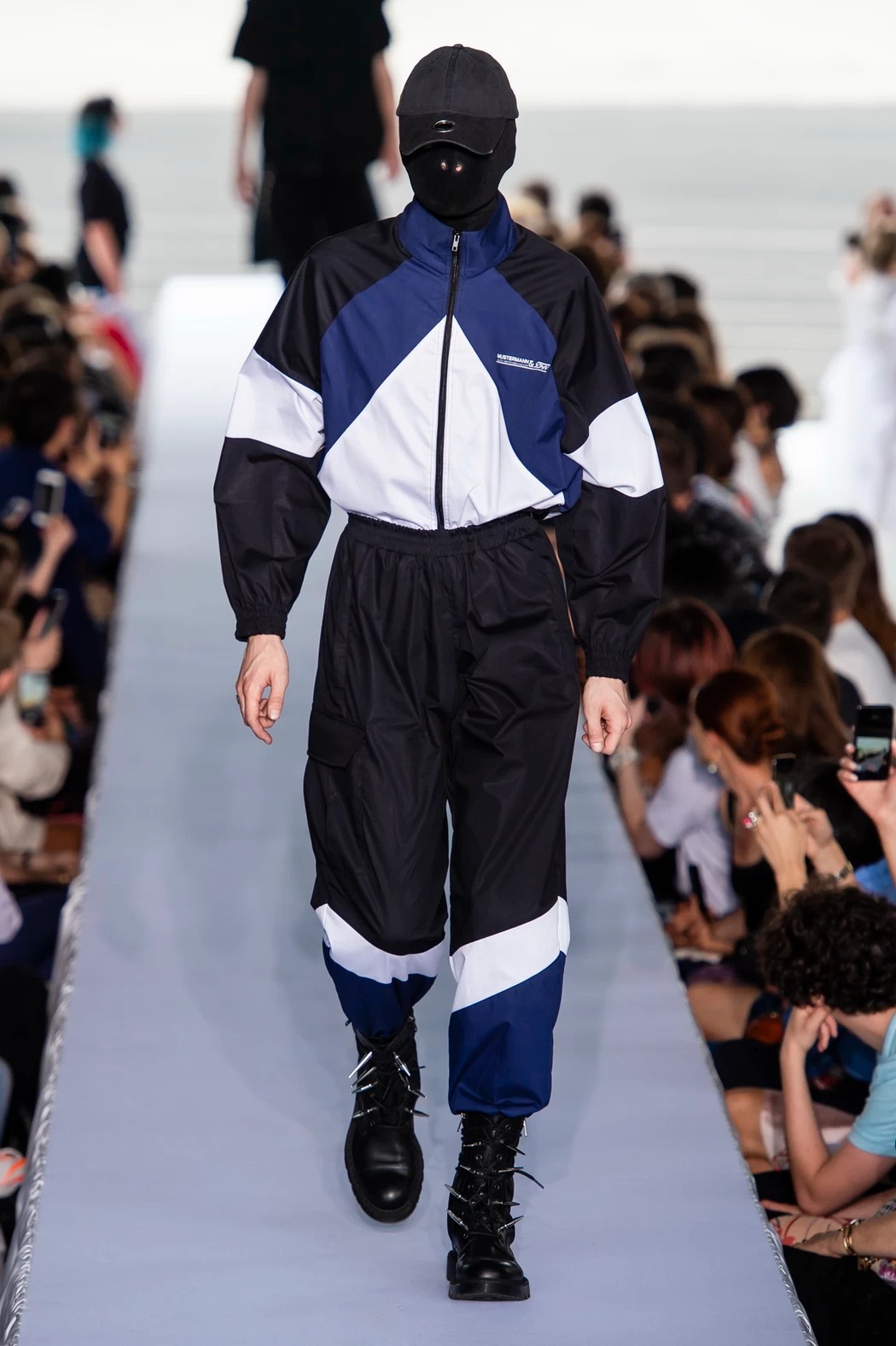 There's something undeniably provocative and punk about face masks. Their primary function is to protect and disguise and part of their history is rooted in the political -- they're often cherry-picked as a favorite of protest groups and rebels alike to disguise identities, but equally to stand out from the crowd. With that considered, is it any wonder they are trending today? We're living in an age of political turmoil, with a climate drastically changing like never before. Do face masks possess the potential to become our sartorial weapon of choice? Stranger things have happened.
Read More:
This article originally appeared on i-D UK.