dirty baby doll is the fat queen proving drag is better bigger
And keeping drag radical.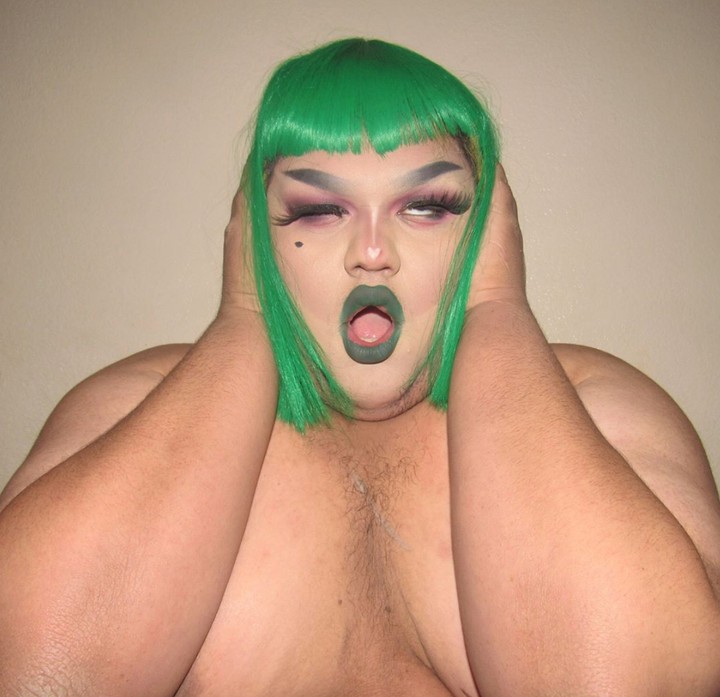 Dirty Baby Doll via Instagram
Dirty Babydoll is the kind of drag queen you get hooked on. The kind of drag queen who lives in your most searched bar on Instagram. Who you check up on every day in case she's posted another genius look. She is the kind of queen who makes you think you can do anything. She outpours energy and power, rolled in with a tang of messiness. Or, in her own words, "She's the sweetest gumdrop ever, but you'd find her on the floor -- hairs attached."
Scroll through Baby's Instagram and you'll find her stunning depiction of colourful, joyous, sarcastic fatness and femme-ness drowning her much stanned-over account. She's what my queer friends and I refer to as Drag 2.0: a rejection of the archetypal idea of drag post popularisation. The kind of drag that loves RuPaul and creates well meaning spaces, yet often unknowingly and irresponsibly venerates thinness, whiteness and cis maleness. But Baby, as we'll nickname her from here on in, doesn't want any of this. No, she wants her drag to "sweep you off your feet with her hairy art tits".
Speaking of her "hairy art tits", they were the first in a series of body reclamations that 18-year-old Baby made since coming to drag -- her persona now showing increasing amounts of skin. It all started a while ago, when she received comments on her Instagram account by someone who was bashing her drag with remarks like "hairy art tits" and going on a tangent about how someone who is fat -- as Baby proudly is -- can't possibly do drag.
"For a long time I hated my body," Baby says, when asked about fatphobia. "I've always been a bigger girl, and I've always been bullied for it. It wasn't until I really started developing Babydoll more that I started feeling free showing off more skin. When I had the wig and the makeup I felt so beautiful."
Drag is constantly metamorphosing -- something queens like Baby are very much responsible for -- her birth still speaks truth to what's always been at the heart of an underground art form that is now globally lauded: "beauty and authenticity". She continues, "Drag and beauty to me is being the most authentic you you can be. When you find what makes you beautiful it just makes you free. To see people free and not afraid to show their artistry and their unconventional beauty just makes me so happy. It's what the world needs right now -- we need to not be afraid."
In a society that constantly derides fat people while simultaneously pushing us to consume more and more, Baby is a beautiful depiction of what you can be when you finally stop letting those opinions win -- "I don't care," is all she has to say on the matter of bullying these days. She's more interested in what drag and make-up can do in her favour.

"With my drag I want to show as much body as I can. I want all the bigger girls not to be afraid to show skin and be liberated! In a world where bigger people are seen as "disgusting" we need to show that their opinions don't matter, and that size doesn't define beauty. I hope through my drag people can be less afraid to show more body and feel more liberated."
As a fat queen myself, I certainly have -- simply by watching Baby's stories, or reading her reclamations of the bullying one-liners her detractors throw her way. Baby's existence in full, fat, glorious technicolour makes me see my body differently: if I find her so beautiful then I can definitely feel the same about myself. It's a classic tale of representation, but one you so rarely see.
"What beauty has done for me is let me express a whole different side of me I never saw in my self before. Whenever I applied my makeup I just felt so much more powerful. It's made me appreciate my facial features and just overall self-esteem. It helped me understand myself more. Through my makeup, that's where I feel I can find that truth. When I apply my makeup it lets me express whatever I want to express. Aesthetically I love to show a lot of colour, and I want Babydoll to be a sexy, vibrant, almost cartoony version of myself."
Drag is about so many things, but most importantly it's about widening our perspectives. If Baby does anything -- other than serve looks which are "stunting pretty", as Aquaria might say -- she certainly offers us a new vantage point through which to see big bodies displayed with pride, power and, as a result, beauty.
This article originally appeared on i-D UK.
Tagged: