11 queer poc tattoo artists to follow now
A few of our favorite artists share their work and experiences as LGBTQI+ people of color in the tattoo world.
doreen garner, nina pina
We previously explored the queer tattoo movement, and how it's changing tattoo culture. But most of the LGBTQI+ artists featured in that article were white — and it's imperative that we hear and share the experiences of queer tattoo artists of color. Even though modern tattooing is rooted in the rich cultural traditions of the Egyptians, Libyans, Nubians, Nazca, Cree, and Maori, among so many others, artists of color are marginalized in the Western tattoo world. "When I started tattooing," says Seattle-based tattoo artist Emma Rose, "so much of my insecurity, impostor syndrome, and self-doubt were linked to the invisibility of people like me in the tattoo community."
But a burgeoning number of queer POC tattooers are changing that: Earlier this year, artist Doreen Garner opened Invisible Man Tattoo, a pop-up that celebrated Black culture, where clients chose from flash that featured Angela Davis, Black Panthers, cotton flowers, and raised fists. On Instagram, accounts such as Dope Art Dark Skin and Ink the Diaspora showcase tattoos on black and brown bodies, while QPOC Tattooers curates the best work from queer artists of color.
But, as Ciara Havishya, the founder of QPOC Tattooers, notes: "Visibility is only as good as the viewer. How do we create meaningful and educated dialogue around issues in tattooing that prioritize marginalized viewers?" To help answer that question, we've selected 11 artists we'd love to get tattooed by, and asked each to briefly tell their story as a QPOC in the tattoo world.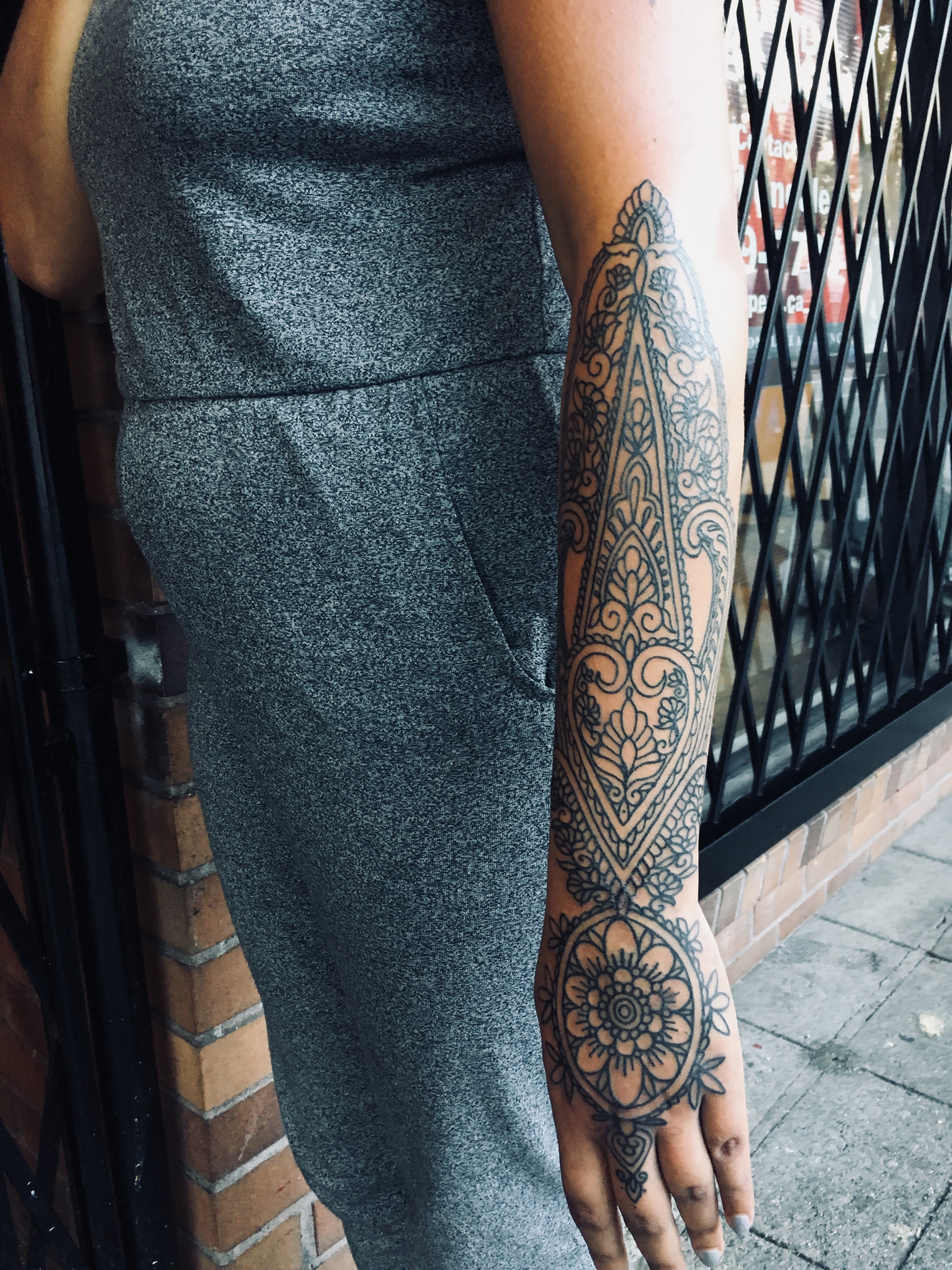 Ciara Havishya (Sticks & Stones Tattoo Co., Vancouver)
"As a mixed race child of diaspora Indians, I have always existed in the in-between spaces of not being quite Indian enough to be recognized as Indian but never quite reading as white either," says Ciara, who is the grandchild of Mauritian Indian scholars who settled in Edmonton. "Similarly, getting into tattooing led me to experience alienations, close connections and stunted moments of intimacy with my culture and my clients. I don't have many experiences of being a QPOC in a majority white hetero-patriarchal and cis workplace because I created Sticks & Stones Tattoo as a space where myself and other marginalized and countercultural tattooers could help each other learn, grow and practice tattooing with a legal and financial infrastructure that most private studios don't have.
"My work is a function of having lived most of my life viscerally feeling as though I was less than others. I had many experiences of violence that compelled me to explore reclaiming pain and bodily autonomy through body modification and marking myself. When I make my tattoos I'm striving to create something that makes everybody I touch weighted in elegance, power, and protection. When I was a child, I watched my Indian grandmother carry herself with all the elegance of an international diplomat no matter what she was wearing, or whom she addressed. That assertion of grace in the face of being constantly underestimated inspires me in everything I draw. My work has been progressively centering itself in developing an aesthetic that prioritizes the flow of the body while putting my Indian culture and art on display. I don't feel the need to explicitly express my sexuality in my work. I'm a brown non-binary tattooer and successful young businessperson who tattoos for a living — if that's not an expression of subverted racial and gender norms, with a heavy dose of powerful sexuality, then I don't know what is."
Raychelle Duazo (Osprey Tattoo, Seattle)
"Identifying as queer, femme, a woman, and Filipina-American, I feel powerful in my journey of becoming a tattoo artist. As an illustrator with a lot of social platform, it felt so natural getting into tattooing. I'm heavily tattooed myself — I'm one of the most covered people that I know — and even seeing myself in photos and on social media as this tattooed QPOC, it truly destroys this stereotype of tattoo culture only consisting of white, cis-het men and bros. And I know that I'm not alone in destroying this stereotype. Seeing other queer and/or trans POC beautifully tattooed and becoming tattooers inspires me to be unapologetically vibrant, decorated and unconventional.
"And in being these things, I'm also reminded of how body art, with all the identities I hold, carries a certain weight that non-queer and non-brown tattooed people don't carry. There's meaning beyond the aesthetic aspect of tattooing and being tattooed even if the tattoos themselves don't have meaning. As a queer brown tattooer, I feel that I am paving the way, and at the same time, finding my place in an inclusive community that welcomes more brown tattooers, more queer and/or trans tattooers, and more womxn tattooers… If we want to bring more QTPOC tattooers more visibility, we have to support their journey and be patient with their growth as artists, and that means supporting them from the early beginnings of their tattooing journey."
Tamara Santibanez (Saved Tattoo, Brooklyn)
"My work draws heavily from queer fetish and BDSM imagery and traditional West Coast fine-line black-and-grey," says Chicanx tattoo artist Tamara Santibanez. "My aim is to combine elements from both to create tattoos that feel authentic to my experiences and that will hopefully resonate with viewers who don't always feel they are represented in tattoo culture. Working this way feels inseparable from who I am; I think the best work comes from drawing from what you know and genuinely care about and are accountable to.
"I love that queer tattooing is pushing the boundaries of what tattoos can and should be and what the tattoo exchange should look like. I see queer and POC tattooers bringing in a profound understanding of the body and an awareness of the histories people are bringing with them when they come in to get a tattoo. I think a lot of womxn and queer tattooers are doing the work of re-instilling trust in tattoo shops for folks who have had previous negative experiences in tattoo spaces. That's why it's important to me to work in a shop environment — to demonstrate to clients that a shop can be a welcoming space and provide them with a positive experience.
"Seeing POC representation and being able to build that community is so necessary, not just for our peer group as artists, but for our clients. As someone who has been tattooing professionally for nine years, the growth in this direction is beyond exciting. I hope folks who are more established in the industry look towards that when handing down skills and information. I have seen people who have enormous potential for growth being passed over for opportunity because their work is rough around the edges, but they could flourish if given just a little direction or mentorship. I was fortunate enough to have that given to me, and hope to pay it forward."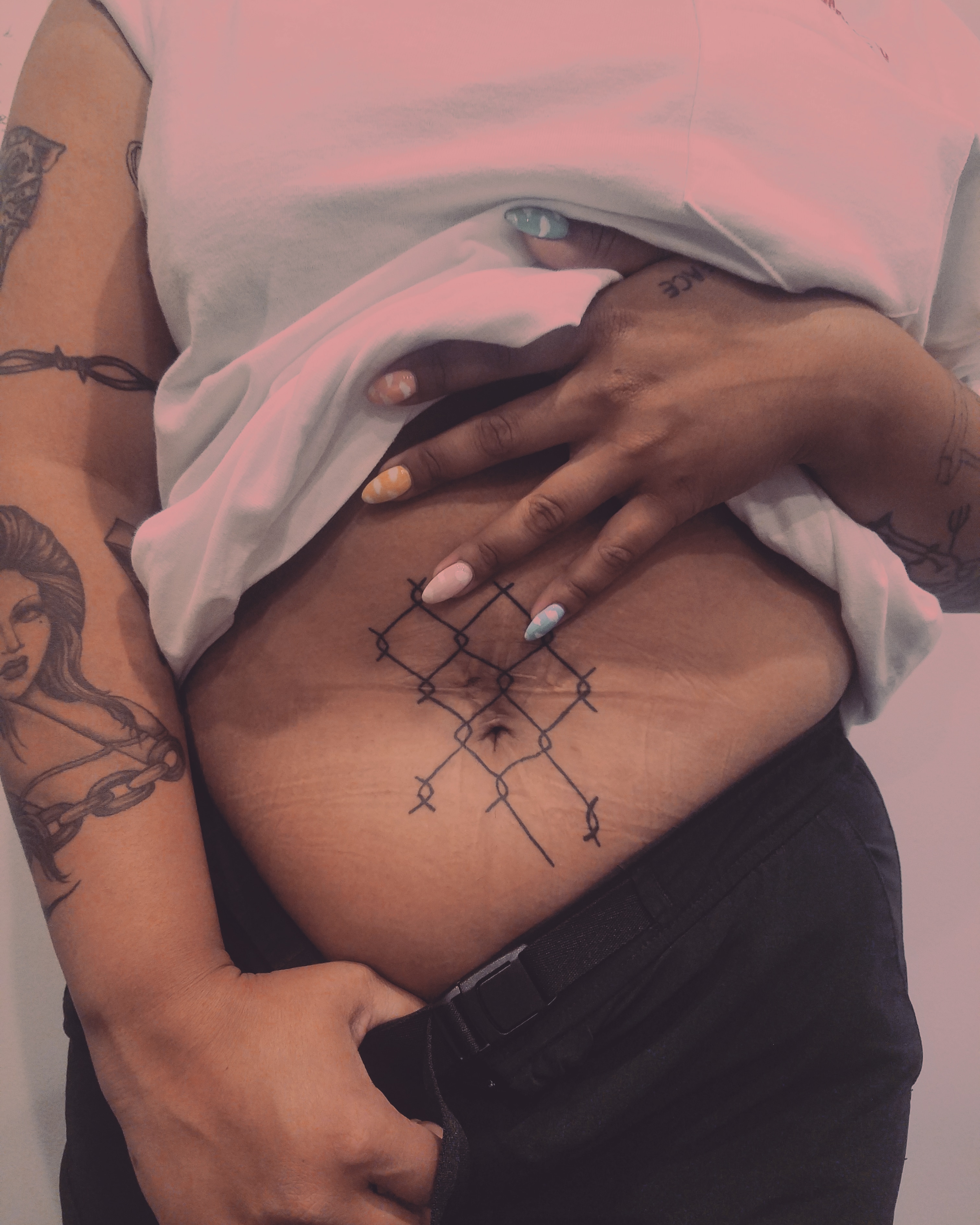 Doreen Garner (Gristle Tattoo, Brooklyn)
"Many of the fields and institutions that I occupy often are majority straight white and male. Namely the tattoo industry, the contemporary glass community, the art world, as well as in art education. It can be depressing at times as a POC tattoo artist to be one of so few. I have to actively remind myself that I am here for a reason, that I am talented, smart and strong willed. At times, I do think it is a bit silly that tribal practice and body modification rituals cultivated by people of color have been rebranded by white Americans as their own. As a person of color, this practice belongs to me, it belongs to us, and I hope that the demographics of the industry evolve so we can be reminded of that.
"As a tattoo client I've always felt a strange sense of intimidation in tattoo shop waiting rooms, looking around at the flash on the wall and not seeing any images that reflected my experiences as a Black person, as a woman, nor as an American. Since then, I opened Invisible Man Tattoo which was a two-month pop-up shop that focused on tattoo flash that highlighted the Black American experience and Black Excellence. After the pop-up ended, I've continued to create flash available for clients that are inclusive for all ethnicities, while especially celebratory of Black culture."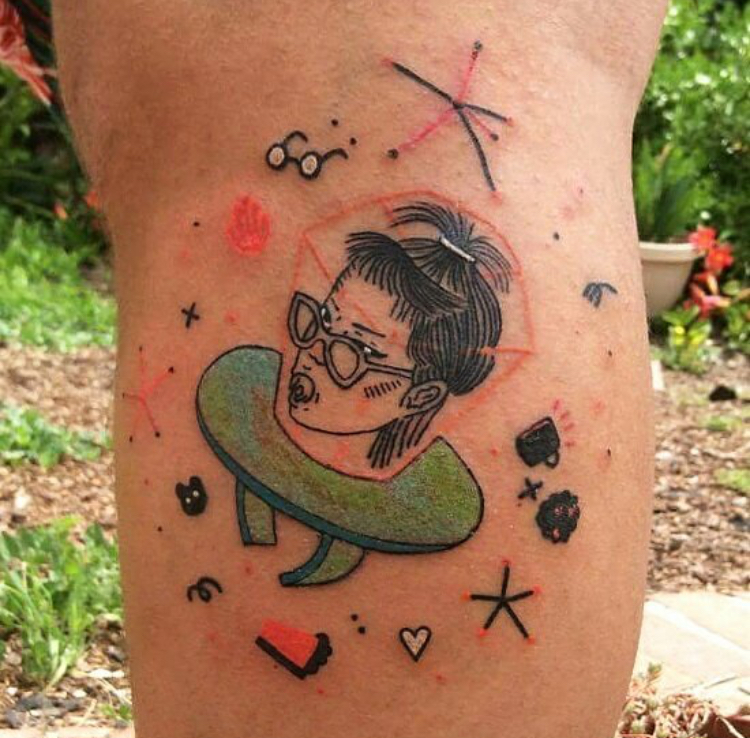 Niña Piña (Private Studio, Oakland)
"I've never been certain about my identity or sexuality. I think that is something that can take time to fully understand… So I never thought I'd fit in with either community: queer or a person of color. Despite being born and primarily raised in Mexico, I didn't feel brown enough growing up in the Bay Area, and lost touch with my roots… Coming back to the Bay years later, I am really grateful to be a part of such a loving QTPOC community that learns from one another's experiences and supports one another's voices, expression and passions. We can create more visibility for [this community] by supporting queer/+ people of color… and creating and supporting safe spaces. I have such a strong love for the queer tattoo community online, and in real life, because we really support one another. Whether standing up against online trolls or passing on knowledge to grow, we show solidarity toward one another because we can empathize on some level with the hardships of being queer or a POC, or both, in the tattoo industry."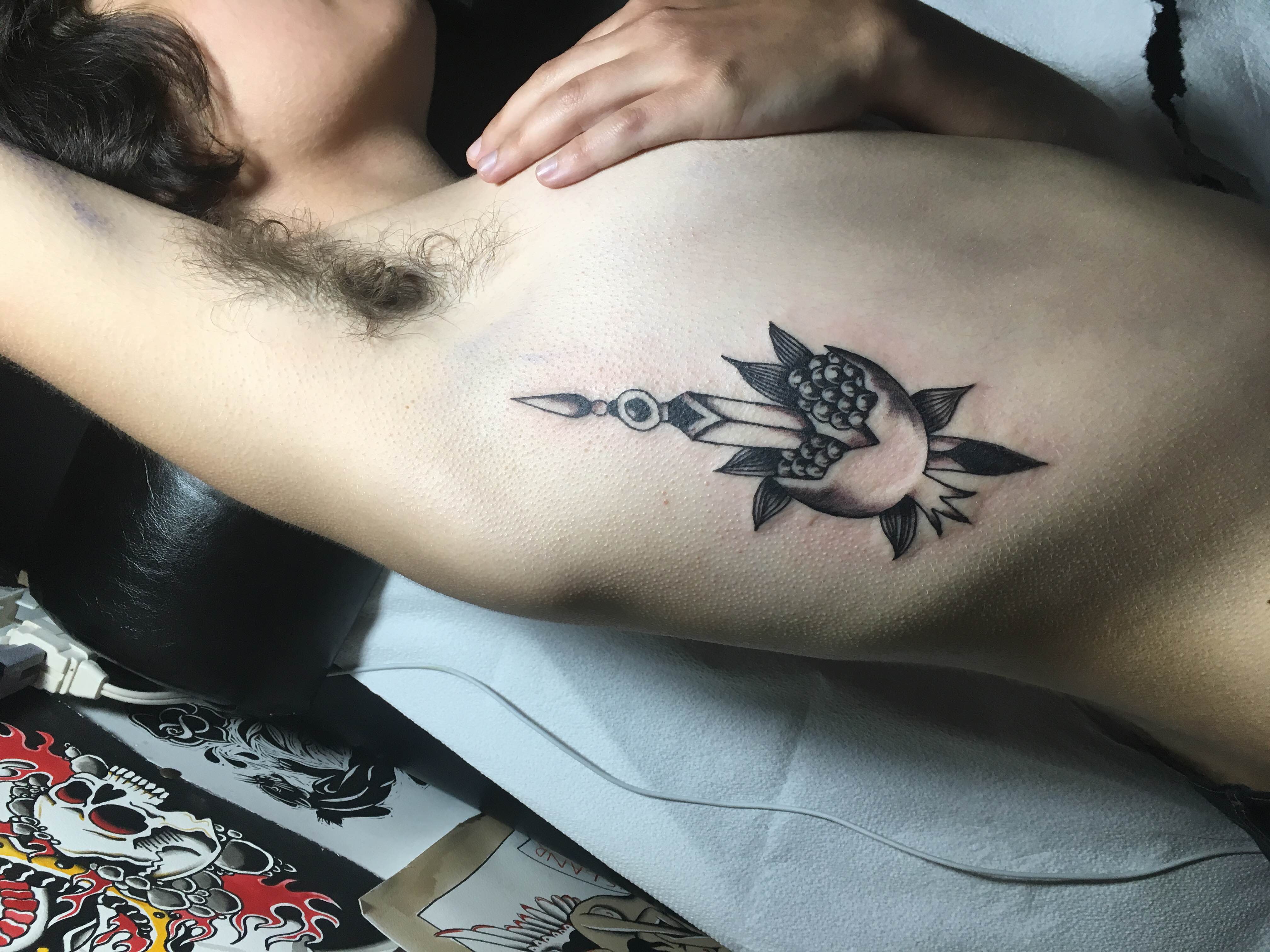 Sema Graham (Time Being, Chicago)
"Being both brown and queer, I tattoo a lot of people who are excited to get tattooed by someone who isn't cisgendered, straight, or white," says Sema, who is Syrian-American. "The people I tattoo are looking for solidarity, understanding and safety. I do a lot of tattoos using Middle Eastern imagery on other queer Middle Eastern people. These images are powerful and permanent and wouldn't be the same coming from someone of a different background.
"It's no secret that tattooing, like mainstream queer culture, is very much whitewashed. It's much harder for queer, black, and brown tattooers to get started without support systems. A huge part of my practice is to create space for fellow QPOC to be heard. Tattooing has the potential to be the most magical and powerful art form. It has everything to do with identity.
"In many ways, queer culture is working to uplift black and brown artists but I'd love to see more of this from the queer tattoo community. Speaking out about injustice, supporting black and brown artists and validating artists who haven't had traditional apprenticeships are some ways we can work towards a tattoo community that doesn't prioritize whiteness."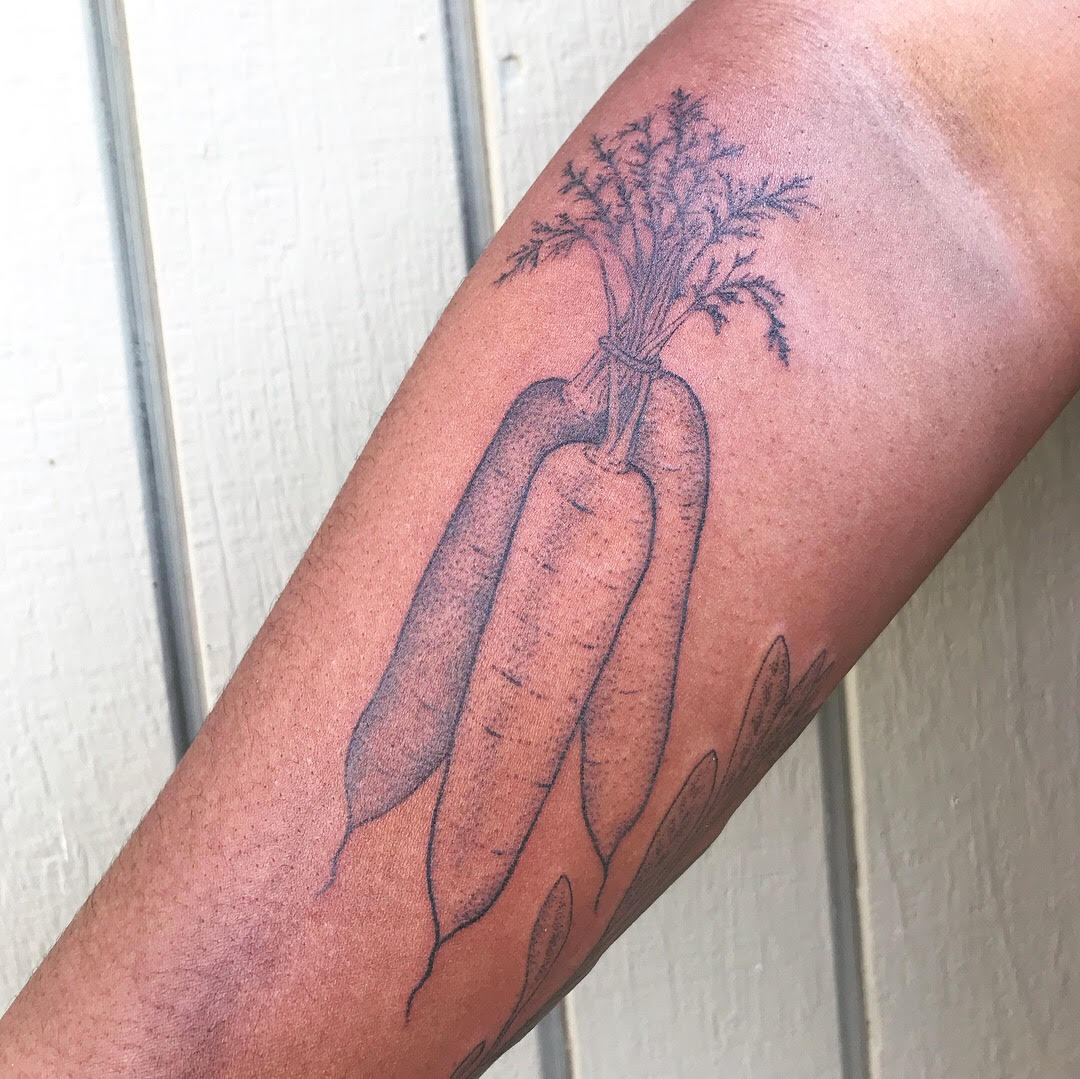 Emma Rose (Private Studio, Seattle)
"I am a mixed race Black and Native person of color, and a mostly self-taught tattooer," says Emma, who co-mods the @qpocttt account. "I have experienced the tattoo world from a very other-ed perspective and feel incredibly grateful for this. I came to tattooing through the trust and support of friends, and eventually fellow queer tattooers with whom I share an amorphous and incredible online community.
"As a QPOC tattooer, one of the things I am constantly thinking about is visibility: how critical it is to see oneself represented, how damaging it is not to. So much of my insecurity, imposter syndrome and self-doubt when I started tattooing can be linked to the invisibility of people like me in the tattoo community. And once I found my footing and fellow QPOC peers, so much of that changed. Tattooing has allowed me to build a consistent art practice; it's something I feel committed to in a way I never thought I'd feel about anything, especially work. As I grow my practice, I hope to be a resource for other QPOC tattooers and clients, to build space within the tattoo community that upholds and celebrates QTPOC lives and bodies, and adorns them with beautiful things."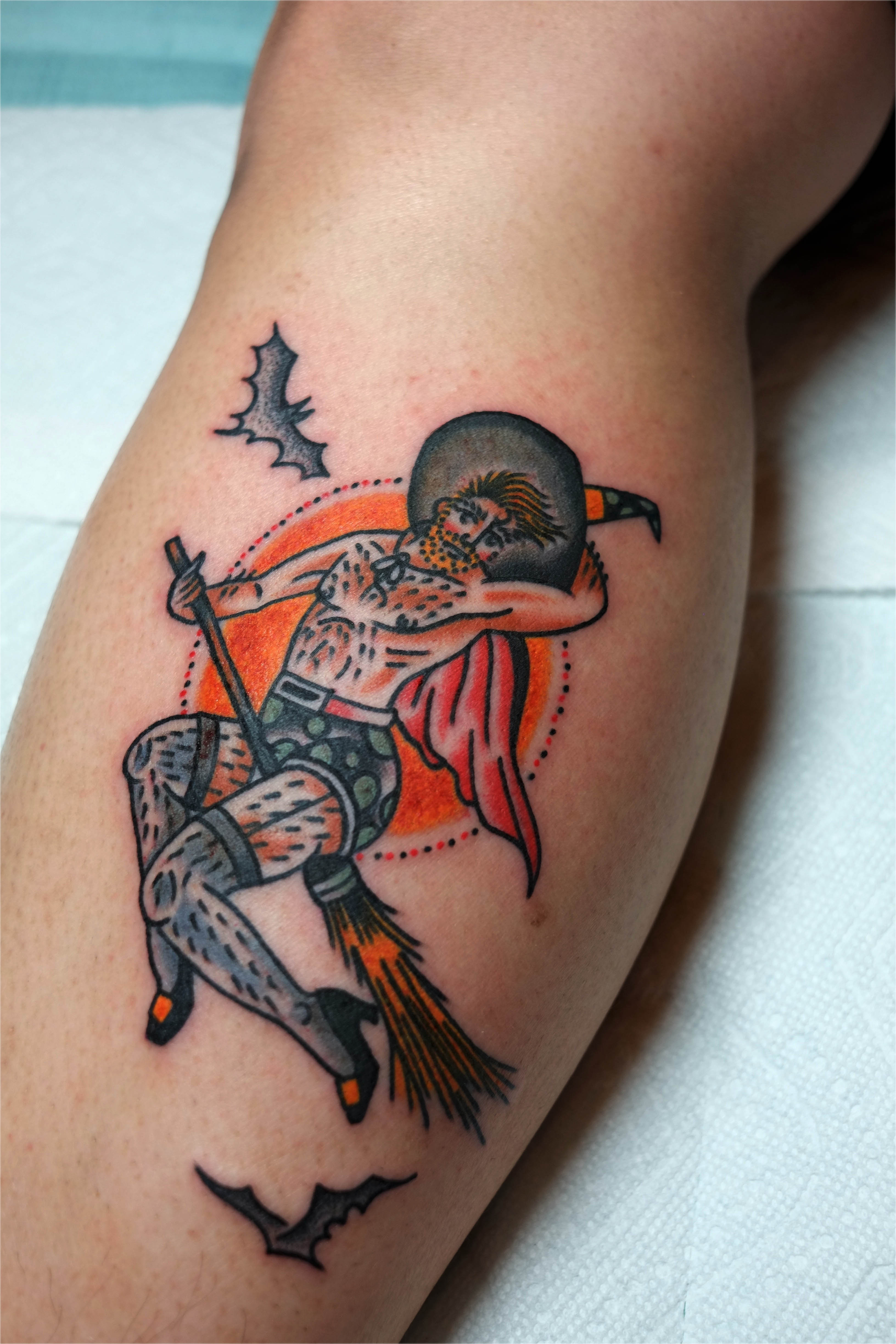 Tron (Escapist Tattoo, Brooklyn)
"Tattooing is, and has always been, for the freaks, misfits, outcasts. The misunderstood. It's always been something magical to me. Whether it's apparent at the time or you realize it later on. It's an exchange of energy and a sense of connection. It's a way to carve your own path, do what you love, and just be who you are, unapologetically."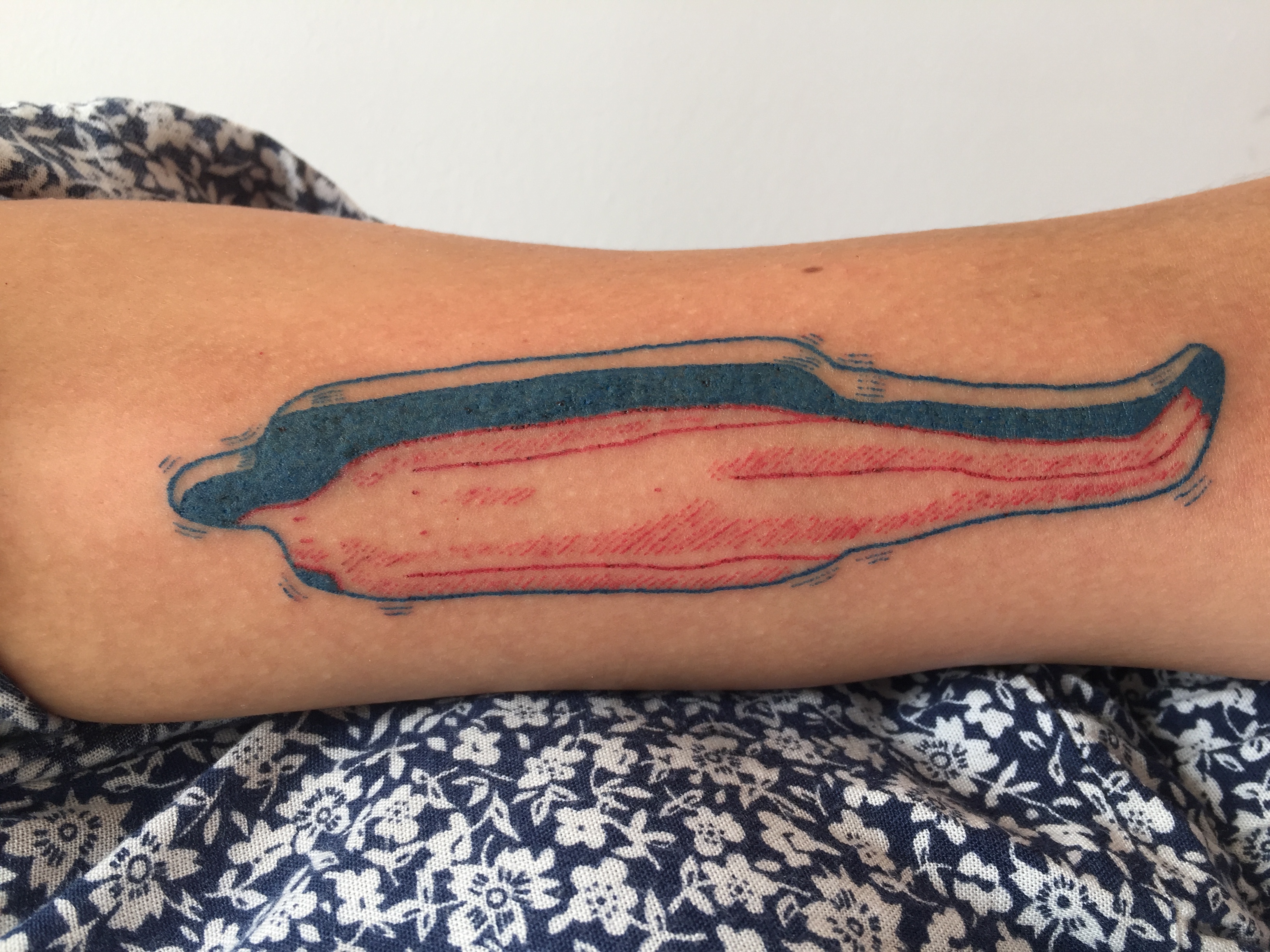 Em Jiang (Private Studio, Reno/Providence)
"The 'queer tattoo community' is connected by way more than just queerness. It acknowledges that getting tattooed can be a very vulnerable experience, and is sensitive to the trauma and permanence of it. For a lot of people, getting tattoos is about healing, and reclaiming or decorating their body. Unlike traditional cis/white/male-occupied tattoo spaces, safe tattoo spaces consider the physical experience sacred, and the body sacred. Tattooing should be about the experience as well as the outcome. If you get a tattoo design you really like, but the experience getting it was bad, or you didn't feel comfortable with the person tattooing you, that's what you'll remember when you look at the tattoo. Sometimes, the meaning in the design is created through the experience, and it can continue to create its own meaning as it grows with you.
"My art is not about being queer or a POC, but my practice cannot be separated from that part of my identity. My existence is only radical in the tattoo world because it has been exclusionary to people like me for so long. Handpoking has allowed me authority over my own tattoo journey that doesn't require the validation of tradition or apprenticeships. (Handpoked tattoos are also less traumatic on skin than machine tattoos, which might be a better decision for people with darker skin tones that scar more easily.)
"I learned so much just from connecting and trading with other DIY tattoo artists, and that is one of my favorite parts about tattooing. I wouldn't have been able to learn and grow this way if I followed the traditional apprenticeship process at a shop, and I'm eternally grateful for tattooing and all the opportunities for growth and connection it has fostered in my life!"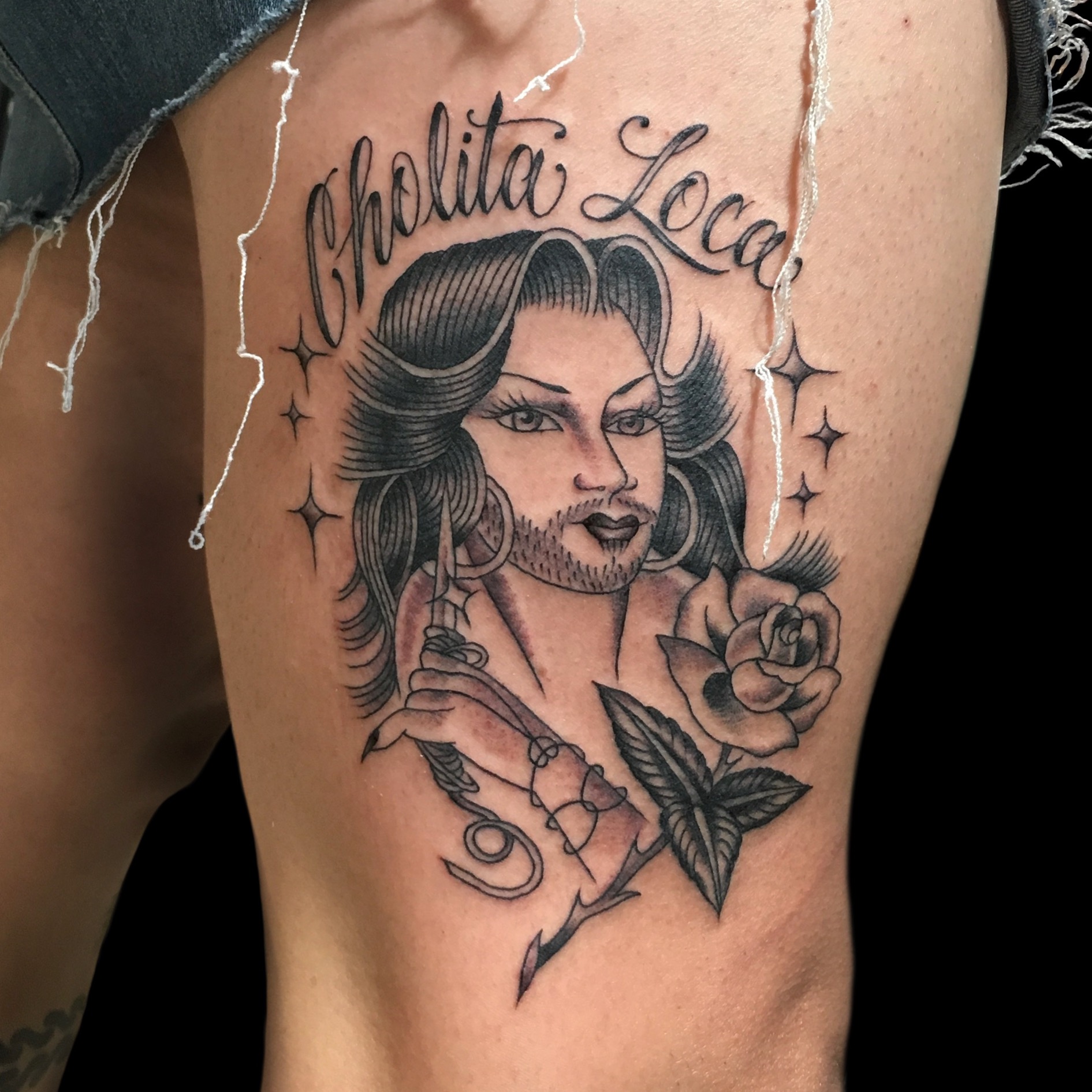 Tonya Vyeda (Lampblack Tattoo, San Francisco)
"I've had the incredible privilege of learning to tattoo under some very influential artists in San Francisco, so I can't speak for queer tattooers outside of the Bay Area, but even here, it's rare to hear about queers practicing traditional tattooing. There's stigma attached to what it means to be a 'traditional tattooer' because of its history linked to cis white male culture — think military or religious tradition — but I feel that as queers and especially as people of color it's important we break down this barrier between then and now and create a story of our own. Art is a universal language, and when it really comes down to it, it doesn't matter what I look like or how I identify. What matters most is that I make good tattoos and give people, all people, an experience they want to come back to. I plan on giving that to people as long as I can call myself a tattooer."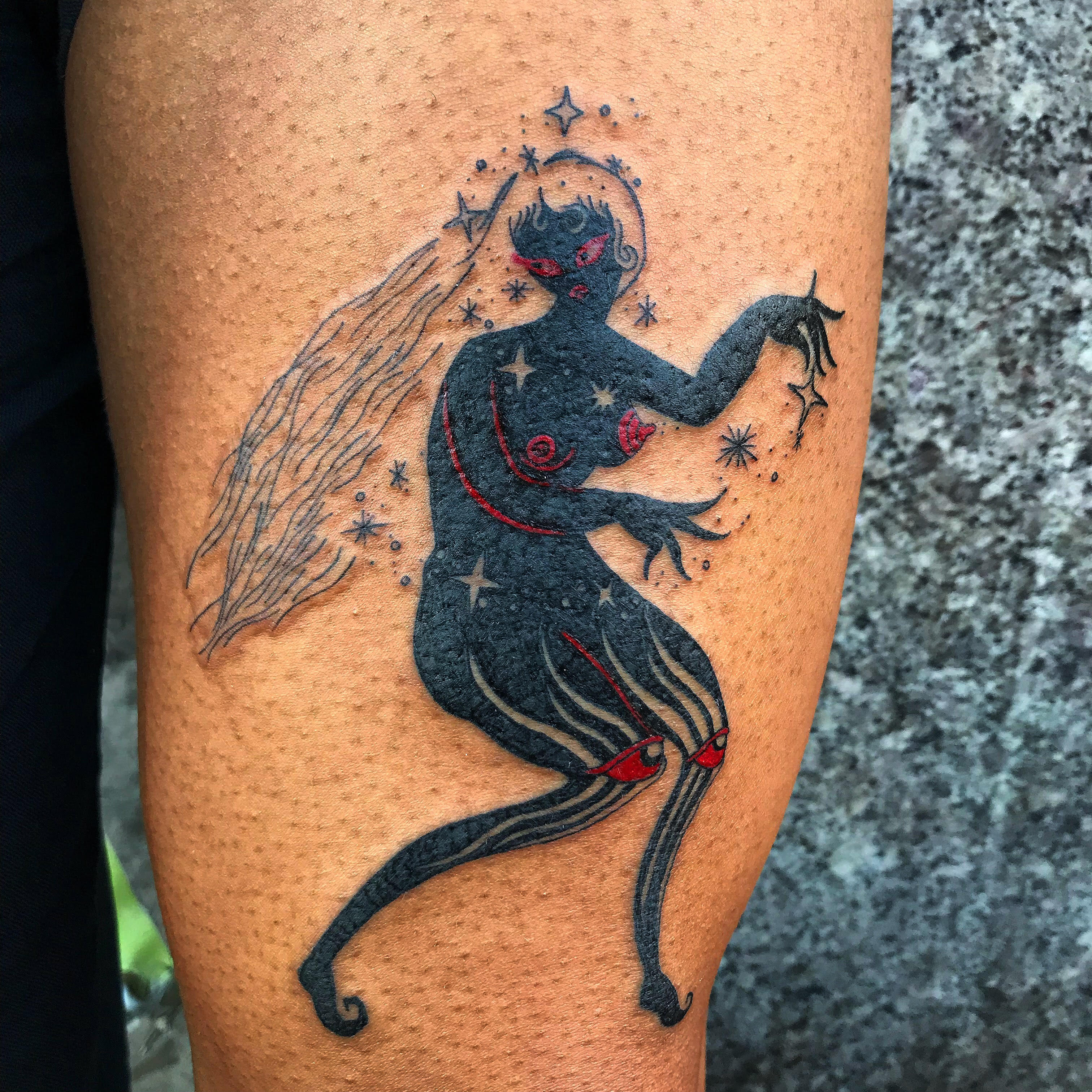 Sanyu Nicolas (Private Studio, NYC)
"While working at different shops, something I came to realize again and again (through conversations between colleagues) is that many tattoo artists (and people in general) are still incredibly uninformed in relation to things like racism, sexuality, history, and gender," says Sanyu, who is a first-generation American born to Haitian parents. "There are a lot of microaggressions that are tightly woven into even the most mundane small talk, and while I've experienced this in white/straight/cis tattoo communities, issues of colorism, homophobia and transphobia are within POC/straight/cis tattoo communities as well. I think when you spend a majority of your time within a bubble of progressive conversation, it's like a wake-up call whenever you encounter people who have yet to acknowledge and work through their biased worldview.
"What I love about the queer tattoo community is that, while it's not fully exempt from those issues, it feels like there's more self-examination being done. I feel seen and respected and the artwork coming from other queer artists feels boundless and contemporary. A lot of queer artists are disrupting the old Western aesthetic ideals of the industry, and showing that there are no limits to the possibilities of what a tattoo can look like.
"I'd love to see more healthy, honest and non-exploitative visibility for queer tattooers of color and I think dialogue and intersectionality are very important in how we do this. I'm not an expert on media, but I think if more journalists, directors and content creators curate with this intention then visibility can grow."