Images courtesy of Hubert Lenoir
this quebecois pop star has a message for kanye west: 'text me'
Following poutine and Celine Dion, gap-toothed songsmith Hubert Lenoir is Quebec's newest gift to the world.
Images courtesy of Hubert Lenoir
Hubert Lenoir is something of a polarizing figure in his native Quebec. With a flippant attitude towards normative gender roles and a glam-rock look that taps vermillion-red lipstick and hoop earrings for inevitable Bowie comparisons, the gap-toothed songsmith has jettisoned to veritable pop stardom in French Canada over the past year, despite some flack from conservative local media outlets.
It all started with the February release of his funky debut solo LP Darlène, a self-described "post-modern opera" that takes cues from jazz and Motown for a sound that's somewhere between Scissor Sisters and Serge Gainsbourg. Complemented by a novel of the same name written by Noémie D. Leclerc — Lenoir's partner in love and life — the singer has developed an album that leverages diverse arrangements and danceable pop hooks, and at just 23 years of age. Darlène earned Lenoir the Felix Leclerc Prize, an annual award given to Quebecois artists working in music and humor, and was today short-listed for the esteemed national Polaris Music Prize, whose past winners include Arcade Fire, Feist, and Godspeed You! Black Emperor.
Opening with three-song suite "Fille de personne I," "II," and "III," then flowing through standout singles "Recommencer" and "Ton hôtel," Darlène loosely follows the story of a girl from Montmorency named Darlène who meets an American, Ashton, who comes to Quebec City to commit suicide by jumping from Montmorency Falls.
Growing up in a rural suburb outside Quebec City in what Lenoir notes as a "not-artistic, middle-class family," he frequently explores themes of creative freedom and, specifically, "emancipation" throughout Darlène. Much of the controversy surrounding Lenoir stems from his performance of his single "Fille de personne II" on the popular televised singing competition La Voix, the Quebec version of The Voice. In an exercise of unabashed creative freedom, Hubert flits around the stage in a belted grey jumpsuit, grabbing at his crotch, and jumping onto the judges' seats, finishing the show by flashing the fleur-de-lis tattoo on his backside to the viewing public. The resulting tabloid frenzy solidified Lenoir as the provocateur to watch.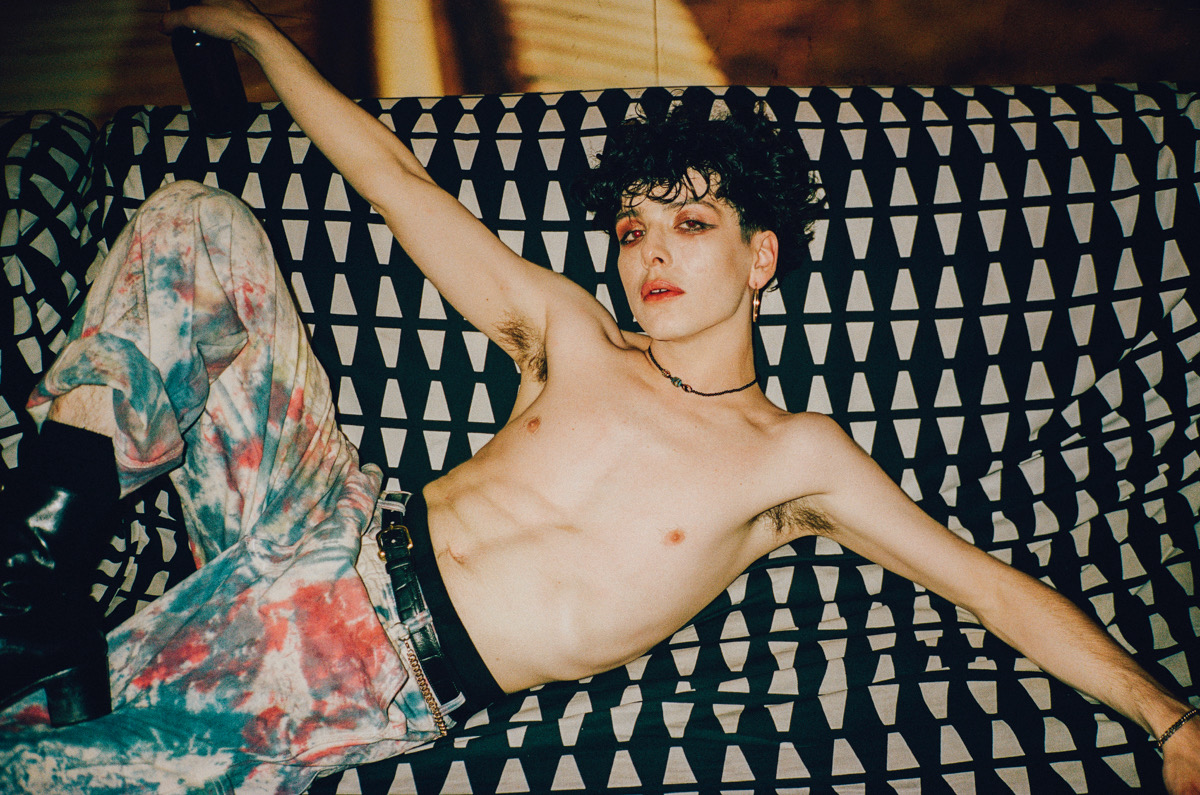 In a new video monologue titled "A Request to Kanye West," premiering on i-D, Lenoir invokes one of his musical idols, the similarly polarizing figure Kanye West. "Hi. I love you," Lenoir's honeyed voice mutters over a slow-burning piano interlude cut from the album. "But sometimes I'm ashamed of it." Dressed in rose-colored 18th century court regalia with rouged cheeks and a head of thick, black curls, Lenoir muses about the complexities of his newfound popularity, imploring West to collaborate on new music and hash out their conflicting political views. "Text me," he dares.
With singles climbing the French radio charts, and his first tour outside Canada kicking off this fall, Lenoir chats with i-D about opera, Natalie Portman, and his choice words for Yeezy.
How would you describe your sound?
Describing your sound, I think, is the hardest thing to do as an artist because it's hard to take a step back from what you're doing. I guess what I was trying to do with Darlène is to make music that has a lot of references from the past, like sounds and textures that I love from the 70s — saxophones, organic drum sounds — but trying to make it somewhat modern and young and fresh. I think that these sounds are still relevant today.
You used to play in a band called The Seasons. How was your music changed since then?
The Seasons was my first band. I was 17 when I started this band with my brothers and a few friends. We released one record. I'm proud of what I did, but I'm not liking it anymore when I listen back to it. It's very hard as an artist to transpose what you have in your mind. You're trying to sound something like something but it doesn't sound like that because you don't have the language to make it what you have in your head.
What's different now is I'm more aware. I just do what I want to do. And I can be extreme sometimes, but that's what's rewarding about being solo. Sometimes I thought I was too extreme with my ideas, so I would just compromise, but now I know that I need to be more extreme. I want to surprise myself. I want to provoke myself. I never want to be too comfortable. When I was writing Darlène, I didn't have any audience. Now that I have an audience, yes, I want to challenge my audience, but I want to challenge myself as an artist and a writer.
You mentioned bringing in the saxophone and 70s vibes into this project. Who are some of your musical inspirations or references?
I try to listen to at least one hour of new music every day. For this record, I was very inspired by jazz music: Quincy Jones recordings from the 70s, Oscar Peterson, Vince Guaraldi. I also listened to a lot of R&B, soul, Motown. I don't know if my music sounds like these artists, but I guess that's what's beautiful about making music: you can take your references and make something of your own with it.
Aside from music, I think I'm very inspired by art, in general. Like movies. I was watching a lot of Blockbusters from the late 90s and early 2000s. It really affected my writing a lot, watching movies. I have this obsession with Natalie Portman — maybe like a crush, or something. There was a mutual crush for me and Noèmie, so we were always looking for movies with Natalie Portman, and she was doing a lot of movies in this era. Watching a lot of movies, it opened up Noémie and I to doing something more interdisciplinary, with the book and the album.
What was your collaboration with Noémie like?
The album and the book are soulmates. They're meant to be together. They can live alone, by themselves — some people listen to the album and don't read the book, some people read the book and don't listen to the album that much. That's alright, but I think the real way of consuming Darlène is by reading the book and listening to the album. But I don't want to put rules on anything. People can do what they feel.
I was in charge of the music in this project and she was in charge of the literature aspect. I wrote Darlène in maybe five months, so it went pretty fast. I would just wake up, listen to music in the morning, then write music. And she was doing just the same: writing. She would make me read the chapters and it would inspire my own writing. Then I would make her listen to the songs. It was really a back-and-forth collaboration, giving each other advice on what we should do, on where we should go.
You've described the album as a "post-modern opera." What does that mean?
Coming from a not-artistic, middle-class family, my only link with opera was from my grandmother who would give me CDs of popular opera, such as Carmen and Faust. When we started writing Darlène, we wanted to do something big, and we were tired of artists around us always thinking about their career goals — releasing singles, being on Instagram, being popular — and not giving any shit about art. So Noémie and I had this idea of making a modern-day opera, something that would be epic, romantic, grandiose, something that we will talk about in decades as something that was artistically relevant.
What was the public response like to your performance on La Voix when you flashed the tattoo on your—
—yeah, on my butt cheek!
Yes!
It was just five days before the performance that they asked us to come on the show. This type of show, I never would have done it because it's totally not my thing. But when they asked us to come on the show, me and Noémie, we said, "If we come on the show, can we do whatever we want?" They said yes.
The thing with the butt cheek: I thought about it about an hour before performing, and I kind of kept it to myself. I thought, maybe that could be cool, but only do it if you feel it in the moment. But then the performance ended. It was pretty weird, the sound was bad, and I just said, "Fuck it!" And I did it.
I went to bed that night and I woke up, 11 in the morning, and it was already everywhere. Newspapers, radio shows were talking about whether it was good or bad or very, very offensive. It went on for weeks and weeks and weeks, and it's still going on. Every media outlet is trying to get something out of me. You just can't take it too seriously, these things. I just keep the focus on the music.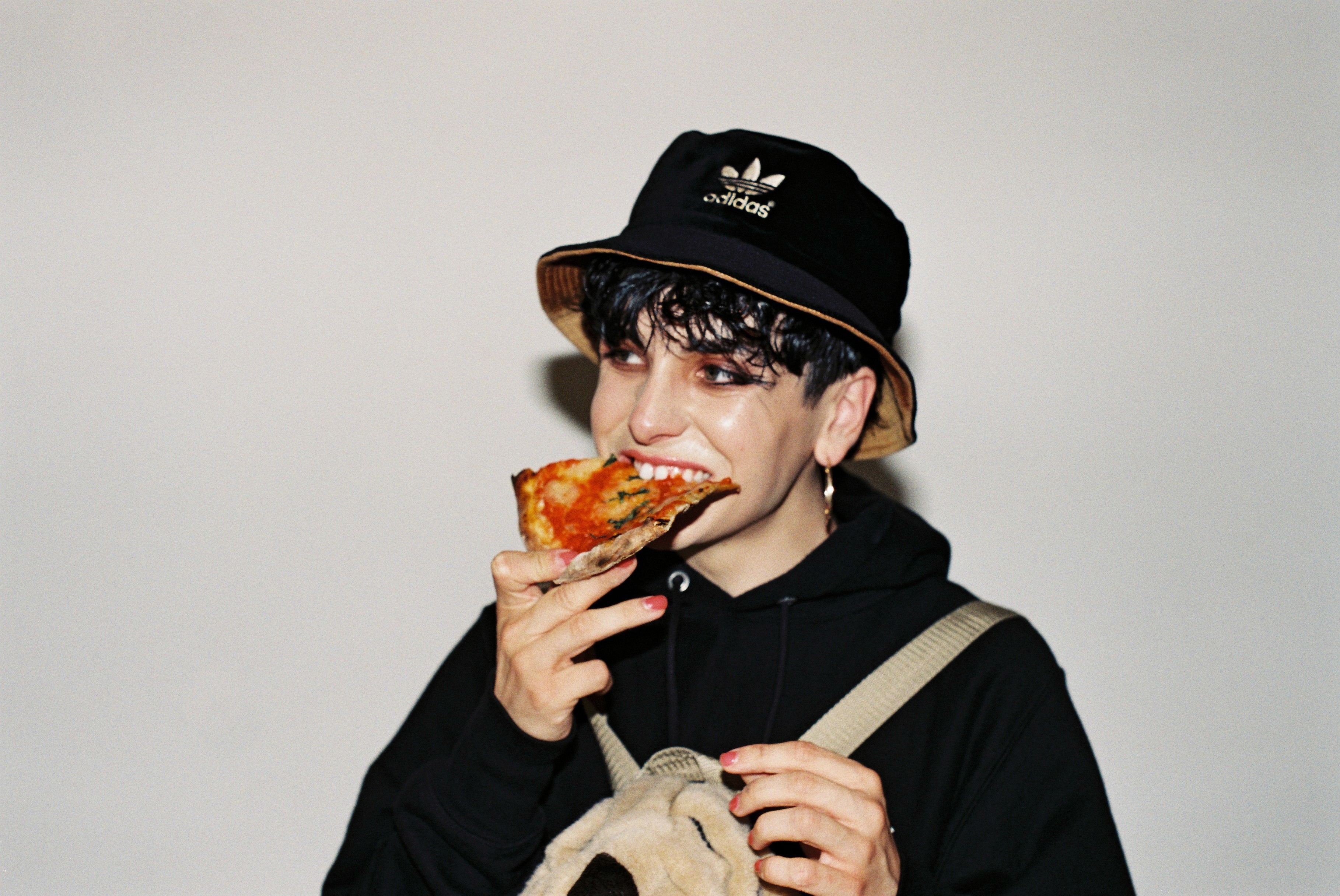 Darlène was just nominated for the Polaris Music Prize. Why is it significant that a Francophone artist be nominated for that award?
I always say that Darlène is not a French record. It's just music. And music, for me, is an international language.
But I am so proud of speaking French. This is my first language. It's the language that I dream in. I think in French. This is just part of myself and I'm not going to hide it. A lot of artists from France and Quebec, when they want to make it in a non-French market, they try to hide that part of them. I don't know if I'm going to be big, but I know that I'm proud of being French Canadian. It's always going to be part of my DNA. It's always going to be part of my art. Even if I'm making a record entirely in English, I'm always going to be thinking in French.
In movies, you see it often: an Italian director can do Italian movies with Italian actors, then can go into the American industry and do a movie in English with American actors. Did you see Call Me By Your Name? There's something Italian about what he's doing even though it's an English movie, even though they're American actors.
That's why it's important for me to have music that's nominated to such a great prize. A lot of award shows all over the world, you know who's going to win because it's about popularity. What's nice about the Polaris Prize is it's not about popularity. It's about the music and being artistically relevant.
What are some themes you frequently explore through your work?
Darlène is about emancipation. I was in a part of my life when I was hiding a lot of my personality, probably just because of my background growing up in the suburbs of Quebec City. I went to high school all the way in the countryside, and it was filled with people in pickup trucks, so it wasn't really the place to show your feminine side.
Why is it important for Quebec to have a visible gender non-conforming artist right now?
Queer or any type of labels — I don't like labels. I've always been confused and I'm still confused about how I should label myself. I think sexuality is very, very personal. That's what I want to tell my fans: who cares about who you're sleeping with? If you suck dicks or if you don't? You shouldn't feel pressured to label yourselves as anything, unless it makes you feel good. If it makes you feel good to call yourself bisexual or gay or queer, then just go say it, scream it out loud. But don't feel pressured. Because who cares, anyway?
I am myself partnered with a girl, so what does that make me? But I'm not straight. I don't care about being labeled as a boy. I don't subscribe to the ideology of what is being a boy in society. I see a lot of my fans don't subscribe either: girls being very masculine, boys wearing makeup at my concerts — and it's all cool! Seriously, my parents, it's weird to them and they won't understand. Older journalists and papers that have older audiences, they won't understand. But the newer generation, my public, they know, so I don't feel like I need to explain myself. I just need to be myself and tell them that it's alright. Just do whatever you want. Be free. It's no big deal.
I think it's important, especially for younger folks, to have people that they can look at and see themselves.
Yeah! I get a lot of messages from boys saying they went to high school wearing eyeliner because they saw me. Who cares if you're queer? It can be as little as wearing eyeliner. If all you want to do is wear eyeliner, let's go with it! It's about how you feel inside and what makes you happy.
Sometimes you dress up as Mozart to help yourself get inspired.
I had the idea from Billy Joel. In an interview, he said that, when he had writer's block, he would dress up really classy, like a writer. And he would just do writer stuff like go to a café, read books, walk around New York. He would just do that for a few days and, when he would pretend to be this genius writer, then the ideas would come back.
I have a relationship with clothes. I can't work or write music in pajamas. It's not possible for me, so I always dress in a way that I like. I dress like Mozart these days because I want to push myself to do something more out there, more artistically complex, so I thought that if I dress myself like a musical genius, I'll become one.
You've mentioned that you would love to collaborate with Kanye West. If you could say anything to Kanye right now, what would it be?
I guess I would like to tell him a few of my opinions about his politics, his Trump endorsement, but I feel like he wouldn't listen to me. That's the amazing thing about Kanye: he's giving me everything to hate on him, but still, when I listen to his records, I'm amazed. I can't not love him.
Still, Kanye has the right to think and free speech, but I think he needs to be responsible about his statements. Politics is not a game. His thing with Taylor Swift, I felt like that was a game for him. Playing with fame and media, that's always been part of his thing. But when it comes to politics, these are things affecting people's lives directly, so you need to be careful. That's what I would tell him.
He probably wouldn't listen to me. We'd probably just do music.