community service are bringing their next fair to melbourne
Artists, galleries, small presses, designers and collectives from around the world all under one roof.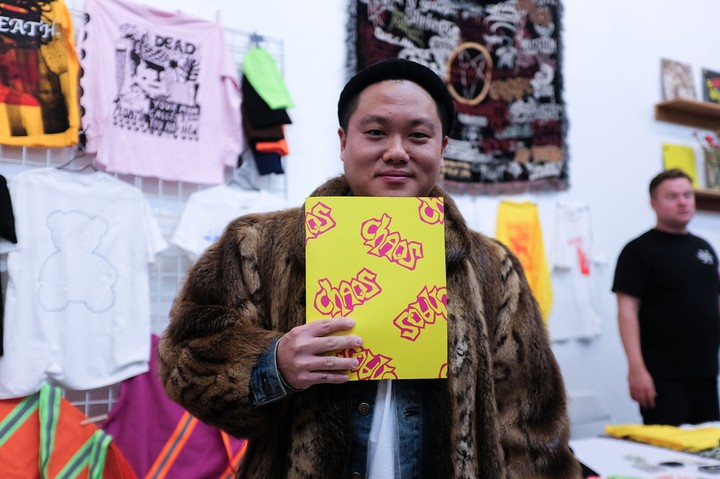 Photography Sasha Douglas Nares
After a stellar debut event in Los Angeles last year, Community Service are gearing up to present their second Art Market, this time held in Melbourne. Much like their LA fair, they'll be hosting an array of more than 30 emerging and established presses, designers and collectives from local and international artists all selling new and rare work, with some exclusives to Community Service.
You'll be able to shop every stall and keep print alive with vendors like FFF Zine, Perimeter, Classic Paris and Little Big Man to name a few. There will also be stalls selling art books, rare magazines, prints, t-shirts, hoodies and tapes, plus more unconventional offerings (by book fair standards) like fridge magnets and leotards.
Fashion is equally represented at Community Service, with stalls from Paper Work NYC, Maroske Peech, Stu Gazi, all is a gentle spring, GARBAGEtv, Soliela, Poly, and Bow3ry all selling garments and more.
And if you're in the mood to socialise while you browse, there will also be a bar running accompanied by DJ sets making this so much for than your standard zine fair. Keep an ear out for sets from Danny Hotep, Oscar Key Sung B2B Shannon May Powell, GARBAGEtv, AKA Bort Sampson, Moey Khalifa, Audrey Schmidt, SAL B2B Cache One, and Gian Manik.
See you there.
Community Service runs from April 5–7 at 19-21 Johnston St, Collingwood, more info here.