blessed began giving his music away and he's never been happier
How parting ways with a major label and losing six years of music set him free.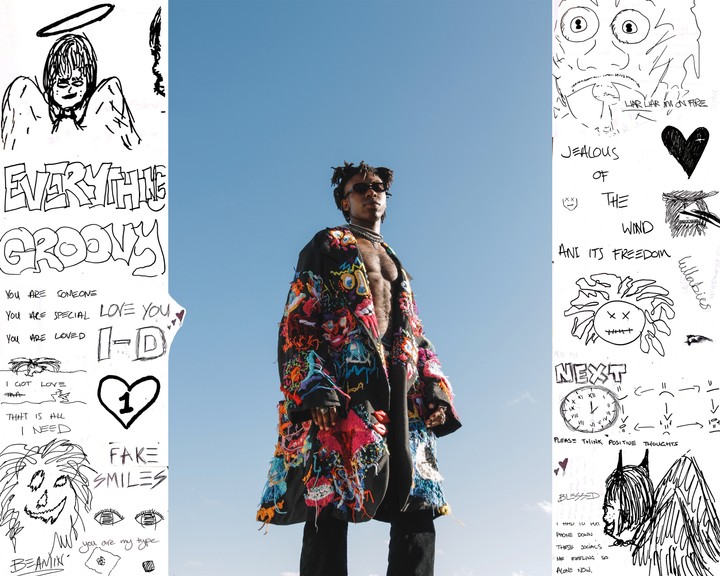 Photography Razak Styling Parmtree Art Direction Trav Leslie and Blessed
There was never a doubt that Blessed Samuel Joe-Andah would pursue a life in music. The question was just how he'd do it precisely. Born in Ghana and raised in Western Sydney, Blessed is now a crucial member of an ever-widening group of influential musicians coming up in this corner of the world. For his part, Blessed has honed his sound day and night, for the best part of five years, from the creative confines of a studio he's shared with friends including Manu Crook$, B Wise and Dopamine. During this dizzy time, Blessed was signed to Sony—under the moniker Miracle—while also increasingly sought after as a producer and songwriter for other major artists. On paper it sounded perfect but Blessed, keen to make music on his own terms, in his own time, ultimately severed his contract with the label. He also lost a laptop containing over six years worth of music, a blow he found difficult to recover from creatively.
Thankfully, with some time and travel—a trip to Morocco with Manu Crook$ and Anfa Rose included—Blessed is back and more inspired than ever. Right now he's making more music than he could ever release, some of which he's sharing with the world on Soundcloud every Sunday. We caught up with Blessed to discuss his guitar-heavy rap, rejecting boundaries and creating a universe of your own ideas.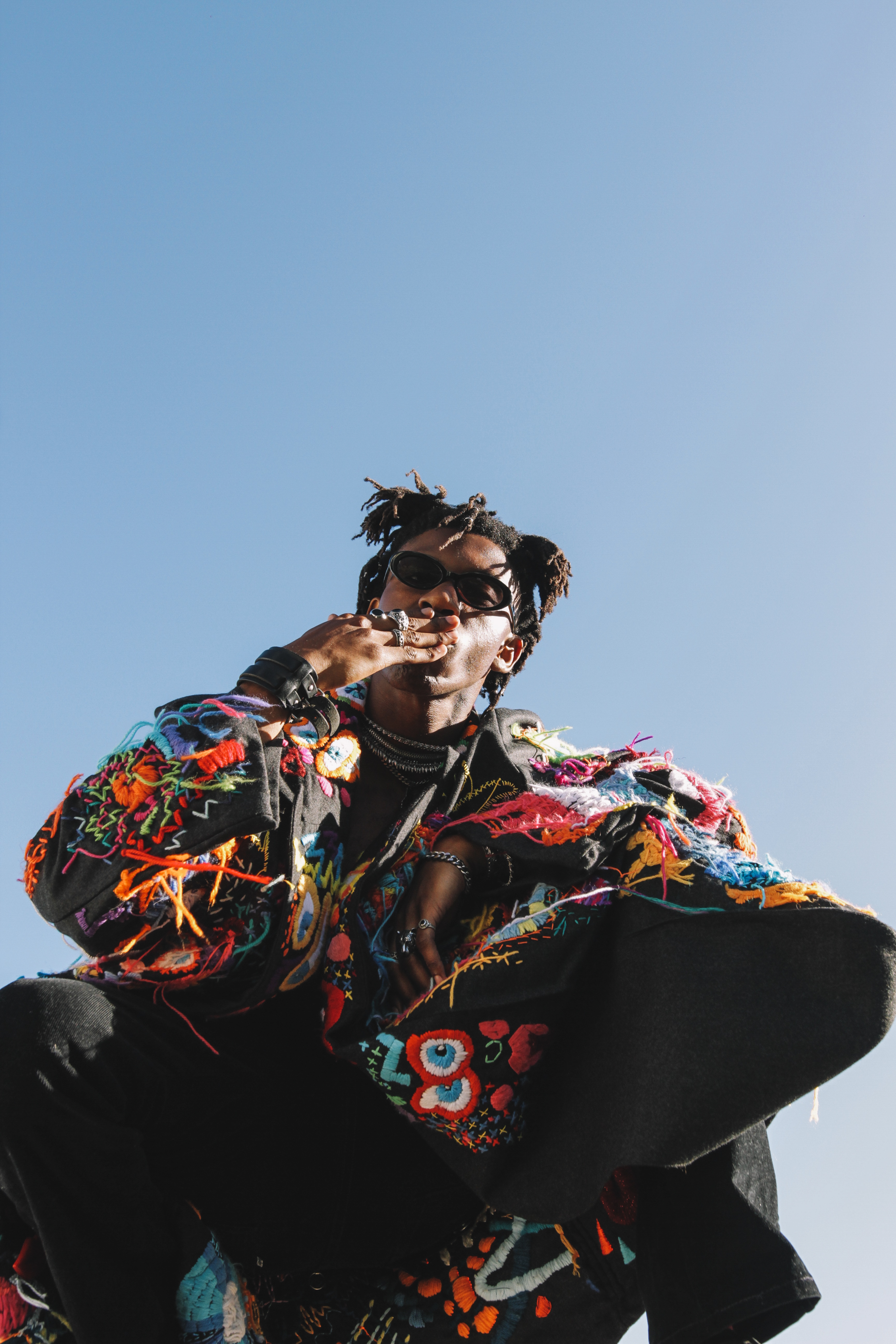 i-D: Was there an 'ah-ha' moment when you knew this was what you wanted to do?
Blessed: I kind of just knew I'd do it my whole life. I've always been fairly reclusive and tended to stay in my room a lot. Like what else are you going to do in your room? Play video games, make music or watch porn or something. So, like, of course I chose music.
You took the high road there. Now that anyone can technically make music from their bedrooms, what, beyond your evident talent, helped you to take it to the next level?
I'd say self-efficiency. I really like getting things done. Want to know my pet peeve? It's waiting for somebody else to get something done when you could do it right away. It's the worst!
Is that at the core of the reason you parted ways with the label you were signed to.
I was signed for four or five years when I was out of high school. I was seventeen and it wasn't a great experience. Once I got out of that deal, that's when I really found my sound. Without a label telling me what music to make for radio or whatever, I had complete freedom.
And now you're releasing new music every Sunday for free?
Yeah, I'm doing Blessed Sundays. It's tempting to get caught up in social media and algorithms but I wanted to ignore all of that and just put my music on SoundCloud and Spotify or any other platform. For me it's about not trying to play the game anymore, it's all about expressing myself.
Is there a religious irony to Blessed Sundays?
Yeah, there is actually. My dad is a minister and I'd been to church literally every Sunday until I was nineteen. I still go every now and then but I'm not the best churchgoer these days. The Blessed Sundays are a kind of challenge to myself. I want them to be like diary entries in a way.
Will there be a linear narrative to the releases?
I guess in hindsight there might be but for now the real narrative is going to be my emotional stability. I don't want to sound hectic but that's kind of how it is. I don't really listen back to my music that much. I literally make so much music, I don't think there's anyone who makes more music than me. I mean there probably is but I make a lot! I'm only releasing the songs I like but I've started a publishing company so I can catalogue everything I'm making and work with other artists.
That's smart. What else are you up to? The artwork you release is great.
I work with a graphic designer called Trav Leslie who helped me put together the concept for these Basquiat inspired artworks this year. I do almost everything else on my own so it's great to collaborate on this and have another creative's perspective.
Can we talk about the studio you shared with your friends?
Sure, we had the studio for four of five years and it was one of the best times of my life. We'd wake up there, eat together, make music together, sleep on the floor or the couch. Having a bunch of people around who you trust, and encouraging each other as creatives, is the best. It was a really inspiring space but at the end of last year, we were kicked out. I guess if you have a bunch of artists in one building…yeah, it's maybe not going to last forever.
So it wasn't all work, is that what I'm getting?
Ha! It was a lot of partying too, let's be honest.
Back to your music, how has your sound evolved over those years?
It's changed a lot. When we first got the studio I was still signed to SONY and was writing pop songs for artists like Justice Crew and Jessica Mauboy. Things changed when I started playing guitar and moving away from pop. As soon as you add the guitar, it has more an edge to it.
What would you say is your highlight to date?
Last year a couple of mates and I were performing at Splendour festival, including Manu Crook$. Can you imagine all your friends going to and playing at this festival? It was a huge celebration of all our work and we could really take a moment to be proud of ourselves.
And what's next? It feels like you're at a really interesting juncture where anything could happen.
I'm so excited for what's next. I've started scoring films. In terms of fashion, I'm working on interesting pieces for myself to wear. I'm also interested in photography, graphic design, all the visual stuff. I have so many mates who are next level and I'm excited to work with them to create stuff we love. I'm definitely grateful to be a part of something that's bigger than just music.
And please tell us you're backing up all your new music now?
Always.