Franz West, Mostly West, an exhibition of Franz West's sculpture outside the Lincoln Center for Performing Arts, New York, 2004 © Estate Franz West, © Archiv Franz West Photo: Reinhard Bernsteiner / Atelier Franz Wes
the best things to watch, see and do this week in the UK
We normally publish this column on a Monday but we had a really long meeting, then we forgot, so there you go.
|
26 February 2019, 3:56pm
Franz West, Mostly West, an exhibition of Franz West's sculpture outside the Lincoln Center for Performing Arts, New York, 2004 © Estate Franz West, © Archiv Franz West Photo: Reinhard Bernsteiner / Atelier Franz Wes
Art: Franz West/Dorothea Tanning
More bang for your buck at Tate Modern this week, where the recently opened Franz West retrospective is joined by the first large-scale exhibition of Dorothea Tanning's work for 25 years. While the West show explores the Austrian's playful approach to sculpture, furniture and collage -- including those whopping great outdoor works you might have seen outside the bankside gallery (read i-D Deputy Editor Felix Petty's preview of the show here) -- the Tanning exhibit presents a fresh look at a boundary pushing artist, whose strange and sensual work is now recognised as having been unjustly overshadowed by that of her husband, surrealist Max Ernst. We're going to see it tonight, in fact, which is nice.
Franz West runs until 2 June, Dorothea Tanning runs until 9 June at Tate Modern, London.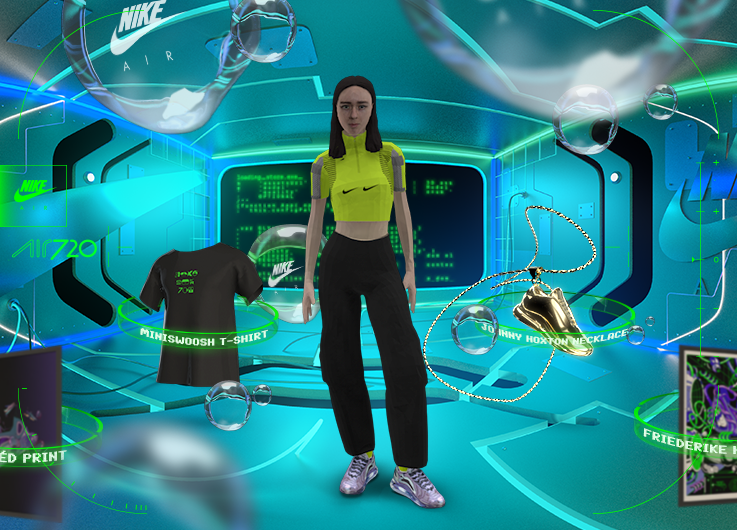 Shopping: Nike 720 Air Store
Online shopping receives an upgrade with the launch of Nike's new '720 Air Store' concept. Giving every customer who purchases a pair of Air Max 720s credit with which to unlock special merch, content and prizes, the store will be hosted each week by a different 'avatar' acting as a sort of virtual shopkeep (this Thursday sees Korean DJing queen Peggy Gou manning the till), guiding the user around a futuristic store inspired by the Y2K aesthetic of the shoe itself. It all sounds a bit confusing, but it's basically like popping to the shops in a Hype Williams music video from 1999. With free socks.
Visit the Nike 720 Air Store here.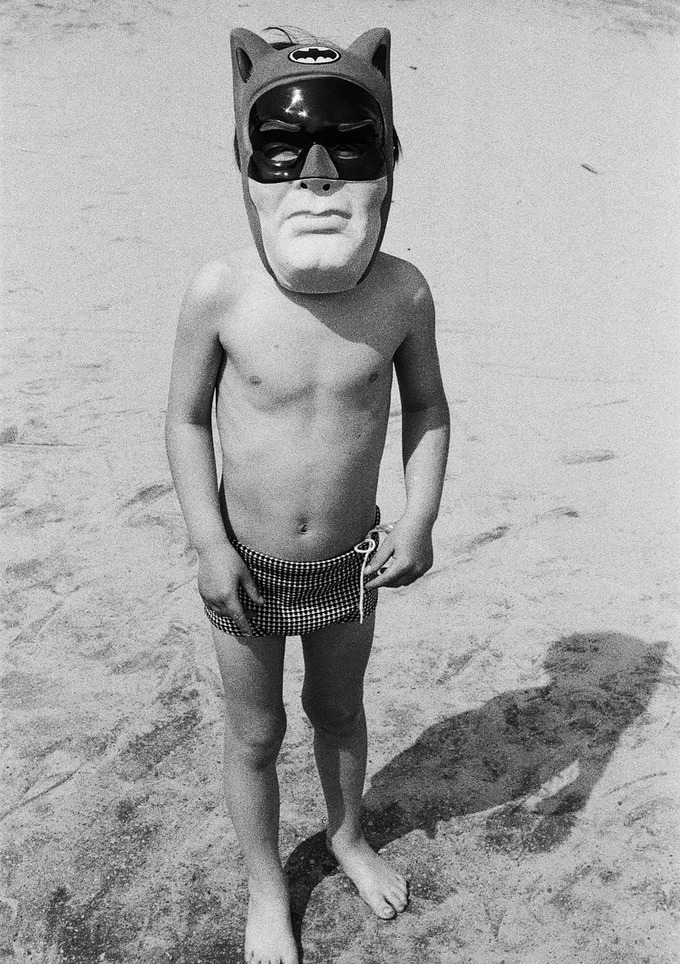 Kickstarter: Private Reality
Very good photographer Iain Mckell is working on a new photography project, Private Reality. Ostensibly a book about growing up in the seaside town of Weymouth in the late 1970's, it is, like a lot of Iain's work, as much about youth culture and community too; all seen through the eyes of a photographer as he turns from an adolescent into a young man. You can make a pledge towards the project at the link below.
Visit Ian's Kickstarter here.
Podcast: NB
A new BBC podcast follows non-binary radio producer Caitlin Benedict as they prepare to come out to their family in Australia. Joined by regular i-D contributor Amrou Al-Kadhi (AKA Glamrou), the series began last Wednesday with an episode asking "What do you do when you realise you're non-binary?", and continues for the next few weeks as the pair "explore what it means to dismantle the gender binary one big question at a time; pronouns, labels, clothes, drag, role models, the past, the future, gender dysphoria, gender euphoria, and how to be real with your loved ones".
New episodes every Wednesday.
Music: Rainy Miller/Anne Pigalle
Two musical offerings come in the form of albums by Rainy Miller and Anne Pigalle. Released on his own label, MT. PLEZ, with distribution being handled by Portland's Fresh Selects, Rainy Miller makes music that sounds like a Lancashire Frank Ocean; all autotune emoting, interspersed with field recordings of Preston patter. Little wonder hot NYC talent Gus Dapperton hand picked him to join him on tour this month. Anne Pigalle meanwhile is a former i-D cover star; one who moved from Paris in the latter years of punk, became an integral part of the London club scene, dropped out and moved to LA, reappeared as a painter, photographer, performance and multimedia artist, and has chronicled the whole thing in an epic, narrative concept album called Ecstase, with ex-Sex Pistol Glen Matlock on bass. Amazing.
Limbs by Rainy Miller and Ecstase by Anne Pigalle are out now. Anne has a multi media event at London's Horse Hospital on 30 April, while Rainy Miller is on tour with Gus Apperton this month and next.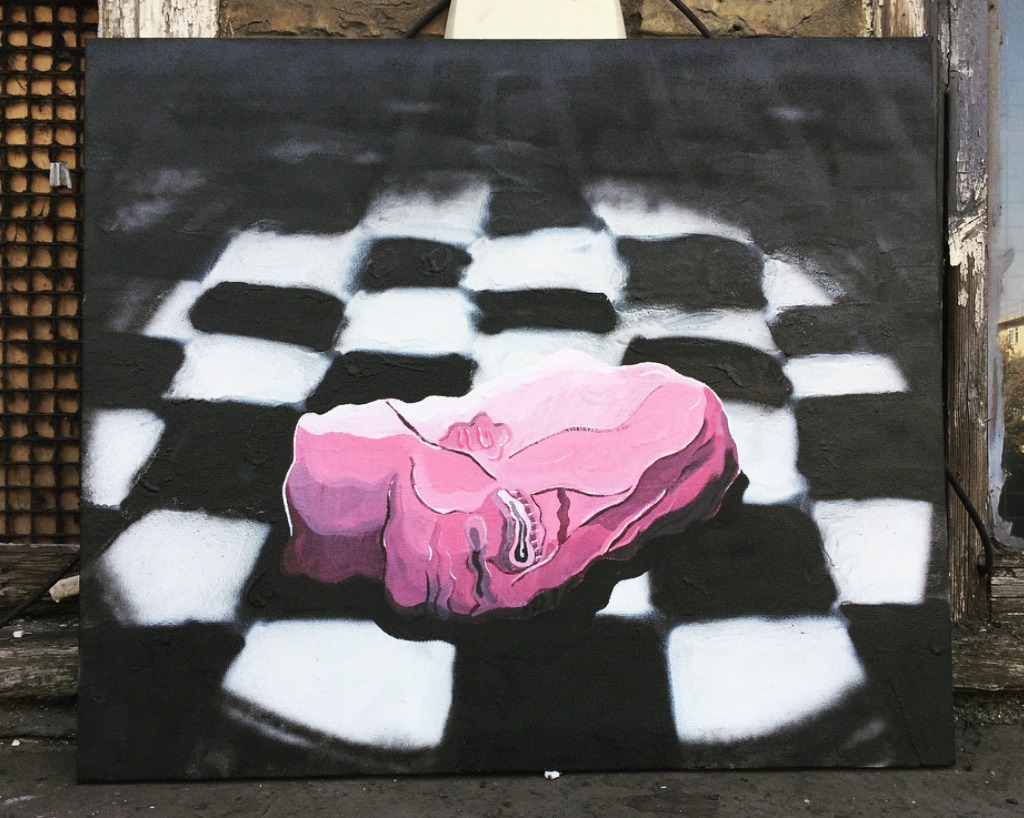 More Art: Guess I'll Live
And finally, Peckham's The Chopping Block Gallery is playing host to a three day-long, meme-inspired exhibition from visual artist Josh Spindler and writer Roisin Lanigan. Charting the couple's 2018 -- when Roisin was diagnosed with cancer at the age of 26 -- the show uses light, sound, sculpture and painting to illustrate the effect that "shit luck", as they have it, can have on two people's lives. With Roisin now having finished her treatment (huzzah!), the pair will be using the night -- as well as the accompanying zine and frankly incredible pin badge -- to raise money for Stand Up 2 Cancer and Trekstock, a charity for young cancer survivors. So you kind of have to go really, don't you.
28 February to 2 March, The Chopping Block Gallery, London.