celebrating the beauty of buzzcuts and baldness
Whether it's to challenge societal definitions of beauty, a practical choice, or a way of taking ownership of health issues, being bald can be incredibly empowering. We meet six women who have found liberation through shaving their heads.
After a history of severe hair loss, aged 21, British make-up artist Bea Sweet took the plunge and gave herself a no. 1 buzzcut. Though liberated by her decision, Bea could never quite muster the courage to wear her buzzcut without concealing it under a turban. "People always thought I wore it as a fashion statement," she tells i-D. "It inadvertently became my trademark, but it was actually to hide my hair loss and shaved head." Over the years, Bea has come to embrace her baldness. It was while she was studying for her BA in make-up and prosthetics at The London College of Fashion, (where she also learned to make her own lace hair toppers) that she first began to accept her missing hair. "It's not always a choice to go bald," she acknowledges, "but I've learned since that there is a choice after the baldness occurs — and that choice is whether or not to embrace it." Now she wants to champion others doing the same. So Bea has teamed up with photographer Jackson Bowley to curate a shoot starring six women, each with their own story to tell, to highlight the beauty of baldness.
"I wanted to meet other women who have made the same move as me, and explore their reasons why," she explains. "I wanted to champion them by creating a make-up look based around their bald-headed beauty, and make something that is as unique to them as their bald head is. This is a personal story for me, and I'm now sharing the personal stories of others." For Bea, baldness is no longer about shame or stigma, but instead has come to signify a sense of self-ownership, of identity, of shedding patriarchal views and of overcoming issues relating to physical and mental illness. "The women I talk to below have the confidence to wear their baldness openly and I am forever in awe, I wish I'd known people like them when I was going bald, to understand that I had nothing to be ashamed of at all, far from it."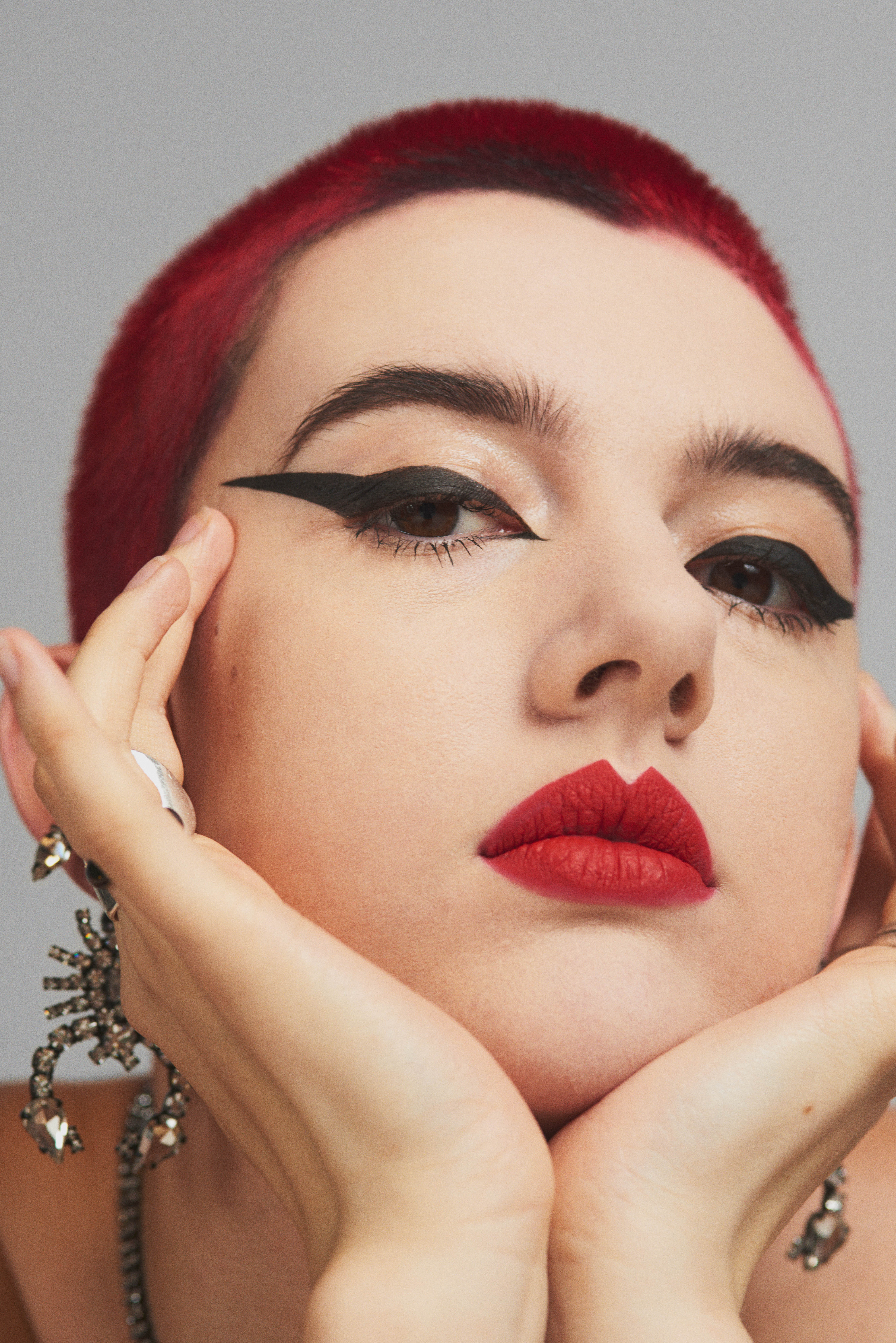 Sarah Parsons, 21, bartender, model, and soon-to-be Oxford Student
"I shaved my head in August of last year for charity, not quite knowing then the profound impact that such a simple change would have on my sense of self, my ownership over my identity, and how cold my head can get in winter. I see the shaved head as an act of defiance, a big "fuck you" to the societal expectations of femininity and the binary way we have been taught to look at gender. I was surprised at how keenly I felt the loss of not having a lock of hair to curl round my finger or a fringe to duck behind when I didn't want to be looked at. With a shaved head, there's no hiding -- it's just you and your face and I think that lack of buffer gave me free reign to experiment more with my gender expression, and with my queerness. When I look in the mirror now, I recognize the person looking back at me. It's liberating.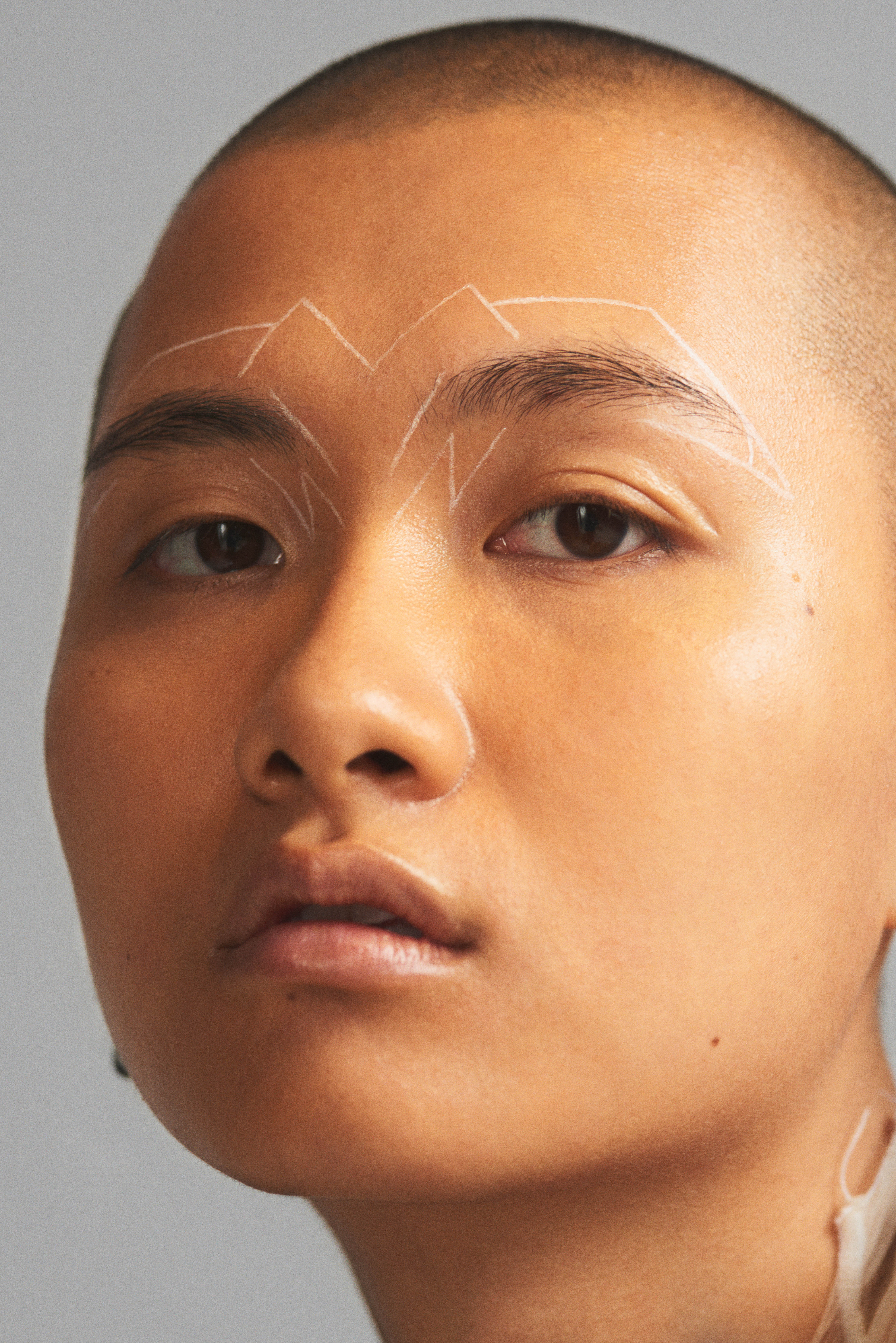 Elaine Kwok, 20, media student and model
"Shaving my head was hands down one of the best decisions I made in 2017. It's so liberating to not conform or be pigeonholed in terms of how certain genders should present themselves. I've honestly never felt more me. Maybe hair is not just hair after all. It happened spontaneously -- I was just having a conversation with a photographer at a shoot about me wanting to shave my head a few years back but never taking the plunge. After the shoot, we drove to her mum's to get the clippers, then the rest is history. I fully love and accept myself, embracing the feminine and masculine in me.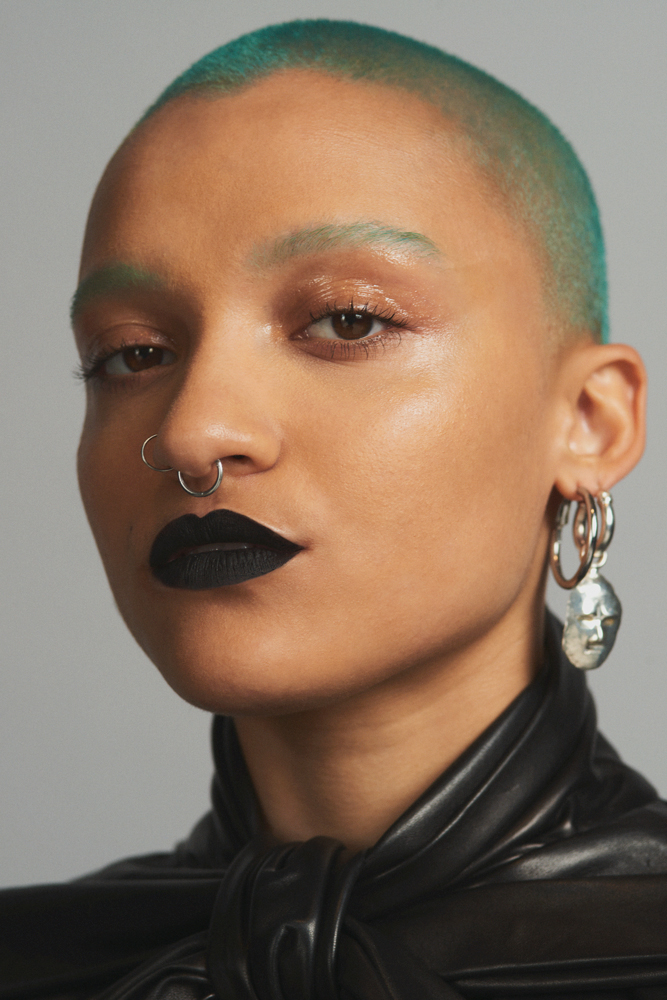 Rene Matic, 20, conceptual artist
"Shaving my head is my favourite time of the week, I get to be born again, and again. I feel sexy and powerful and I am so aware of myself. As someone who grew up as a working class, queer woman of colour, it was the first time I learnt to do someone solely for myself and that was a really pivotal moment in my life. I am still unlearning what our white supremacist, hetero-patriarchal society has taught me about looking after (or not looking after) my body, and shaving my head every week gives me the agency that I deserve."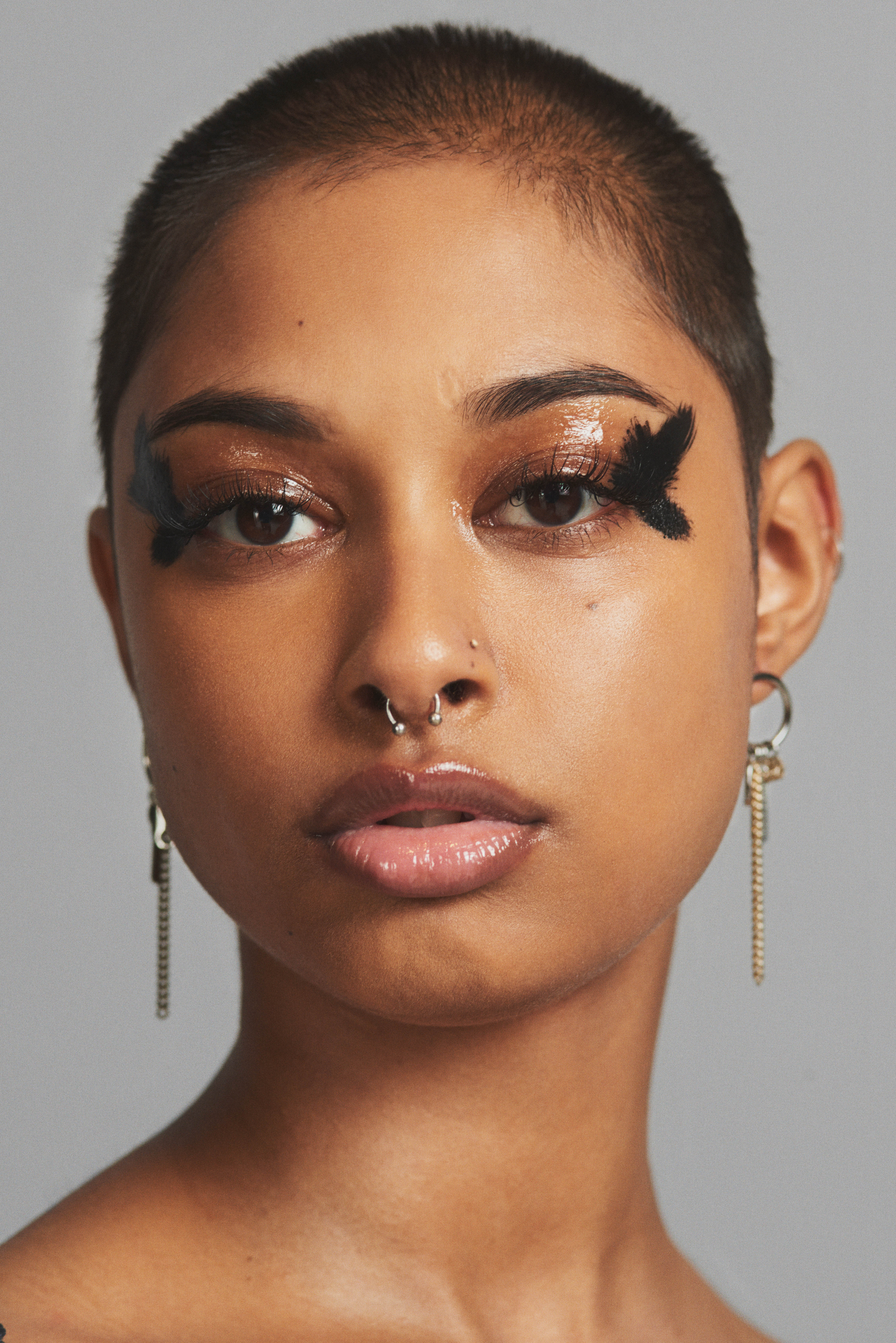 Noshin, 22
"I first started going bald four years ago, due to issues relating to my physical and mental health. By the time I had gone completely bald, I'd already fallen in love with it, both for aesthetic and practical reasons. At 15 years old I was diagnosed with end-stage Chronic Kidney Disease and was put on dialysis until I received a kidney transplant at 18. Unfortunately, the kidney only lasted around 2 years. In November 2016 I was put back onto dialysis, which now takes place every night. I used to spend weeks at a time in hospital and it became difficult bathing, so being bald was much more convenient. The last couple of years have been mentally and emotionally draining, but in going through all of these difficult experiences, I have gained a new found gratitude for life and people. It has humbled me to a point where I no longer fuss and fret over trivial things like I used to. However, I am still discovering myself and have a long way to go. Being bald really expresses my character and voices my individuality. I am from a South-Asian Muslim background, tradition inevitably made my family quite hesitant when I first had the big cut. Nonetheless, they quickly fell in love with it for all the reasons I had, and accepted my choice. Baldness hasn't taken away from my femininity but has instead brought me much closer to forming my identity. All in all, I will always be proud of my baldness. I am bald. I am beautiful.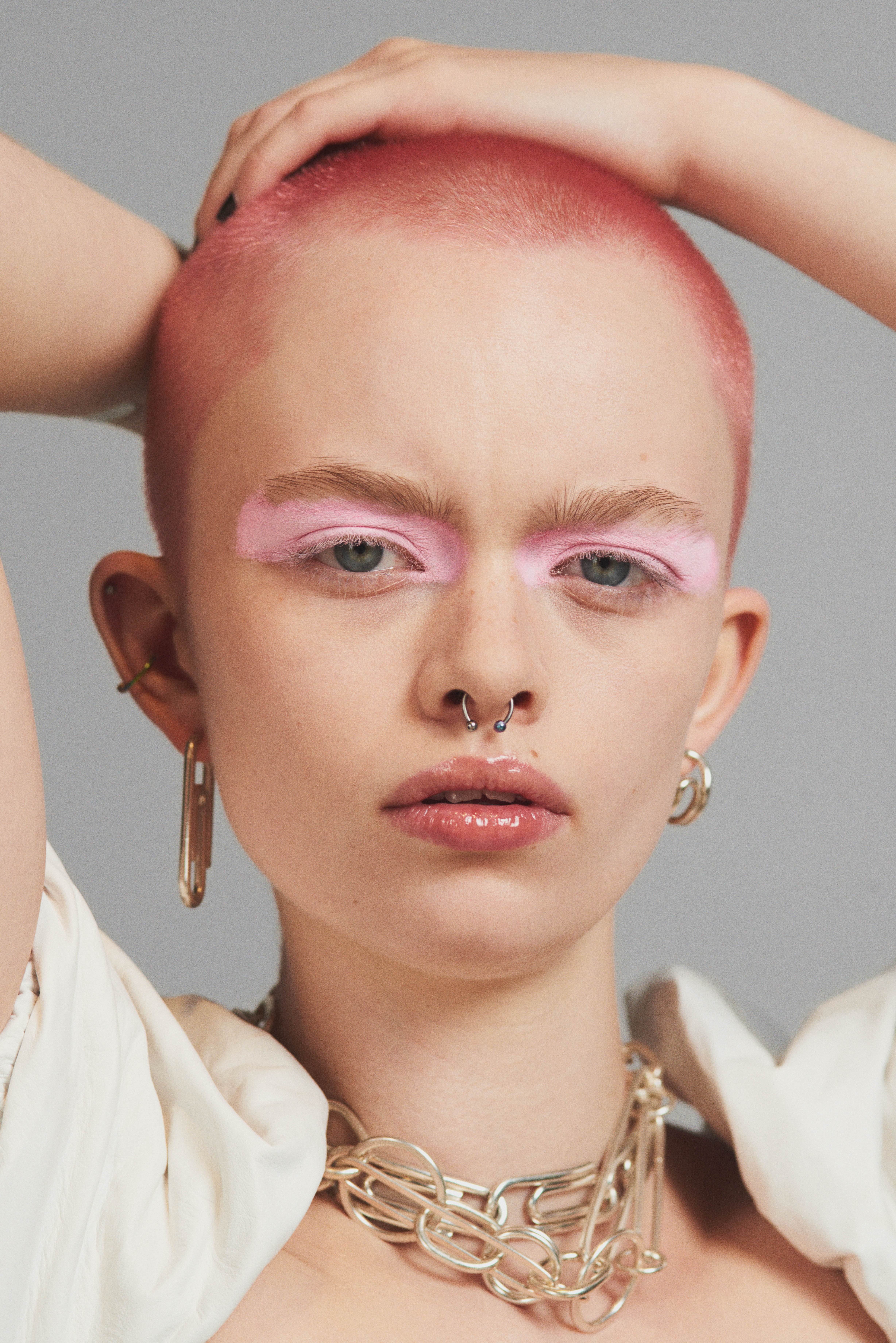 Scarlett, 19, model/dancer
"I didn't really put much thought into shaving my head. I'm a really active person and my hair tended to just get in the way. I'd spend ages styling and highlighting it, but I never particularly liked it or had any attachment to it. So one day I just decided to get rid of it. I didn't really think of what everyone else would think, unfortunately though a lot of people had something to say and it was mainly negative. However, I have never felt better in myself. It was the start of a journey of self exploration and if anyone has a problem with it, it's their problem, not mine."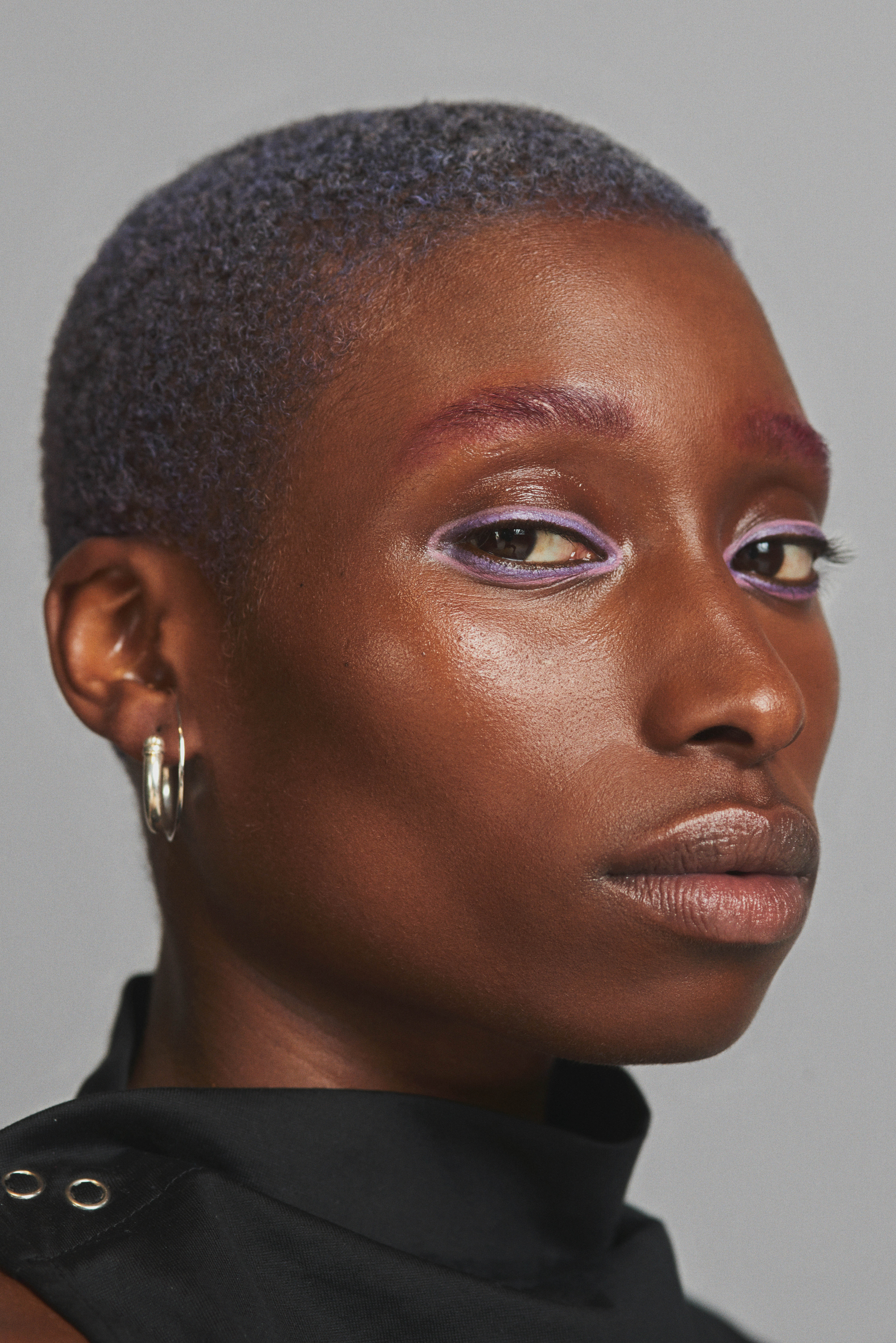 DJ, 24, model
"Having a shaved head is everything. I shaved my hair last January and I haven't looked back. I used to think my beauty was tied so closely to my hair, how it was styled, how long it was, it's nice to not have hair and still be able to feel beautiful. It's like, here's my face! Growing up, I was always the weird one, slightly different from everyone. For the longest time I thought that was a bad thing, or people used to make me feel like it was a bad thing. Then one day I realised that all of those fuckers were weird too, there's no such thing as normal. There's definitely times when I get bored so I grow it out a little, dye it, then cut it all off again, It's awesome, I can be a new bald bitch every week."
Credits
Make-up by Bea Sweet @ LMCWorldwide
Photography by Jackson Bowley
Styling Ashlee Hill Hair by James Oxley using Wella Professional
Make-up Assistant Georgia Hope
Digi Op Eamonn Freel
Photography Assistant Oscar Eckel
With thanks to Grand Palace Studio
Sarah Parsons
Eyes: Giorgio Armani Black Ecstasy Total Effect Mascara in Black, Kat Von D 24-Hour Super Brow Longwear Pomade in Dark Brown, YSL Couture Long Lasting Couture Eyeliner in 01 Black Matt
Skin: Marc Jacobs Shameless Youthful-Look 24-Hour Foundation SFP 25 in Y110, Laura Mercier Translucent Loose Setting Powder
Lips: Fenty Beauty Stunna Lip Paint
Sarah wears Ashley Williams dress, necklace and earrings, all other jewelry models own
Elaine Kwok
Eyes: Tom Ford Eye Kohl Intense in White Smoke
Skin: Niod Set 1; Low-Viscosity Cleaning Ester, Fractionated Eye Contour Concentrate, Multi-Molecular Hyaluronic Complex, Photography Fluid, Opacity 12>#/p###
Lips: Giorgio Armani Neo Nude Ecstacy Balm Lipstick in 1 Soft Nude
Elaine wears Ottolinger dress, Delfina Delettrez earring, Ekria hoop earring, Dinny Hall ring
Rene Matic
Eyes: 3ina The Eye Gloss in 500, Eyeko Rock Out & Lash Out Mascara, Kat Von D 24-Hour Super Brow Long-Wear Pomade in Lemmy Green, Tom Ford Spike Lash Mascara in Noir
Lips: Lime Crime Black Velvet Velvetine
Skin: Fenty Beauty Pro Filt'r Soft Matte Longwear Foundation in 290, Tom Ford Shade & Illuminate SS18 Shade 01
Rene wears Ellery top, Ellery earring, all other jewlery Models own
Noshin
Eyes: Glossier Lash Slick Film Form Mascara, NARS Black Valley Eye Paint, Yves Saint Laurent Eye Gloss Smudger
Lips: Glossier Lip Gloss
Skin: Marc Jacobs Shameless Youthful-Look 24-Hour Foundation SPF 25 in Y360, Glossier Wowder in Dark/Deep
Noshin wears Anders Haal top, MM6 Maison Margiela dress, Justine Clenquet earrings, Ekria hoop earring, all other jewelry Models own
Scarlett
Eyes: Urban Decay Eyeshadow in SWF, Tom Ford Lash and Brow Tint in Copper Lips: MAC Clear Lipglass
Skin: Fenty Beauty Pro Filt'r Soft Matte Longwear Foundation in 110, By Terry Hyaluronic Hydra-Powder
Scarlett wears Mimi Wade dress, Zohra Rahman necklace and earrings, Annie Costello Brown necklace, all other jewelry Models own
DJ
Eyes: 3ina The Essential Eye Pencil 101, MAC Lip Pencil in Hip'n'Happy, Tom Ford Lash and Brow Tint in TFX22 Magenta
Lips: Giorgio Armani Neo Nude Ecstacy Balm Lipstick in 3 Deep Nude
Skin: Fenty Beauty Pro Filt'r Soft Matte Longwear Foundation in 440
DJ wears Marques Almeida top, Ellery earrings, Ekria hoop earrings, Patcharavipa ring