five crucial cardi b tracks beyond 'bodak yellow'
Throw on these essential Cardi B tracks and celebrate her big #1!
|
27 September 2017, 8:59am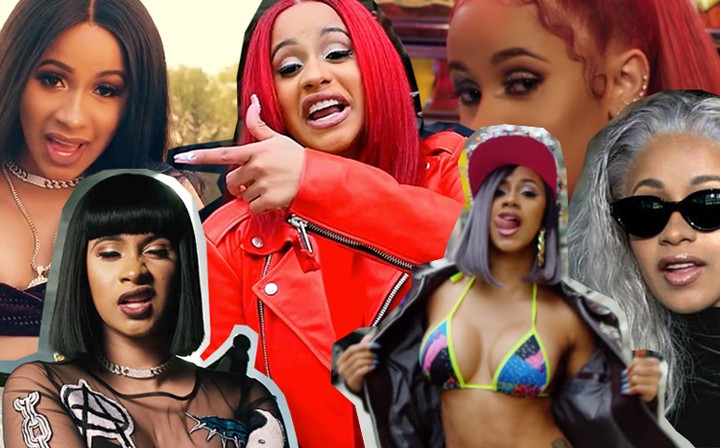 Screengrabs via YouTube
Yesterday, the internet was set alight by the news that Cardi B's Bodak Yellow had dethroned Taylor Swift's Look What You Made Me Do to become the No. 1 song in America. Fellow hip hop stars including Nicki Minaj, J. Cole, and Lil' Kim congratulated Cardi on her historic achievement — Bodak Yellow is first song by a female rapper to top the Billboard Hot 100 since Lauryn Hill's Doo Wop (That Thing) in 1998, when Cardi was just six. It's also the first song by a Latinx woman to go No. 1 since Shakira's 2006 hit Hips Don't Lie.
To breeze though Cardi's inspiring story: a Dominican and Trinidadian girl born and raised in the Bronx makes it big on Instagram with super-relatable, super-funny hot takes, then bigger still on VH1's Love and Hip Hop, and finally explodes into American homes with Bodak Yellow. The slow-burner doesn't stick on first pass, but by the third listen even the most resistant listener is boasting along with Cardi: These expensive, these is red bottoms, these is bloody shoes!
Cardi's been writing anthemic raps since 2015, many hooky enough to reach chart heights similar to Bodak Yellow if they'd been given the chance (Cardi didn't release any singles to promote her first mixtape, Gangsta Bitch Music, Vol. 1, and just one from Gangsta Bitch Music, Vol. 2). Here, we're picking the best of those could-be hits: this is essential Cardi listening.
Washpoppin
Washpoppin distills everything that made Cardi's Instagram clips such viral hits into a strip club sing-a-long, taking its title from one of her many catchphrases. As the song opens and closes, we hear clips that echo some of her more famous internet addresses — People be like, 'stripping ain't a real job,' so how the fuck we buy our weaves then?
Lit Thot
Lit Thot is Cardi's answer to a question more than a few people are asking right about now: Who is Cardi B? She'll tell you: I'm that East Coast Lit Thot. She's out in full force, the same assertive, too-busy-for-you Cardi of Bodak Yellow.
Lick
Lick was Cardi's first time working with now-boyfriend Offset, which makes it (as far as we care) their meet-cute. Listening to this track and not driving a drop top round a beachside highway with Louis Viutton luggage in the backseat and giant Slurpee in the cupholder feels like a crime. It slaps!
Foreva
A year before Bodak Yellow, Foreva became something of a super-hit in one corner of the internet: the world of dance clips. A cursory look through YouTube reveals hundred of high-energy choreography videos set to the 161 BPM song, and you can hear why it caught.
Sauce Boyz
A ice-cold rebuke to all the men who tried to lock her down, Sauce Boyz is Cardi at her most defiant: Boy you lying, usin' hella filters, this ain't the gram. It's a real 2-in-1 wonder: a turn-up song and a lesson for all men who really aren't all that.