four weddings and a funeral: ryan lo celebrates britishness for spring/summer 18
First comes love, then comes marriage, then comes something bittersweet. Oh Ryan Lo!
|
16 September 2017, 12:28pm
"It's my interpretation of Britishness," Ryan Lo explained during a preview a collection on the eve of the show. "It's a bit off because it's seen through the outsider eyes of my childhood." For the "half British" Hong Kong-born-and-raised, London-based designer who longs to become a British citizen this year, his definition was filled with delightful duality. Set in The Saint Sepulchre-without-Newgate Church in Holborn and soundtracked by dramatic Korean drama scores, the collection time travelled through British history -- with English rose muses from Elizabeth I to Princess Di and Kate Moss -- as Lo explored themes of life and death, love and heartbreak, past and present.
After sharing a cacophony of candy colours and hyper anime speed in seasons past, this coming-of-age was Ryan Lo slowing right down and demonstrating just how far this talent has risen. Ultimately, this was Ryan Lo's girl growing into a woman, a woman who still has a thrill for a frill.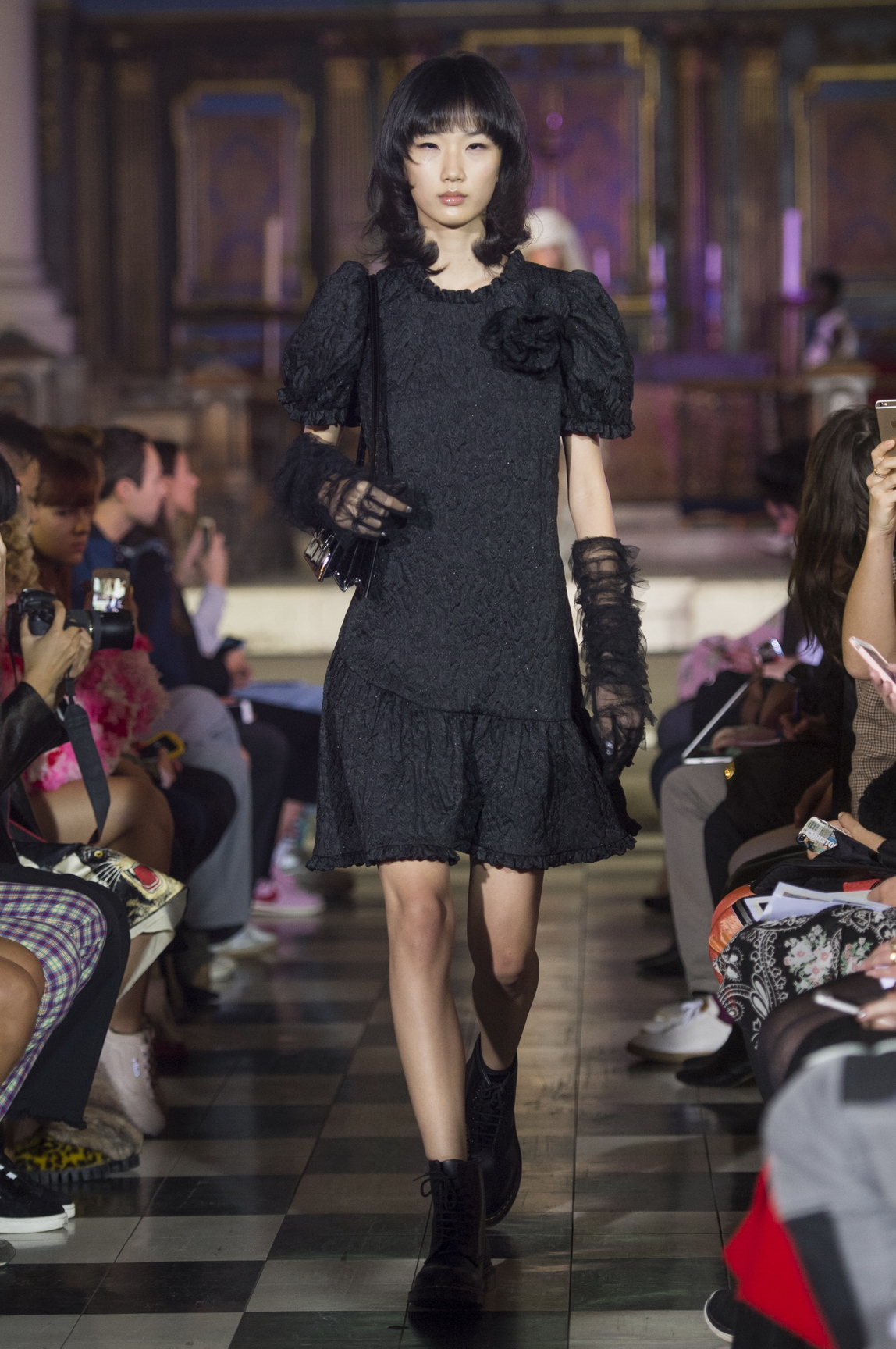 "I was interested in adding relevance British classics. After the colour of recent seasons, I wanted to do a black and white collection because to me, that's the colour of Britain, but there are a few touches of pink. It was a new challenge. There are hints of my Snow Queen collection but it was about showing how far I've come. The signatures are all there, there's just subtlety."
Stripped of distraction, the clothes captivated and spoke for themselves while the accessories -- both Stephen Jones' exaggerated headwear and a collaboration with Her Royal Majesty The Queen's favourite bag maker -- toyed with tropes of British formality.
Now, Ryan Lo is not a political designer but there can be no ignoring this collection's ties to the post-Brexit in which we are all questioning what it means to be British. Lo has a habit of inviting us all on an escape from reality and despite any somber pangs of socio-political angst we read into clothes, the collection reminded us just how beautiful this nation can be. "Of course, the collection is open to interpretation but it's just clothes to me and I hope they're beautiful. At the end of the day it's practical clothes for practical women."