"what does it mean to have a £3 top next to a £3,000 top?" – miranda july on religion, prejudice and luxury shopping
For her first commission in London, the American artist opened an inter-faith charity shop staffed by workers from four different religious charities on the 3rd floor of Selfridges, right next to Vetements.
On 31 August 2017, Miranda July walked out of London's Selfridges on to Oxford Street, and shouted, at no one in particular: "There's a charity shop in Selfridges! On the third floor!" She had been encouraged to do so by Michael Morris, Co-Director of Artangel, as a literal and symbolic release after keeping the major site-specific project they commissioned from her secret for five long years. Mostly. "I did a horrible job," Miranda admits the following day over bowls of corn chowder in Selfridges' Hemsley & Hemsley cafe, just around the corner from her charity-shop-artwork. "I'm so happy we made it to this point. I was constantly reporting people I'd told to [Michael]," she says. "I'd be like, 'I have to tell you, I'm sorry, I told Hans Ulrich Obrist'. And he'd be like, 'You didn't Miranda!' and I'd say, 'I'm so sorry, I'm not good at this, and [Hans] asked!' – I'm not used to this level of secrecy!"
Miranda July may not be good at keeping secrets, but her other talents are prodigious. Working across film, literature and art, her status as a creative polymath once inspired an Onion article claiming that she had been called before Congress to explain "exactly what her whole thing is". In the mid-90s, she launched an underground network of women filmmakers called Joanie 4 Jackie, the archive of which was acquired by The Getty Research Institute earlier this year. Her 2005 film Me and You and Everyone We Know, and 2011 follow-up The Future are indie classics. She wrote an award-winning book of short stories in 2007, and then published her brilliantly twisted debut novel The First Bad Man in 2015. She also makes participatory theatre, winning critical acclaim for 2015's New Society, which asked the audience to create just that; and in 2014, she made a participatory messaging app in partnership with Miu Miu, called Somebody.
"How hard can I fight for this? It's not just about me and my work, it's a whole chain, and very deep issues."
Clearly, a major Artangel commission from Miranda would be big news, but why did it require secrecy measures so strict that she wasn't supposed to tell her own friends, and the press launch was held offsite in a nearby hotel, so the invites wouldn't reveal the true location? Essentially, they knew the project would be controversial. "We felt like it was the kind of thing that people could have a lot of opinions about, without getting to experience anything positive about it. ... [A] feeling that certain newspapers might jump on it and have a field day before we even got a chance to make it," she explains. They were probably right. Having taken something as cosy and seemingly innocuous as the humble charity shop, Miranda introduced a number of points of tension. She made it an inter-faith charity shop, bringing together charities from four of the world's major religions, and then she built it in Selfridges, one of London's most famous luxury destinations.
Dressed like a store manager in a knee-length grey skirt suit and beige button-up shirt on launch day, Miranda told journalists she had wanted to make "an artwork that was a store" for many years. One of her initial ideas was to rebrand the most stolen-from shop in London, she tells me over lunch, but "as it turns out, the police won't tell you that, so that was a dead end". She kept returning to the store idea, and eventually focused on the charity shop, an apparently unique British institution she discovered while visiting London in her twenties. "It's so different from the US!" she says, explaining that they have thrift stores, but any rare religious ones would be Christian. Whereas in London, "there's sometimes multiple ones on a street, and it's just amazing that there is no malady that there isn't a charity shop for, and no faith". Inspired by this diversity, which she describes as "a hallmark of London," the idea of an inter-faith charity shop was born.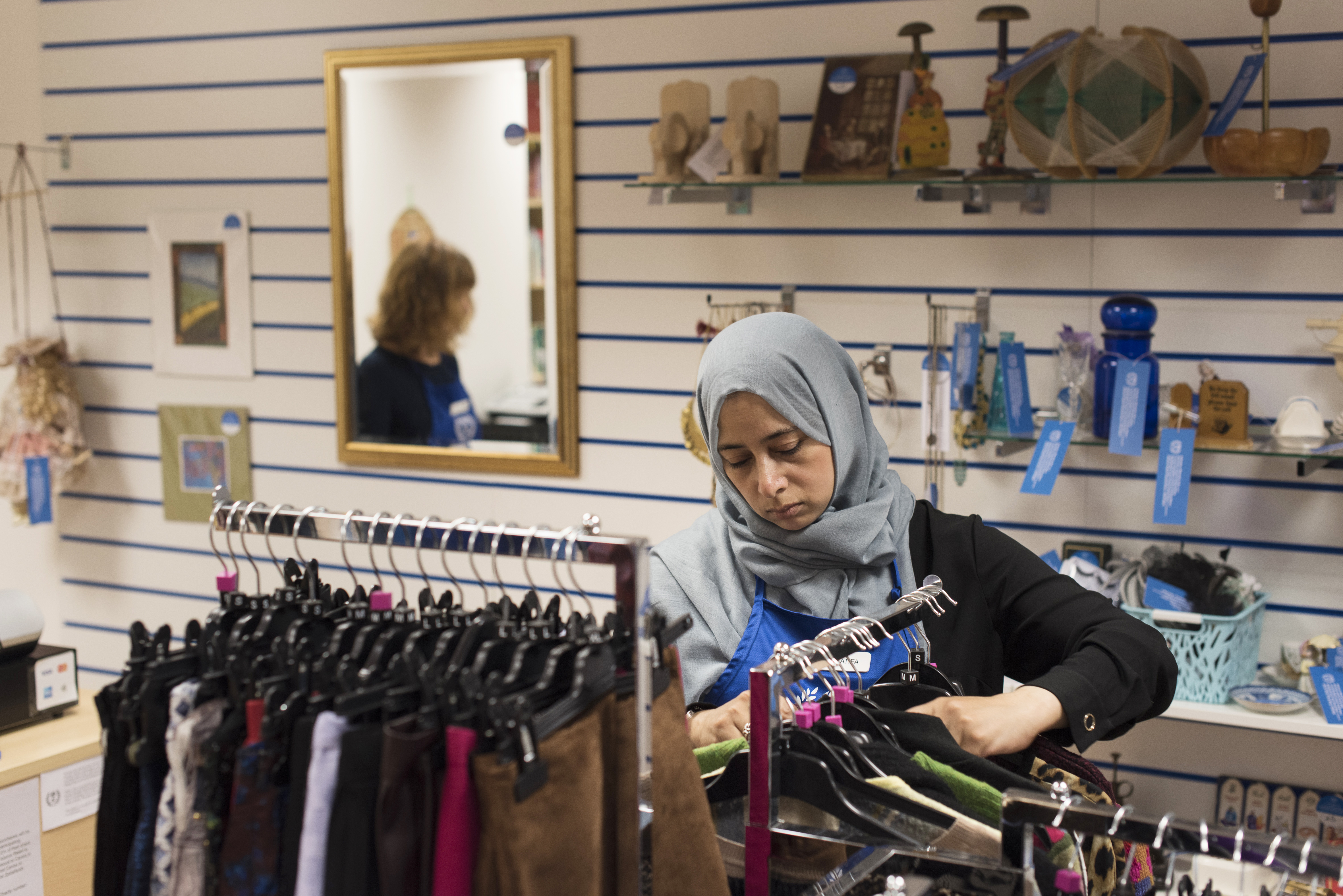 The shop's name, and the project title, deliberately positions three of the charities -- Jewish charity Norwood, the London Buddhist Centre, and Christian charity Spitalfields Crypt Trust -- "in solidarity with" Islamic Relief. Miranda wanted the other charities to explicitly support Islamic Relief as a statement against the fear-mongering and islamophobia she had seen during the Brexit debate in the UK, and the election campaign of Donald Trump, with his Muslim travel ban, in the US. A global humanitarian aid NGO akin to the Red Cross, Islamic Relief are "an important part of the community that is maligned," Miranda says, noting that, "Grenfell Tower happened while I was here – Islamic Relief were the first responders".
Bringing charities from different religions together was not always an easy process. One charity dropped out in the early planning stages of the project due to religious discord, and fears about their donors reacting badly to a partnership with one of the other charities. And just hours after the project launched, Norwood was attacked by Jewish twitter users for partnering with Islamic Relief, with one linking to a claim that they were funding terrorism, and another referring to the closure of their accounts by banks looking to 'de-risk' (which delayed the delivery of life-saving aid). "Points like that were like, 'Oh, so this is really a thing' – this is why we're doing it, because of that exact sentiment," Miranda says, noting that all the charities have been thoroughly vetted, not least by each other. "You're suddenly like: how hard can I fight for this? It's not just about me and my work, it's a whole chain, and very deep issues," she adds.
"I know people are so afraid, and walking on eggshells these days, that they're going to say something stupid on Instagram or Twitter."
Even if you have no religious issue with inter-faith collaborations, in the age of Twitter our hyper-awareness of social justice issues demands the answer to another question: just who does Miranda July think she is to 'bring the faiths together'? In a scathing two-star review published the day after the launch, TimeOut wrote, "July is saying that bigotry and consumerism are bad (no duh), but don't worry, here she comes with her interfaith charity shop to solve all of your problems". Rich, white, privileged, and with cultural currency to spare, has Miranda provided a textbook example of the 'White Saviour Complex'? "I can definitely see that issue," she says, "but I don't see how it exactly holds water". "The whiteness is neither here nor there," she reasons (because religion doesn't specify race), "[and] there's wealthy religious people, [so] it's not inherently a class issue".
A better question, she suggests, is 'why should a person who's not religious bring together different religions?'. Miranda admits that she knows very little about religion, having grown up in Berkeley, California, where "no one was super religious," saying she mostly avoided the topic "with probably a sort of unconscious liberal righteousness". She eventually came to feel that that viewpoint was limiting, considering most people in the world are religious, and says she was interested to learn more about the religions through this project. "My parents were like, 'Wow, really?' like, 'Do you wanna know anything about Judaism now?!'," she jokes, but ultimately reasons that, "if you have to be an expert on something in order to have solidarity with it, that's kind of meaningless; you're going to lose a lot of people who could stick up for you".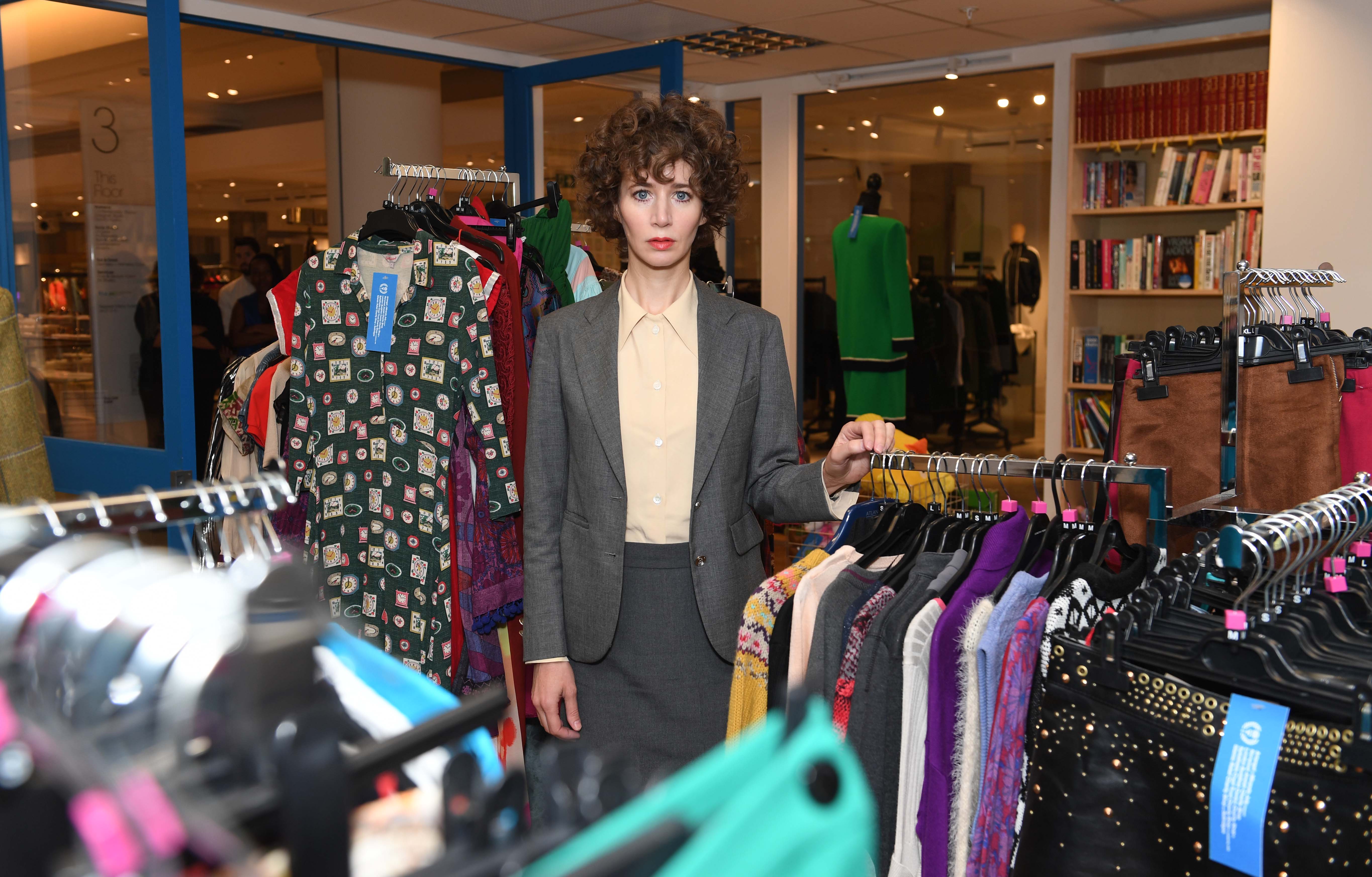 "I know people are so afraid, and walking on eggshells these days, that they're going to say something stupid on Instagram or Twitter, and they've got to delete it immediately so no-one sees what an idiot they are," she continues, noting her view that some offended reactions spring from this fearful instinct -- "like, 'This seems like it should be wrong!'" -- rather than from a complaint that makes sense. In the face of this, she asked herself: "Are you just going to go through your whole life trying to hide things you're dumb about? And then get to the end of your life and die thinking, 'Well, I really made sure not to be embarrassed a lot of times, I feel good about that'. Or is it worth it, to have someone suggest that this is privileged somehow". She wanted to move out of her comfort zone, and was willing to feel uncomfortable. "I too have learned so much in the past few years, and I love that we've become so articulate and conscious and educated and aware of intersectionality," she says. "But I don't think the way to say thank you for all that education is to just sit back and hold it inside, and be smart alone in your room."
Miranda is not claiming to be an expert, but she is confident that you don't have to be one in order to make a positive impact. "I guess I feel like maybe now's a good time to go into things we don't know a lot about," she says, "to not have to feel like you're the perfect spokesperson". She did, however, consult with a number of experts. The fact that her project has provided the starting point for a further inter-faith project planned for 2018 -- led by Russell Rook, a Parliamentary aide and partner at the Good Faith Partnership that Miranda consulted -- surely lends weight to the assertion. She also consulted Rabbi Gluck, a prominent inter-faith mediator who she says taught her "the real meaning of charity is that you give enough that that person then has some to give to someone else" -- which is why each of the four participating charities will donate 2.5% of their 25% profit share to another charity outside of the project.
"I love that we've become so articulate and aware of intersectionality, but I don't think the way to say thank you is to sit back and hold it inside, and be smart alone in your room."
Another unquestionably provocative decision was to position her charity shop, selling cheap clothes and knick-knacks, inside a temple of wealth and luxury such as Selfridges. It led to the accusation, in that same TimeOut review, that the project has "a real poverty tourism vibe". In our interview, I attempted to formulate the issue: the people who generally work, and shop, in charity shops, tend to be less wealthy, I say, and so putting a charity shop in Selfridges could be interpreted as fetishising poorness -- giving rich people the ability to play at being poor. "I've thought about that a lot; like, 'How is this not slumming?'," Miranda says. "I began to realise there's sort of honouring and elevating the charity shop," she explains, noting that the store is immaculate. "[I] could have gone around and made it look dingy -- I know how to do that very well from movies -- and I said no, this should be a charity shop, but the most pristine, in a way beautiful, like a sculpture of a charity shop". And anyway, she says, Selfridges' customers are not all rich. "I saw a lot of people who didn't have a lot of money shopping; all different kinds of people come in, and very often somebody would have a tiny real Selfridges bag, with something little in it, like a lipstick, and [would go] away with a big one of our bags."
Instead, Miranda sees the juxtaposition as an exploration of how value is created and assigned. "Are my charity shop items more valuable because I'm an artist and I put them there?" she asks. "Certainly, this T-shirt is more valuable because it's a Vetements T-shirt" -- her neighbours on the third floor are known for their nouveau-naff, perhaps 'charity shop' aesthetic, with its mishmash styling and wildly expensive takes on both the blue IKEA bag, and the uniform of DHL delivery drivers. Miranda reports that the Vetements sales assistant told her the brand would be delighted to discover they were next to her charity shop, "because we're really doing the same thing" -- a comment Miranda says she thinks she let go, "Or I said under my breath, 'Sort of the inverse', but a similar interest I think". Miranda says her intention here isn't to "critique [the luxury sector] in an offended way," and she reminds me of her own collaboration with Miu Miu. If anything, she says, the proximity to Vetements provides a bridge to connect to the art world. "Why not have that cost a lot of money if you think of it as art?" she says. "Just: that's conceptual art; I have a way into that in my head."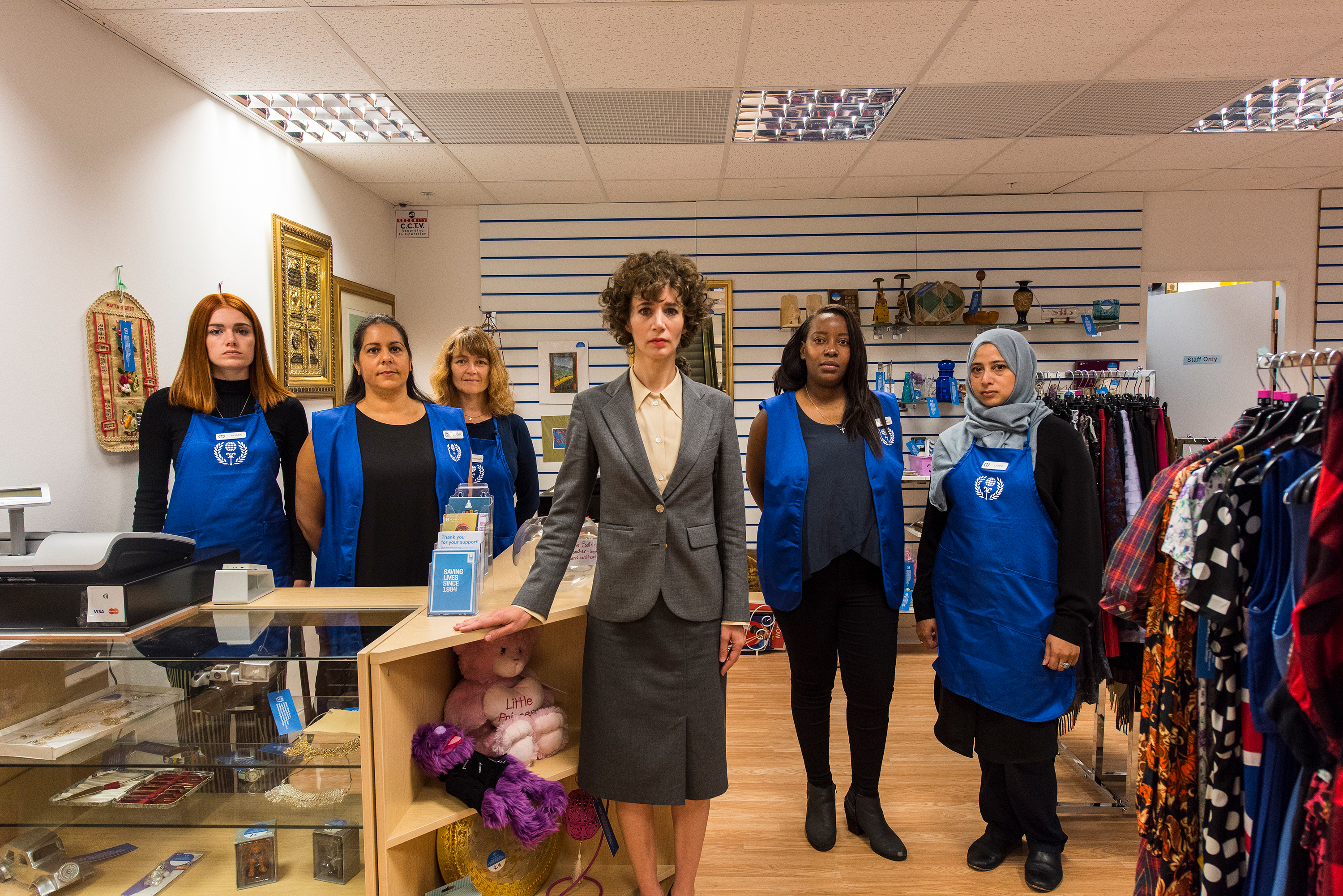 Does she care whether visitors to her charity shop understand it as an artwork? "No! I like that there's a whole range of understandings... It's not a preachy piece. Or if it was, it would be preaching so many different things," she says. Like much contemporary art, the project poses more questions than it answers, including, Miranda says, the big one: 'What is art?'. I ask how it connects to her other work. "I laboriously create these participatory works," she says, noting the carefully crafted conceit of the New Society performance, and of the Somebody app. "But the challenge is always that everyone knows that they're in an art project. So you start looking at the things people do without having to be told, and those start to seem like great performances," she says, "I love it when people go in the dressing room and take off their clothes – they just got naked in my piece, and I didn't even have to ask them to do that! ... They're not nervous about it, not self-conscious; they're the best performers I've ever had!"
"I love it when people go in the dressing room and take off their clothes – they just got naked in my piece, and I didn't even have to ask them to!"
I suggest that her work has a running theme of bringing people together, but Miranda corrects me: "It's not so much about bringing people together, as about the unique ways that each person tries and fails to connect, and the unique ways we each sort of sabotage ourselves -- and that that's ok, doesn't need to be fixed, but there's something really interesting about how we each find a way to do that despite a real yearning." The charity shop, Miranda thinks, is "poised to really express that well". Most customers I spoke to in the shop had read about it in the evening papers. Some said they shopped in Selfridges anyway, whereas others had come for the charity shop in particular. They all thought the inter-faith idea was a good one, but few had an opinion on the project as an artwork. Except one, who told me, "I just wish she had put her paintings up". I look up to see Miranda beaming at us from a nearby rail. She had tried to connect, and sometimes she had failed. But that's ok.
Miranda July's interfaith charity shop is open to the public on the 3rd floor of Selfridges until 22 October.

---
Artangel & Miranda July present Norwood Jewish Charity Shop, London Buddhist Centre Charity Shop & Spitalfields Crypt Trust Charity Shop in solidarity with Islamic Relief Charity Shop at Selfridges (2017). An Artangel commission. Photograph: Stuart C. Wilson/Stuart Wilson/Getty Images