marilyn minter's protest pop-up features temporary tattoos and resistance underwear
The outspoken artist has recruited Jenny Holzer, Barbara Kruger, and John Baldessari for a radical resistance art pop-up at the Brooklyn Museum.
|
27 September 2017, 6:56pm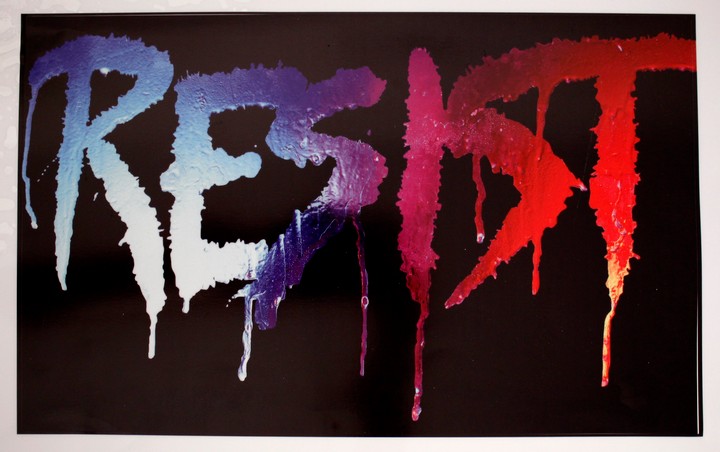 Marilyn Minter, like approximately 65,844,953 other Americans, is pissed. The outspoken feminist artist and Donald Trump dissident is now channeling her rage at the administration into an awesome new project: a resistance-themed pop-up shop at the Brooklyn Museum.
"Anger Management" is a collaboration with art historian Andrianna Campbell. Together, the two women have curated a selection of more than 60 objects symbolizing hope, resistance, and protest. Artists including Jenny Holzer, Mary Ping, Barbara Kruger, Andrew Kuo, Laurie Simmons, and Black Women Artists for Black Lives Matter have contributed everything from temporary tattoos to embroidered "RESIST" underwear. Layer the latter with one of Jerermyville's jumpsuits — included in the artist's vibrant box sets — to get your fall resistance look on lock.
"We titled this pop-up shop Anger Management in order to highlight our response to, and our displeasure with, so many wrongs," explained Minter and Campbell, "the immigration ban; the attacks on the EPA; the continued violence against people of color, queer and gender-nonconforming individuals, and religious minorities; the intimidation tactics of white supremacists and a blossoming Neo-Nazi movement (when we lost more than 400,000 Americans fighting Nazis and fascism abroad); and the rescission of labor rights and workers' benefits. As educated individuals, anger seems like an irrational response, but at this stage, it is the most rational response that we have."
The most democratic aspect of all might be the price tags: the majority of products range between $5 and $30. The artists will donate a portion of the proceeds to charities of their own choosing. A small portion will also benefit the Brooklyn Museum.