Photography Jordan Hughes
skepta's dystopia987 introduced us to the rave of the future
In Manchester -- rave's spiritual home -- Skepta blazes a trail once more, guiding a cyberpunk tribe of phone-free humans into an augmented reality rave new world.
Photography Jordan Hughes
On night two of Skepta's mysterious three-night happening, DYSTOPIA987, I was instructed to arrive at a meeting point, a patch of scrubland next to the caged skatepark under the busy Mancunian Way flyover. The event location was kept secret from everyone; ticket-holders, public and press alike. Under the roar of traffic and the rushing of girls on skateboards, we were collected by representatives of Dambrin_IRS ("intelligent rave software"), our benevolent overlord for the evening. "The aim of tonight is to connect with one another," one of the tracksuited men said, his mouth covered by a fluorescent mask and bright geometric make-up painted around his eyes. "What we're doing is illegal," he added, "so if I tell you to run, run."
As the assembled group followed him down a road by the side of the motorway, I was bundled into the back of a van with four others. Another of Dambrin's reps, who introduced himself as Mad Mad, explained that we needed to move quickly, because what we were doing wasn't strictly allowed -- invoking Manchester's history of warehouse raves on the outskirts of town, and their increasingly fugitive spirit in the run up to (and after) the infamous Criminal Justice and Public Order Act of 1994, which made the exploding rave culture illegal. On arrival at the venue, our phones were locked in secure pouches, and Dambrin's rep proclaimed, "You are not your Instagram account! You are not your Twitter account! You are you!"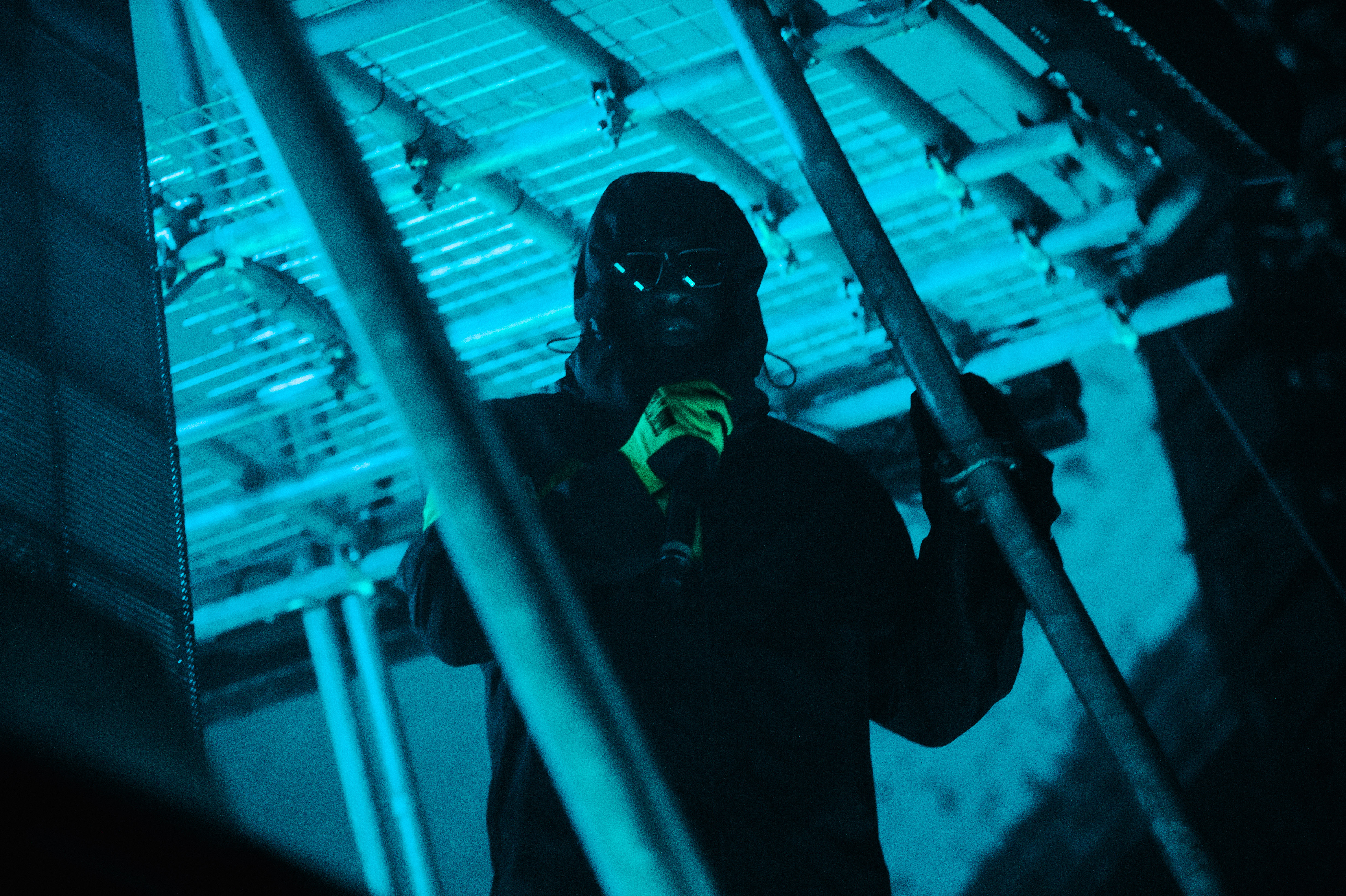 "A rave is a place to open your mind," Skepta said at the launch of Manchester International Festival (MIF) a month ago. "I feel like clubs in general have turned into places for this new individualism where people are just on their phones to have a 'fake good time'," he explained, "So we're taking people's phones away from them." While the '987' of DYSTOPIA987 refers to the early days of acid house, the 'dystopia' is about the outside world: postindustrial unemployment and Thatcher back in the 80s, and technological unemployment, Tory Brexit and Trumpism today. The rave scene was born of a radical utopian impulse to create something different, something better. "So, it won't just be about rave," Skepta said, "it will be what I believe raves will be for in the future; why people will come to the rave… I'm talking about getting to utopia."
As someone lucky enough to have found utopia in Manchester's abandoned warehouse and subterranean caverns before (my first year at university here beautifully coincided with the 2006 launch of The Warehouse Project), it was hard to imagine how a cultural establishment-sanctioned event could live up to those heady days, losing our minds to Chemical Brothers and Aphex Twin, cuddling strangers and friends in the smoking area. And I'll be honest, it didn't. Of course it didn't. While MIF and its various funding sources undoubtedly made this wildly ambitious, technologically complex event possible, Skepta and his collaborators were as ham-tied by the cost (and therefore scarcity) of such futuristic tech gear as they were by the buzzkill 11pm curfew -- and probably lots of other boring rules and regulations that kept us safe.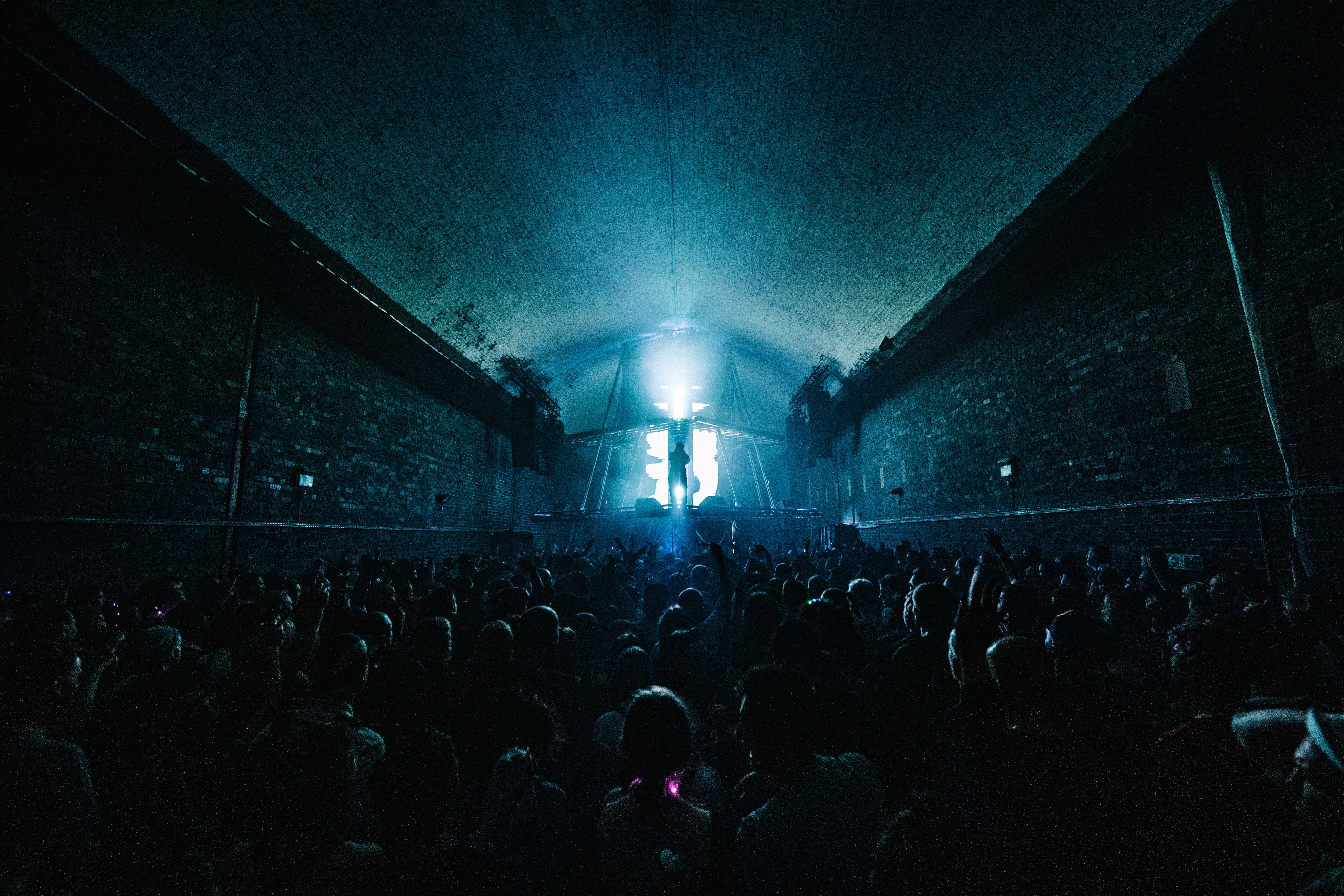 To be an absolutely brutal critic, you could say it was a rare and unique Skepta gig, plus some utopian-wellness speak, and trial runs of a few really cool augmented reality (AR) and mixed reality (MR) gadgets. But this kind of jaded dick head critic is exactly the person who doesn't get the text with the address of the rave, and sits at home wondering where all their mates are. No, Skepta can't literally make the future happen now; but what he and his collaborators built was a vision of the future, and what it might look and feel and sound like, if we want it, if we create it.
While it obviously wasn't possible to kit out each of the hundreds of ravers with an augmented reality headset mapped to the venue, they had the experience set up in mini, in a smaller space off from the main drag of the venue. Walking through the rooms, neon shapes like space caterpillars zoomed from beyond the walls toward me; waving my hands in front of my face created clouds of glitter like an IRL Instagram filter; and the DYSTOPIA987 logo jumped out from a wall, pounding like a speaker in mid air as Shutdown played in my ears. The rest of the experience was more analogue. In exchange for tokens, you could have flashing LED strips glued to your face, fluorescent afro-futurist make-up designs, and coloured fabrics braided into your hair. It was fun!
Other tokens invited you to have your photo taken in a strange X-ray style. There was no physical print or emailed copy, instead the image was sent to a projector rig that shuttled along the ceiling of the railway arch where Sita Abellan and Kesh DJed next door, populating the walls with our own trippy, shifting figures. Odd things happen to the passage of time when you're sealed in a dark venue with no phone screen to check. I had no idea what time is was or when Skepta might arrive as Abellan's DJ set reached its climax, but I didn't have to wait long to find out. Two huge doorways that had previously been 'boarded up' and guarded by security were broken open at each end of the room, and air raid sirens sounded as ravers piled into the secret new space.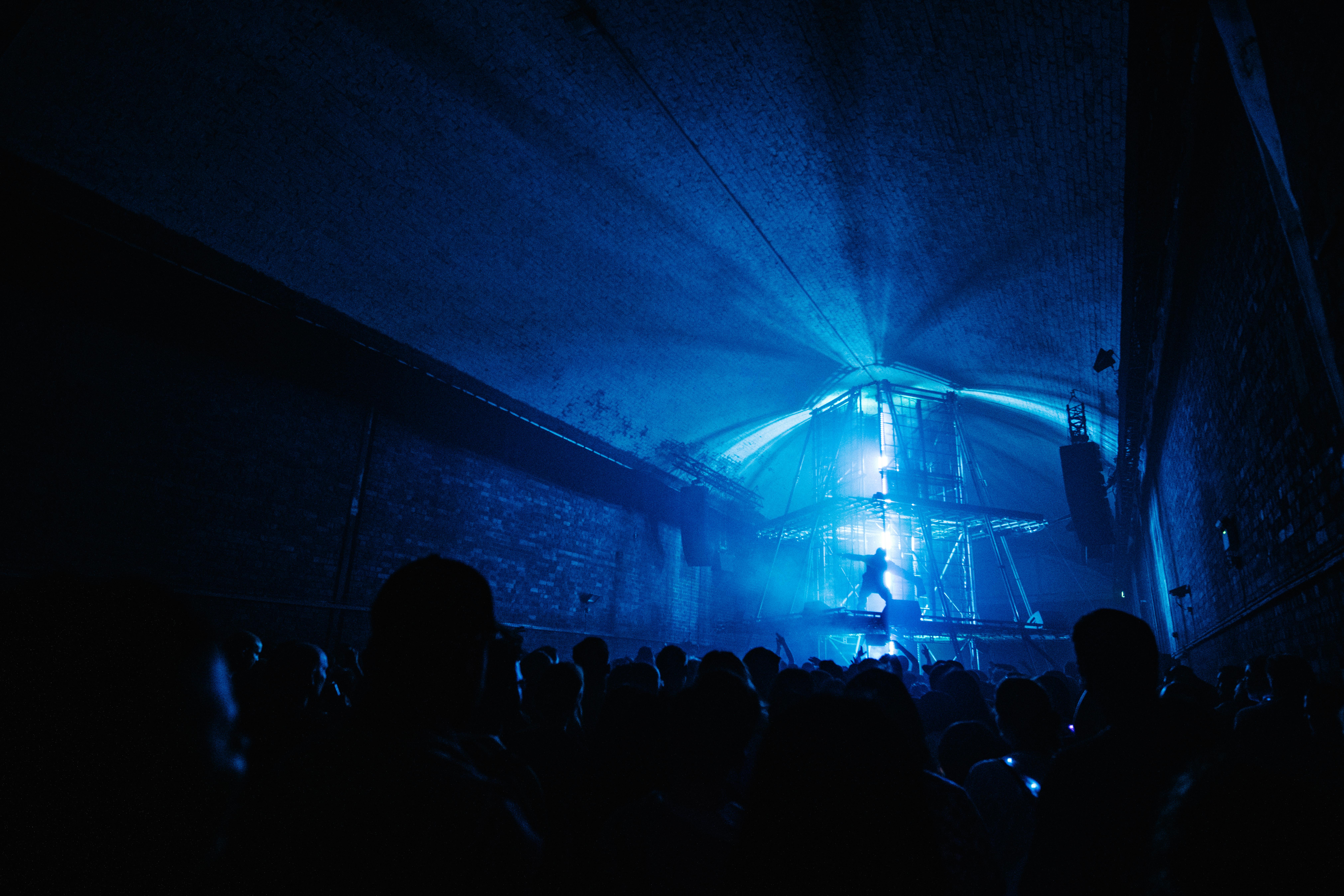 Skepta appeared high up on an Arcadia-like metal pylon shaped structure built in the centre of the room, and launched straight into Going Through It as fans gathered around the base on all sides. "Everyone's going through things in life, but tonight we're going to leave that outside," he said. As the beat of totemic track Praise The Lord began, he led the crowd in a chant of #FreeRocky (protesting the arrest of his collaborator on the track). With the stage flashing red and blue like a police light, Skepta tore through Crime Riddim, Hypocrisy (the lyrics "I've got fifteen different iPhones / But I am so not phoney" sounding newly relevant), before an explosive finale of OG fave That's Not Me, and crossover hit Shutdown.
While Skepta's still waiting for AR headsets (or something even better) to be cheap enough to kit out hundreds of ravers at once, with DYSTOPIA987 he opens a window onto the insanely psychedelic potential they create for the parties of the future. Although in 2019 some of the effects are still analogue, the experience ideated a future youth culture blending the togetherness and communal ecstasy of the second summer of love with cyberpunk and afro-futurism, the transformational aesthetics of AR tech -- aka the (anti?)social media filters of today -- and the utopian drive of youth politics, rejecting and rebelling against divisive rightwing ideology, growing inequality and environmental destruction. It isn't the first time Skepta has flexed his future-gazing cultural savantism. And just as the rise of grime has transformed popular culture, perhaps his rebooted vision of rave's "high on hope" mantra can help us to imagine a better future, and make it our reality.