Still life photography Anna Pogossova
this 'lousy souvenir' pop-up is a welcome holiday from fashion week
Part pop-up shop, part-installation, part-presentation — Emma Mulholland's Holiday label gave us an MBFWA experience that was everything and more.
Still life photography Anna Pogossova
It's been three years since Emma Mulholland last showed her eponymous label at Mercedes-Benz Fashion Week Australia. Since then, she's been busy working on her breakout label Holiday, which has seen collaborations, capsule collections, zines and ratified tourist merch; bouncing between the nuances of Australian life and our global thirst for merch.
For this years MBFWA rather than host an exhibition like last year, or a runway like years long-past, Emma set up a gift shop of nick-nacks and clothing, calling it 'Lousy Souvenir'. Nestled in the lobby of Sydney's Paramount House Hotel, the pop-up store featured a smorgasbord of collaborations, as well as the return of a few fan favourites. From sea shells crafted by Functional Sculpture, to t-shirts featuring the works of Sydney-based artists Lucy O'Doherty and Allie Webb. There was even some Holiday-emblazoned oven mitts.
What led you to the theme for Lousy Souvenir?
I started playing with the idea of just doing souvenirs because I wanted to have them, and then little things like the keychains and other objects. Following the postcard project I did with some photographers, I thought that I could use some of the artworks of friends. I love collaborating with people and seeing what people do, and then going on to add ideas in there and see how it all could work.
So then I just started talking to people… I first went to Bali, and the ideas hadn't really been worked on for that long. Maybe about two or three months ago? And then we started all of the different projects, which has been interesting. We were working with so many different people, on so many different projects.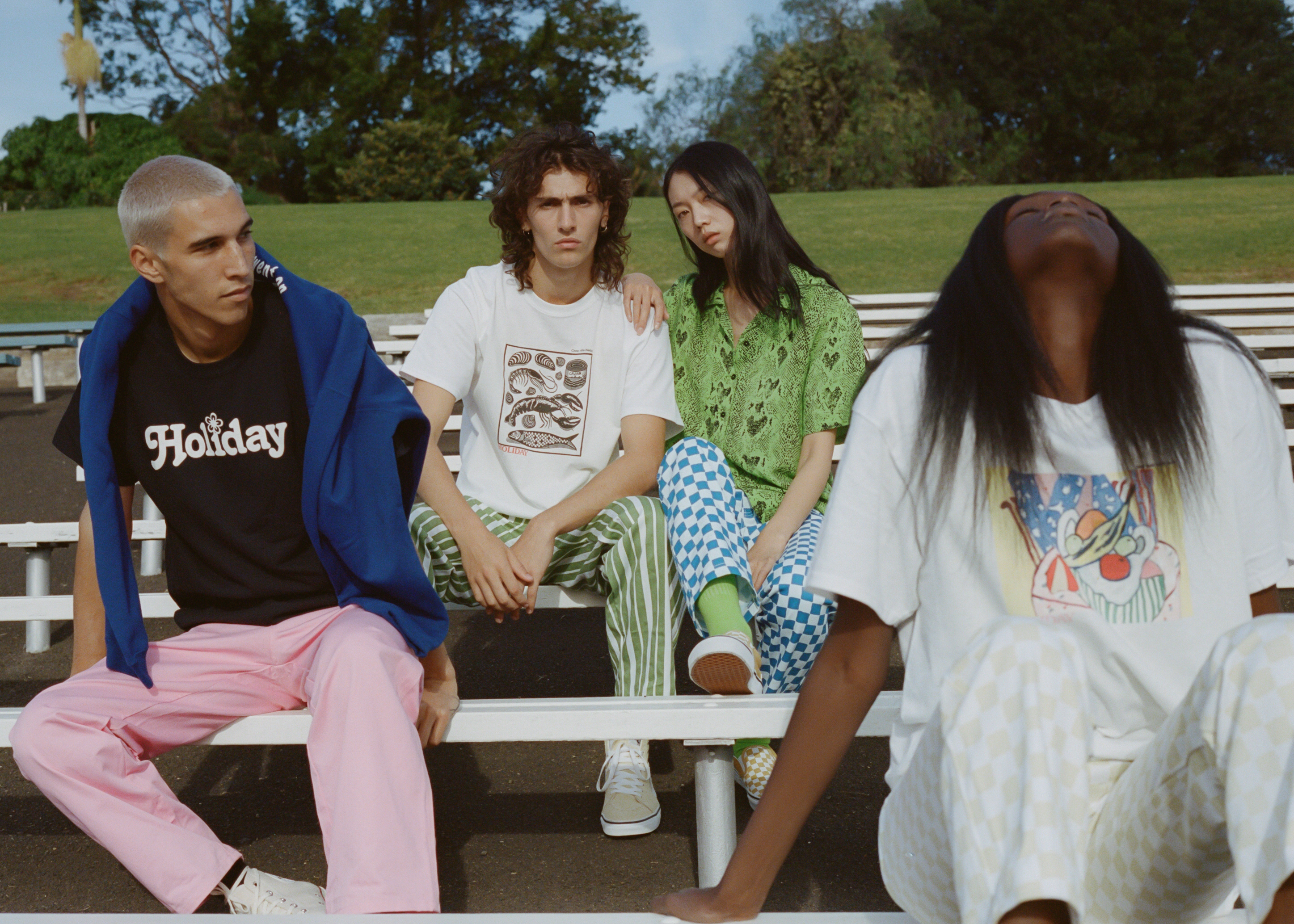 How did your relationship with Paramount House Hotel come about?
Well I've been stocked in the hotel's boutique for about a year now. And they're always really happy and keep reordering the pieces, which is great. Amy who works there just wanted to do some exclusive runs of t-shirts and wanted me to design something. I was thinking about something to do for fashion week that wasn't a show. I've done two zine launches — one last year, and one the year before — and I wanted to do something else which felt kind of similar.
What was your approach to planning the collaborations, particularly with Allie and Lucy who don't often work with textiles?
I worked really hard with my printers in Melbourne, who are just the bomb. Because on previous projects you could kind of get away with colour inaccuracies. But this time I was like, 'If you're taking on this job, you must make sure that you're getting their artworks right.' They really nailed it. Which is interesting, because when I used to do my other label [Emma Mulholland], I used to be interested in this side of things, but never really had the time to do them.
How solidified was the theme of the collection when you first began collaborating?
There were small things that were more souvenir — I didn't want anything to be crazy, or outrageously expensive. Just things that everyone can afford, if that makes sense. It's not something that I'm thinking that I'm going to make money off either. I really wanted to make these really fun things, and obviously getting to shoot them with Anna and Ellen was awesome as well. I've always loved Anna's stuff and I'd been waiting to do something with her for a while, and this just turned out to be the right project.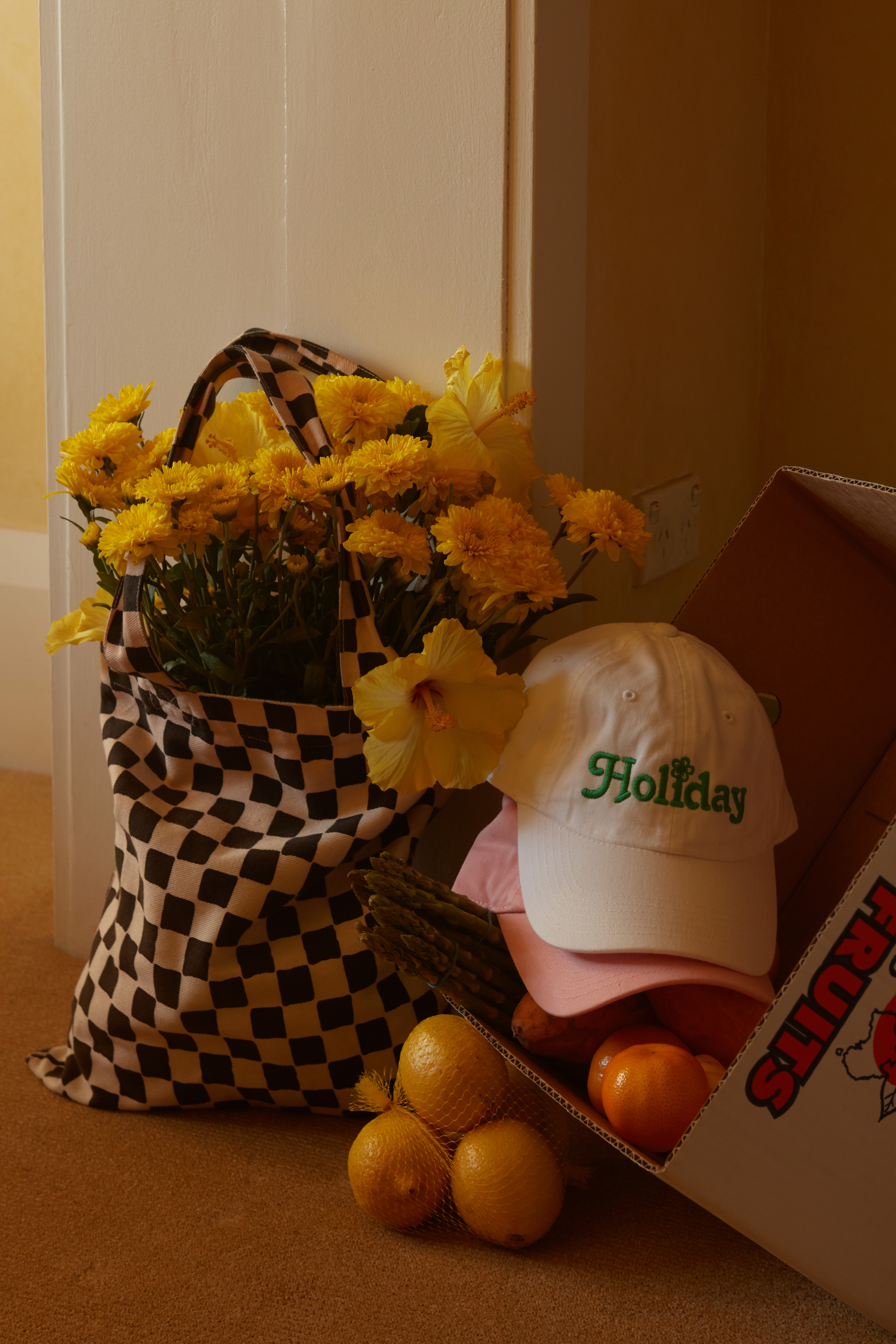 What was it like reaching out to your collaborators? Were you friends beforehand?
Yeah, most of them. Well, Lucy and Allie, I'd met a couple of times through China Heights, because that's where I did my exhibition launch last year. And they're both really lovely. But everyone else were really just friends. I did actually reach out to some people that did deny me, but that was fine. I had to put myself out there, which was pretty embarrassing. But it's all part of it.
Your casting is always really interesting. Can you tell me about your approach this time around?
I've used a lot of the boys and girls that I've shot in campaigns and lookbooks and stuff. I think there's a pretty cute crew of Sydney models who are unique and individual, so I kind of always try to cast people whose personal style I like. I'm always surprised how different it can look on different people. I think a lot of people think of Holiday as a beach brand, but there are definitely edgier parts of the collection that aren't so happy-holiday-surfy-vibes. There are different parts to it.
There were models wearing the collection at the opening, right? Can you tell us about that format?
Well, there wasn't really a plan. I can't stand live installations of models — it's a format that never looks very enjoyable. They always look so bored and they're never having fun. What I wanted to do was use a lot of people that I've used in my campaigns and just get them to wear the stuff throughout the night. Then we had different sections, but obviously, there wasn't a runway or anything like that. It was more about the souvenirs. I'd been working with an event stylist so the space has been transformed from what is usually the lobby of the Paramount Hotel. And obviously, there were lots of nice drinks, pizza, and my friends in Heart People DJing in the space. Because none of my other events have ever had any live installations, I was a bit nervous.
Credits
Still life:
Photography Anna Pogossova
Tennis club shoot:
Photography Ellen Virgona
Stylist Alexis Aquino
Models Jack, Riley, Sarah and Awillo @KULT"