start preparing your look for this epic david bowie costume party
"Night of 1,000 Bowies" is coming to New York.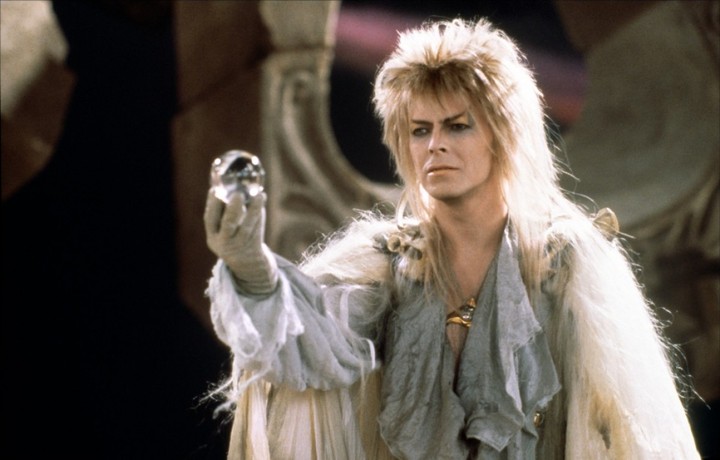 David Bowie in Labyrinth (1986
Tributes and TBTs celebrating the life of David Bowie have been lighting up social media today, on what would have been the late icon's 71st birthday. (RuPaul's throwback pic is a personal fave: "Met #DavidBowie at a dinner party in '97. I was calm cool collected, but shortly after, I quietly left to go down the street to scream & cry.").
But the Starman's legacy lives on: today, a previously unreleased demo of 1983 classic "Let's Dance" became available on music-streaming platforms. The tune is well-worth revisiting, especially considering The Brooklyn Museum just announced an epic Bowie-themed costume and dance party.
Night of 1,000 Bowies — slated for May 18 and produced in partnership with House of Yes (recently dubbed "Brooklyn's wildest club") — promises DJ sets and live performances paying tribute to the Goblin King's genre-morphing music and gender-irreverent style. Costumes are officially "optional," but you and I both know appearing in anything other than full-intergalactic-eyepatch-knit-leotard-Little-Richard-drag is simply not an option.
The party is part of the public programming series for David Bowie is, the landmark exhibition that makes its final stop at The Brooklyn Museum on March 2. This series also includes special screenings of Basquiat (Julian Schnabel's 1996 biopic in which Bowie plays Andy Warhol), The Hunger (a severely 80s vampire flick also starring Susan Sarandon and Catherine Deneuve), Todd Haynes's glam rock tribute Velvet Goldmine, and, naturally, Labyrinth, a kidnapping fairytale only Jim Henson could dream up.
The event's title brings to mind Night of A Thousand Stevies, the annual Nicks-approved happening hosted by NYC nightlife icons Chi Chi Valenti and Johnny Dynell. That party — nay, institution — celebrates its 28th (seriously) iteration on May 4. Here's hoping the Bowie bash inspires the same level of creativity and commitment that Stevie stans have brought for nearly three decades.
For more information about the 'David Bowie is' exhibition and its related public programs, visit The Brooklyn Museum's website, here.