gucci asked spanish artist ignasi monreal to create a utopian fantasy
In an exclusive look, enter the magical and surreal world of Gucci spring/summer 18. Monreal's ornate paintings depict surreal scenes of cloud fishing and selfie-taking mermaids.
|
19 December 2017, 9:00am
This article was originally published by i-D UK.
Gucci has teamed up with Spanish artist and illustrator Ignasi Monreal again. It comes after the artist's participation in the #GucciGram project, his assistance in helping us all Guccify ourselves for Cruise 2018, his transformation of walls in New York and Milan for Gucci Bloom, and his visuals for its recent gift-giving campaign. Viewed through his surreal and heightened sensual lens, the digital daydream-like campaign paintings encourage us to explore Alessandro Michele's extraordinary, highly visual narrative all over again.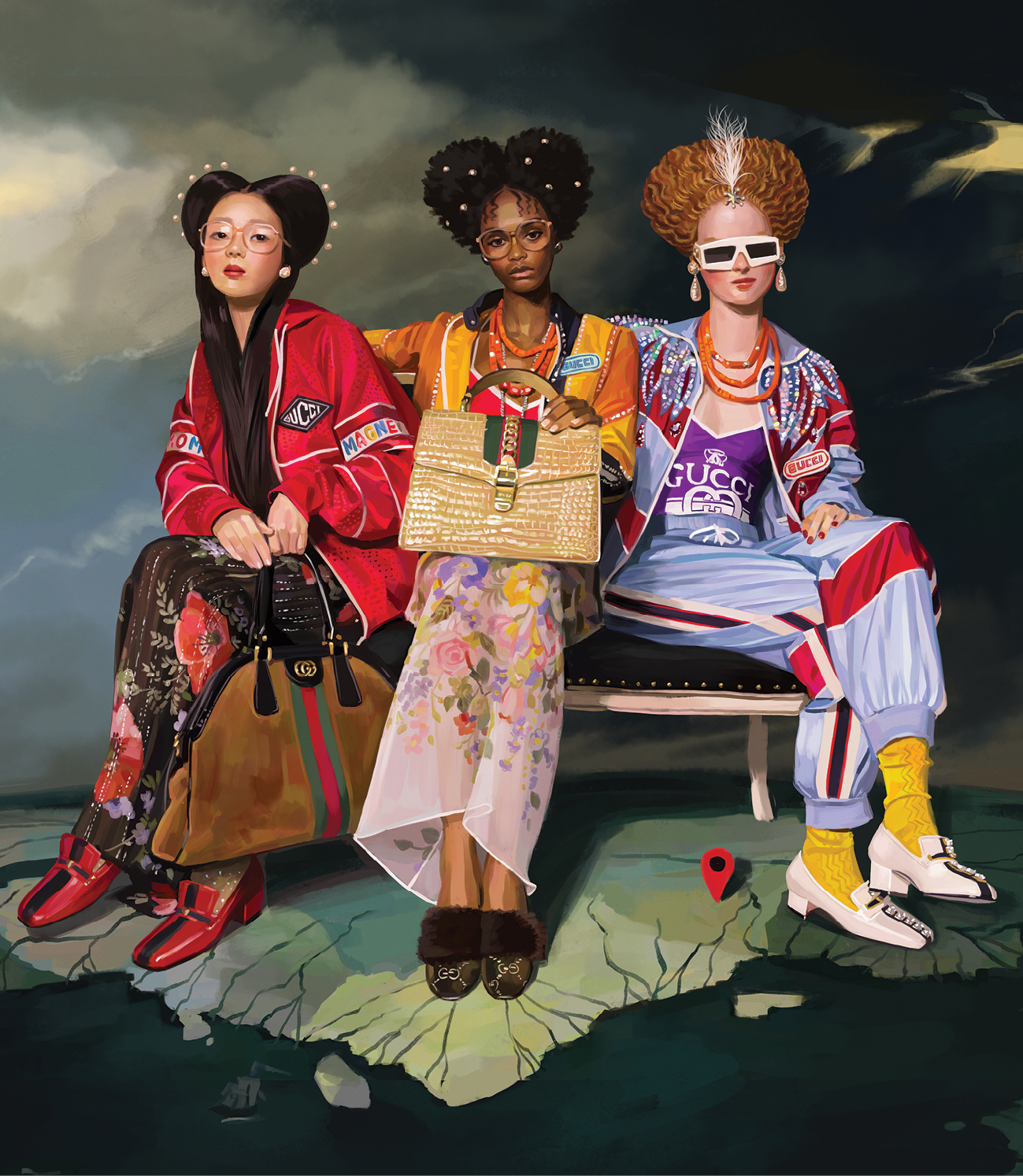 "Creation is a poetic act," explained the opening line in Gucci's spring/summer 18 show notes back in September. "It's an eruptive process emerging from a magnetic core inhabited by urgencies, ghosts, and desires. A whirl in which vital strengths; once trapped, are finally revealed." These words were not just offered as an explanation of the season itself, they were a reminder of how Alessandro Michele has crafted and curated his Gucci galaxy while declaring that he will not change for anyone. With its seemingly incessant cries of "more, more, more", fashion is an industry that has an insatiable appetite for newness, and while some designers serve up radical seasonal revisions, Michele does not because his creative endeavour is concerned with evolution, not revolution. And what an evolution. Season after season his far-reaching encyclopedia of references and inspirations take us that bit deeper in his carefully cultivated world, while artist collaborations are an integral feature in ensuring this evolution is as enthralling as ever.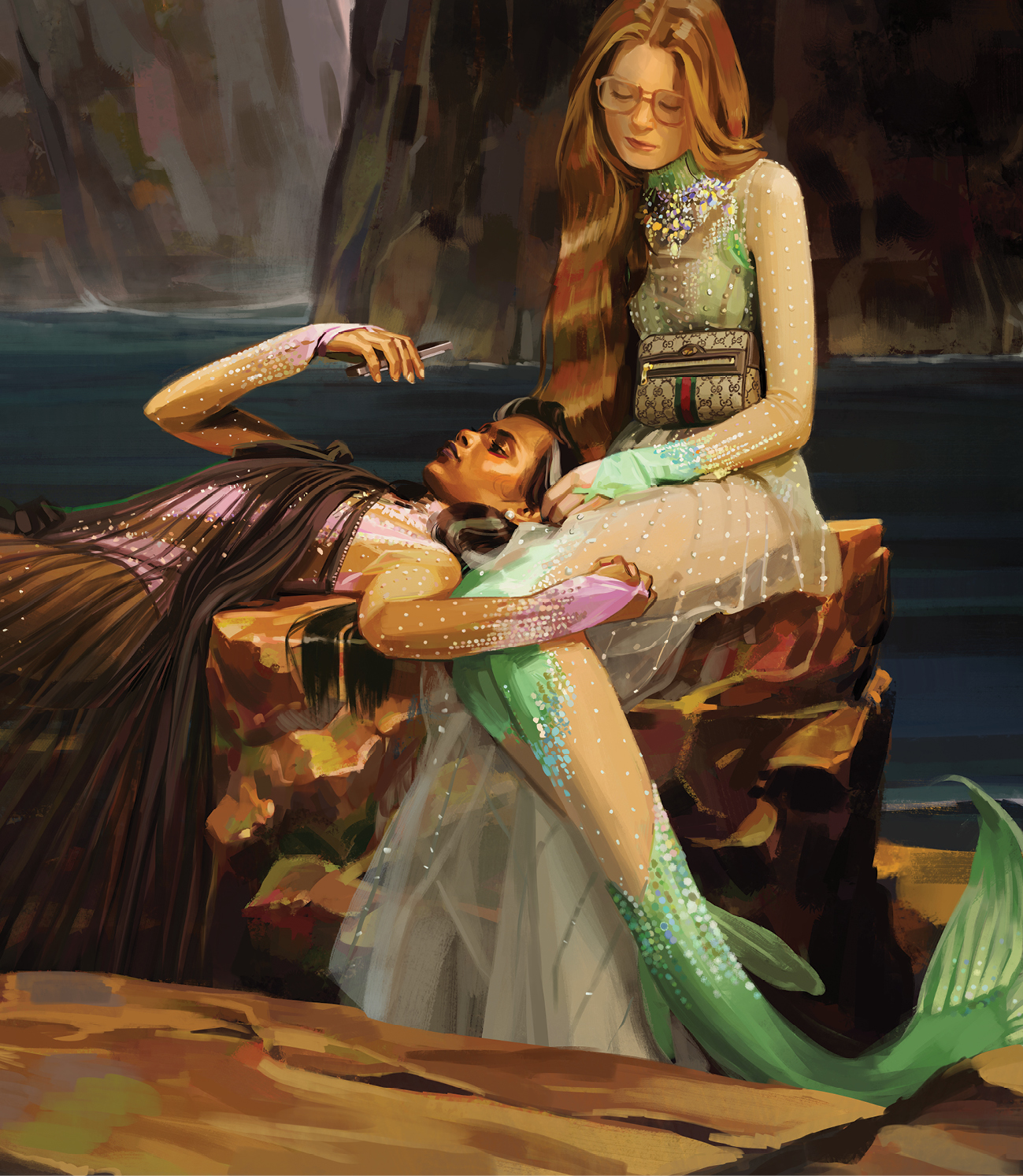 After Alessandro Michele raised bejeweled hand to press pause on the ever-quickening conveyor belt of change, his 108-look spring/summer 18 collection invited us to linger in his imagination and give in to his vision. Continuing Michele's poetic act, Monreal adds his own mythical universe and haunting characters to Gucci's latest melting pot of imaginations and the resulting images evoke a "Utopian Fantasy." As oversized bag clutching Gucci knights set off on a quest with Google Maps, models recline in lily ponds to recreate Nick Cave and Kylie Minogue's " Where The Wild Roses Grow" video (or just John Everett Millais's Ophelia), post-it note wiedling cherubs interrupt a day at the office, and a sunglasses wearing sphinx-like creature toys with campaign stars. These images instantly transport us all to a world away from nine-to-five realities and any festive anxieties. As the campaign is set to roll out in January 2018, keep an eye out on the walls of Milan and New York and dream on.