virgil abloh wants to shutdown off-white fakes being sold online
Off-White has more than 150 Wish.com merchants and a multimillion-dollar payout in its sights.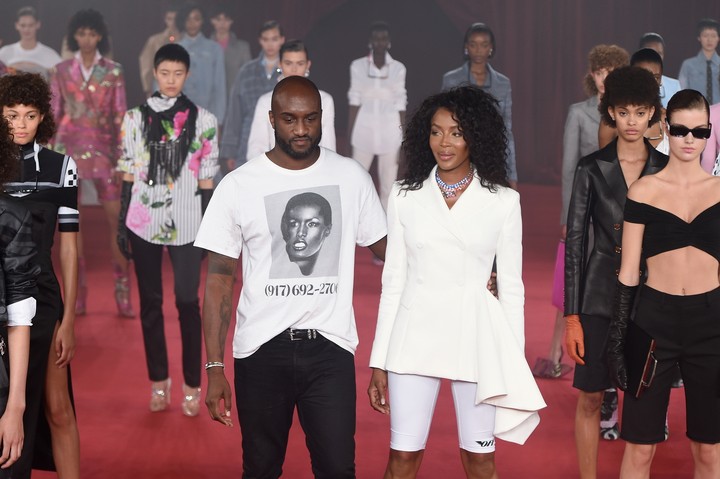 Photography Mitchell Sams
Since its inception in 2013, Off-White has blurred boundaries between streetwear and luxury fashion. From its diagonal stripe and cross arrow logos, to its ubiquitous use of quotation marks, Off-White continually creates some of the most head turning graphics in the game, elevating everyday symbols into must-have branding. As it has ignited the imagitions and emptied the saving accounts of hypebeasts everywhere, it's unsurprisingly captured the attentions of copy and paste fakers too.
When asked about his thoughts on counterfeiters during last year's " Everything In Quotes" lecture to Columbia University's architecture program, GSAPP, Abloh was positive about counterfeiters. "I love counterfeits, it's the best feedback," he explained. "It's better than a great review on Vogue. If it's working to the point in which other people can profit, that means it's really working. You're not taking anything away from me, you're actually advertising more." However, as the hype levels and profits grow, so to do the imitators and counterfeiters, and the label has run out of patience.
"It's to inspire kids," Abloh explained. "If you think Off-White is too expensive, that's great, you're supposed to make your own T-shirt brand. This project was made to inspire kids." As the counterfeits have shifted away from kids to premiums brands and knock-off retailers alike, it's little wonder Abloh's enthusiasm has waned. After it sued Paige Denim last year for the use of its signature stripe design, Off-White is pursuing 161 merchants operating on Wish.com for allegedly selling counterfeit merchandise originating from China that not only use its stripe and arrow designs but carry the trademarked Off-White name too.
As reported by WWD, the lawsuit in New York federal court argues that the counterfeit products have not only led to lost profits but damaged the reputation of the brand. The label is asking for $2 million in damages for each instance of infringement, as well as the banning of accused merchants from selling on Wish.com during preliminary injunction. Since the filing of the lawsuit, Wish, under its corporate name ContextLogic Inc, have explained that product posts identified by Off-White as infringing, one for each of the 161 defendants, have been taken down and is now looking into the activity of each accused seller. Counterfeiters beware, Off-White have had enough.
This article originally appeared on i-D UK.