Photography Diahann Williams
the world's first gender-neutral store just opened in manhattan
Phluid Project wants to be a safe space — for clothes shopping.
Photography Diahann Williams
Phluid Project is the new Manhattan-based store that's possibly the first gender-free retail space of its kind. It's definitely the only that doubles as a community center and online platform. "I felt like I needed a more purposeful reason for living than just grinding away for corporate America," says owner Rob Smith, who spent over 25 years working for brands such as Macy's and Victoria's Secret. "[Phluid] allows a space for young people to be free and have a voice in a real tangible space. As a young person I would have really wanted this space for myself."
In the new NoHo shop, clothing is divided by aesthetic, with labels like Gypsy Sport, Oak, Dr Martens, and more sitting next to Phluid's in-house brand. "There's a lot of gender-free brands in the world, most of them over at the higher price point of $500 and higher, so it was a challenge to find product that was accessible to young people," Smith says of the pieces. Phluid's price point ranges from $35 to $150 with most around $50. The clothing is styled out on custom-built genderless display mannequins the company had specially made. Paired with a staff drawn from the community, open-to-all changing rooms, and a calendar of events that include talks on identity, activism, and more, as well as a free meeting space for community-based organizations, Phluid's the ideal space to start a retail revolution.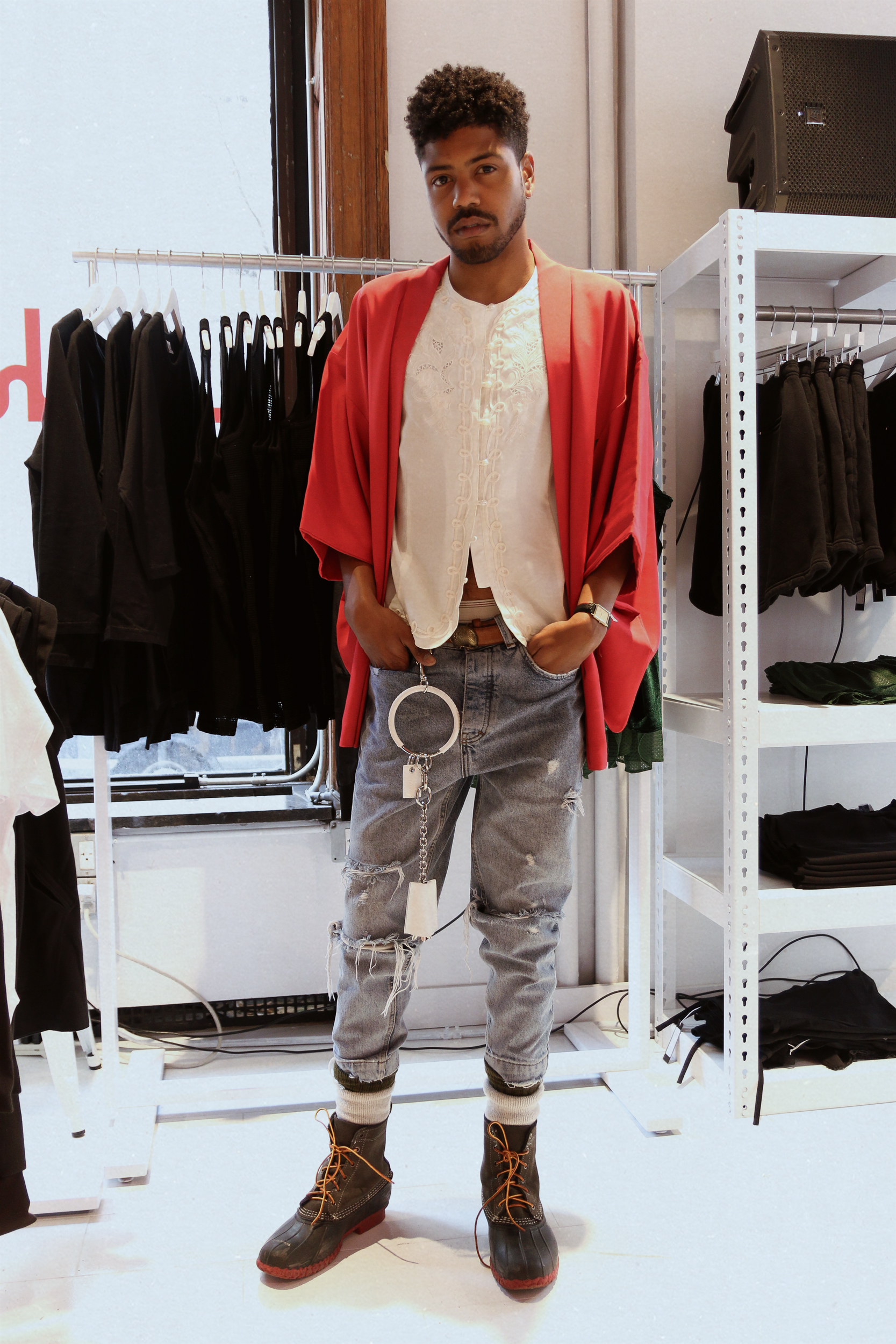 Though gender-neutral and gender-irreverent fashion and style may be seen as a trend, it's so much more, as society begins to understand and accept those who don't dress within the binary. "Everything is still very binary oriented," Derek Nguyen, a stylist and former fashion editor says. "When I was an editor and I used to pull items for stories, they would say things like men's turtleneck or women's turtleneck. I would always think that was stupid and just eliminate that part." And while that may seem like a small thing, that rigid binary extends, most present in the dressing rooms of retail spaces.
"There have been times in the past where I'll be standing in line and they will tell me I have to go to the men's line which is really embarrassing," Nguyen continues, explaining they mostly ignore looks they may get while shopping on the floor. "Sometimes I just buy the item and return it later if it doesn't fit, because of the thought of getting in line and possibly getting denied." But for others, that discomfort is also present on the shop floor.
"Over the course of my teen years and early 20s, I noticed that I drifted towards 'female clothing,'" says makeup artist Demi Washington, who grew up in Charleston, South Carolina. "I wasn't identifying as trans but it was always awkward shopping in these very heteronormative spaces. So it would be as simple as going into a Forever 21, where I think it's very flamboyant fashion but it's very separate. I just felt like i was being watched if I wanted to wear 'girl clothes.'" Both Washington and Nguyen have come to identify outside of the binary in some way, identities that they began to explore and understand through getting dressed.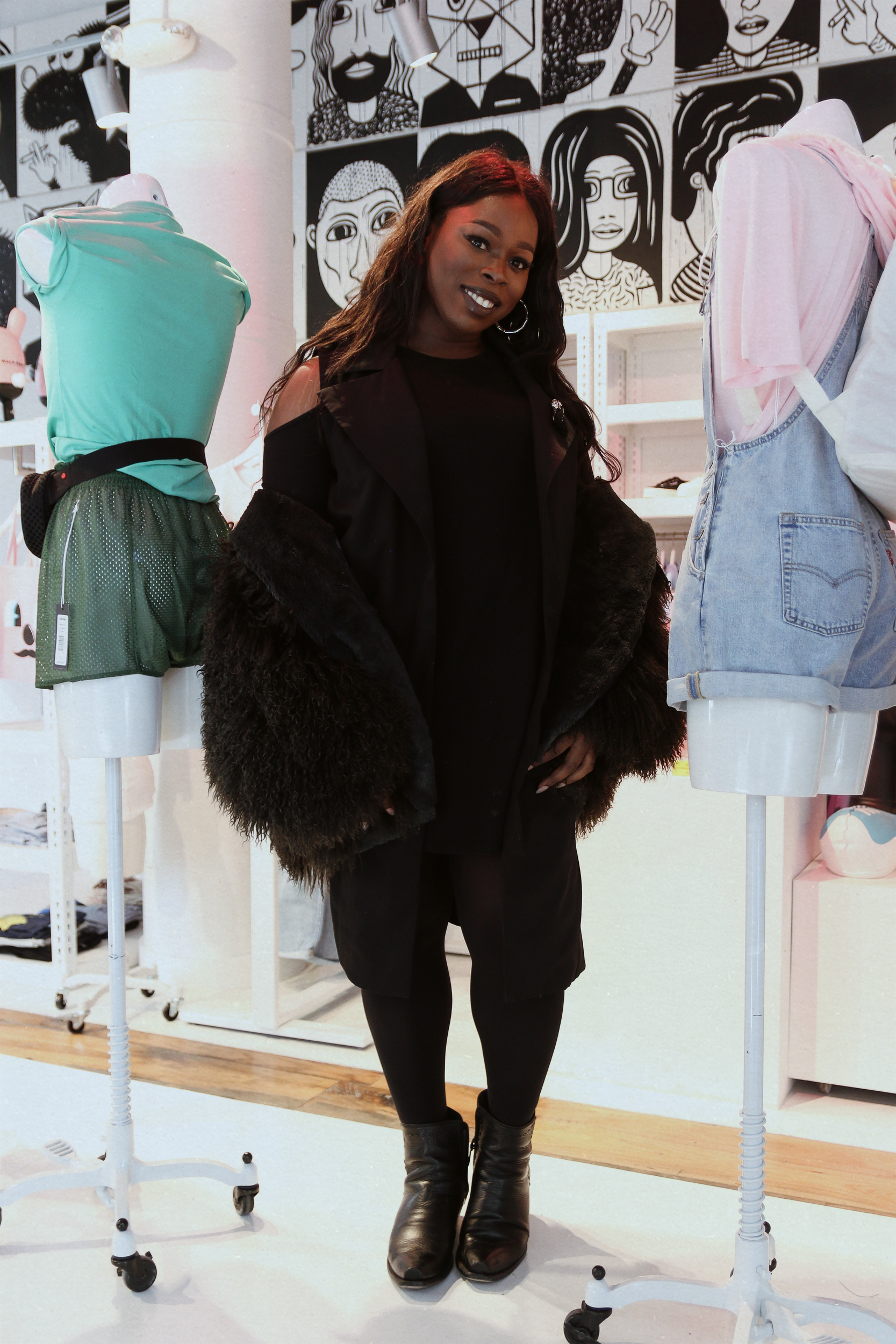 "With all of these really binary labels in place it was really hard for me to dislodge these ideals set in place by society of how a person should be," Nguyen said, noting that retail spaces reinforced these ideals. "So my experimentation process was a lot slower and more delayed than I think it would have been if I had had these gender neutral spaces." But it's more than just those communities that might find something at Phluid.
"I'm not really looking for anything but color, texture, and silhouette," artist and musician DonChristian says of his shopping habits. Most of his finds come from thrifting, a process he generally starts in the women's section. "You just find more of that in womenswear." And while he does receive some negative comments for his style, on the whole they are minimal.
"I think dressing genderless is made easier for people of a certain body type," Christian continued. "I think if I was a bigger size then I might receive more criticism for wearing the same clothes. So I won't deny that's a privilege."
But there are a litany of other issues that one finds, even on the design side for this sector of the industry. "With menswear and womenswear, the blocks are different," Brooklyn-based designer Kris Harring says, referring to the blueprints for clothing design. In January, the Fashion Institute of Technology grad was put in the 2018 FIT Design Entrepreneurs program for its line based on providing clothes that shrink traditional ideas of gender. "The bodies are different so a question I'm working on is how do we create pieces for different types of body types that are genderless." Phluid was set up to combat many of these issues.
But the store does leave out some of the biggest and buzziest brands that have made their names in this particular market. Brands like Telfar, Eckhaus Latta, and Vaquera are currently missing from the permanent mix. This list could be expanded when one considers gender-irreverent brands, or brands that may be categorized for one gender but pull design tactics form another. "They are doing really beautiful clothes for men that is very in touch with what we would traditionally expect for women and they are now showing it on the runway for men," stylist Lutfi Janania said. In this mix he included names like Palomo Spain and Wales Bonner.
Going forward, Smith hopes to include names like Telfar, Vaquera, and Eckhaus Latta on the floor at Phluid. In addition to allowing designers in the gender-free category to host trunk shows, he hopes to help the younger ones develop their brands and get them manufactured. As for the more established? "There's price sensitivity so it's about figuring out a way to work together in a way that creates product that's aspirational without being elitist or exclusive against people who only have $600 to $1000 to spend on a piece of clothing," Smith says. "A lot of the brands have a high, high price point right now, and I'm not really against that but I am also respectful to my customer."
"The door is open," he says of figuring out how to incorporate other brands into the venture. "I have a feeling that people are going to start showing up once they start hearing about us."