this fan account turns 'call me by your name' scenes into impressionist paintings
Paint me like one of your peaches.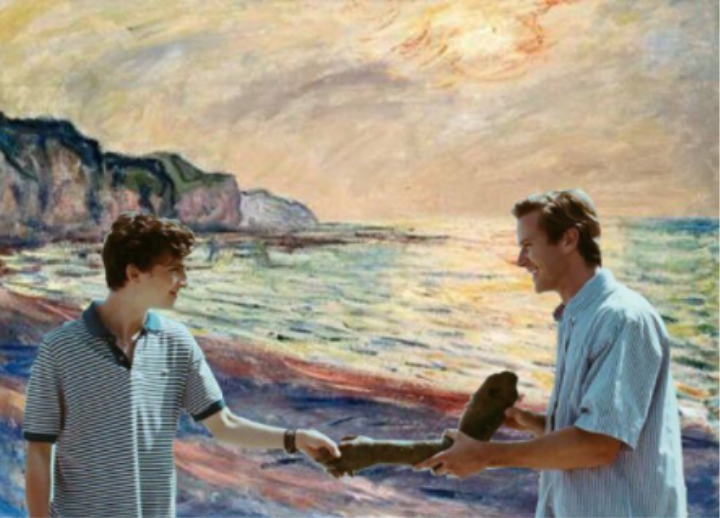 The Call Me By Your Name fandom just keeps getting bigger. Fans have reimagined the film's standout visuals in creative ways — from turning Elio and Oliver into lego pieces to drawing the couple as rosy-cheeked manga characters. Now, an Instagram account dedicated to combining move stills of our favorite lovebirds with Monet's signature landscapes has arrived. Call Me By Your Monet is a visual delight for us peach lovers. The hushed romanticism of Monet's impressionist paintings perfectly match Oliver and Elio's love affair.
Each collage is captioned with a quote from the Call Me By Your Name novel, written by André Aciman. An image of Oliver massaging Elio's back withMonet's watercolor foliage acting as a backdrop is captioned with the swoon-inducing line: "Remember when we were playing volleyball? And I touched you, just to show you, that I liked you?" *Heartpang*
There's tons of great fan-edited Call Me By Your Name videos to be found online too. One person masterfully created a fake trailer for Call Me By Your Name as a cheesy 80s teen comedy. There's also a fabulous video essay that deconstructs the film devices Guadagnino employs to create a thick air of seduction. One last bit of good news? It's almost peach season!