Photography Mitchell Sams
dive into sacai's world of sartorial mash-ups
The who, what and wow of Chitose Abe's great balancing act at Sacai autumn/winter 18.
Photography Mitchell Sams
Who?
After learning her trade alongside Rei Kawakubo at Comme des Garçons, and then working with Junya Watanabe, Chitose Abe launched Sacai in 1999, one year after giving birth to her daughter. What began as a simple Tokyo-based knitwear line has slowly and surely evolved into a full collection of deconstructed, reconstructed and fused garments that have helped establish Sacai as a must-see Paris show and helped create the fashion movement of garment hybridisation that has swept through the standout shows of the season. From Balenciaga's Joey wearing all of Chandler's clothes moment (thanks @hey_reilly) to Glenn Martens' historical infused streetwear at Y/Project and Galliano's reverse dressing at Margiela, sartorial mash-ups have been ever present across the autumn/winter 18 shows. Focused on her own world, Abe pushed her signature further, pushing possibilities and blurring boundaries between garments as she cut and spliced familiar forms to create mind-bending sums that were always far greater than their parts. Through a process of "constructivism", Abe treats items that make up clothing archetypes as if they were building blocks. With childlike naivety, she constructs them and interlocks them with a playful spontaneity and refreshing simplicity. It's all about assembling and disassembling.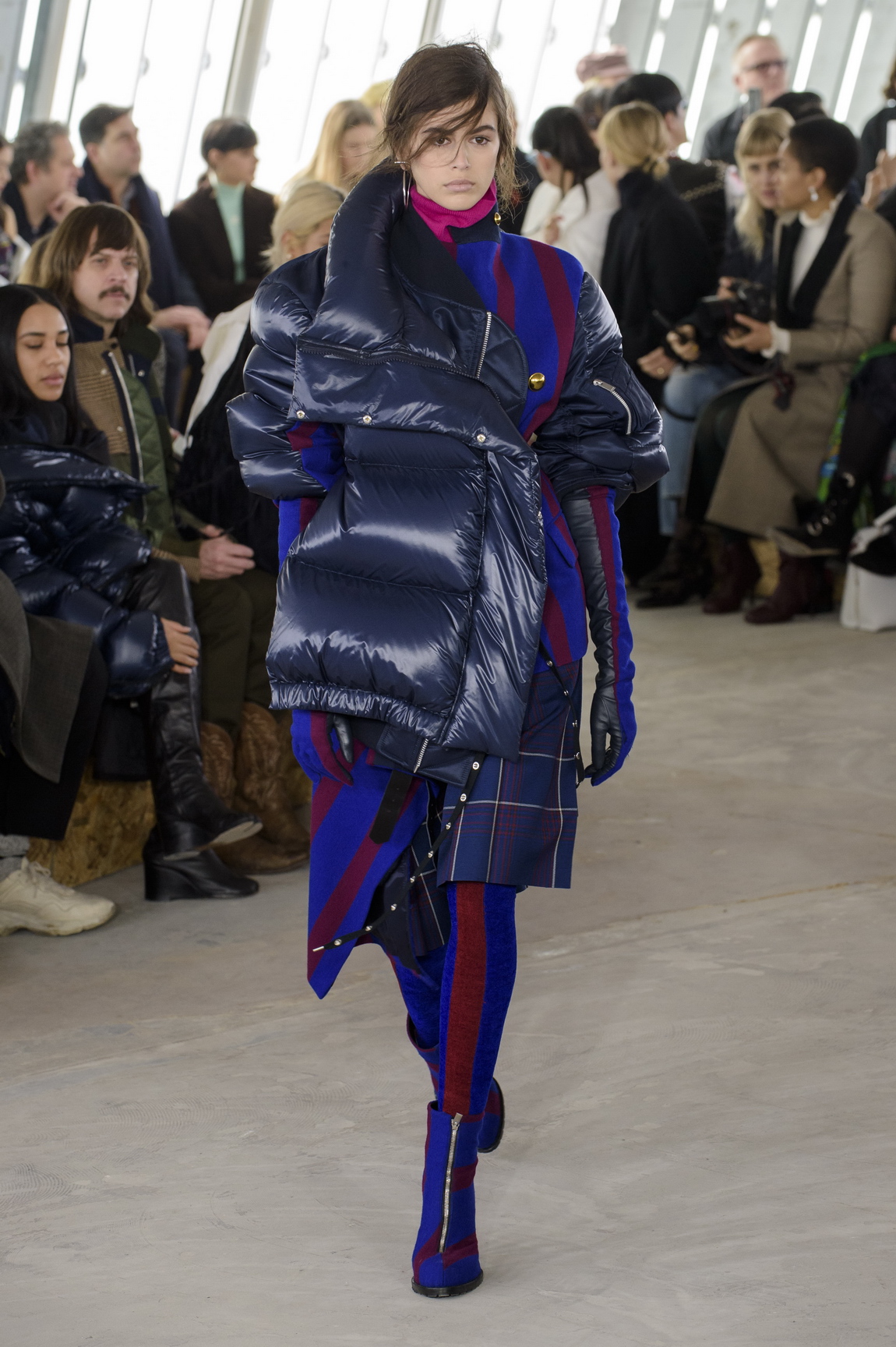 What?
Here, she cut, pasted and manipulated everyday wardrobe staples and must-have outerwear to a simple equation of: one plus one always equals more. For Kaia Gerber's opening look, school blazer stripes interlocked with a down jacket, men's tailoring sleeves, a quilted liner and elements of a military flight jacket. Elsewhere, a tennis sweater that started life as part of a school uniform, was overlaid with the ruffles and pleats of a chiffon blouse. An aran sweater surprises with couture-like volume at the back. Hand-knit sweater pieces were interlinked with chiffon, their patterns re-appropriated and re-contextualised to become a mirror image of one another. A denim jacket met a men's tuxedo; dress shirts multiplied layer upon layer. Opera gloves and mismatched shoes made 'total look' that shouldn't work but in Abe's balancing hands, everything was in equilibrium.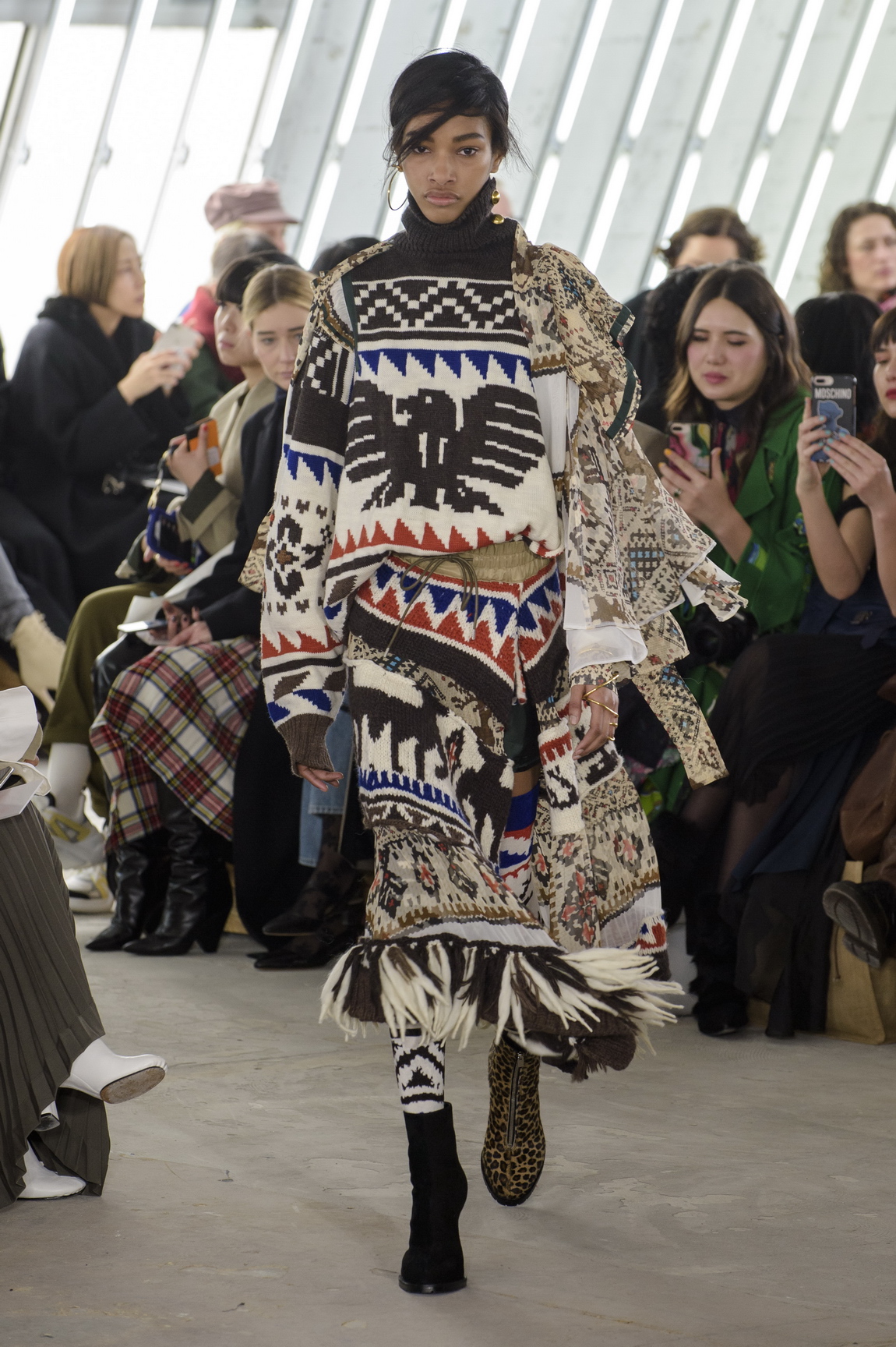 Wow!
As much of Europe still felt the icy wrath of the "Beast from the East", Sara Grace Wallerstedt's look of school blazer fused with flight jacket, quilting and interlocked with a down jacket encapsulated the working duvet day look that we all crave right now.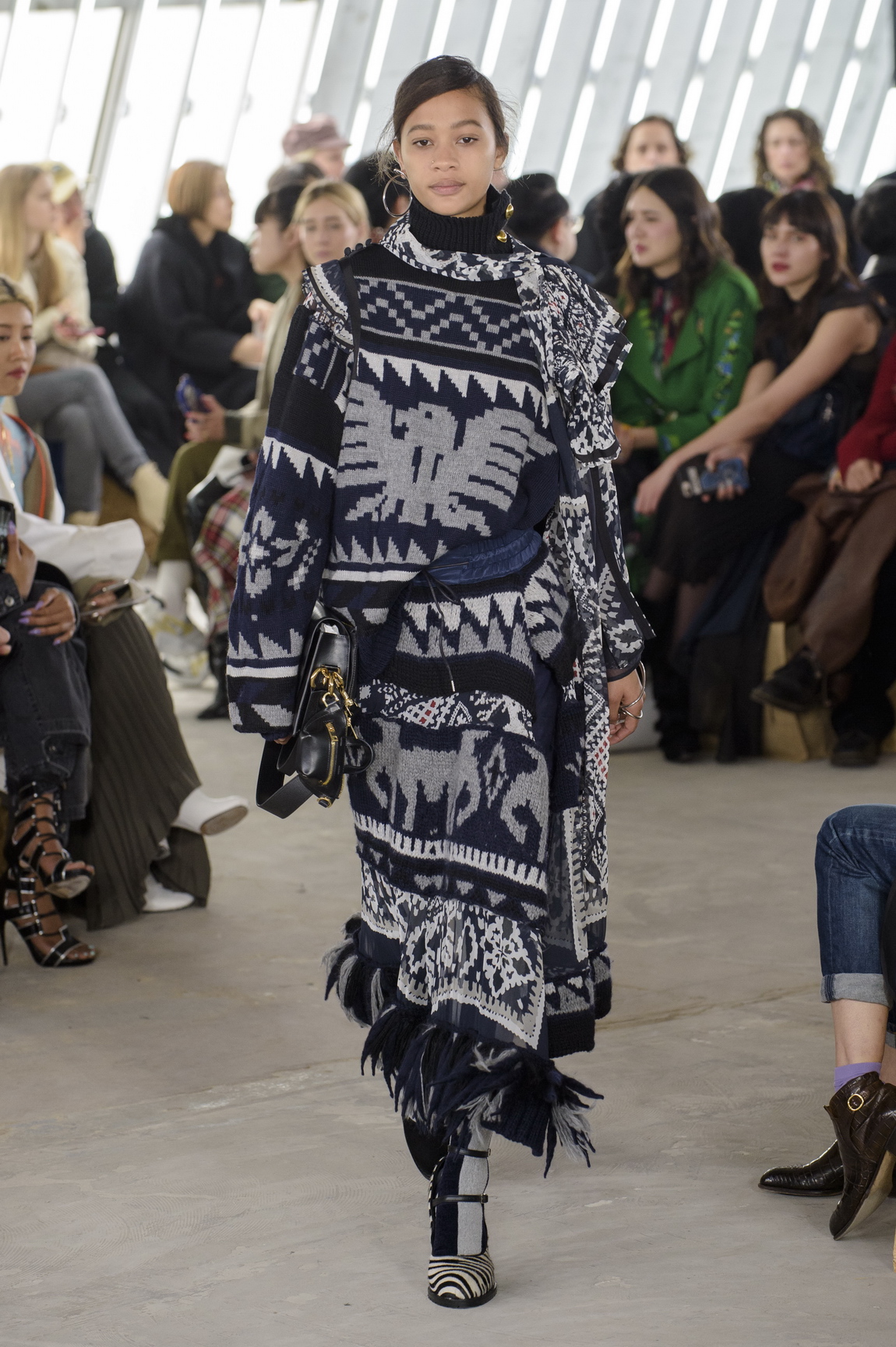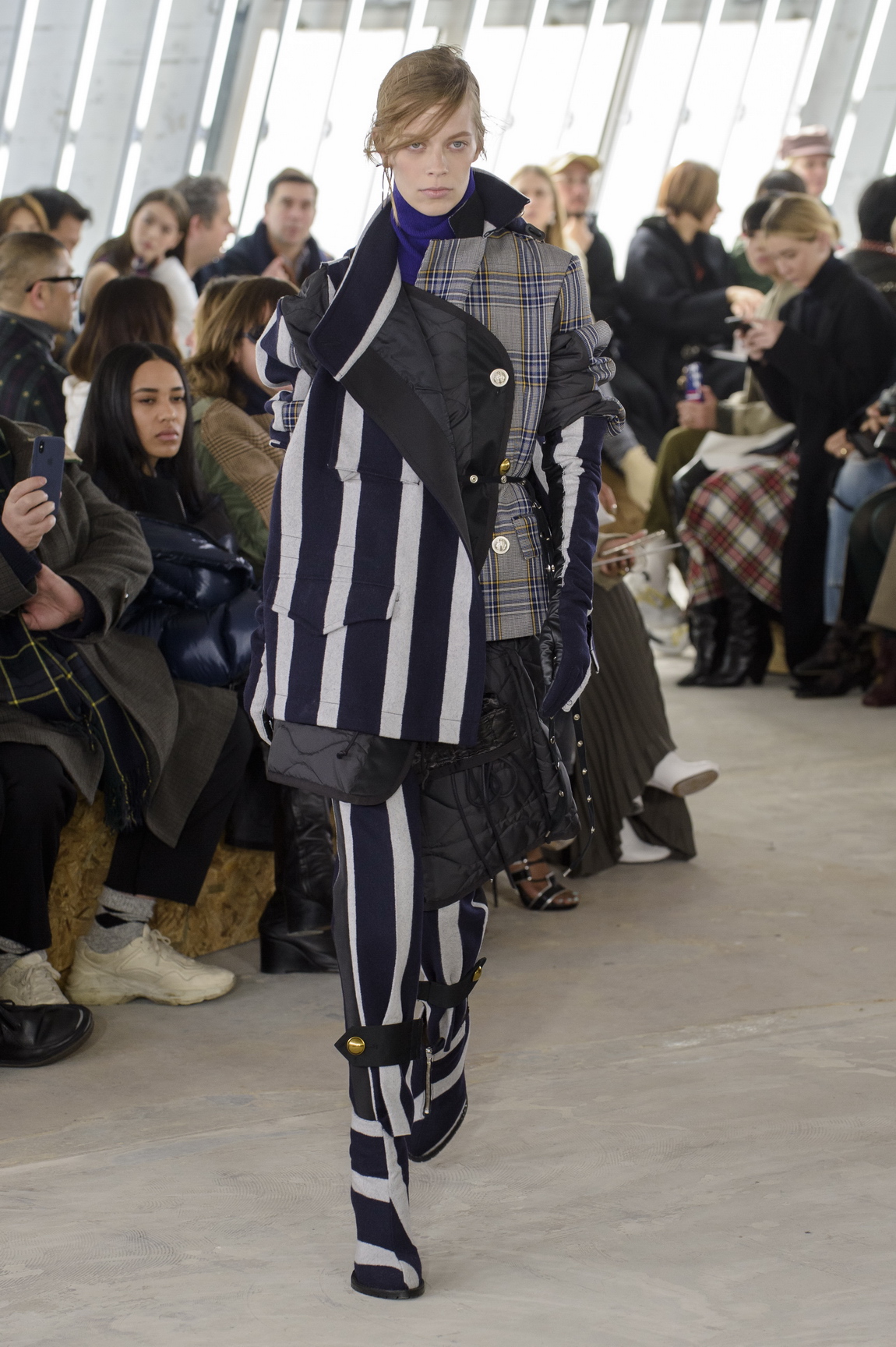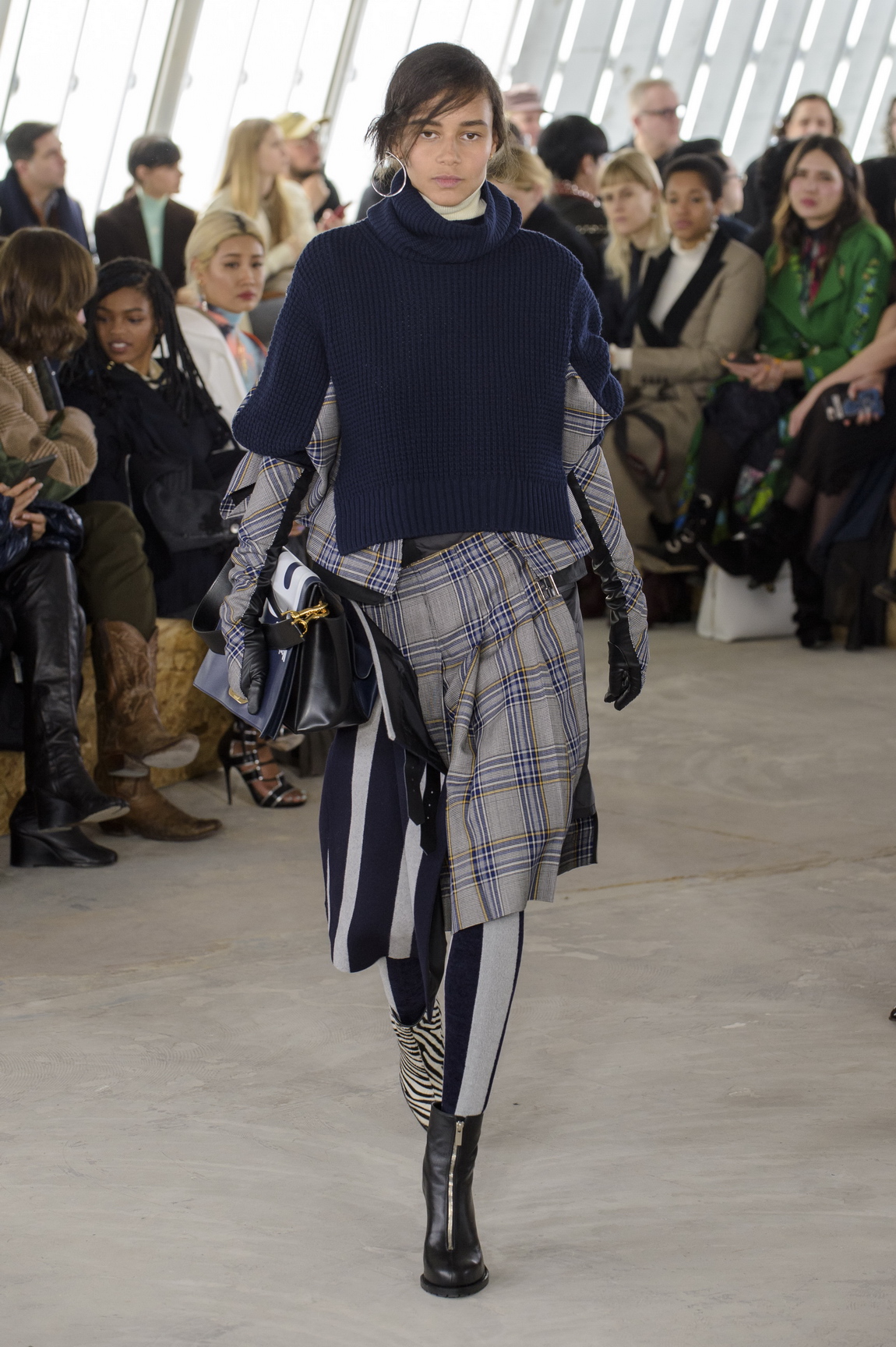 Credits
---
Photography Mitchell Sams