models at nyfw will finally have private changing rooms
CFDA and The Model Alliance are making fashion's #MeToo moment happen.
|
06 February 2018, 10:36pm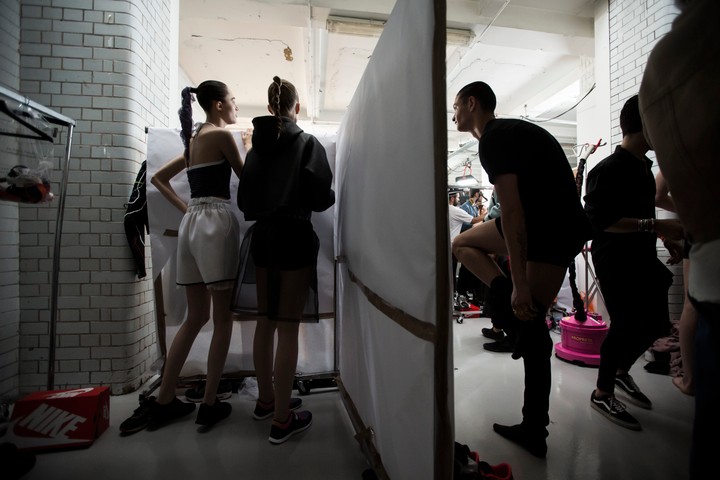 Photography Daniel Sims via Getty Images
Sexual harassment in the modeling industry is not only rampant but notoriously difficult to check. Models are much younger than most employees, many don't speak the same language as the people who hire them, and being successful usually means looking sexy. This year, as claims of sexual harassment are finally being taken seriously both within and outside the fashion industry, overdue steps are being taken to protect models. Council of Fashion Designers of America have just announced a partnership with The Model Alliance — an advocacy organization founded by Sara Ziff — to ensure models have private backstage changing areas at New York Fashion Week. Until now, models have generally been required to strip down in front of press, photographers, PRs, and makeup artists.
"Models have raised concerns about invasive photography and lack of privacy while changing clothes backstage at New York Fashion Week," Ziff said in a statement to The Cut today. "The Model Alliance takes these concerns seriously and we decided to take additional steps this season to ensure a safe and respectful work environment by providing private changing areas backstage." Model agency IMG and popular show venue Pier 59 Studios have pledged to implement these important changes.
The initiative hardly marks the end of fashion's sexual exploitation issues, which are finally being discussed openly in the era of #MeToo. The horrifying anonymous stories that Cameron Russell shared on Instagram didn't all happen backstage. The inappropriate behavior described by Mario Testino and Bruce Weber's accusers mostly took place in private residences. But it's a reasonably big deal in an industry notoriously slow to change its ways. Let's hope there are bigger ones on the way.