alice longyu gao is bringing harajuku style to times square
The performance artist's pink AF pop-up is about celebrating differences. As 'PERICURA' opens this weekend, Alice talks to i-D about sexual identity, personal style, and why she's inspired by anger.
|
09 February 2018, 5:35pm
Performance artist and DJ Alice Longyu Gao isn't your typical New Yorker — she seems more like the Harajuku version of the Lewis Carroll character she named herself after. Currently, the 23-year-old wears tufts of pink feathers in her blonde Goldilocks curls, flowers adorn the sides of her face, and her eye shadow recalls the palette of Lisa Frank. "I am aware that I am different from other people," says Alice, whose pop-up installation, PERICURA, opens this weekend at Moxy Times Square. " PERICURA is my response to people's questions about my outfits, my looks, and what's going on in my head."
The pop-up was inspired by Japanese pop culture, mixed with Alice's personal style and interests. The space is outfitted in pink from floor to ceiling (it's the color of the shag carpet, furry chairs and glittered walls), and features two sculptures that Alice made for the event, including a glittering gold gate that references a Shinto shrine, dozens of waving Maneki Neko cats and 400 pink fortune cookies. During the five days PERICURA is on view (February 10 to 14), attendees can sign up for accessory workshops, nail stations and manga hair salons with Alice and her friends. "I want to offer people an opportunity to experience alternative aesthetics in real life," explains Alice, who talks to i-D about PERICURA, her upbringing in China, and sexual identity.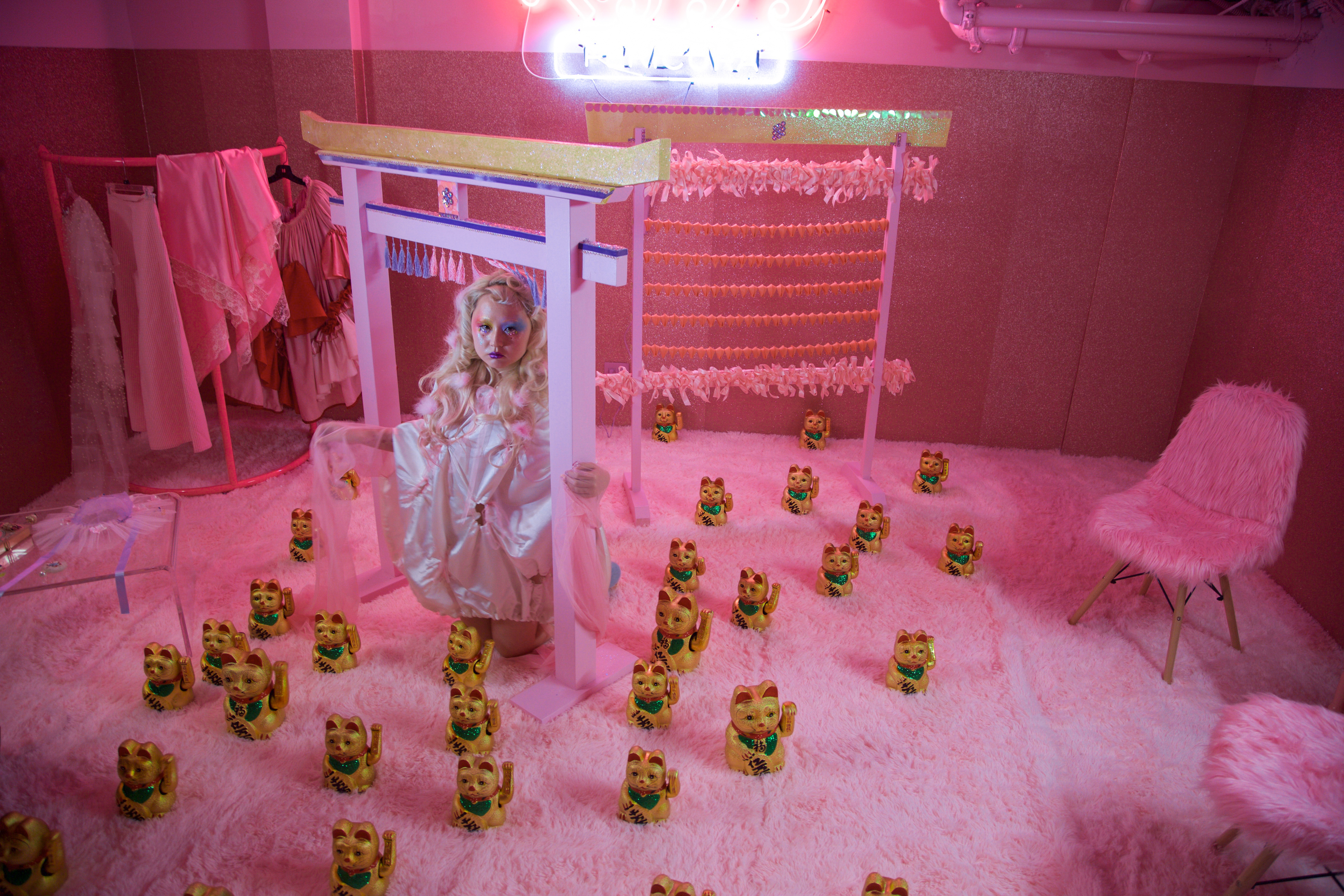 Where were you born and raised?
I was born next to the Huai River, [in the middle of China]. My city, Bengbu, is covered in ash, and it is small and restricted. People are inevitably ignorant — they don't know what's better and they enjoy what's being given. I always "knew" there was more to aspire for in life, based on reading books. To be honest, I don't know how I grew up and became whom I am now — a completely opposite creature than how my hometown is.
When and why did you leave China?
I left China when I was 17 years old. I was ready for college and wanted to stay away from my depressing family. I felt like all my parents cared about was money and their business. I always felt like a disposable plastic bag floating in the air.
When and why did you re-name yourself Alice?
I was debating between Alice and Alicia as my English name. Back then, a person I was obsessing over said Alicia was cute. So I used that name for a bit. After I got over her, I started using Alice instead. Alice is clearly more me: The world is my wonderland and I am good just being alone.
Since you mentioned you were obsessed with a girl, when did you first realize you were attracted to girls?
When I was in middle school, there was a girl there who was like the superstar of her class. I am naturally attracted to people who [are leaders], and she was a girl. I am not sure why I like girls, actually. Maybe it comes from my separation with my parents and I have been seeking emotional comfort through females since I was little.
Was there a LGBTQ+ community in China for you to take part in? Was it difficult to be "out" there?
I got accepted to Boston University because of my essay about my active experience in my local lesbian community. I think back then we didn't have that idea of being "out" there. We were just low-key enjoying our life and love.
How did moving to New York City change how you viewed your sexual identity?
Seeing all the activists out [here] practicing their activism, I advocate LGBTQ rights for those who know who they are, especially when they need help. [But] I am currently confused about my sexual identity. Sometimes I am angry to be honest, I wish I knew, I wish I am not fluid or confused. I know it is OK to be like this, but I just really want to figure out my sexual identity and just be like that.
Do you consider your entire life a performance art piece?
I always stay true to myself, and I am never in a character of being "Alice." I consider all the works I am contributing to humanity as art.
What inspires you? And what do you want to inspire in other people?
Disagreements, anger, debates, and depression inspire me. I think it is important to encourage people to be brave and bold.
What is PERICURA ?
PERICURA is my response to people's questions about my outfits, my looks, and what's going on in my head. Even though I want to offer people an opportunity to experience the things I am into, and sneak a peak in my world, I am not trying to actually transform them or to persuade them to follow me, like me, or become another me. I hope they feel my originality and feel encouraged to discover their own.
What is your ultimate dream?
My dream has been always this: Become a pop star, dance and sing on the stage, in the middle of Tokyo.
"PERICURA" Photographer: Lumia Nocito; Photo Assistant: Danni Xie; Makeup: Tracy Alfajora; Hair: Jessica Dylan; Stylist: Bianca Arielle Bailey.