in new york, designers are making 'made in china' great again
Chen Peng brings Rihanna-approved puffers stateside, Feng Chen Wang looks to her Fujian hometown, and Chinatown shopkeepers are the coolest Instamodels. The influx of Chinese designers might be New York's most exciting trend.
|
22 February 2018, 8:28pm
Photography Don Ashby
Backstage before his debut New York Fashion Week show, Peng Chen pointed to four pop-color leather handbags shaped like French bulldogs. The menswear designer — known for his giant quilted puffer coats — made the bags as a tribute to a loyal New York customer known as "Andrea R." "She's a crazy big fan of Chen Peng," he told me. "I got several calls me at midnight telling me she wants to wear Chen Peng garments and walk her dog around the New York riverside."
Not all of Chen Peng's fans are so mysterious. The Shanghai-based brand has found fans in Lady Gaga and bonafide emerging designer billboard Rihanna, who was photographed in a burgundy Chen Peng puffer. Riri has also test driven the technical outerwear of Feng Chen Wang, the offbeat tailoring of Snow Xue Gao, and the sizeless menswear of Gao's fellow Parsons/VFILES alumna Yajun Melody Lin. The three young Chinese-born designers are making some of New York's hottest stuff. (Rihanna has had her eye on the East for a while now — rocking up to the 2015 Met Gala in a yellow satin masterpiece, by Chinese couture designer Guo Pei, that launched a million memes).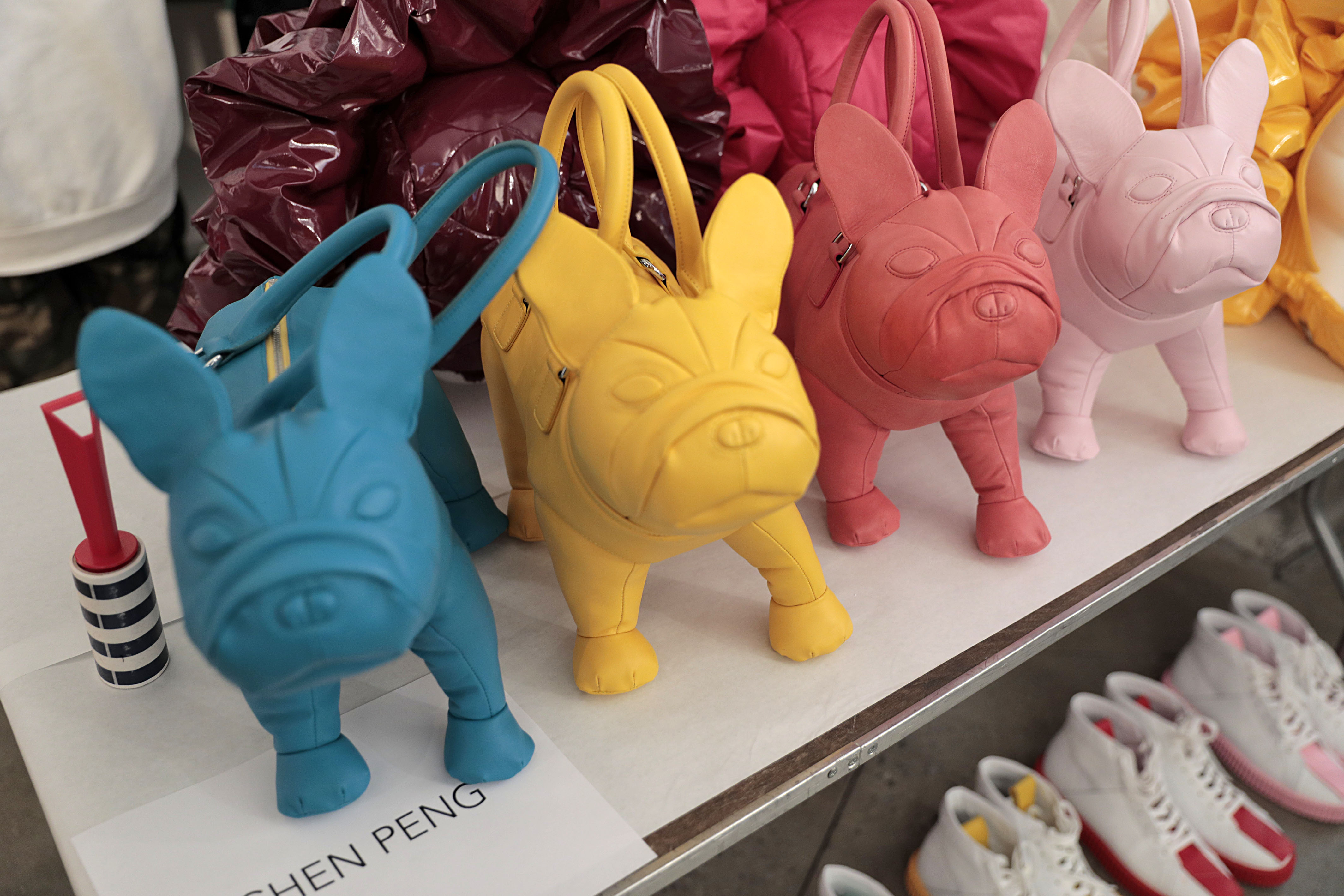 China has long held sway over the global fashion market. Luxury fashion sales in China climbed a steep 15% in 2017, fueled by "increasingly fashion-savvy Chinese customers," according to a report by consultancy Bain & Company. New York's top fashion schools are also seeing a huge influx of young Chinese designers. In 2015, five of the 11 students who presented collections at the Parsons MFA grad show were of Chinese heritage, a number that Quartz suggested might signal a shift in China's role on the world stage. "This idea that people had of China — [that] they wait to see what Europe does, what the West does, then copy it — it's long gone," said Shelley Fox, the director of Parsons's MFA fashion and design program. "They're finding their own voice."
Fashion is hardly the only industry seeing a rise in Chinese talents. China has more than four times the number of students studying abroad than any other country, with America being the most popular destination. "Campus dreams of the young generation" were referenced in the shownotes of Peacebird, which presented a mixed gender runway show on TMALL China Day. Backstage, the design team spoke about when American culture first infiltrated the Chinese market in the 80s. On the runway, Coca-Cola logos were splashed across shirts inspired by Chinese school uniforms. The result was an interplay between Chinese and American icons.
The new narrative taking shape is one that challenges Western conceptions about Chinese design. Feng Chen Wang's spring/summer 18 collection last season addressed the stigma behind "Made in China" — featuring T-shirts and sweaters stamped with the disparaged label tag in red block lettering. Wang's fall/winter 18 collection was an ode to her birthplace of Fujian, southern China. Subverted "boyfriend shirts" and worn-in denim were embroidered with the number 239 — a reference to the designer's childhood home. (The shirts were reminiscent of an embroidered "boyfriend" sweater at the spring/summer 17 show of China-born draping expert Claudia Li, which literally read "SOME GUY'S SWEATSHIRT.") China is more than manufacturing — it's creativity too.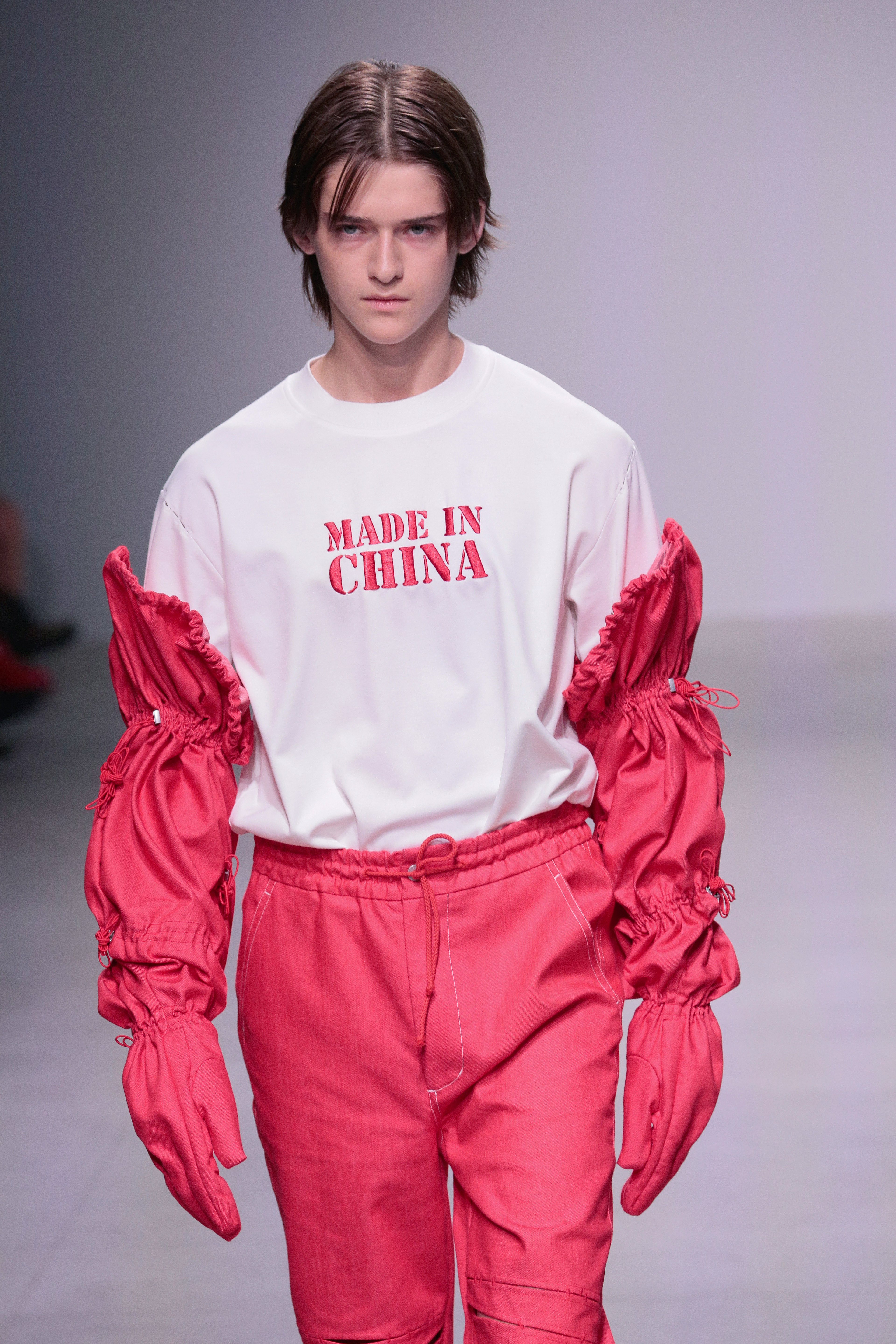 New York's own Chinatown has become a nucleus for the city's downtown fashion scene. Sandy Liang has long been inspired by the elderly Chinese women inhabiting the vibrant neighborhood. Especially her own grandma, who braved the cold last week to model a rainbow shearling coat following Liang's presentation at Mission Chinese restaurant. (Chef Danny Bowien was also there, rocking a maroon shearling moto jacket.) Snow Xue Gao also took over a Chinatown eating house for fall/winter 18. The 25-year-old tailoring whiz showed traditional Qipao dresses and 30s-era silk pajamas in Chinatown's brobdingnagian Jin Fong dim sum restaurant. Gao's collection was inspired by unions formed in the bustling streets and markets outside.
Speaking of union, theres's an inspiring sense of community amongst New York's Chinese fashion crowd. One of Liang's NYFW accidental models was a snuggle fleece-clad Kevin Poon, co-founder of Hong Kong-based streetwear brand CLOT. He had stopped by fresh from presenting his own collection on the NYFW Mens Tmall China Day platform. Poon's own brand is aimed at bridging the divide between East and West, something Hong Kong may be uniquely positioned to do as a former British Crown colony in southeastern China. (The autonomous territory actually staged a separate young designer showcase at New York Fashion Week, showing impressive collections from Harrison Wong, Anveglosa, and Heaven Please+.)
There's no doubt, though, who won the audience award for Chinatown's Next Top Model. Jane Shuai, who works behind the counter of iconic bling boutique New Top. Jane took a break from posting customer selfies last week to upload a shot of herself on the runway, clad in a giant hibiscus-print puffer coat by Kim Shui. The designer's fall/winter 18 collection was a celebration of Asian womanhood, bringing together models from mixed Asian backgrounds. "I also didn't want to cast just via agencies and was looking for interesting girls with a story," Shui explained to i-D. "One of the models is an artist and told me she moved to New York with $5 in her pocket a few years ago and has now stayed and been able to pursue her art."
The influx of new talents coincides with the departure (for now) of a Chinese-American legend: Alexander Wang. New York fashion's party king officially exited the NYFW calendar after his fall/winter 18 blowout, leaving many editors lamenting the state of the city's top-tier fashion scene. The New York Times described "an increasingly barren and low-key New York Fashion Week" without "the ability to create real electricity on the runway." But a lot of the magic isn't happening on the runway at all. It feels like the "NYFW used to be good" crowd missed out on a trip to Jin Fong or a glimpse of Kathy Lo's striking portraits of locals decked out in Sandy Liang toppers.
There's a genuine sense of community and collaboration that's permeating New York's downtown fashion anti-scene right now. Chinatown is also home to the NYC headquarters and winter pop-up shop of Eckhaus Latta, where the designers from Vaquera and Gauntlett Cheng have interned, if they weren't were cutting patterns for Telfar Clemens. Telfar's after-after party was hosted by Club Glam, who regularly play secret pop-ups at fashion-favorite China Chalet.
Chen Peng sees the city's increasing lack of velvet ropes as a very NYC phenomenon. "Three years ago I was studying in London, but it's so difficult for Asian designers to launch their brands." Peacebird's designers elaborated, "New York is a very free, open-minded city. It's very international. It's a great opportunity for a Chinese brand to showcase itself on such an international platform. It's very exciting."