doutzen kroes speaks out about saving the world's elephants
"When I started modelling, I was always looking for things to give back to. With the Knot on My Planet campaign I really feel that all of a sudden my life has purpose. My job has a purpose."
|
19 February 2018, 12:49pm
This article originally appeared in The Radical Issue, no. 350, Spring 2018.
What does it mean to be a model? i-D has always believed in the power of speaking out. Today, the voices of models are more vital than ever. Here, Cameron Russell, Adwoa Aboah, Dara Allen, Christy Turlington, Anja Rubik, Hanne Gaby Odiele, Teddy Quinlivan, Paloma Elsesser, Liya Kebede and Doutzen Kroes champion their passions, causes, fights and beliefs.
"The whole thing started over dinner one night in New York with my agent, David Bonnouvrier, and his fiancé Trish Goff. They went to Kenya and they told me, 'You have to go because it will change your life forever'. It did. I went and it was love at first sight with the elephants. But I also learned that there is a crisis. 30,000 elephants are killed each year. It was devastating to hear. When I came back I sat down with David and Trish. We were brainstorming. The solution we came up with was to make a social media campaign. We had to tell as many people in the world what is going on.

That's how the Knot on My Planet campaign started. We're tying knots because elephants are known for their incredible memory. They never forget anything. Yet, we are forgetting about them. Money is needed on the ground in order to protect the big tuskers. 24-hour surveillance is needed, so the military is actually involved. It's a war against the poachers and it's very dangerous. The Elephant Crisis Fund is working with over 50 different organizations in Africa. They donate the money as soon as it's needed, anywhere in 24 hours. But we also need to raise awareness in countries where ivory is still used as a luxury item. It's insane. I was always taught to do my bit to save the planet.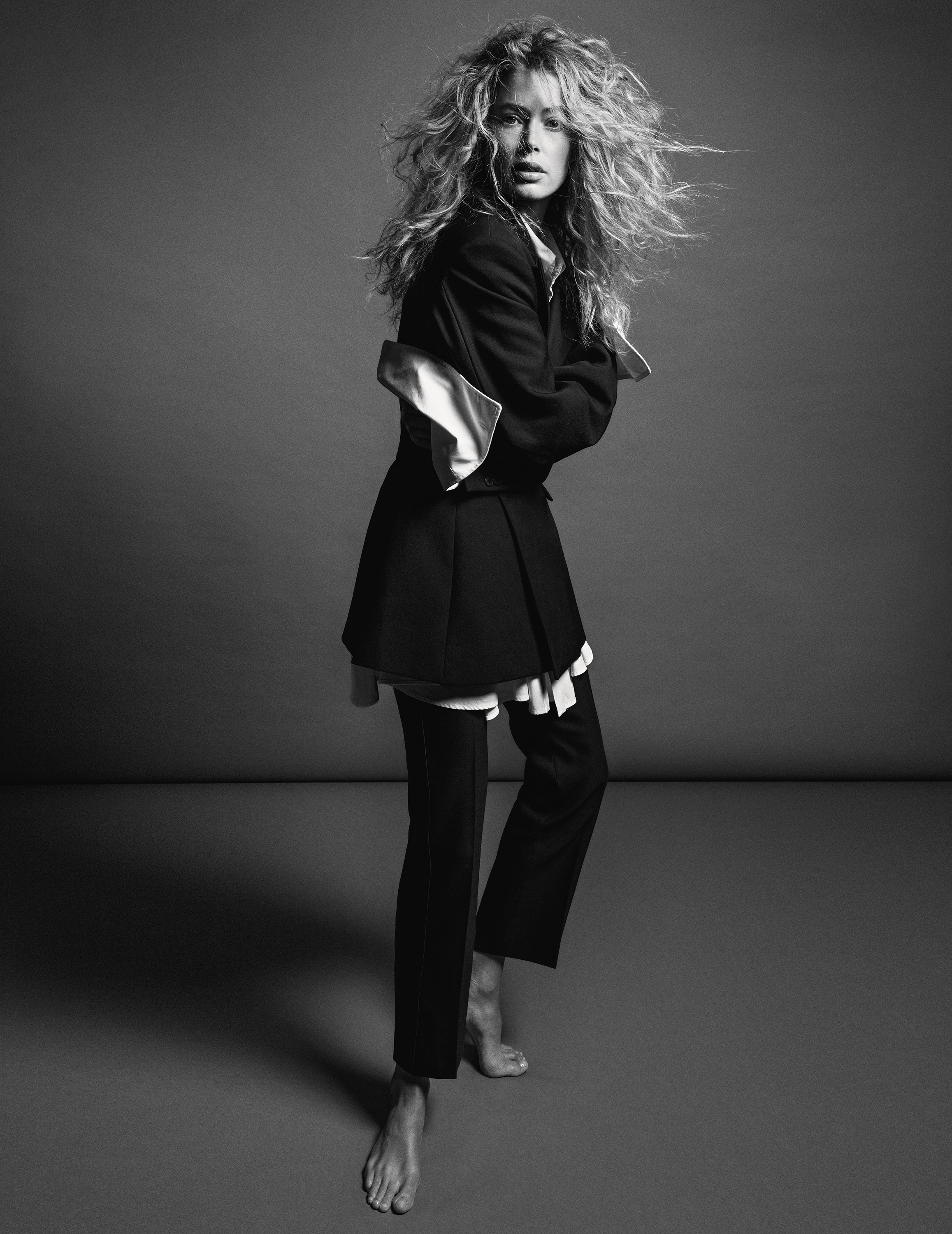 When I started modeling, I was always looking for things to give back to. But now with the Knot on My Planet campaign I really feel that all of a sudden my life has purpose. My job has a purpose. I think social media is a great tool and outlet for people that can now have their voice and tell the world what is going on. But I think it's also the agent, they have a huge responsibility. Getting complaints from girls and still sending young girls to those same people. It's something that we need to break.
I think it's in full force and I'm very proud that the fashion industry is taking action now. That is punishing the people that are part of this. The Model Alliance is great. It's there, but it should be much bigger. I think it's very strange that we don't have a union."
Credits
---
Photography Inez & Vinoodh
Fashion director Alastair McKimm
Hair Christiaan. Makeup Kabuki at Kabuki Magic using M.A.C Cosmetics. Nail technician Daria Hardeman at Starworks using Deborah Lippmann. Lighting director Jodokus Driessen. Digital technician Brian Anderson. Photography assistance Joe Hume. Studio manager Marc Kroop. Styling assistance Maggie Foster, Desiree Adejde and Umi Jiang. Hair assistance Taku. Make-up assistance Yumi Kaizuka, Michael Chua and Satsuki Soma. Nail assistance Gladys Castillo. Production Tucker Bibilis at VLM Productions. Executive production Stephanie Bargas at VLM Productions. Production co-ordination Eva Harte at VLM Productions. Production assistance John Nadnazi and Michelle Murray. Casting director Samuel Ellis Scheinman for DMCASTING. Models Christy Turlington at BMC. Liya Kebede at IMG. Cameron Russell at The Lions. Doutzen Kroes, Anja Rubik and Adwoa Aboah at DNA. Teddy Quinlivan and Hanne Gaby at Women. Paloma Elsesser at Muse. Dara Allen at Heroes. These interviews have been condensed and edited.