The designer crafting modern fashion out of Ghanaian history
We caught up with Jason Jermaine Asiedu as he prepared for his Lagos Fashion Week show.
|
18 November 2019, 3:00pm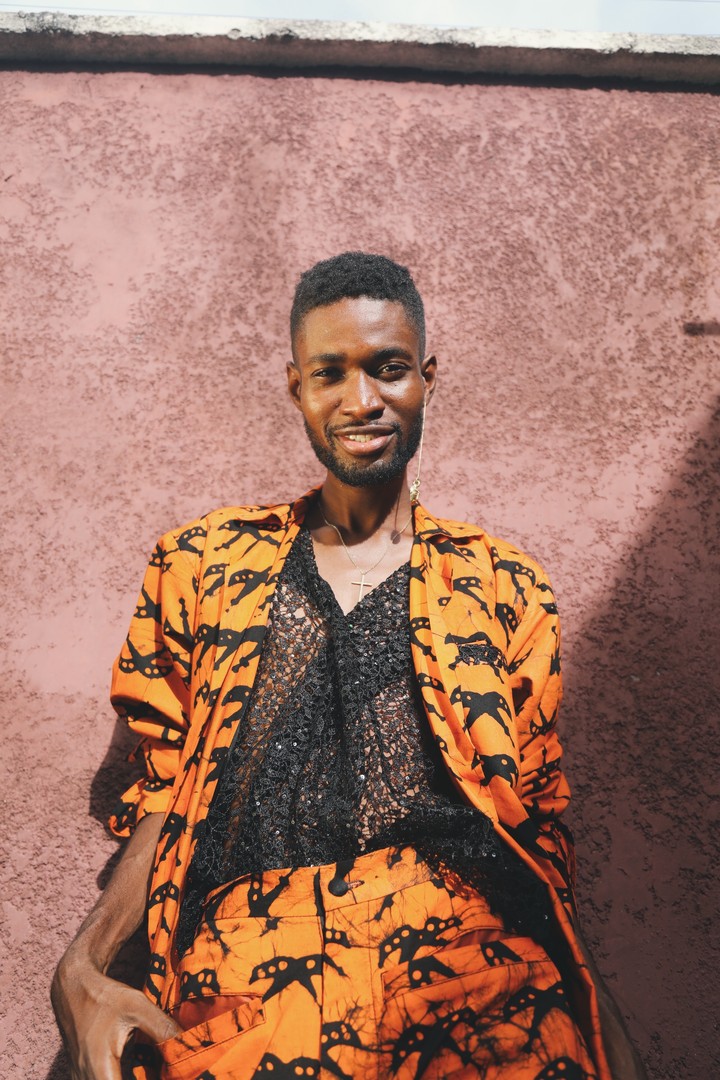 Photography Michael Oshai
"These are all the stories that I came to tell,'' Ghanaian designer Jason Jermaine Asiedu tells me on a sunny afternoon in Lagos. "I feel like a lot of people don't know them, and we have to put them out there.'' Putting his iPhone to one side and giving me his full attention, Jason comes across as calm and collected despite the hectic frenzy leading up to his brand Jermaine Bleu's Lagos Fashion Week show, scheduled for a couple of days after we speak.
"This is what inspired the closing look," Jason says, showing me a black-and-white photograph of Yaa Asantewaa -- the Queen Mother of Ejisu in the Ashanti Empire -- and explaining the story of how she, along with a group of other women, set out to fight the white men who had insulted their King. In touch with his ancestral history, Jason exemplifies the forward-thinking approach to African design that many of the continent's most celebrated young creatives are harnessing right now. At 25 he may be young, but he doesn't create without taking in the history of what came before him and where his place in that lies. Here, we chat more about his new collection and the challenges faced when starting your own label.
What first inspired you creatively?
I feel like I've always been interested in fashion because my mum used to be a seamstress. Growing up around that was very inspiring. But it wasn't until I went to school and studied textiles that I really took an interest. I found that whenever we were asked to do a design, I always approached it very personally. In terms of drawing or sketching, my work was very personal. Right after school, I decided to put this into good use and I started interning for different brands in Ghana. In 2015, I decided to start my own brand.
You always find a way to weave in Ghanaian history and stories into your pieces and collections...
It started about two years ago. It's very important now, because African fashion is really taking off. We need to rewrite these stories because if we don't, then no one else is going to. I also believe that in this day and age, it's very exciting to know these stories and actually have a say. It's important that we don't rely on letting other people tell them for us, especially since they may not tell them the right way, because they don't have the actual experience of these things or know people who have. I wasn't there for the Yaa Asantewaa story, I never experienced these things myself, but they are things my mother and grandmother talk about very often.
That really shines through in this collection. What in particular inspired it?
It was very important to me to highlight the history of Ghana. This collection was mainly inspired by Ghana's Ashanti region. When you look closely at the symbols in the prints that we used, it shows two swords crossing each other -- the Akofena -- this represents the authority which the Ashanti Empire is known for. They really believe in monarchy, so it was very important that I found a way to infuse this into the collection. The symbol also represents strength, bravery and the law. It was very exciting to work with with a symbol that spoke volumes.
I don't imagine it was easy starting up a fashion brand in Ghana. Could you tell me what it was like starting out?
Well, the challenges I faced when I kicked off my brand… I'm still facing those same challenges, to be honest. Finding the right team, building everything from scratch. I still don't have a strong team but now I have one or two people I can always lean on. In as much as you might think you can do everything yourself, you cannot. I wish I could turn back time, start from scratch and not make all the mistakes I did. But I have learnt learnt from these mistakes. It's still very stressful for me because we don't have a studio yet and we're always running around and outsourcing everything.
How do you push through these challenges?
This is what I've always wanted to do, so I am constantly pushing myself to reach my goal. It's important to me that I do well. I hate failing, no one wants to be a failure. For me, it's important that if something must be done, it must be done well. That alone is an inspiration. I tell myself, 'You have to do it, you cannot fail.'
Looking at the Ghanaian fashion industry, what would you say is missing?
Collaboration. I feel we should collaborate more and we need a structure. I like saying, 'we don't have an industry' but we do have an industry -- I just feel like there's no structure to it. It's like everything is all over the place, and if we could all just come together and work towards the bigger picture then it would work out for everyone. But it's almost like everyone is just doing their own thing. One person can't take it upon themselves: we all have to come together to build together and if we don't, the industry won't go anywhere.