how muna finally figured their shit out
With their second album 'Saves the World', the LA trio looked inward as a way to solve the planet's woes.
|
19 September 2019, 8:00am
Photography Isaac Schneider.
MUNA are trying to temper their excitement. It's three days after the release of their second album Saves the World and we're meeting at a London hotel bar that has been done up to look like a university library. The band should be buzzing, but getting wrapped up in the rush is dangerous territory. "If I buzz too hard it gives me anxiety," says singer Katie Gavin, who adds that trying to remain present and in the moment was one of the biggest lessons the group learned over the last few years. "I feel like this time around, we wanted to be more consciously aware of everything we were doing," guitarist and musician Josette Maskin chimes in. "We wanted to not feel like the cart was getting away from the horse. I don't think any of us know, really, how to do that. But we do our best."
Admittedly, the cart did pick up speed quickly. After the release of their debut album About U, the group quickly scooped up a moderate but dedicated following with their stadium-sized choruses, deeply specific and gut wrenchingly emotional lyrics, and souped-up sparkling 80s-tinged pop production. They also weren't afraid of making their political position known, speaking out against Donald Trump and openly about their experiences as queer women.
One notable Muna stan was a certain Harry Styles, who invited them to open for him on a world tour in support of his first solo album. If you caught one of the 1D graduate's shows in 2017, you'll be aware of just how intense the energy from the crowd was, and MUNA revelled in it. On a propulsive high, the group thought that they'd continue touring and had even started work on a second album. Josette and producer and instrumentalist Naomi even gave up their apartments in Los Angeles, where the group had met and which had become their de facto basecamp.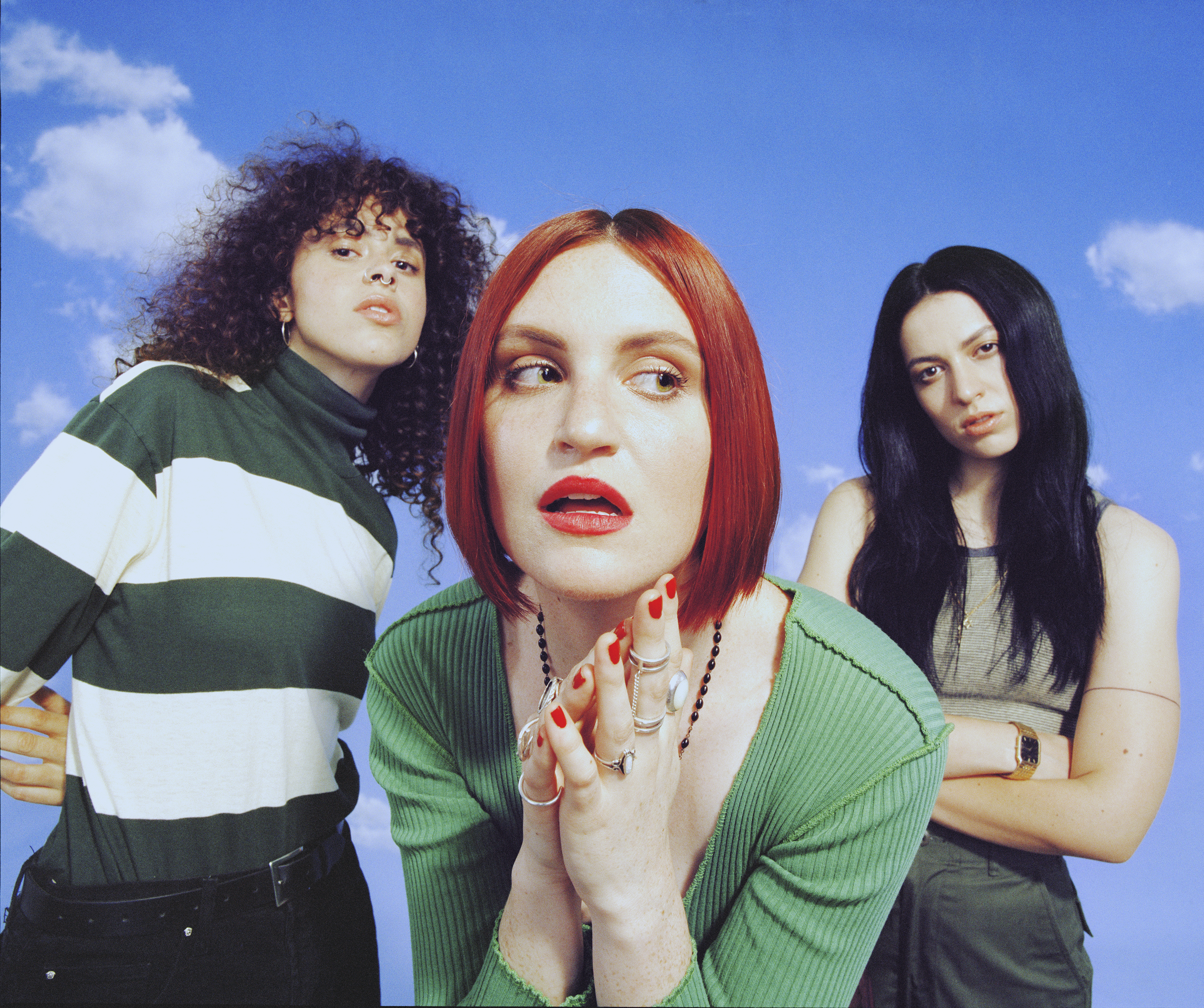 In reality, what actually happened was the band arrived back in LA, a city they realised that they had no real connection to, and they were hit with the mother of all comedowns. "We went back to a life that we didn't know or understand," says Josette. Imposter syndrome set in.
"It was bizarre," adds Naomi, "I spent so many years living in LA, but because I didn't have a car I had no experience of the city other than what was within the six mile radius of the college campus. And then we got out of school, moved into a house, got signed and started touring. We had no time to set up a life. It was very arrested development. It was a little latent, the actual starting the life stuff." In fact, Naomi and Josette regressed, moving in with the latter's parents ("It was another adolescence in a lot of ways," Josette bemoans). Finding themselves on the precipice of a triangular existential crisis, MUNA gave themselves a task: "try to figure out who we want to be."
As workaholics, the group had never stopped writing music and so there wasn't a specific moment when work on Saves the World began. Rather, like the world's most confusing and slowest Tetris puzzle, the pieces slotted together slowly and disjointedly.
Katie, the group's main lyricist, went on a two year journey to exorcise a past relationship that "was defined by obsessive thinking that it was on my mind all the time". "I was always trying to get this person's, I don't know," she says with a sigh. "Fill in the blank: approval, affection, commitment?"

Songs that were written early -- like "Who", an anthemic, lighters-in-the-air power ballad, and "Never", the album's most depressing hump that sees Katie cry out repeatedly that she'll neither love nor sing again before belting like her life depends on it -- are soaked in despondency. "I think the record has a real relationship with despair," admits Katie. "But in my life, I really treasure my experiences with despair. I think [as a band] we all had those experiences. But in the last two years of my life, it's been a transformative time. I feel like I'm somebody now who believes that's something that you have to go through in order for it to show you its other face. Being willing to feel those feelings has given me so much."
By dancing with anguish, Katie crafted her escape from the grip of a person she'd spent so long yoyoing with. "Shit gets weird when the person you're trying to get love from is a symbol of the type of love that you're not going to give yourself," she says. "For me, once I made a commitment to not go back to that person, I realised that I needed to sit with myself and not lily-pad on to the next person."
She used the songs she was writing to work through the feelings she was having. "Navy Blue", a stabbing Springsteen-style slice of pop, recounts the basics of self care – getting enough sleep and drinking enough water – and how exhausting the process of cutting oneself off from a past love can be. "Then there was a period where I was more angry," Katie continues. "That's like 'Hands Off'. Then there's the analysis, which is more like 'Taken'. And then there's acceptance. You start centring on yourself more [and realise] that it never really was about this other person. That's the funny thing. It never really is." To go all RuPaul, her recovery was being countered by her inner saboteur.
Also, unbeknown to her, writing "Never", with its proclamation that "I'll never love again", was prophetic. "Seriously, I've been alone since then," she says with a laugh, before getting serious. "At this point, I'm reorienting and learning how to be more interested in intimacy and more tolerant of it. Honestly, I had no idea that like attracts like in terms of emotional availability. It's kind of painful for me to be seen by somebody. But I think it's kind of cool that we made this whole record and I was just with me."
Naomi and Josette, meanwhile, needed to escape the sonic terrain of About U. "We were making songs at the beginning of [that process] that sounded like our debut," Josette admits. "We needed to change because we wanted to create a new universe."
"We wanted to make a story record," adds Naomi. "We felt a pressure from some outside external force – like the world – but also within ourselves that we had to make a stunning second record. It was important for us. So we went in with a lot of pretence about what it needed to be."
Crafting a new sound for MUNA was tricky, partly because Josette and Naomi were undergoing their battles about their roles as musicians. "I think when you're a woman or a female-identifying queer person in the music industry," Naomi says, "there's a lot of pressure that you put on yourself to prove to the world that you're capable of doing what you're doing really, really well, and not to be underestimated. I felt that very strongly as a producer making the songs and [Josette and I] felt that as players. It took a very long time to be able to dial it back and play when it makes sense to play and vice versa. 'Hands Off' was kind of the first song that felt like we'd stepped foot into a new area of tempering our soundscapes and being more experimental with the effects and sounds that we were using. Ultimately, it just came down to making a bunch of songs that didn't sound very good and then realising that we actually needed to get better at music a little bit. It got a lot easier when we started being more tasteful with the choices that we made."
This is exemplified on the album's closer, the diaristic and sprawling "It's Gonna Be Okay, Baby", which sees Katie, her voice tastefully auto-tuned, at her most barefaced and Naomi and Josette at their most pared back. Lyrically, the song chronicles Katie's life with precision and sharp specificity, and because of this it shouldn't resonate so powerfully but it does. When Naomi first heard it, she burst into tears. "I knew that some of the song had nothing to do with me," they say, "and it feels so intensely good. It's such a cathartic song, if catharsis actually exists." Put plainly, it's the sound of someone figuring their shit out.
It's the song that MUNA, at their first live show in support of Saves the World, close their set with later that night. It's a transcendent and unifying experience that feels healing, as if by sharing their music show-by-show, they might actually have the ability to heal the wounds being inflicted on the world.
"I feel like I have saved myself," says Katie, "and in that way I have saved the world. There's entanglement. If I'm talking about me and specifically my life but it hits on other people's experiences, that should show us that when you're working on yourself you are working on other people at the same time. We're all connected"
MUNA's new album 'Saves the World' is out now. They are on tour in the US and UK in December.
Tagged: