Noah Carlos: "I'm a bad bitch, I'm gonna do what I want"
Model Noah Carlos discusses what it's like navigating the fashion industry as a non-binary model.
|
20 November 2019, 1:00pm
Noah Carlos's story originally appeared in i-D's The Get Up Stand Up Issue, no. 358, Winter 2019. Order your copy here.
Noah Carlos is in London, reclining on a plush velvet couch as if they've been interviewed hundreds of times. Every time they tell a story, they flick their hair and widen their eyes like their life is a scene from Gossip Girl (albeit less bitchy, thankfully). "You have a star on your hands," they declare. They are talking about themselves at high school but the phrase works better now because it's true.
Noah — or @loserthrift as they're known online — is part of a new wave of models in the fashion industry. Yes, they're non-binary, but they're also hilarious, outspoken, and with a perspective on identity that makes them both completely alluring and an important voice on how young people in 2019 play so freely with identity.
According to millennial thinking, social media damages our mental health and skewers our perception of reality. But Instagram got Noah through high school. Because here, online, with their wild looks and snappy captions, their queer power reflected that of so many young gender fluid people all over the world. "The second time I wore a dress was to my Winter Formal," they recall. "It was a chainmail dress with a rhinestone halter-neck. I was just dancing, having a good time. But chainmail is like super fragile, right? Out of nowhere I see these Varsity football guys start coming closer. They kept pulling on my dress, then all of a sudden my dress just falls..." Noah just kept on dancing.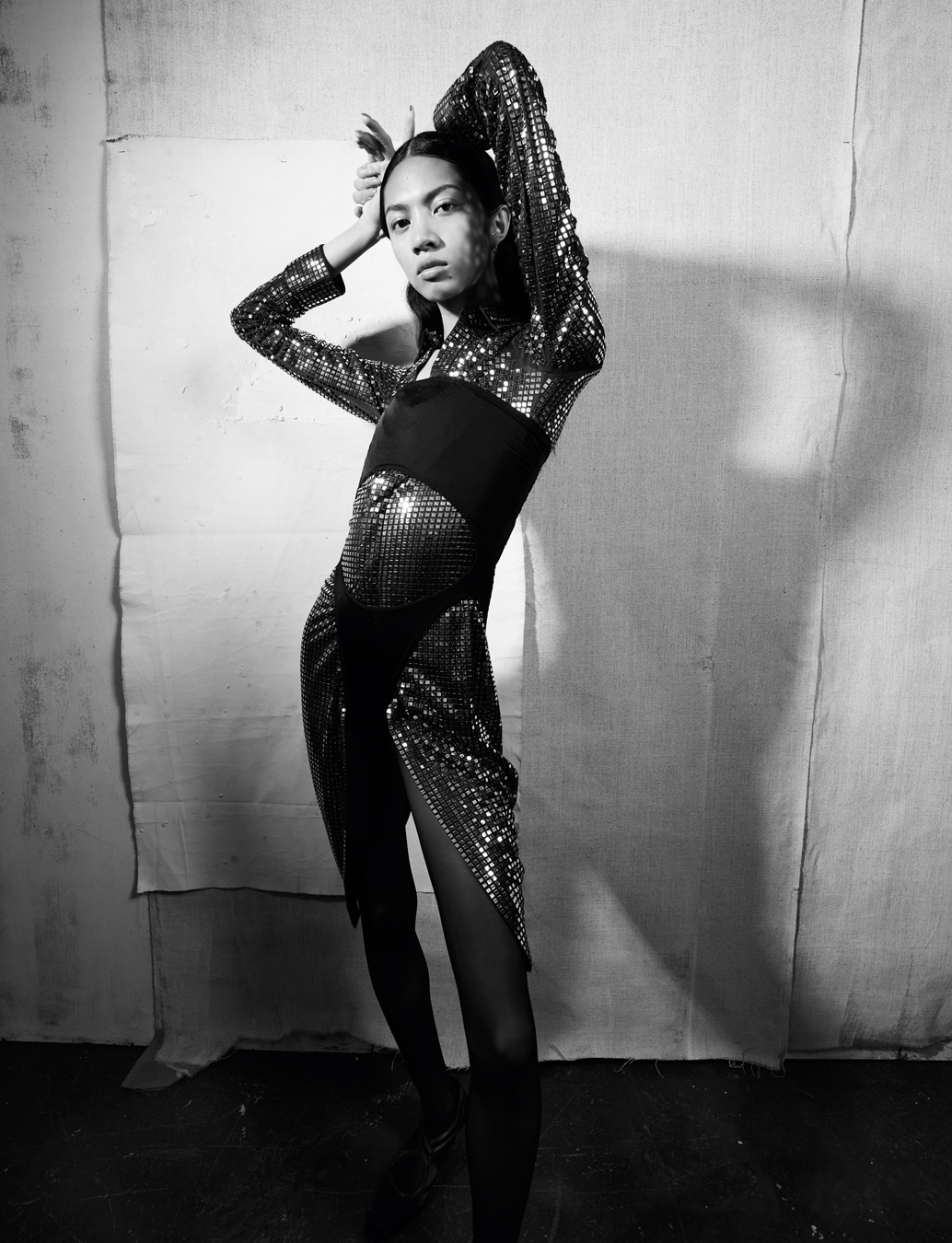 This is the kind of high school drama that can swallow us whole. The kind that you might think only occurs in the hallways of Mean Girls or the jock parties of Euphoria, Noah's favourite TV show. But for a gender non-conforming kid in a conservative Orange County high school, Noah was picked on for being different. Especially after they started thrifting and expressing themselves through fashion.
"I'll try this, it's five dollars, and if it doesn't work out you re-donate it," they explain. This is Noah's mantra, and that's how they started wearing things their peers wouldn't dare to. When they were 14, their parents were living paycheque to paycheque, but Noah, like any teenager, wanted to look cool, wanted clothes. It was here their gender started to express itself, leafing through the rails at the Salvation Army seeking an escape from the boredom of men's clothing.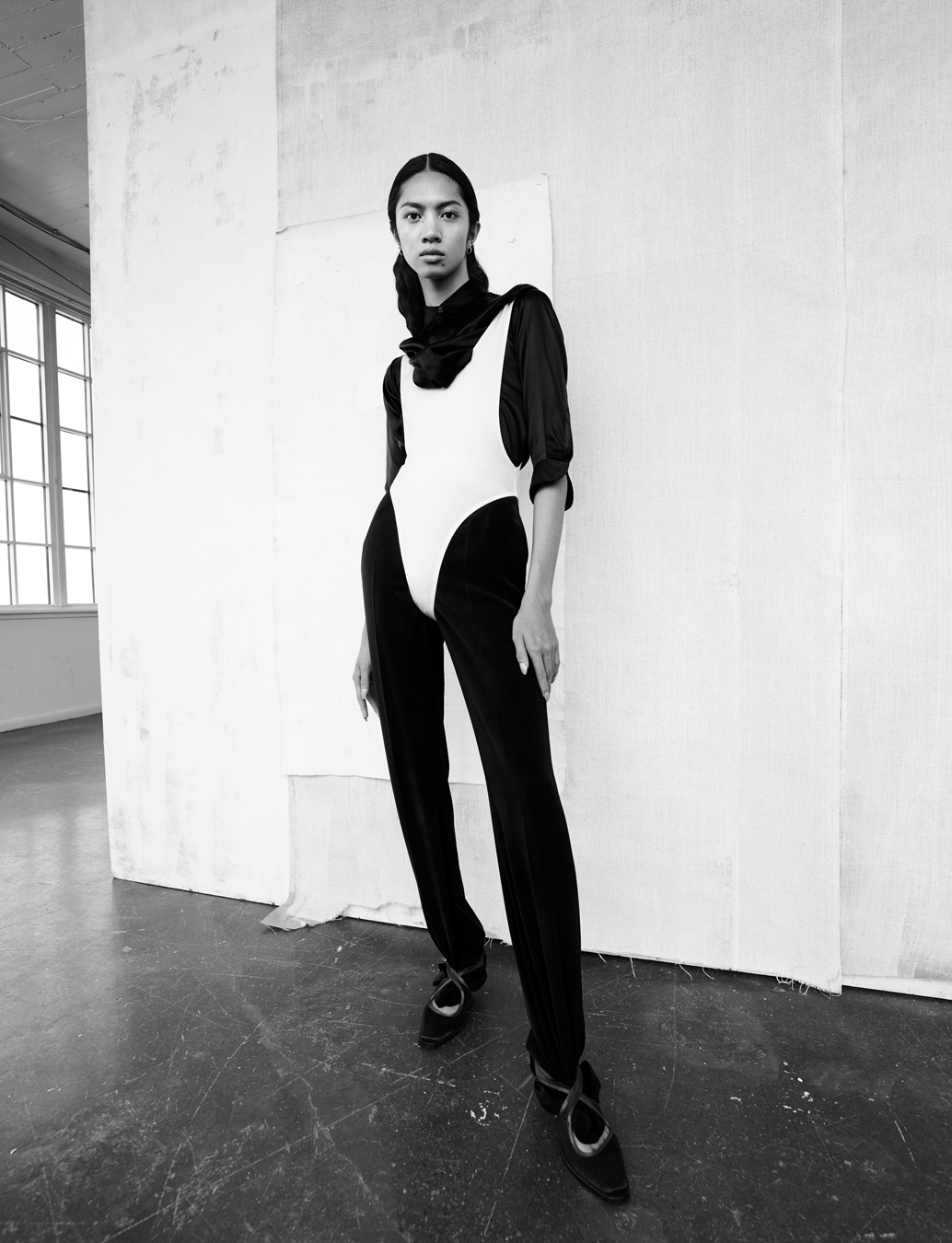 "Back then, the early 2000s, in terms of gender norms in society, you couldn't do everything you can today," Noah recalls. "But once I got to high school, I was just like, you know what? Fuck the system, I'm a bad bitch, I'm gonna wear what I want and I'm gonna do what I want." A star was born.
This non-conformity came with a set of very real difficulties in the hallways of Noah's quintessentially American school, and a lot of worry from their mom (who is now overjoyed at Noah's success). Yet online, at the same time, Noah began to thrive. Their fucking- with-the-style-system skyrocketed them into the online ether and their Depop and Instagram following boomed. "I would get young, Filipino models messaging me like, 'Oh my god, I love to model and it's so good to see a queer model.'"
Noah's online life became a place where they were celebrated for the things that, in high school, saw them denigrated. Sure, their incendiary Instagram stories calling out people who came for them at school might have got them expelled — a fact Noah cheekily smirks at — but, like many of their high-school experiences, they took it in their super-model-stride, because they always knew they were set for bigger things.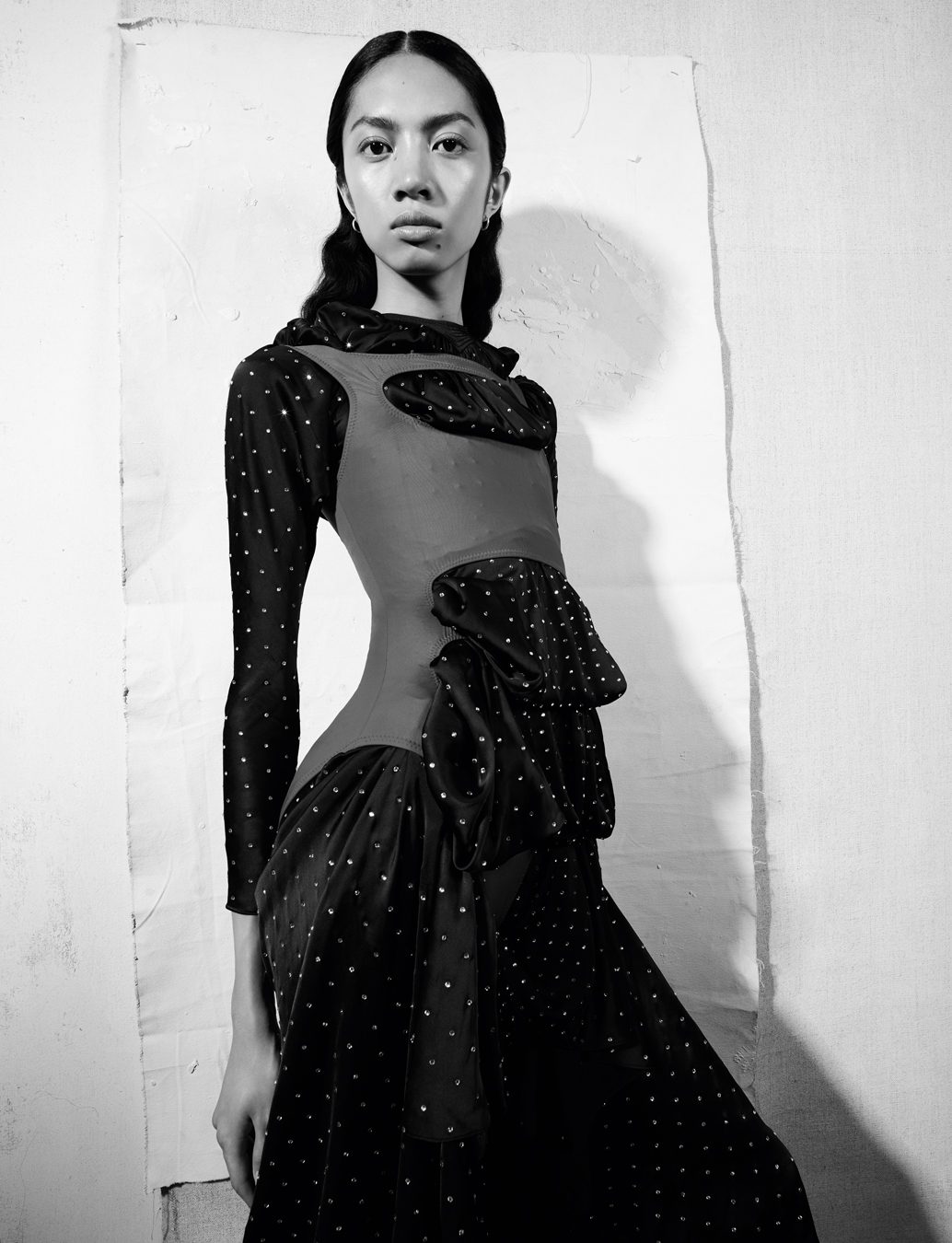 After gaining a cult following online, fashion sat up and took notice and Noah was signed to IMG last December. This season they walked for Marc Jacobs, Maison Margiela, Lanvin and Alexander Wang. They have just shot a Prada lookbook for Barneys. "Being non-binary and being able to do something like this is shocking. You're still putting me in womenswear, but you still see that I could be part of this vision." Like clockwork, these high school naysayers started to like their posts.
"The stuff that's hard makes you who you are," Noah says. "If I didn't go through that, I don't think I would be as confident in myself as I am." And now they are similarly confident about their role in fashion. "I am here to sell a garment, and I can do that just as well as a cis white girl, but if you don't cast me you'll never know," they add. Like any good model, Noah's focus is on doing a great job, carrying the story. But they're also aware of the representation they potentially offer in a fashion system that is also becoming less obsessed with binaries, and in the wider world. However Noah is aware of the line between tokenising and representing.
"I think most shows I do don't question my sexuality or how I identify. Sometimes they do, like when I did Kenzo," they say. "It was Humberto and Carol's last show and they didn't want to use any white models. They wanted just people of colour, because they never really get shows — then they wanted a non-binary model closing the show. That was great, really positive."
But the catwalk can still be a very binary space, and Noah doesn't book menswear so often. "It's the same with all the non-binary models I meet, but we could do menswear — that would be saying something powerful, that you believe I could sell that too. I love mixing the masculine and the feminine. Today my outfit is very Grandpa chic." (They're wearing a beige golfing jumper and short shorts.)
They might be just 18 years old, but Noah's perception of gender fluidity is far more advanced than that of the many decision makers inside so many major brands. So while the runway is still often divided down gendered lines, Noah is happy floating between either, educating people as they go. "Truth is," they say, "everything is slow, but fashion is the fastest. I feel if non-conforming people don't experience different things in this industry, it won't change. I feel like in order to change, we need to get thrown into it and then talk about what happens."
With 56% of Generation Z identifying as non-binary or knowing someone who is, it's clear that as fashion is changing – with the AW19 shows casting the highest number of non-binary models on record – and the world is too. If Noah's experience and attitude are anything to go by, the change that's coming is unstoppable, and it'll be their generation, who are keen to be thrust into situations and challenge perceptions by their presence, that will lead it.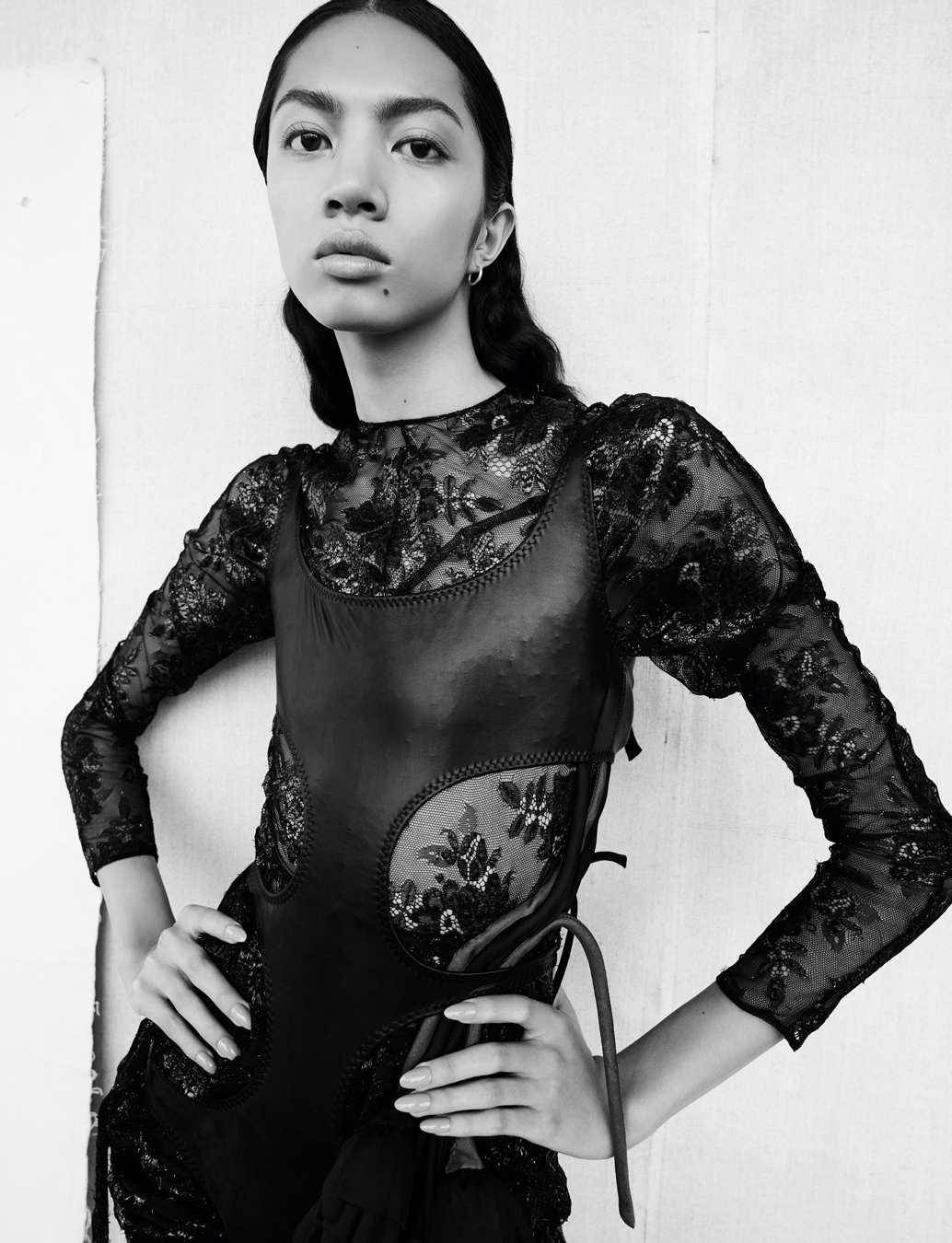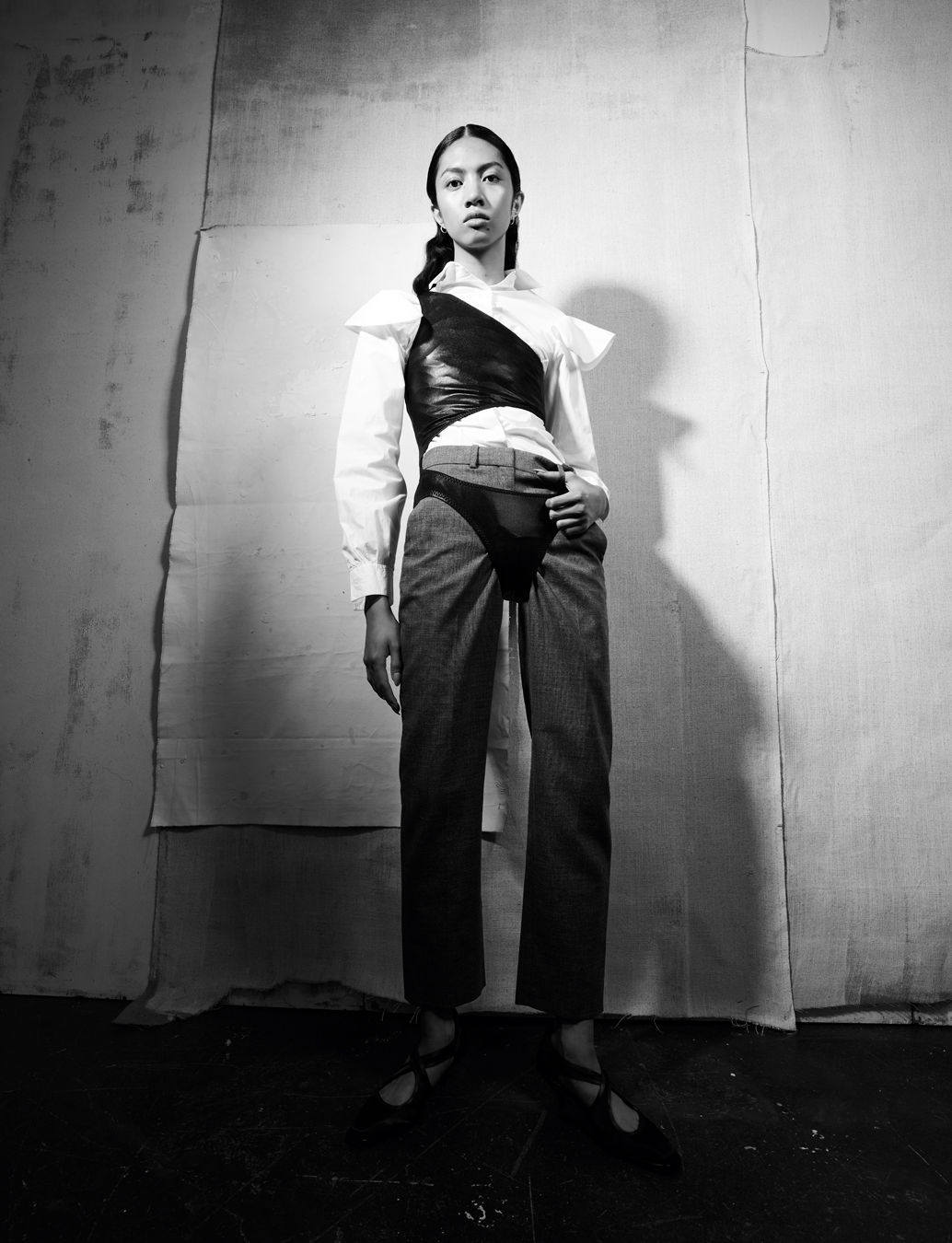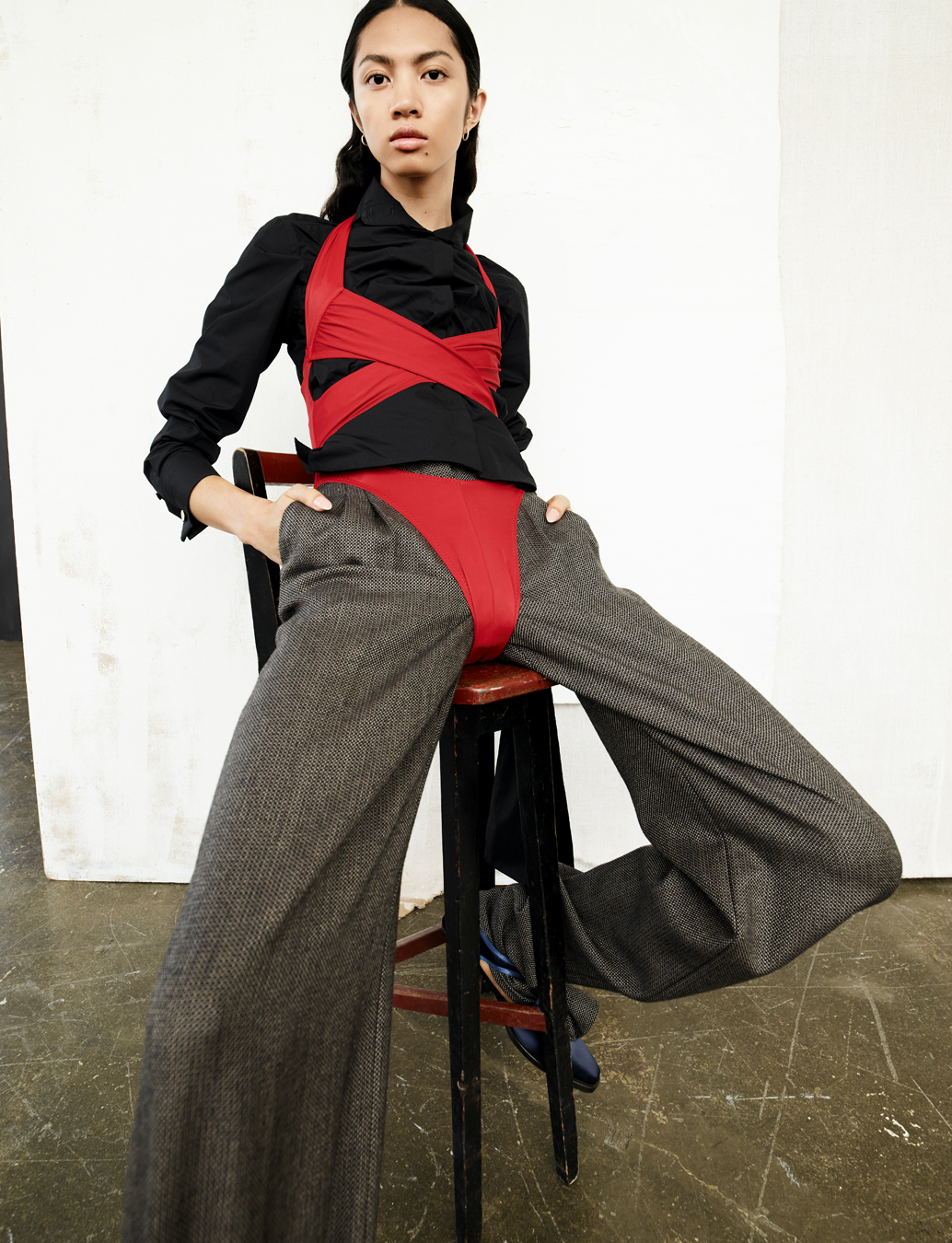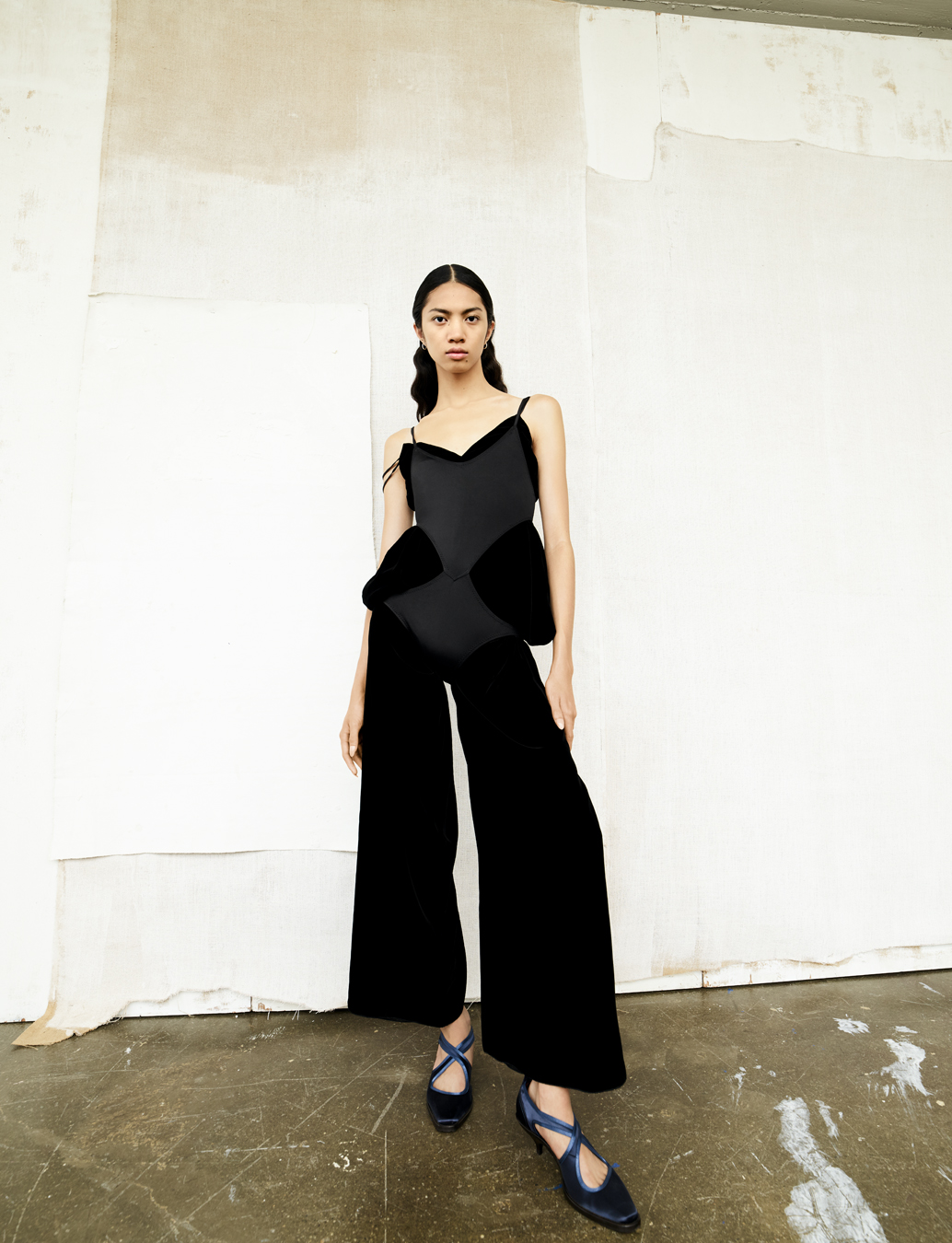 Credits
---
Photography Amy Troost
Styling Marie Chaix

Hair Tina Outen at Streeters using Bumble and bumble.
Make-up Kanako Takase at Streeters using Addiction.
Nail technician Tracylee at Bri Winters.
Prop styling Kadu Lennox at Frank Reps.
Photography assistance Karen Goss and Katie Tucker.
Digital operator Alonzo Maciel.
Styling assistance Victor Cordero.
Hair assistance Nevada Raffaele.
Make-up assistance Michaela Bosch.
Prop styling assistance Jade Sorensen and Matt Anderson.
Production MAP Ltd. Production assistance Cat Lewis.
Casting director Samuel Ellis Scheinman for DMCASTING.

Model Noah Carlos at IMG.