All imagery courtesy Lu Yang and Special Special gallery
welcome to lu yang's exuberant anime-laced universe of art and clothing
The Chinese artist opens a maximalist frenzy of a show in New York.
|
14 November 2017, 8:50pm
All imagery courtesy Lu Yang and Special Special gallery
What would it look like to belong nowhere and everywhere at the same time? While East Asian landscapes such as Tokyo and Shanghai have a long history of being used as fictitious settings to convey alienation for Westerners, Chinese artist Lu Yang pushes Orientalist stereotypes into extremes to unsettle us even further. Lu's pop-up exhibition at Special Special gallery in New York is a maximalist playhouse that overloads the senses with references to Japanese anime, Buddhism, and sci-fi to shake our sense of rationality.
Tired of seeing artwork in white cubes, Lu took this opportunity to show her video works along with her new experiments in fashion and clothing within the context of a video game arcade. Works on view include Uterusman, a superhero embodying the female sex organ, as well as Cancer Baby, an exuberant rainbow cartoon of a tumor cell. It becomes clear that Lu Yang's immersive environment is not passive scenery, but rather an extension of her own body and its antagonisms. After centuries of East Asian culture being construed as a foreign backdrop, Lu makes the backdrop strike back. We spoke with Lu about her thoughts on gender, culture, and art-making in the post-internet age.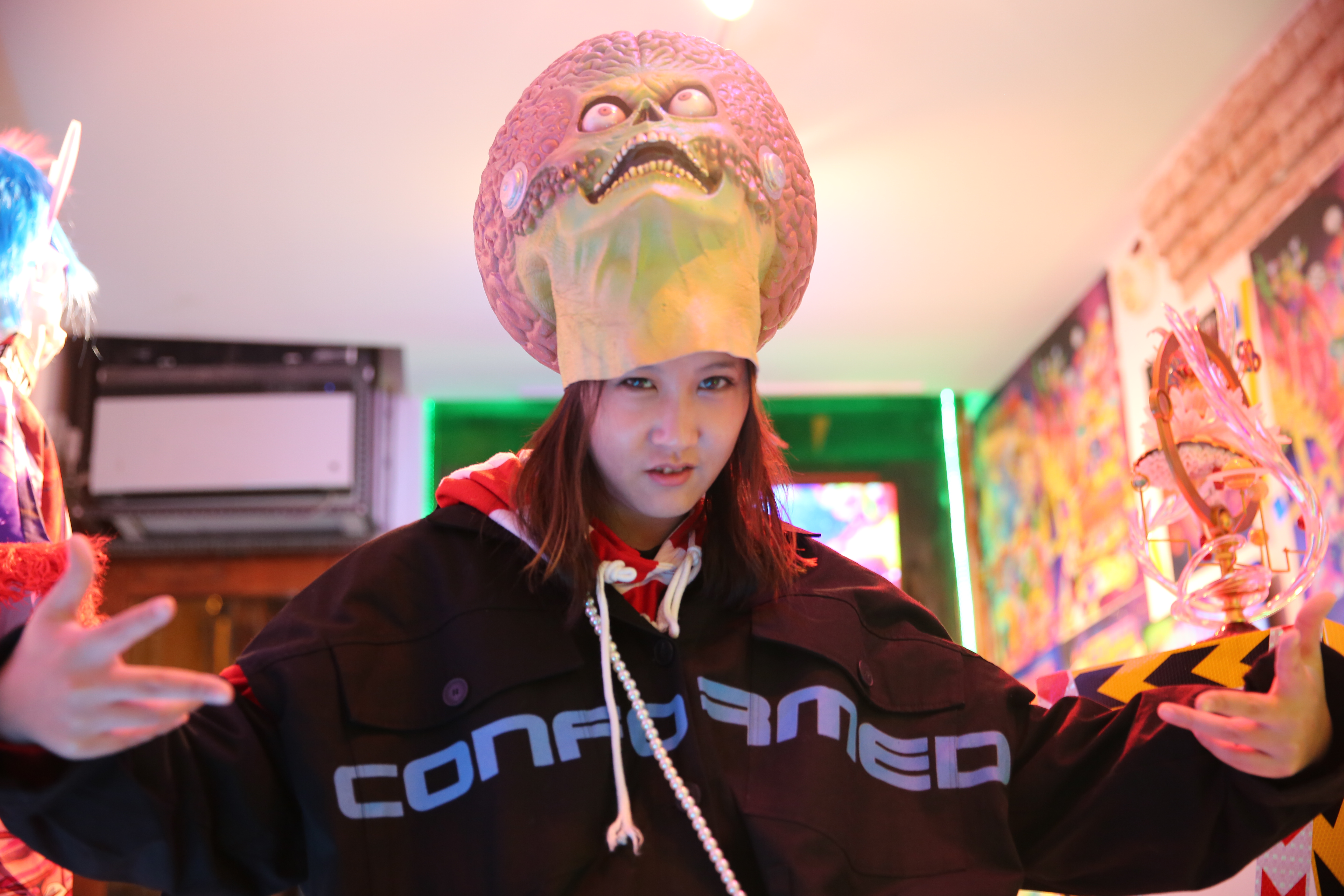 Can you share your inspirations behind your new work involving fashion?
I call myself an artist, but in reality I do not like much contemporary art. The contemporary art I see now often has nothing to do with our everyday sense of fun and wonder. I love fashion, cartoons, and video games. It was natural for me to want to combine all of these things in my art.
I saw that your models are racially diverse. Were you actively thinking about Afrofuturism, Asiafuturism, or racialized futures?
I just judge people based on if they look cool or not. My idea is not from the American perspective.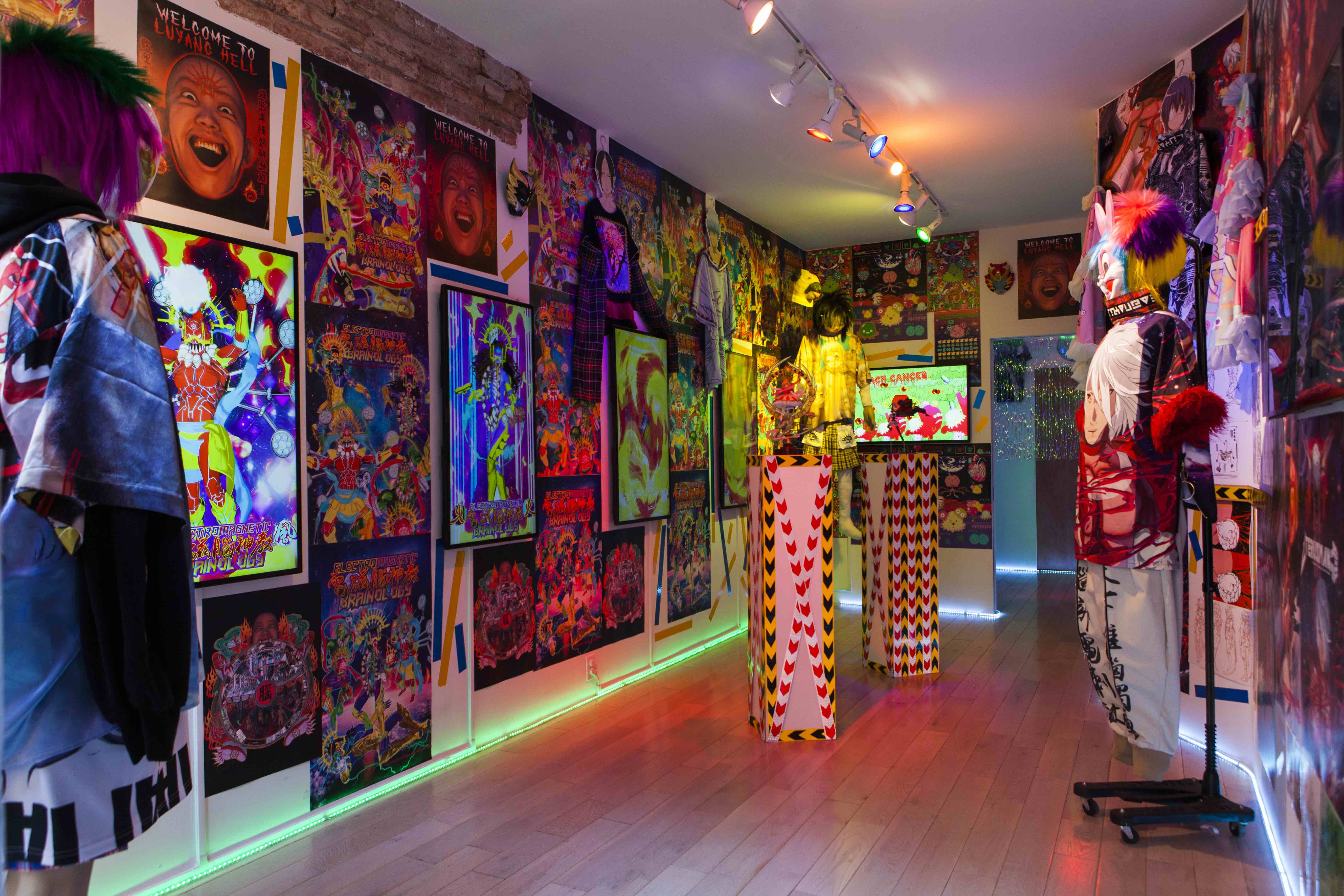 Do you think your work reads differently in an American context versus within China?
I think the reaction is very different with a few of my works. The reaction can be very dependent on people's nationality. Some works evoke a different reaction from Japanese artists. For example, many years ago, I made work about a very famous Japanese anime. I wanted to make a tribute to that animation. I never used an exact image from the series, but I made a "Chinese" copy. And then uploaded the video to YouTube. Westerners just thought it was cool. Then suddenly the clicks blew up, and I checked the source. They came from from Yahoo Japan. A lot of Japanese users left very bad comments because they found out I was Chinese. They asked why I used Japanese aesthetics.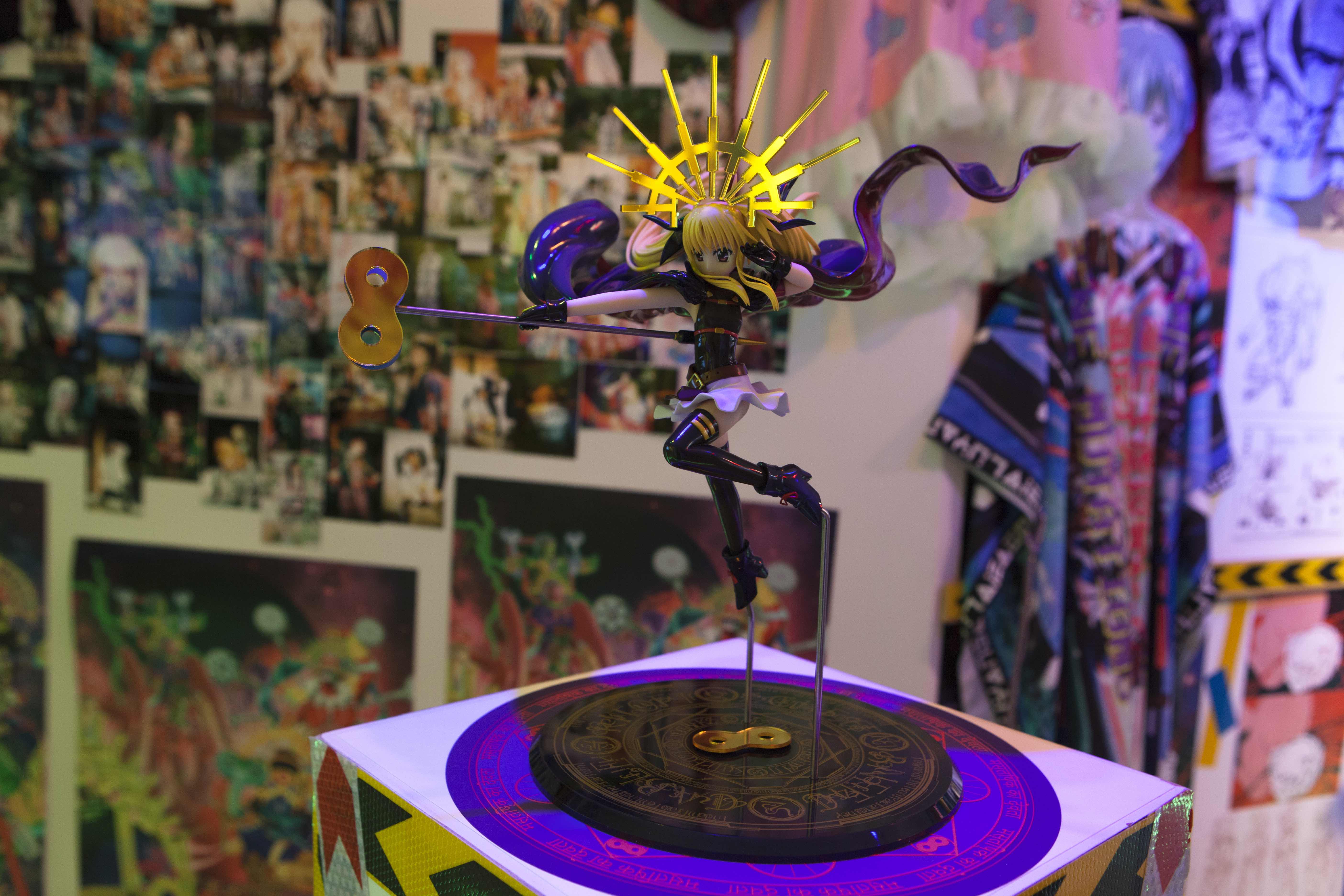 So how did you feel when Japanese people were offended that a Chinese person would appropriate their culture?
I think that, despite China and Japan's rough political history, for the younger generation we progressively live on the globalized Internet. If we watch something online, we don't really care where it is from and who is the creator. The lines are more blurred.
And are you thinking that way about gender as well, in terms of blurred boundaries?
I like playing with gender, especially with Western audiences. They watch my Uterus Man and think that it is feminist, but actually I am just having fun with how gender is labelled. I don't care if you are a man or a woman. For me, I want to be genderless.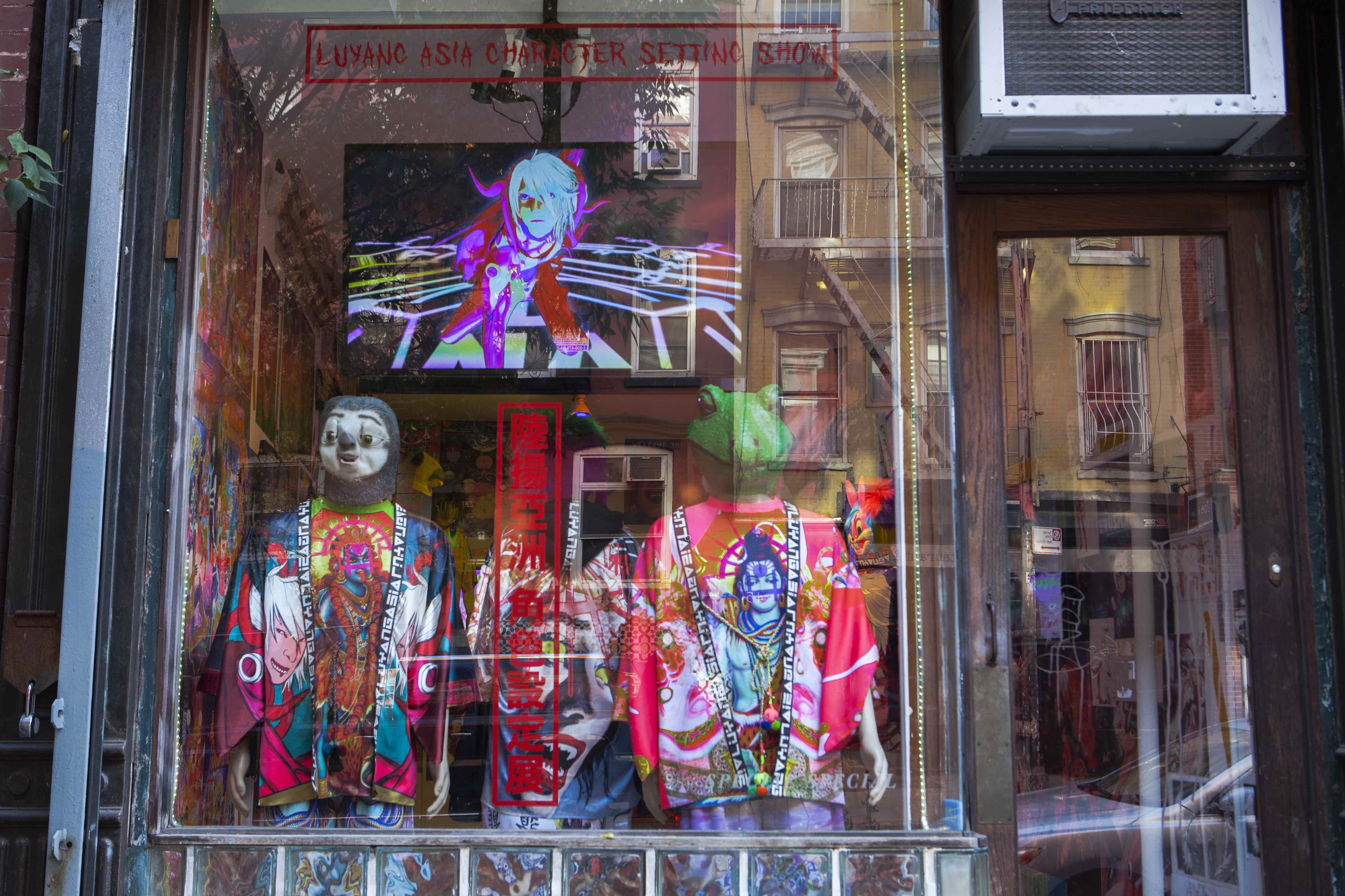 In China, do people get angry over cultural ownership?
I think people get more angry over art with violence. For example, one of my works uses dead frogs from an anatomy course, which were already dead, but I still received so many emails from animal rights activists. The video I made from that received many clicks, too. So those are the types of people who pay attention to my work - either those who love it or absolutely hate it. There are only extremes.
What else inspires you right now? Are you engaging with any particular theory?
What always interests me is neuroscience, psychology, and religions like Buddhism and Hinduism. They are connected with each other very closely, especially now. We have our physical body, but it is very limited. For example with temperature, it can be seen using an infrared camera but not with your eyes. So in many ways, religion can help to understand our world better by helping us see beyond our physical realm.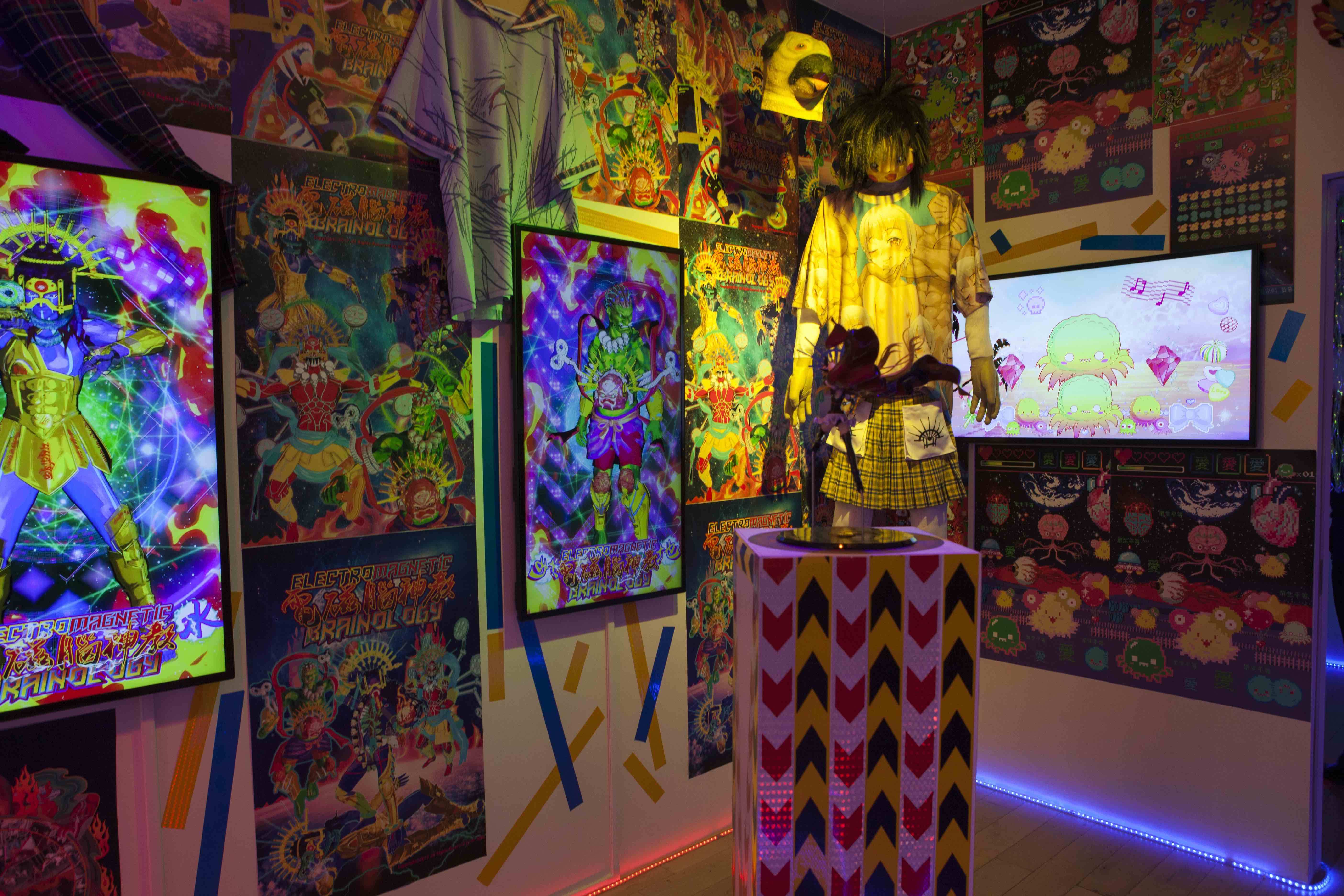 How do you hope people will feel if they wear the clothes you designed?
I hope they will feel embarrassed. People who always wear black or very normal clothes might feel very embarrassed and question themselves. These are things I would wear.
This is not a regular contemporary art show. I wanted to make it very relaxed and not very serious. There is so much distance between the people and art right now. I never liked contemporary art for this reason. I wanted the viewer to have a more intimate closeness with my work, so that that if they don't like it then at least they can have fun.
'Lu Yang Asia Character Setting Show' is on view through November 24, 2017 at Special Special.