netflix's new bingewatch is out to cure archaic notions of sexuality
She's Gotta Have It looks set to fix a lot more than a hangover, as Spike Lee comes to TV and gives us what we need.
|
23 November 2017, 2:39pm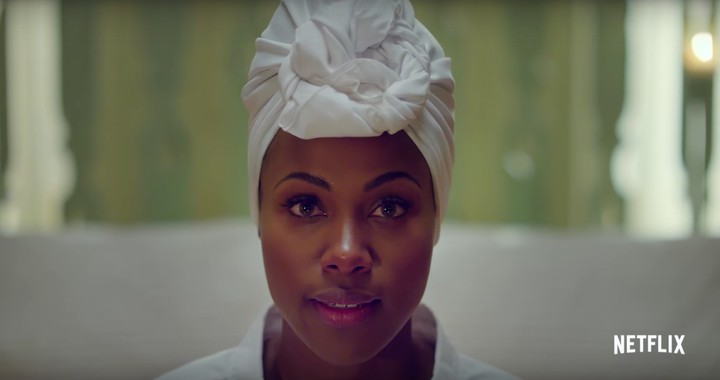 There's been a lot of quality Netflix content released this year. Mindhunters was the deep dive into psychopathic serial killers that we always dreamt would fuel our nightmares, GLOW had us almost reaching for the spandex thong leotards and you could scarcely open your eyes -- let alone the internet -- without drowning in Stranger Things 2.
Fortunately the boxset-birthing juggernaut is dropping another winner just in time for our plans to not leave the house this winter. But this one deserves more than just a haphazard hungover half-watch. She's Gotta Have It is about a "sex positive polyamorous pansexual" Brooklyn-dwelling painter named Nola Darling, played by DeWanda Wise, and her attempts to navigate three exceedingly different relationships. It's a remake of the 31-year-old Spike Lee film of the same name, and is remade by Spike himself -- but with a few welcome extra writing credits. Where the original Nola Darling (actually named Nora Ephron) was entirely Spike's penning, this time he's recruited writer Radha Blank, playwright and actress Eisa Davis, playwright Lynn Nottage and his sister Joie Lee -- an actress, writer and director in her own right. The diversity both on and off screen promises the presence of more well rounded characters, and alongside brilliant shows like Chewing Gum and Insecure, is set to pose another welcome challenge to the tokenistic (or absent) depictions of women of colour that have for too long occupied our TV screens (and the rest of media).
And it's not just diversity the show's promoting. Since the genesis of cinema, women and their sexuality have been restricted to a patronising selection of stereotypes. There's the duplicitous femme fatale, the innocent ingenue, the lovestruck single gal whose every problem and broken nail will be like, totally fixed as soon as she meets her knight in shining wedding suit. But here, Nora's openly polyamorous relationship puts her firmly in the driving seat. Rarely have women been depicted with such control over -- and comfort in -- their own sexuality. As Spike Lee told the New York Times, "[Nora] is a woman who is juggling three men, and I think there are more women like that now. But the way those women are judged hasn't necessarily changed as far as men go."
But if limiting on-screen depictions have aided in entrenching society's narrow perceptions of female sexuality, hopefully shows like this one can help broaden it. Lord knows it's time women got to take charge of our own sexual agency, as the current climate makes stark.
This article was originally published by i-D UK.