DAWANG is the new cult streetwear brand you need to know
Designer Daisy Jingwen Wang puts a modern twist on traditional Chinese garments in her Lunar New Year collection.
|
03 February 2020, 10:12pm
Photo by June Kitahara.
Daisy Wang had no intention of making streetwear. When she enrolled at Parsons School of Design in New York City, her sights were set on couture. But during her studies, Wang's focus shifted. Even in the saturated streetwear market, she noticed there weren't any designers bringing together both Eastern and Western aesthetics in a way that didn't feel like a gimmick. So she launched DAWANG, a line of streetwear that mixes traditional chinoiserie apparel and fabrics with Western trends and tailoring, inspired by her experience living between China and the States, which she officially launched in 2019.
"I realized nobody was making the type of elevated Asian streetwear that I wanted to consume—comfortable, ready to wear, and not a gimmick," said Wang. "It inspired me to try and bridge cultures by creating approachable garments that can be mixed and matched with everyday clothing."
Wang recently released the first Lunar New Year collection for DAWANG, a three-piece capsule of streetwear staples made of traditional fabrics in Lunar New Year red and royal blue in celebration of the Year of the Rat. To find out more about DAWANG and how Wang is modernizing traditional Asian garments, i-D caught up with the designer.
When did your interest in fashion begin?
My interest in fashion began in high school—When I was 15, I moved to the states to go to boarding school in California. I took a fashion design class not really knowing it was what I wanted to do, but because I wanted to explore a new creative outlet. At the time, I was in a 'blue' phase and all my outfits were blue! But from the fashion design class I started playing around with customization—personalizing colors, styles, and everything in between, and started to see how I can express myself through fashion. I got really into sewing and the creative aspect of it—and the rest is history.
What inspired you to start DAWANG?
I started DAWANG after taking a class on subcultures at Parsons. Even though I went into Parsons thinking I wanted to make couture pieces, the subcultures class inspired me to make clothes that represented my personal experiences living between China and the States. The topic from that class that really stuck with me was about zoot suits—we explored the history of them along with what they represented. This inspired me to think of my own cultures and upbringing, and how I could channel my worldview through clothing.
I realized nobody was making the type of elevated Asian streetwear that I wanted to consume—comfortable, ready to wear, and not a gimmick. It inspired me to try and bridge cultures by creating approachable garments that can be mixed and matched with everyday clothing. Hence, DAWANG was born with our SS19 collection, followed by an official launch with our FW19 collection. In both, I sought out to join traditional chinoiserie apparel and fabrics with Western tailoring techniques and trends that I've picked up during my time here.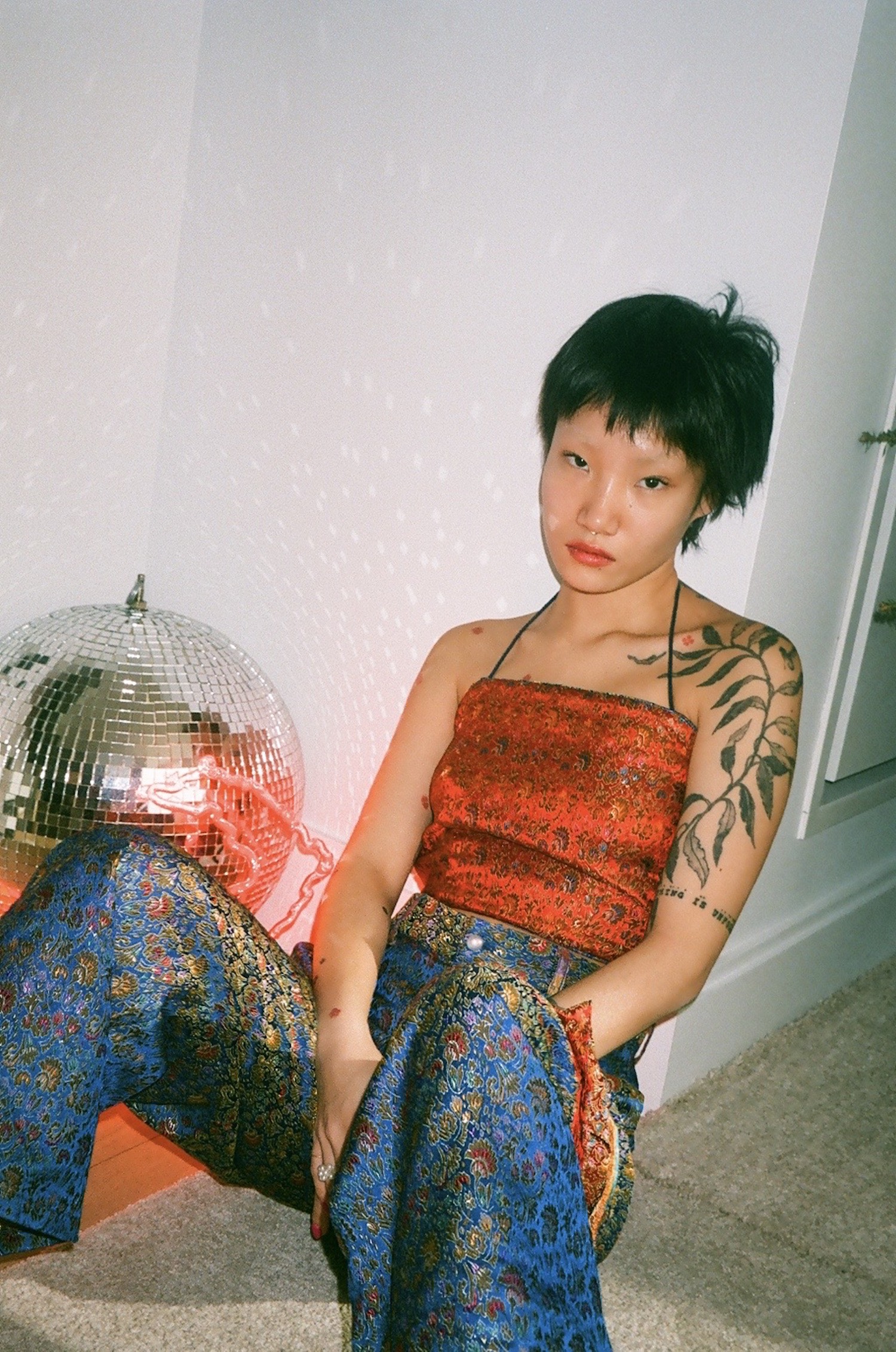 Why was it important for you to mix the aesthetics of both East and West?
When I was in boarding school, I would visit home in China every three months since we weren't allowed to stay on campus during breaks. My trips back and forth got me interested in traditional Chinese clothing, and I would buy traditional shirts to style when coming back to the states. I just fell in love with customization and personalization—making garments that celebrate traditional styles, but also updating them with modern, ready-to-wear aesthetics that are sexy, comfortable, and respectful to its roots. By mixing aesthetics of both East and West I hope to make inclusive Asian streetwear that everybody can appreciate and rock with their everyday looks.
What is the process of designing a collection like? Where do you look for inspiration?
I draw most of my inspiration from traditional aspects of Chinese culture, like the zodiac and traditional silhouettes from the 1800s. Naturally, I'm also inspired by modern streetwear culture and trends that I believe can be incorporated to DAWANG's designs. I start my design process thinking of how I can merge all those inspirations together, then set out on a hunt for perfect fabrics that fit our aesthetics.
For the Lunar New Year collection, we got custom orders of the silk brocade fabrics to honor and celebrate traditions. An important part of my design process is thinking through the garments' finest details: from which buttons to use and where to place them, to thinking about color contrasting between collections (creating yin and yang) and settling on the right choice of fabrics that will both honor traditions but also be able to translate in modern settings.
Can you tell me about the latest Lunar New Year capsule and what inspired that? How does it fit into your larger collection?
This is our inaugural Lunar New Year capsule collection and I wanted to celebrate the start of the new 12 year Lunar cycle. I was inspired by the concept of yin and yang, and this capsule plays into that when you look at this combined with our FW19 collection. While I used similar shapes and styles in previous collections, the color palettes are heavily contrasted to create that yin and yang. For the Lunar New Year capsule, I chose to use symbolic, traditional colors—Lunar New Year Red and Royal Blue—to give it revived representation in everyday streetwear. The FW19 collection was much more muted, with soft non-traditional tones and colors. With the LNY capsule, I made sure to highlight the vibrant moods and traditions that I love so much about this time of year.
How do you ensure that your designs aren't a "gimmick" when mixing traditional designs and fabrics with modern cuts?
I'm extremely meticulous in the entire process from start to finish. I recognize that the impact of DAWANG's clothing starts with our brand's intent and messaging, and how we're putting forth our garments to the world. My vision has always been to make ready-to-wear, comfortable everyday streetwear that appreciates traditional styles and fabrics—not Halloween costumes.
Back in China, more and more young consumers are drawn to the combination of modern and traditional in everything from home decor to fashion. DAWANG is my way of adapting traditional aesthetics to the modern fashion world. I believe that finding balance between the two is also a way that younger generations can preserve traditional aesthetics for years to come.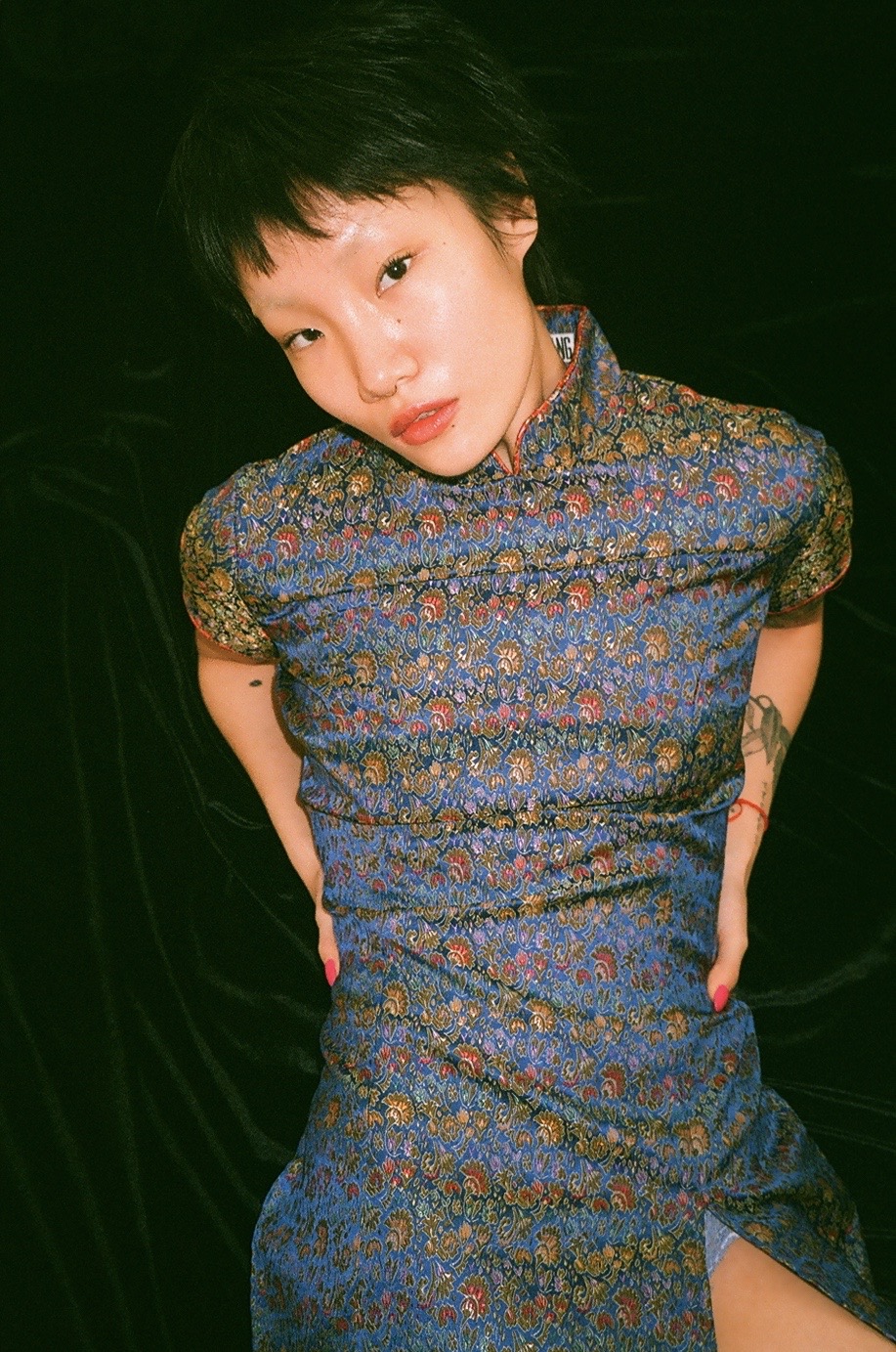 What is your goal for DAWANG as it continues to grow?
We want people to see DAWANG as a brand that first and foremost celebrates Asian and Chinese cultures and traditional aesthetics. We don't stray from traditional fabrics, which sets us apart from other streetwear brands that often focus on various textures, prints, and graphics that come in and out of trend. Our style is clean, minimal, and intentional—our fabrics and silhouettes state our brand identity more than our logo.