Alva Claire: "Being at the epicentre of change is so exciting"
The Fenty approved-model shares how it felt to be part of Rihanna's monumental show.
This story originally appeared in i-D's 'Rihannazine' Special Edition, no. 01, 2020. Order your copy here. For this one-off project, Rihanna put a series of questions to the women shaping culture today, and invited them to share their visions for 2020.
Can you introduce yourself?
My name is Alva Claire. I'm from South London, I live in New York, and I'm a model.
How do you define success?
I try not to have any fixed boundaries on what that means, because it could be success in friendships, or relationships, or family situations, and I don't think anyone can define it for anyone else. I think my own biggest success was walking for Savage x Fenty in September. I was stepping out of my comfort zone – actually I might generally define success as stepping out of your comfort zone.
Did it feel as monumental as it looked?
It felt like nothing I've experienced before. Just being part of this movement, and feeling like you're at the epicentre of change is so exciting. I'd never seen anything like it, so to find myself involved in it was overwhelming in the best kind of way.
As we're heading into 2020, what are you taking with you and what are you leaving behind in 2019?
What I'm leaving behind is any feeling of doubt about what I'm capable of doing in my personal and professional life, and who I'm supposed to be. Which I think is not very realistic, because doubt appears in places that you're not really able to control! But that's what I want to let go of.
If you could ask Rihanna one question, what would it be?
As she lives in London now, I'd ask whether she'd go for PG Tips or would she have Yorkshire Tea? I'm definitely PG Tips.
How do you think she'd respond?
I think she'd also drink PG Tips.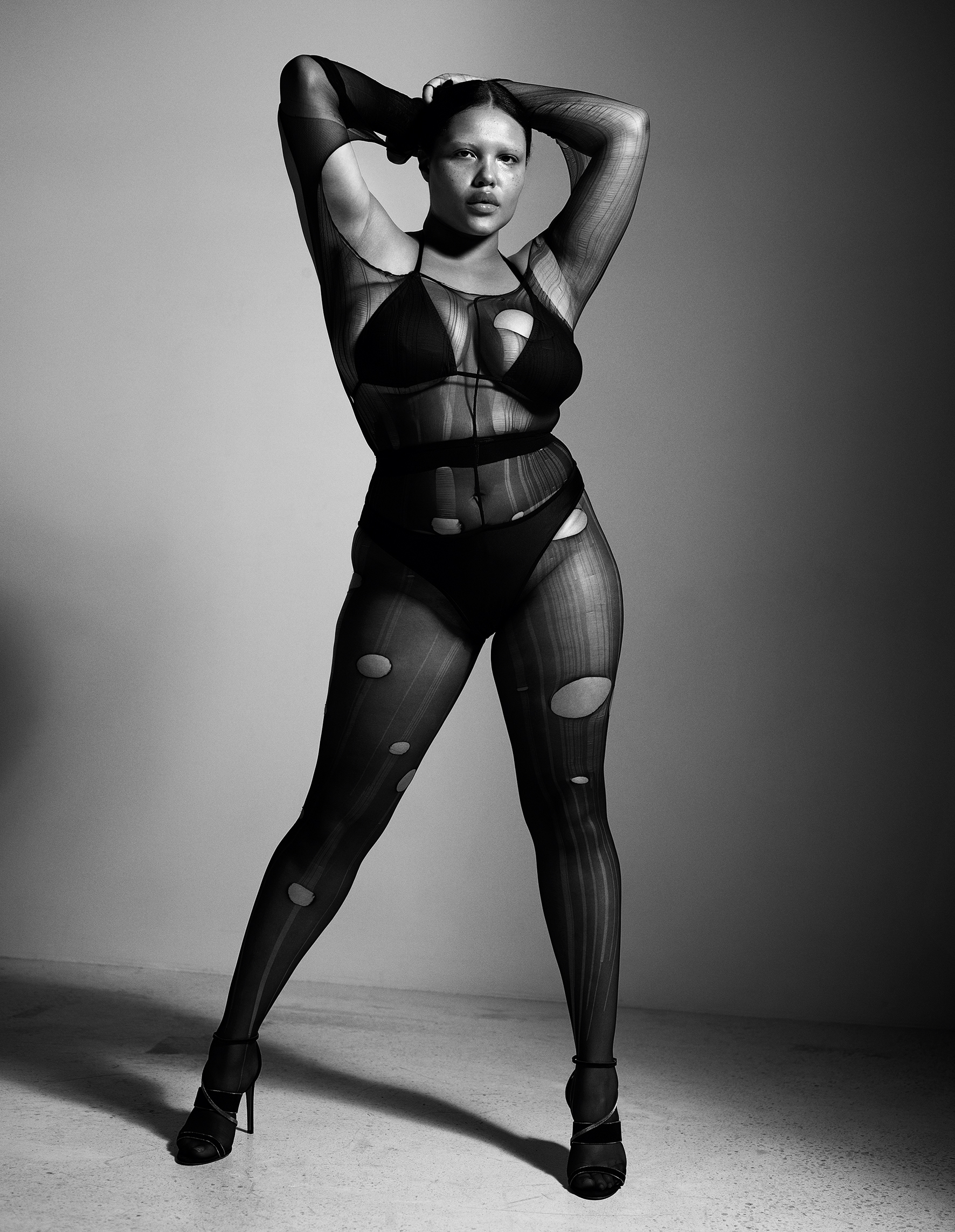 Credits

---
Photography Mario Sorrenti
Styling Carlos Nazario
Hair AKKI at Art Partner using Oribe.
Make-up Kanako Takase at Streeters.
Nail technician Alicia Torello at The Wall Group using Chanel.
Set design Jack Flanagan at The Wall Group.
Lighting technician Lars Beaulieu.
Photography assistance Kotaro Kawashima, Javier Villegas and Jared Zegha.
Digital technician Johnny Vicari.
Styling assistance Raymond Gee, Erica Boisaubin and Christine Nicholson.
Tailor Nino Sanaya.
Hair assistance Rei Kawauchi, Takao Hayashi and Motome Yamashita.
Make-up assistance Kuma and Tomoyo Shionome.
Set design assistance Akaylah Reed and Colin Walker.
Production Katie Fash.
Production coordinator Layla Némejanski.
Production assistance Fujio Emura.
Casting director Samuel Ellis Scheinman for DMCASTING.
Casting assistance Cicek Brown for DMCASTING.
Model Alva Claire at Wilhelmina.