Photo by Ron Galella/Ron Galella Collection via Getty Images. Photo by Dimitrios Kambouris/Getty Images for The Met Museum/Vogue.
7 iconic Met Gala outfits
From Cher's naked dress to Joan of Arc armour, fashion's biggest night has produced some of the most iconic looks of all time.
Photo by Ron Galella/Ron Galella Collection via Getty Images. Photo by Dimitrios Kambouris/Getty Images for The Met Museum/Vogue.
This year, the Met Gala will not be held on the first Monday in May, the date that the legendary event permanently occupies -- much like a national holiday -- within the annual fashion calendar. Due to the severity of the COVID-19 pandemic, the beloved and much-awaited event has been postponed for the foreseeable future.
Established in 1973, and formally called the Costume Institute Benefit, the Met Gala is a fundraiser for the Metropolitan Museum of Art in New York City, acting as the kick-off for the Costume Institute's annual exhibit. But the event has become much, much more than that. In recent years especially, the ball has transformed from benefit to full-on fashion bonanza. Referred to as "fashion's biggest night out", the Met Gala's red carpet is one of the most watched, most anticipated, and most buzzed-about events in the fashion industry. On the carpet, invitees -- ranging from movie stars to recording artists, models to fashion legends -- are invited to flex their most audacious fits, their most opulent costumes and their most statement-making get-ups. There is no dress code, there are no rules. Except, perhaps, to follow the night's theme. And, as a result, the gala has spawned some of the most iconic looks ever.
In honor of this year's would-be gala, i-D revisits some of the outfits -- from Cher's naked dress to Rihanna, full stop -- that have cemented the Met Gala as fashion's foremost event.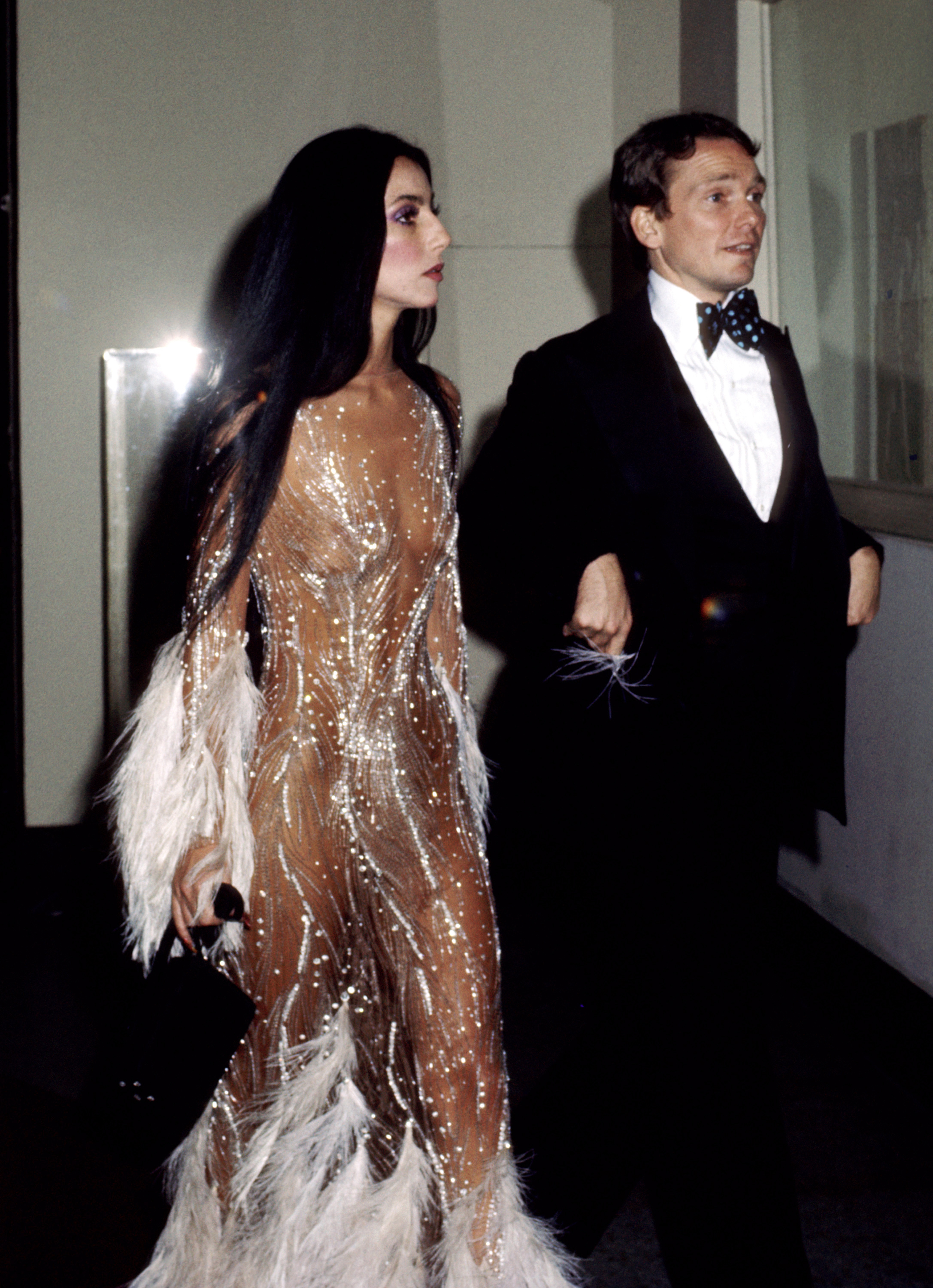 Cher at "Romantic and Glamorous Hollywood Design", 1974
Way before the Met Gala became the all-out fashion bonanza it is today, Cher pulled up to the 1974 edition of the event -- themed "Romantic and Glamorous Hollywood Design" -- in what would become one of the most iconic Met Gala outfits and one of the most-referenced 'naked dresses' of all time. The gown in question -- a sheer number covered in sparse crystalline beading and wispy white feathers -- was designed by legendary designer and frequent Cher collaborator, Bob Mackie. Inspired by the confections of famed Old Hollywood costumers including Jean Louis -- who designed Marilyn Monroe's sultry "Happy Birthday Mr. President" dress -- Cher's Mackie gown was not only stunning, but perfectly on theme. The singer's 1974 dress continues to inspire the Met Gala attire of many starlets -- from Beyoncé to Kendall Jenner -- to this very day.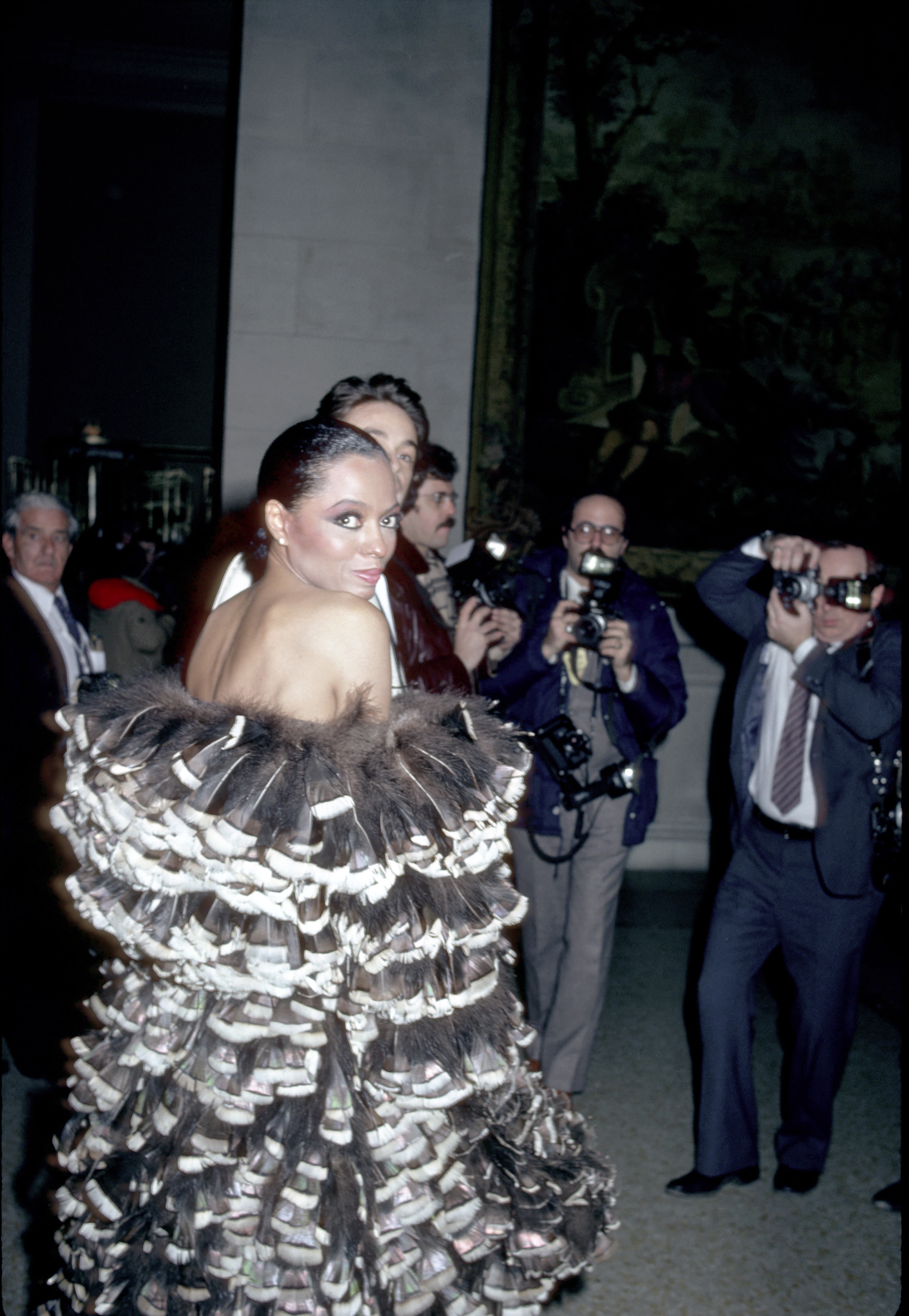 Diana Ross at "The Eighteenth-Century Woman", 1981
While many of the most memorable Met Gala get-ups tend to follow the event's yearly theme, some outfits are iconic purely for their look alone. To the 1981 gala -- themed "The Eighteenth-Century Woman" -- disco queen Diana Ross showed up in an extravagant feathered gown and matching coat. Along with Cher's naked dress, Ross' outfit was one of the most opulent and outré to appear on the Met Gala's red carpet during the gala's early years. The fit was so iconic -- and so fully embodied Ross' love of feathery fare -- that the singer brought it out of the archives, over three decades later, to grace the red carpet of the 2014 American Music Awards.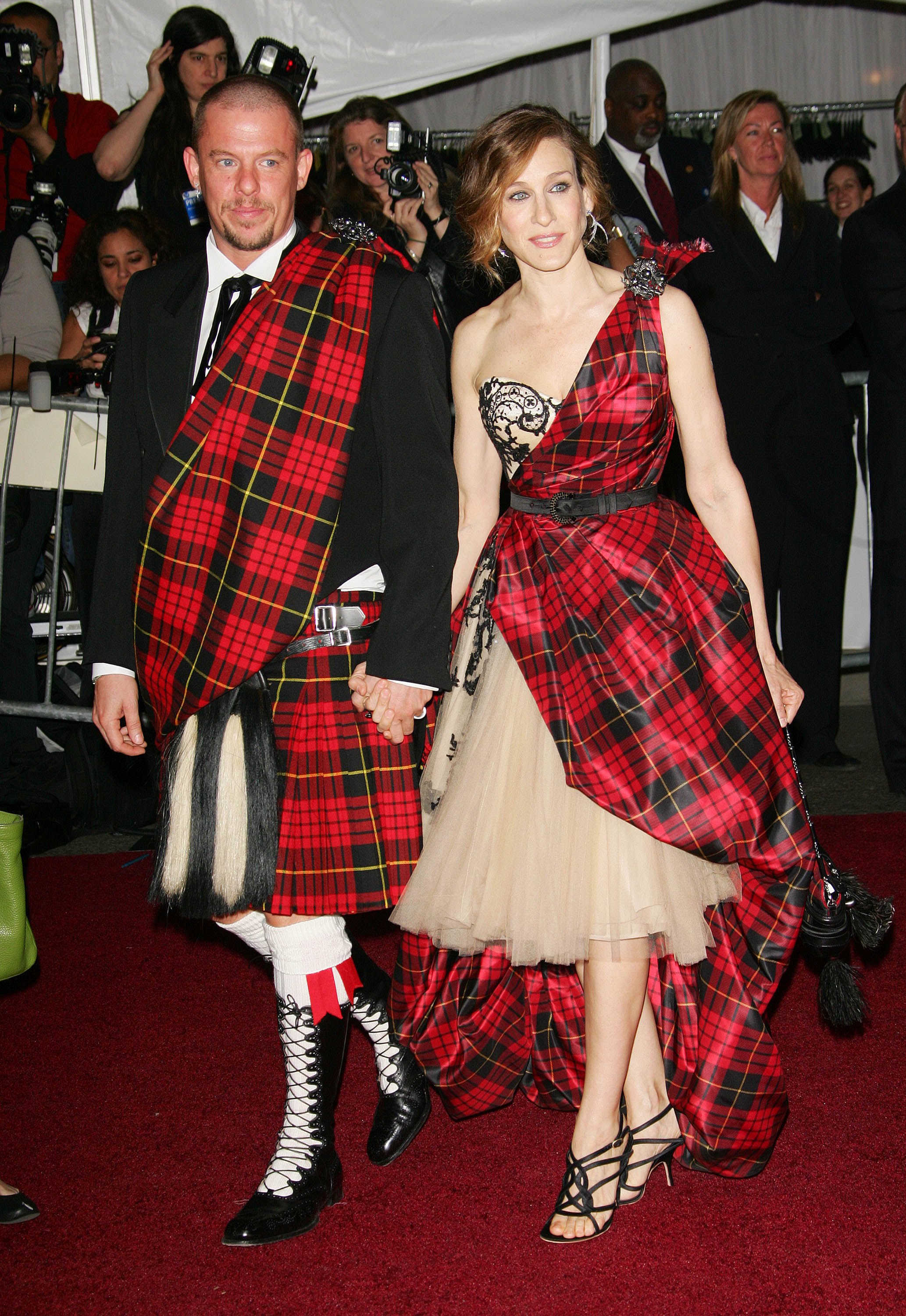 Sarah Jessica Parker at "AngloMania: Tradition and Transgression in British Fashion", 2006
A true fashion icon in every sense of the word, Sarah Jessica Parker has made 11 turns down the Met Gala red carpet throughout her prolific career. Always immaculately on theme, Parker has dressed as a Dolce Alta Moda saint for the "Heavenly Bodies" gala, donned a mohawk for "Punk: Chaos to Couture" and a ballgown and gloves combo for "Charles James: Beyond Fashion". Her most memorable look, however, is this OG number from the 2006 Met Gala. Channeling the night's AngloMania theme, Parker took to the red carpet with late British designer Alexander McQueen, both in twinning tartan looks.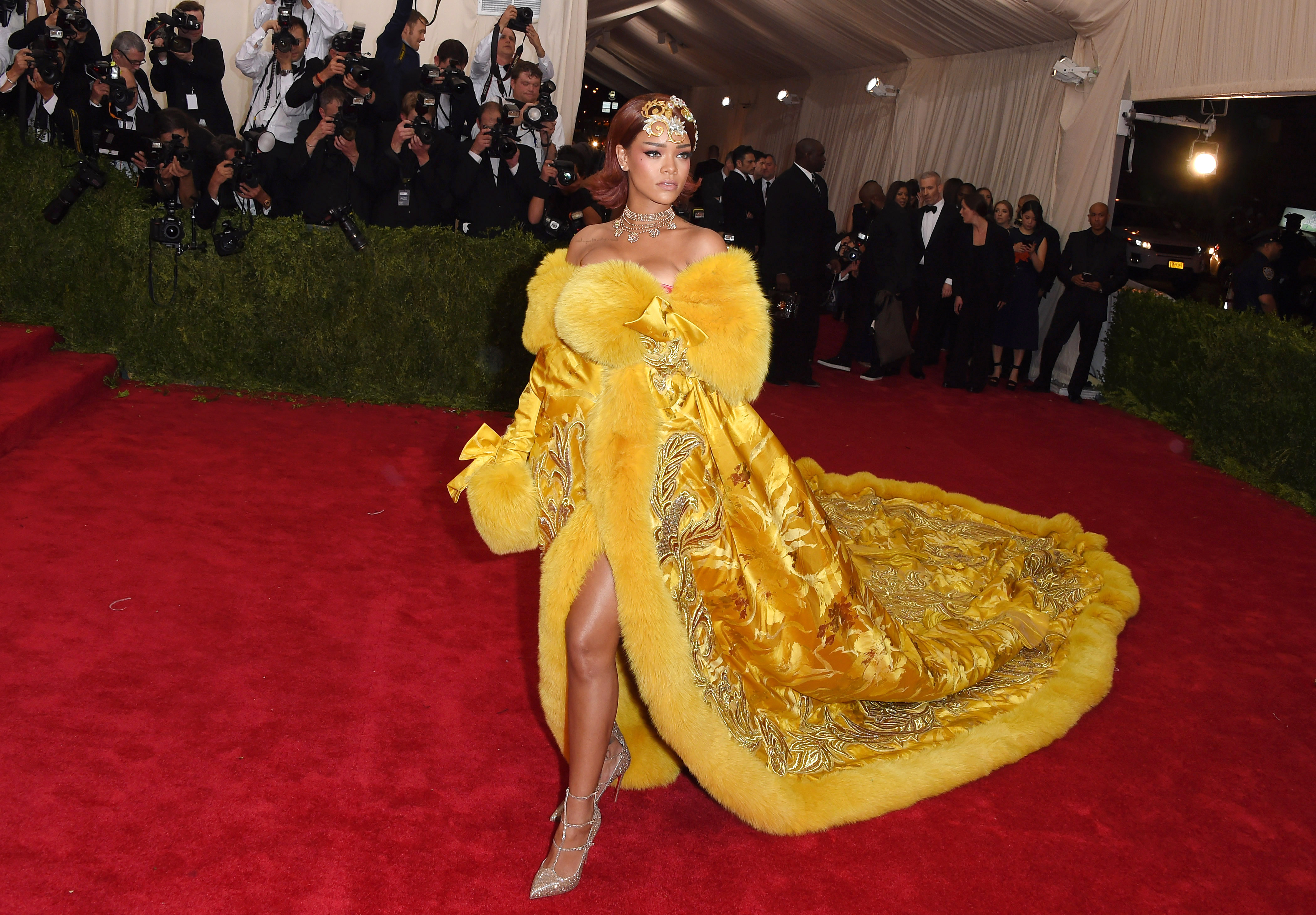 Rihanna at "China: Through the Looking Glass", 2015
Rihanna is, undoubtedly, the queen of the Met Gala red carpet. (And to drive this point home, she wore a papal robe and headdress to the event's Heavenly Bodies-themed outing in 2018). While all of Rih's Met Gala looks are equally iconic (remember when she shut down the 2017 red carpet in that Comme des Garçons number?), the singer's 2015 Guo Pei gown was the look that established her Met Gala reign. The show-stopping creation -- an imperial yellow, embroidered and fur-trimmed satin cape with massive train -- took over two years, or, more precisely, 50,0000 hours to make. And although the night's theme was "China: Through the Looking Glass", Rihanna was one of the only attendees to don an outfit created by a Chinese designer. Easily the night's most stunning look, Guo Pei's dress brought some much-needed recognition to the world of Chinese fashion, design and craftmanship -- one which has been oft overlooked by Western culture. Of her designs, including Rihanna's famous Met Gala dress, Guo Pei told The Cut: "The focus and the attention paid to this dress will make it remembered by the world -- [what] I want is to make them remember… It is my responsibility to let the world know China's tradition and past, and to give the splendor of China a new expression. I hope that people do know China in this way."
Mary-Kate and Ashley Olsen at "Rei Kawakubo/Comme des Garçons: Art of the In-Between", 2017
Do the Olsens ever follow the Met Gala's yearly theme? No. Does that make their outfits any less iconic, magnificent and extraordinary? No! Any Olsen red carpet ensemble is a sight to behold and an honour to witness. And, like clockwork, the yearly Met Gala -- to which the Olsen twins, fashion icons that they are, are eternal invitees -- gives us a rare chance to revel in the strange and sumptuous attire of the notoriously reserved duo. To the 2017 Comme des Garçons-themed ball, the sisters wore what are perhaps their most audacious (and most Olsen-esque) Met Gala outfits of all time. Swathed in layers of sheer lace, beaded jewels, fur and embroidered silk, the twins cranked their signature boho-luxe style all the way up to ten, in honour of the legendary event.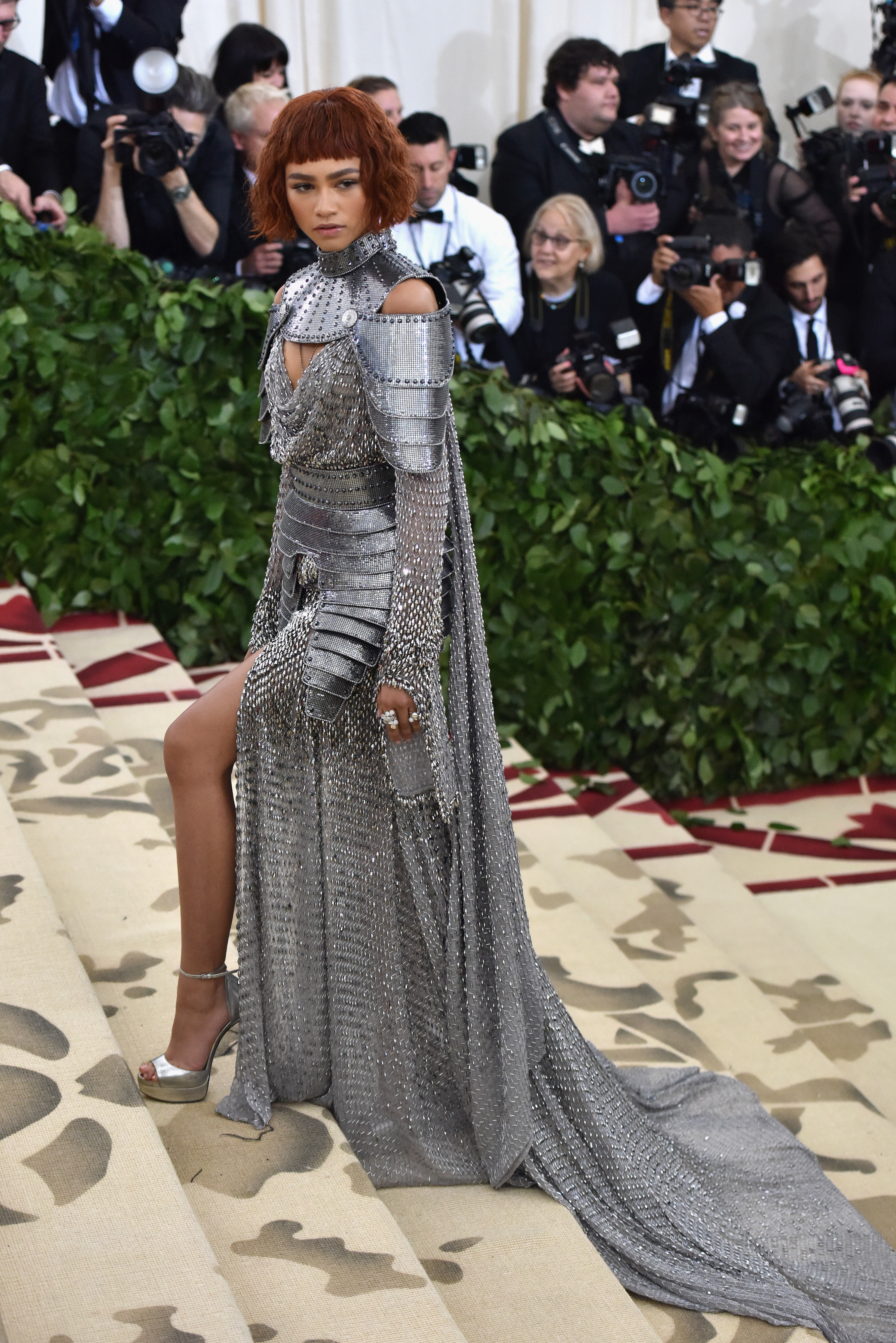 Zendaya at "Heavenly Bodies: Fashion and the Catholic Imagination", 2018
Acclaimed actress that she is, Zendaya showed up to the Met's "Heavenly Bodies"-themed gala in character and in full costume -- well, almost. Dressed as a glammed-up version of Catholic patron saint Joan of Arc, the star donned a sequinned Versace chain-mail gown, complete with armoured neck piece, articulated shoulder guards and a majestic train. In true Joan of Arc fashion, the inspiration behind the outfit came to Zendaya's stylist, Law Roach, in a dream. "I dreamt of Joan of Arc one night and called Versace and was like, 'What if we did something to reference Joan of Arc?' They came back with really, really great sketches," Roach revealed to WWD, of the red carpet-winning look.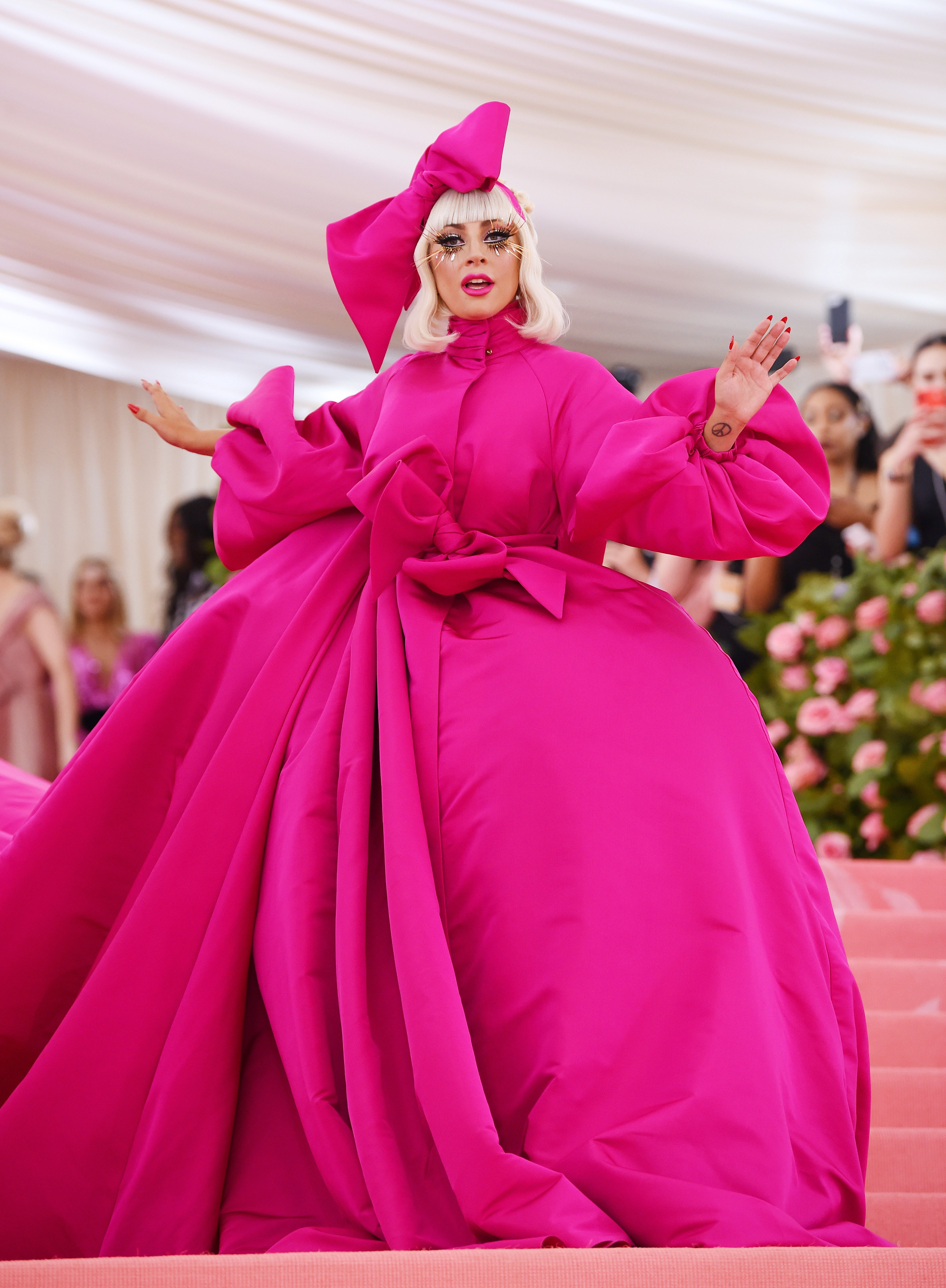 Lady Gaga at "Camp: Notes on Fashion", 2019
The theme of the Costume Institute's 2019 gala, "Camp: Notes on Fashion", was practically chosen for just Lady Gaga, herself. It goes without saying that the chanteuse -- and co-chair to the night's ball -- did not disappoint. The singer's Met Gala outfit -- perhaps best described as "fashion performance art" -- consisted of four separate looks and plenty of theatrics. Gaga arrived on the red carpet in a parachute-esque Brandon Maxwell cape, which billowed around the singer in a photoshoot-ready moment reminiscent of Marilyn Monroe's The Seven Year Itch. The singer then shed the hot-pink gown to reveal a black pannier-style gown, accessorized with matching umbrella. With a little help from her many personnel, Look 2 transformed into Look 3: a stunning fuschia column dress with Barbie-esque appeal. After a lengthy phone call on a brick-sized cell, numerous hair spray spritzes and make up touch-ups, Gaga unveiled -- to much applause -- the evening's final look: a glittering lingerie set paired with fishnet tights and towering platform boots.