Photo by Robin Platzer/The LIFE Images Collection via Getty Images/Getty Images; photo by Michael Ochs Archives/Getty Images.
7 of Donna Summer's most iconic outfits
The Queen of Disco epitomized 70s style in opulent feathered capes, halter gowns and sequins galore.
Photo by Robin Platzer/The LIFE Images Collection via Getty Images/Getty Images; photo by Michael Ochs Archives/Getty Images.
Donna Summer is disco. Combining hypnotic vocals with Giorgio Morodor's pulsating production, the chanteuse dominated the dance charts of the 70s, becoming known, simply, as the Queen of Disco. Think club bangers like the effusive "Hot Stuff", the groovy "Bad Girls", and, of course, the dizzying "I Feel Love", the sounds of which continue to resonate into the 21st century. While Donna is renowned for her groundbreaking music, the late singer is also one of the 70s greatest fashion icons. Much like her number one singles, Donna's style came to define the disco era in sexy halter necklines, extravagant feathered capes and myriad sequinned gowns. Here, we chart the Queen of Disco's expansive career through a selection of some of her most iconic looks.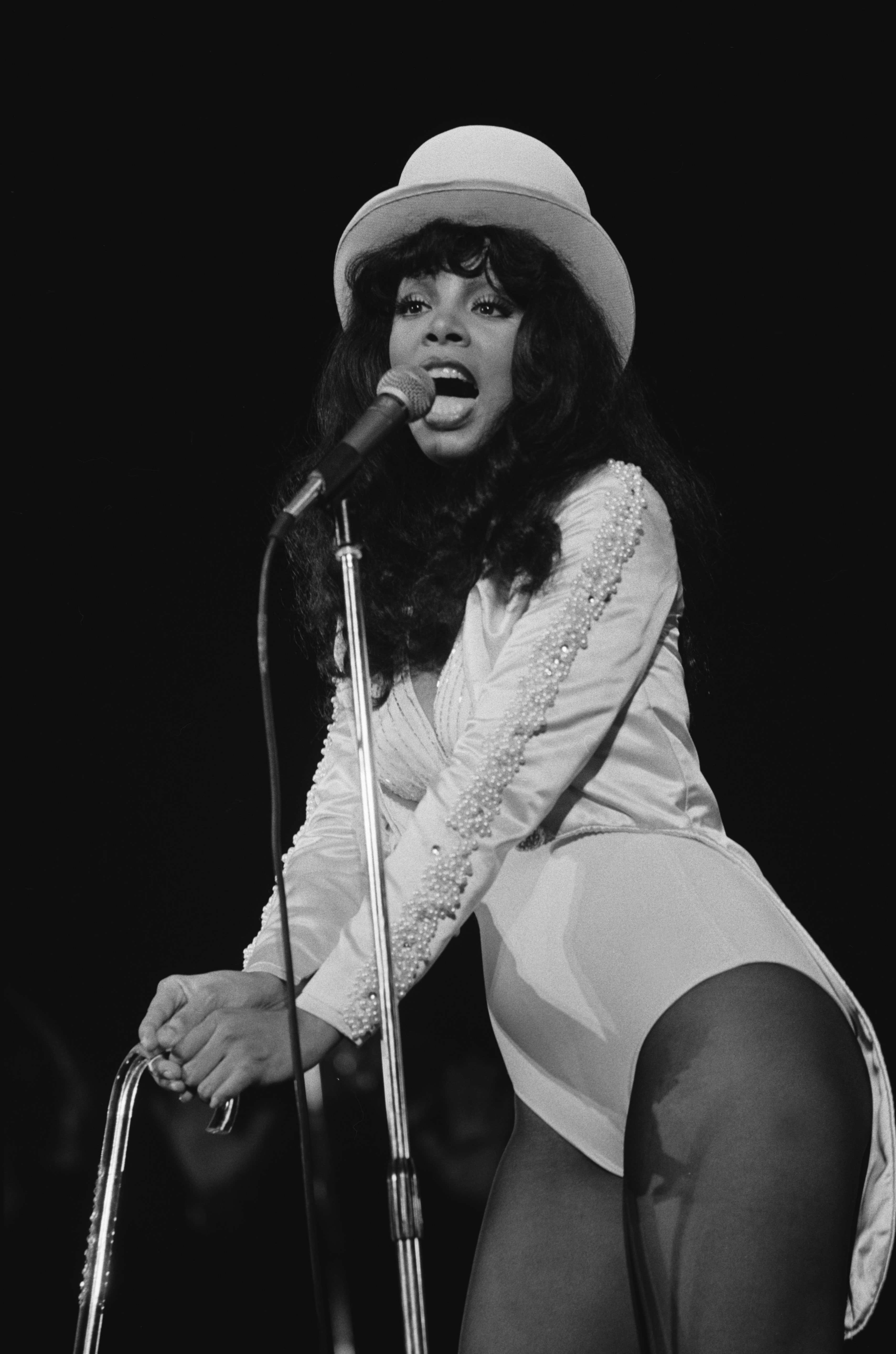 Performing in Paris, 1977
Before Donna — née Gaines — became the Queen of Disco, she made a name for herself in musical theatre. In 1969, the Boston-born singer landed the role of Sheila in countercultural musical Hair, moving to Munich to take part in the play's German production. While living overseas, between Munich and Vienna, Donna wed Austrian actor Helmuth Sommer in 1973. A year later, the chanteuse met iconic producer — and future collaborator — Giorgio Moroder and garnered her now-famous moniker. A misprint on the cover of the duo's first demo tape transformed Donna Sommer to Donna Summer. The rest is history. Here, the disco diva harkens back to her stage roots with a theatrical look: top hat, bodysuit and cane to match.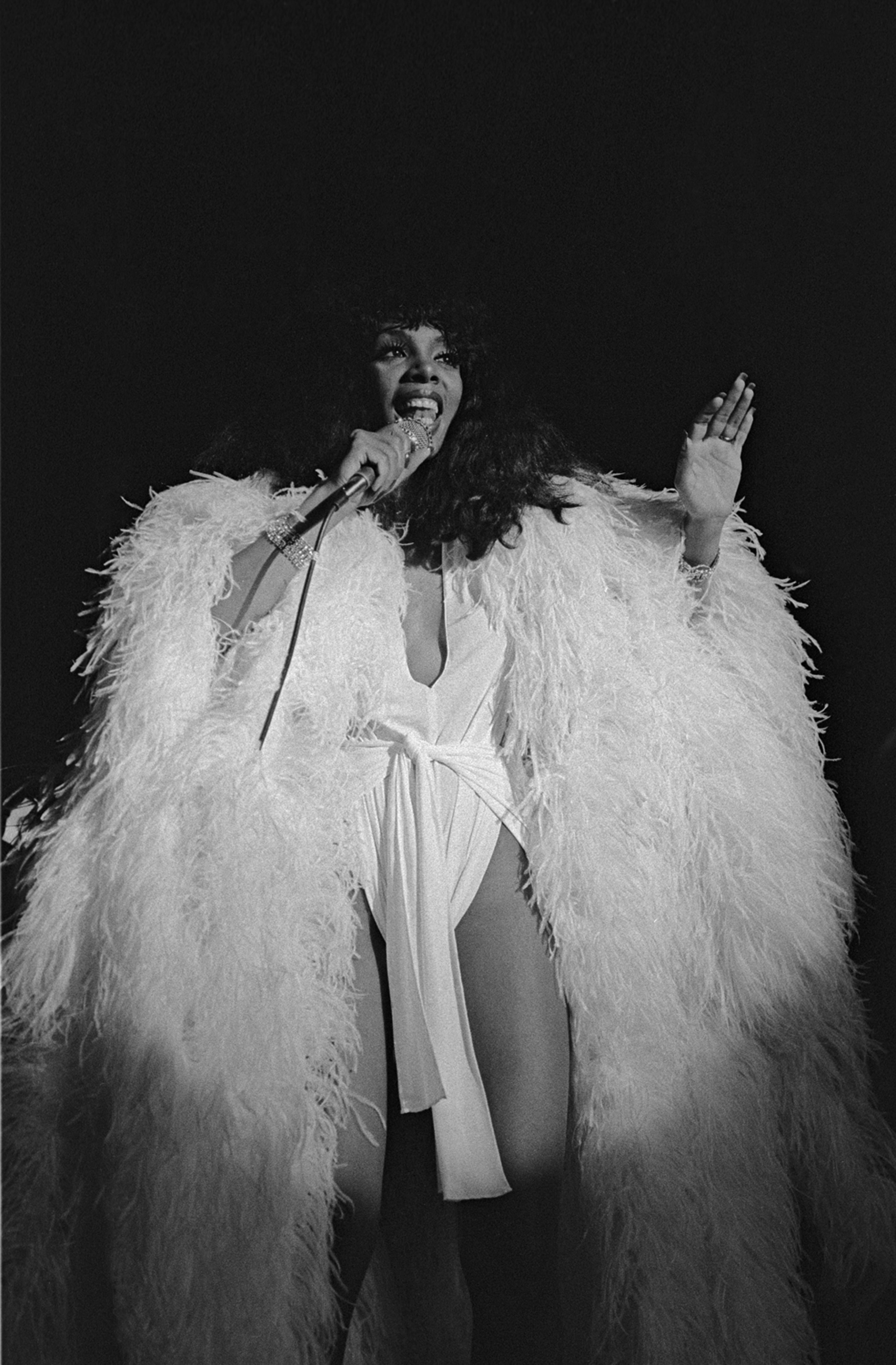 On stage at New York's Roseland Ballroom, 1976
In 1975, Donna and Giorgio wrote and recorded what would become "Love to Love You Baby." Aiming for the American charts, the duo approached New York's Casablanca Records, who signed Donna and released the single to Billboard-charting success. Under Casablanca, Donna released her third and fourth studio albums, A Love Trilogy and Four Seasons of Love. The latter's album cover sees the singer posing on a crescent moon in beehive hair and halter bodysuit. Here, touring that very album, Donna wears the same slinky one-piece with a massive feathered coat in what is, undoubtedly, the chanteuse's most iconic look of all time.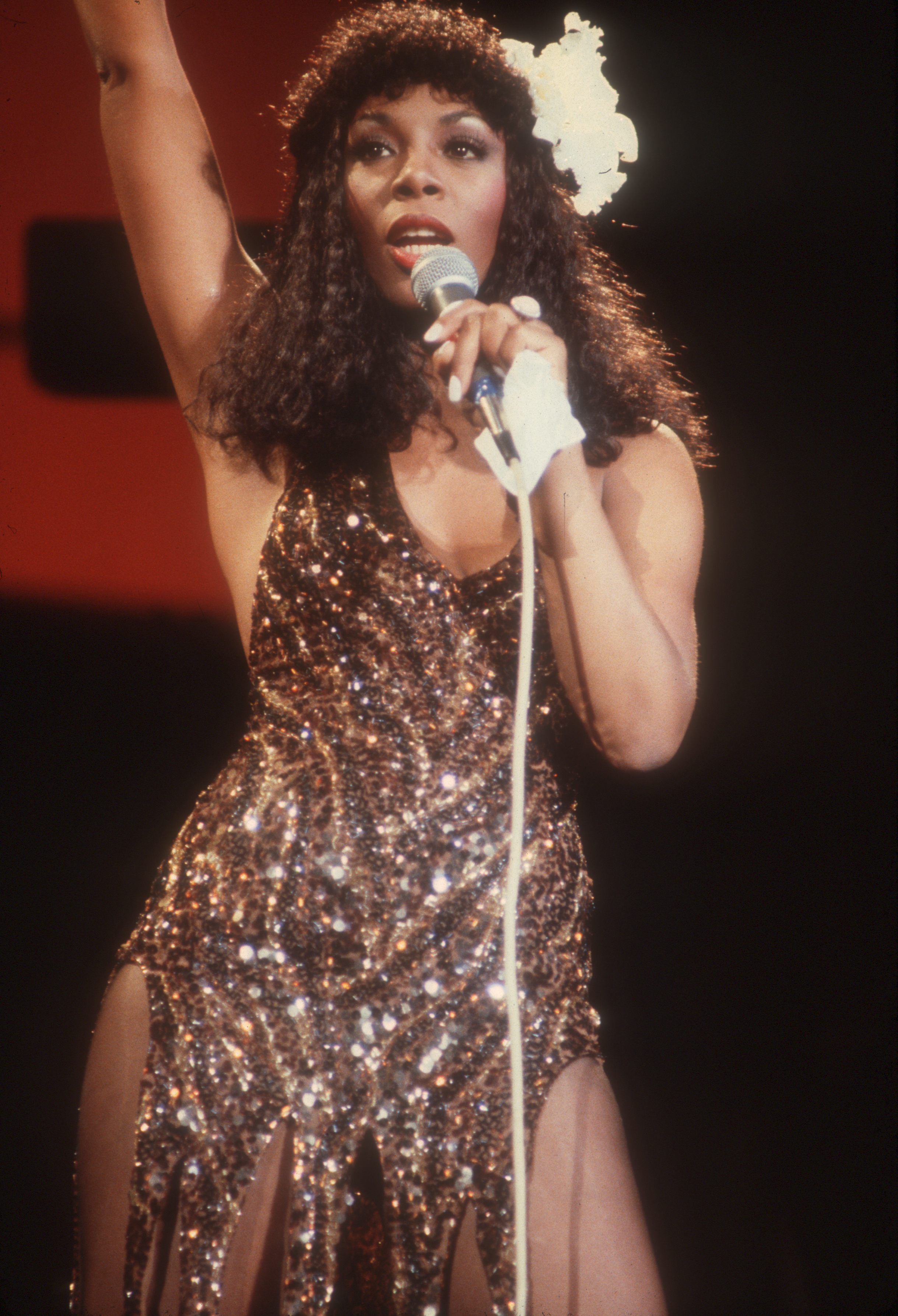 Performing in signature sequins, 1979
In 1977, Donna released her fifth studio LP I Remember Yesterday. The album itself went platinum. More importantly, however, its lead single, "I Feel Love" would come to define not only the disco era but dance music into the 80s and beyond. On top of being a straight up 70s club banger, the hypnotic track has influenced artists from David Bowie and Brian Eno to Blondie. In a 2012 retrospective, Giorgio told the BBC that "I Feel Love" "was really the start of electronic dance [music]." Here, on stage, Donna wears an equally zeitgeist-defining (and club-worthy) 70s look, all disco sequins, halter neckline and slits up to there.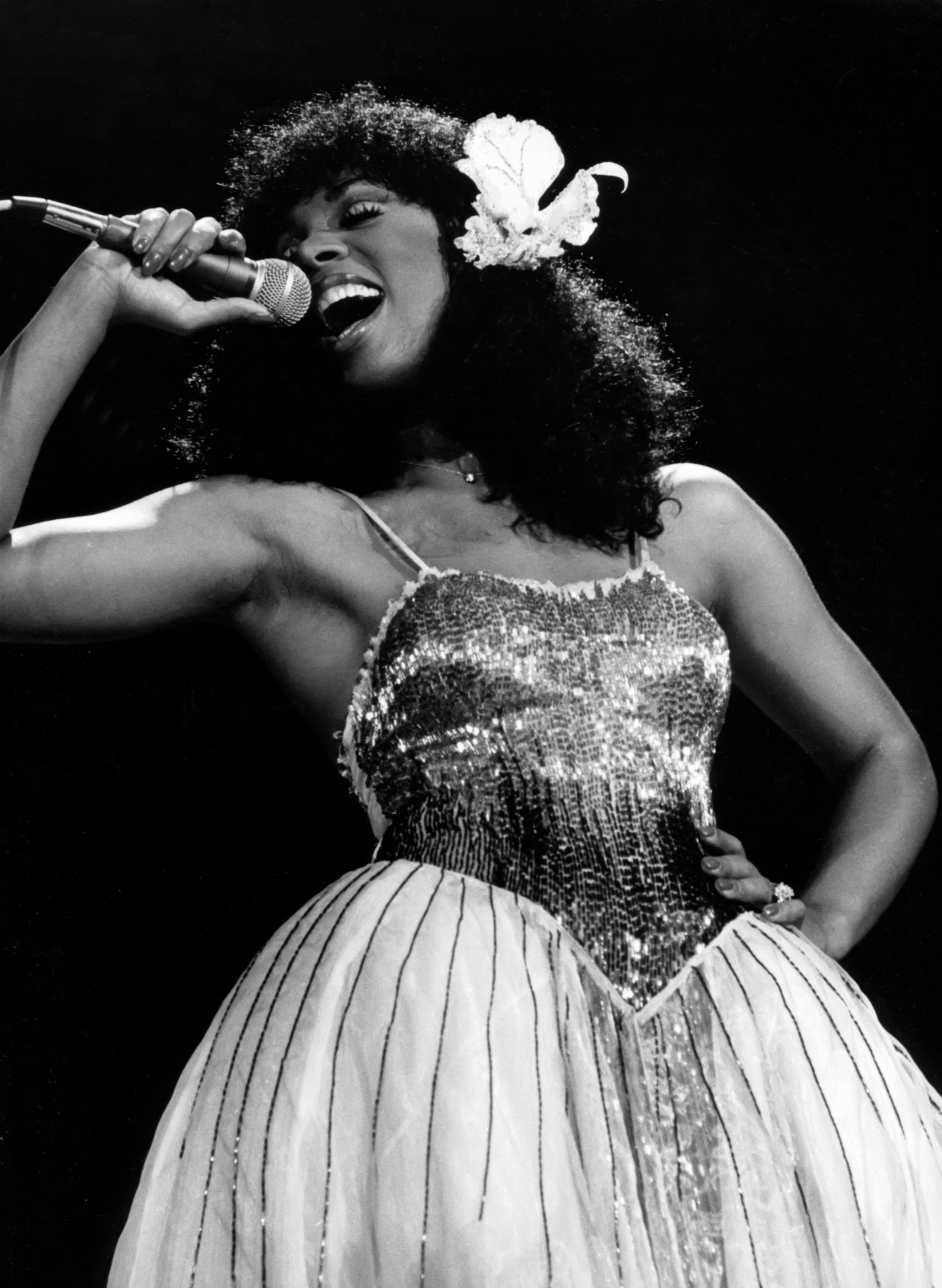 On stage, 1979
In 1979, Donna won her first American Music Awards: Favorite Female Artist, Favorite Album and Favorite Single, all under the newly-minted disco category. The wins cemented the singer's status as the true Queen of Disco. Here, that same year, Donna performs wearing a very disco look: sequinned bustier dress with tulle skirt and a huge flower in her hair.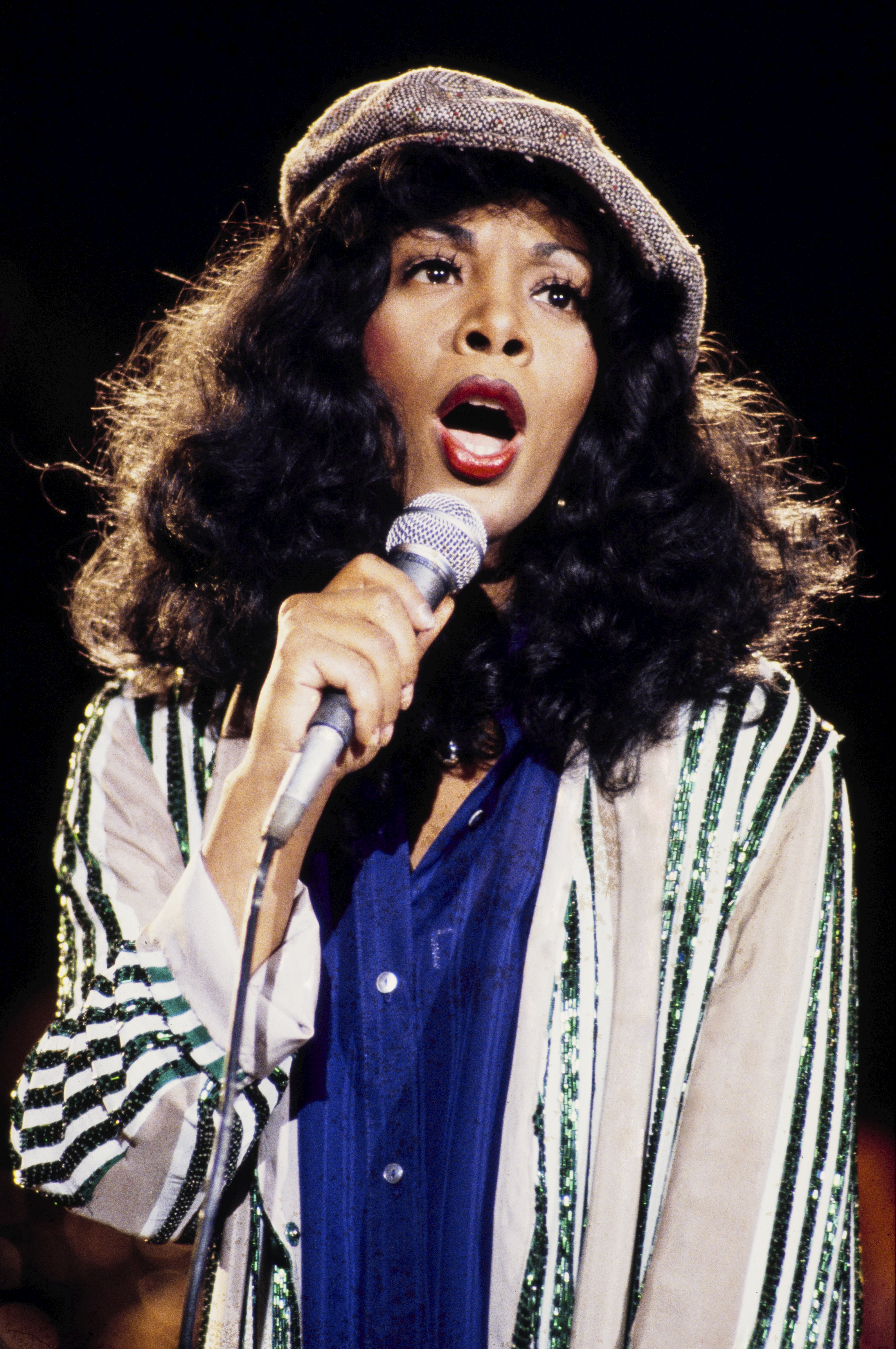 Performing at a UNICEF benefit concert, 1979
Alongside other iconic 70s acts ABBA, the Bee Gees and Earth, Wind & Fire, Donna performed at 1979's internationally-televised Music for UNICEF concert. Of course, the Queen of Disco found a way to work sequins into a rather low-key, tailoring-heavy look comprised of a cobalt blouse, slouchy (and sparkly) blazer and newsboy cap.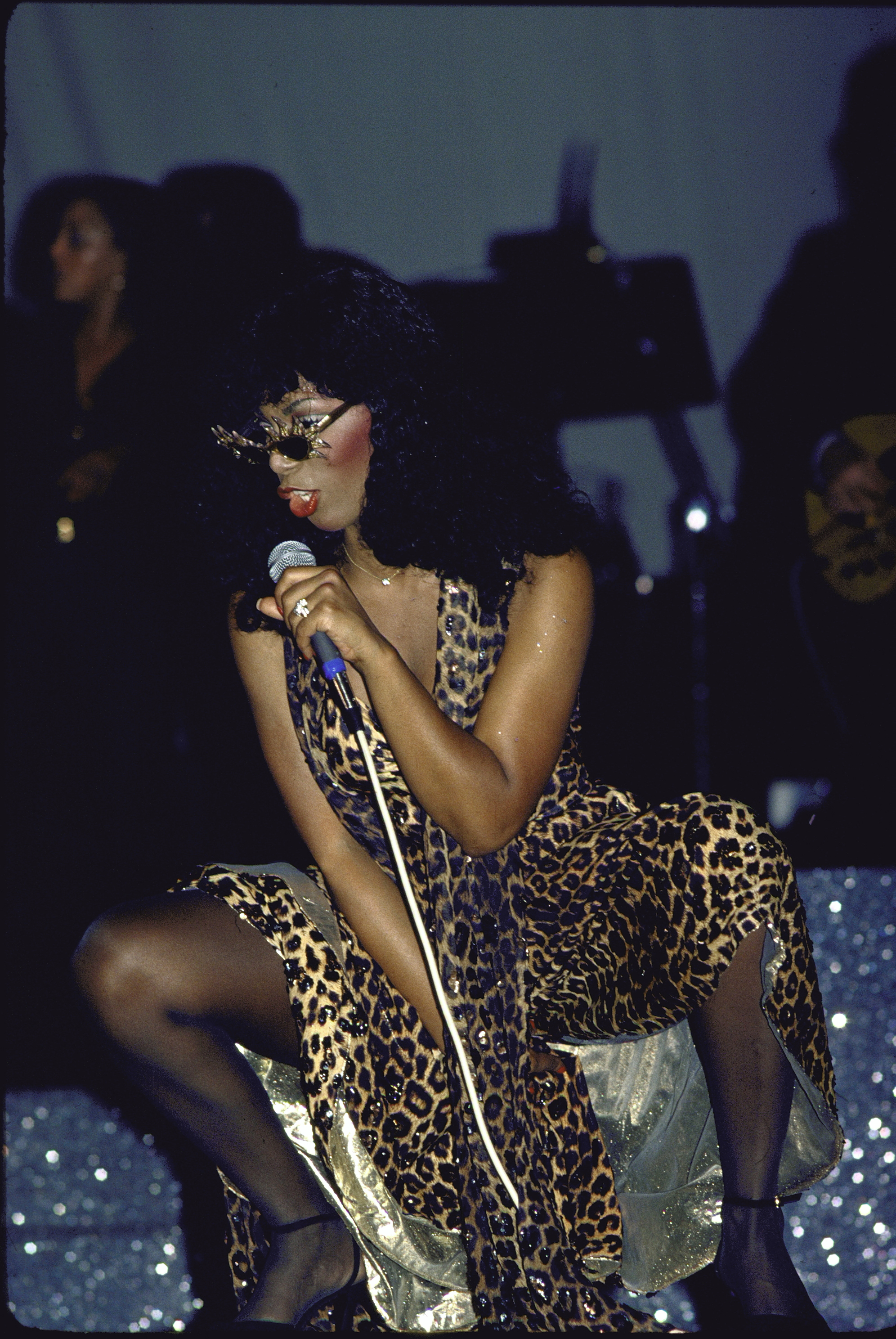 Singing at the Grammys, 1979
As we all know, Donna loved a sequin moment. A close second to sequins, however, was leopard print. The singer wore a leopard patterned dress to the 25th Grammy Awards and a similarly spotted bustier to perform on the televised Donna Summer Special in 1980. Here, on stage, she wears a floor-length gown rendered in the familiar animal print.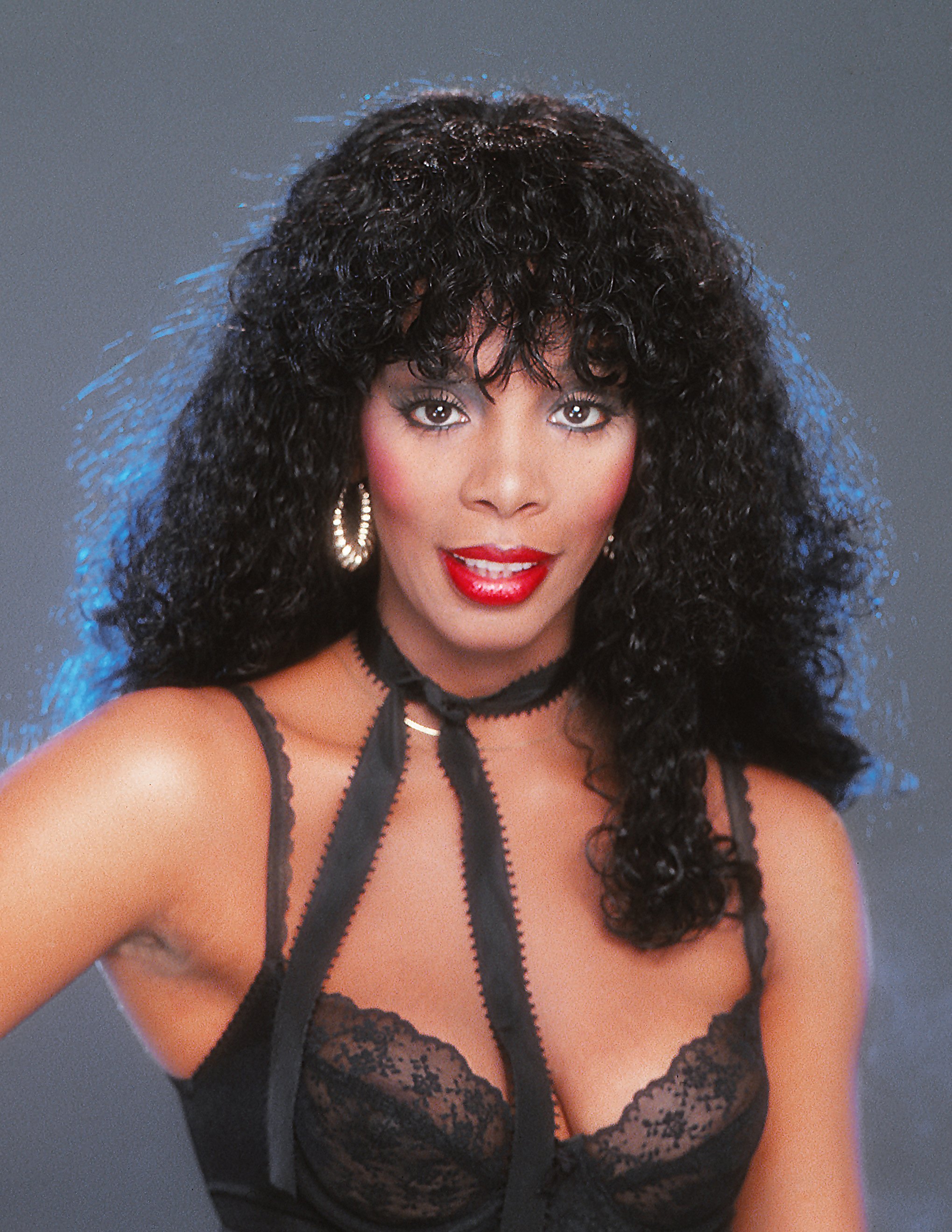 On the cover of "Bad Girls", 1979
Released in 1979, Donna's seventh album Bad Girls became the most commercially and critically successful release of the singer's career, with number one singles "Hot Stuff" and "Bad Girls." Here, in a photoshoot for the album's iconic jacket, the singer wears that unmistakable lace bustier accessorized with little else than her signature fringed curls. Iconic.