7 of Janet Jackson's most iconic outfits
The incomparable singer set the standard in Y2K popstar outfits.
To say Janet Jackson is a pop icon seems like an understatement. The youngest member of America's legendary Jackson family, Janet made her music industry breakthrough in the late 80s with Control. Since, the singer has not only pioneered the sound of contemporary R&B and pop music, but has redefined what it means to be a modern popstar. Among her extensive and highly influential catalogue are all-time classics like new jack swing groundbreaker "Rhythm Nation", slinky R&B jam "That's The Way Love Goes" and legendary Y2K bop "All For You." With her dance-centric music videos and record-breaking arena tours — all elaborate staging and meticulous choreography — Janet set the standard for pop performance. The singer also set the standard in popstar dressing throughout the 90s and 00s. A fan of belly rings and Junya Watanabe, alike, Janet's on and off-stage style took in the era's most quintessential trends (90s cropped vests and 00s sequinned tops) all while setting them (the proto-GHE20G0TH1K "Scream" music video).
Janet has too many iconic looks to count, from 80s layered-cake gowns and immaculate 90s suiting, to myriad baggy jeans and even a Y2K belly chain-ed look. Here, however, we've narrowed our selection down to seven quintessential looks, charting Janet's incomparable career through her most iconic outfits.
"Rhythm Nation" music video, 1989
The youngest of America's illustrious Jackson family, Janet Jackson made a name for herself, first, as an actress, starring in 70s and 80s sitcoms Good Times, Diff'rent Strokes and Fame. In 1982, Janet transitioned from acting to music, signing with A&M Records and releasing her debut self-titled studio album. The now-iconic singer's pop music breakthrough came four years later, in 1986, with the release of era-defining record Control. Two years later, she hit platinum once again, with Janet Jackson's Rhythm Nation 1814. While both albums are considered seminal to contemporary R&B — and the 90s ubiquitous new jack swing genre — it was the latter album, with its political and socially-conscious lyrics, that had the largest and longest-standing impact on pop culture as a whole. In the video for single "Rhythm Nation," Janet performs amidst a post-apocalyptic cityscape wearing military-inspired garb — a hardwear-embellished jacket and cap — reminiscent of the Black Panthers' attire. The dance-centric clip is widely considered to be one of the most influential music videos of all time. Case in point: Beyoncé paid homage to Janet's iconic military-style fit.
"That's The Way Love Goes" music video, 1993
Forget the LBD; in 1993, Janet was all about the LBV. Released that year, Janet's self-titled fifth album saw the pop icon charting newfound lyrical territory, singing about themes of love and lust. And her Janet era was outfitted with the sexy garb to match. For the video clip accompanying Billboard Hot 100 record-breaking single "That's The Way Love Goes", Janet wore that little black vest (aka LBV), custom designed by Julie Mirares. The popstar accessorized the outfit's sexy centrepiece with a pair of mid-rise jeans and a white leather choker.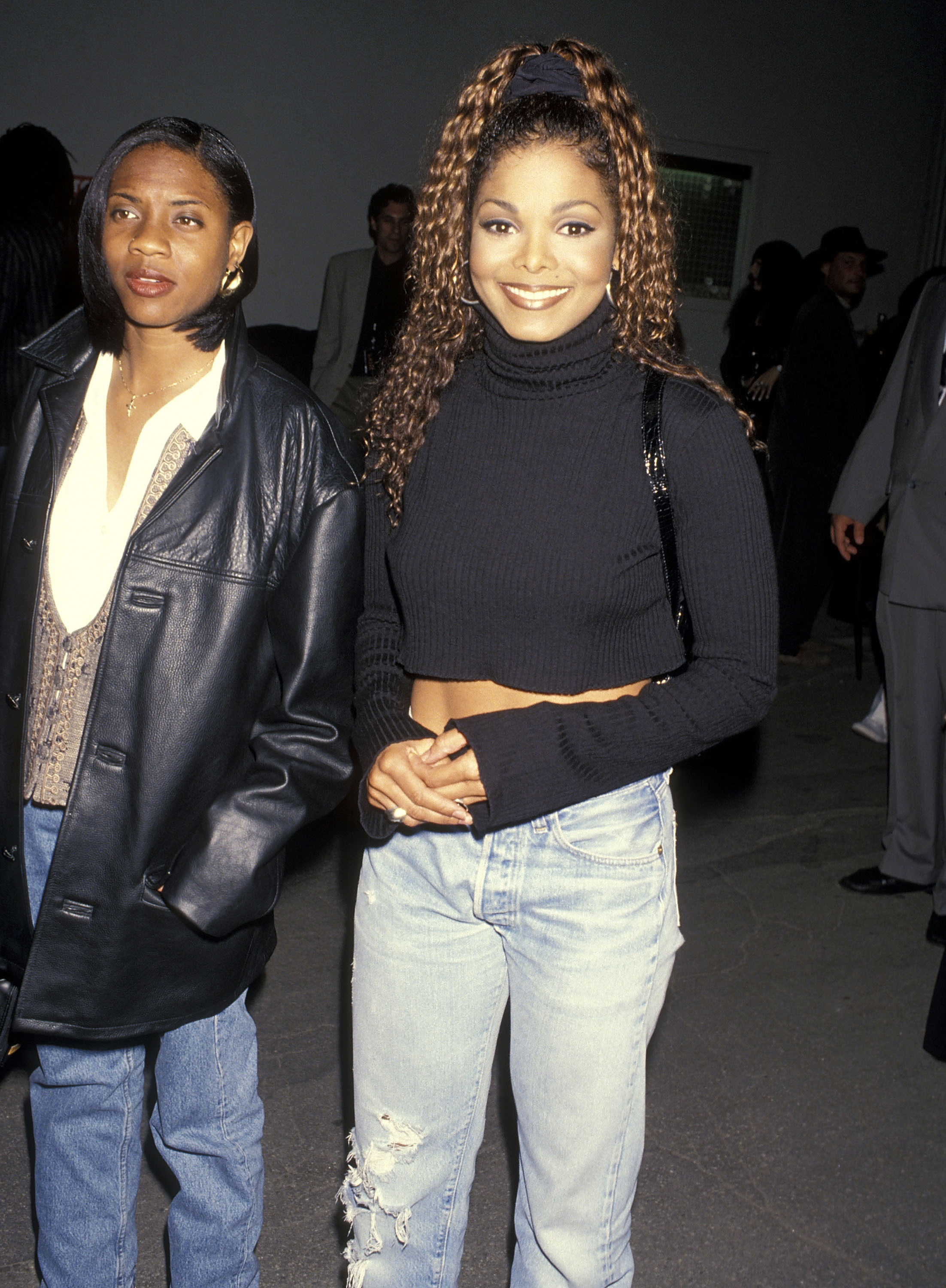 At a party for her sold-out concert tour, 1994
Off-stage (and off set), Janet opted for much more casual (but no less cropped) looks. Low-key as her off-duty outfits were, however, they epitomized the best-of-the-best of the era's trends. Think tiny mohair sweaters, crochet cardigans, cargo pants, baggy overalls and even baggier T-shirts. Here, Janet's wearing an immaculate take on two of the 90s most beloved items: the cropped turtleneck and the distressed mom jeans. Perfection.
"Scream" music video with Michael Jackson, 1995
In 1995, Janet joined forces with mega-popstar and brother Michael Jackson. The much-anticipated collab resulted in hit single "Scream", of Michael's ninth album HIStory, and one of the most expensive music videos of all time. Filmed against an expansive 13-piece set, made to mimic a spaceship setting, the sibling duo dance and sing in matching avant-gothic outfits: spiky 3D tops by Dexter Wong, vinyl pants and Doc Martens-esque boots, Janet rocking a shaggy 'do and heavy black eyeliner. The clip went on to influence Y2K's Space Age video craze: think TLC's "No Scrubs" and *NSYNC's "Bye Bye Bye" vids. And the video's outfits proved equally influential, too. In Janet's sleek all-black get-up we see whispers of what would become some of Aaliyah and Rihanna's signature looks, and the beginnings of the GHE20G0TH1K aesthetic.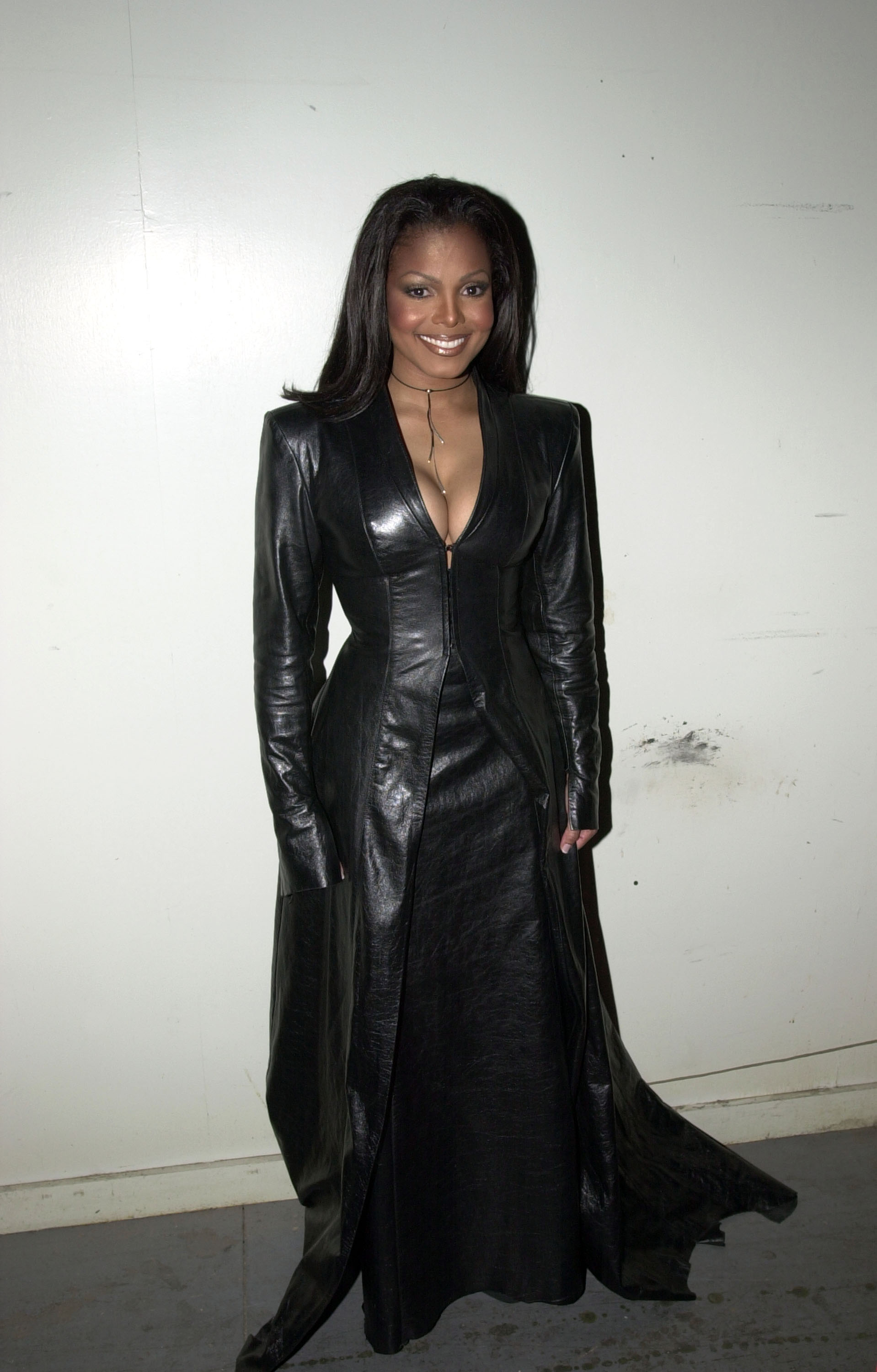 At the MTV Movie Awards, 2000
Five years later, Janet doubled down on the gothic look at the 2000 MTV Movie Awards. Wearing a floor-length black leather coat with matching maxi skirt, the singer took the all-black outfit in a decidedly techno-glam direction, inspired, no doubt, by 1999 sci-fi blockbuster The Matrix. As the fates would have it, Janet presented Matrix star Keanu Reeves with the award for Best Male Performance at the ceremony, wearing this very outfit.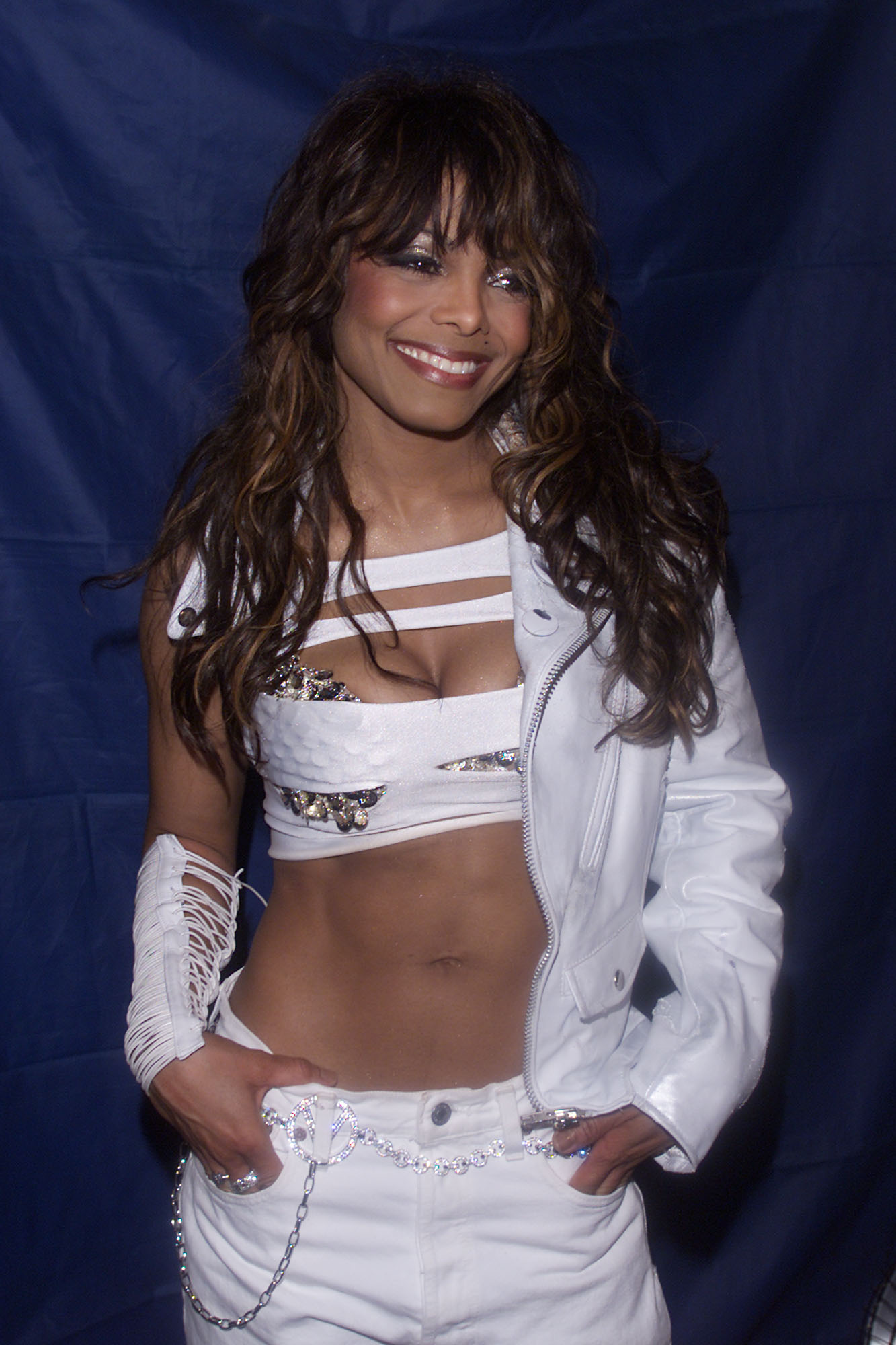 At MTV Icon: Janet Jackson taping, 2001
At the end of the 90s, Billboard named Janet one of the decade's most successful female recording artists. To honour her legacy, MTV made Janet their inaugural Icon, celebrating the singer with a star-studded television-special-slash-tribute-concert in 2001. Earlier that same year, Janet released her seventh album All For You, and its eponymous single, cementing her pop icon status into the new millennium. In the single's video clip, Janet wears three extremely Y2K fits, all distressed light-wash denim, Pucci-esque patterns and slinky "going-out" tops. During the video's final dance number, she wears a deconstructed leather jacket and slashed jersey over top a spangled bra. The latter look was so iconic that Janet wore it — this time in all-white — during the final act of her MTV Icon special.
Performing at Madison Square Garden, 2001
Just as she did with her music and music videos, Janet pioneered the popstar arena tour, as we know it today. The success of 1990's Rhythm Nation World Tour — which set a record for the fastest sell-out of the Tokyo Dome — set the standard in elaborately-set stages, meticulously choreographed performances, and, of course, an array of sure-to-become-iconic stage outfits. Among them: the fringed-and-spangled faux-suede set she wore — with fishnet arm warmers — to open her All For You Tour shows in 2001. The look is not only emblematic of Y2K pop music's Western craze, but of Janet's legacy as one of the era's foremost pop music trendsetters.
Tagged: