Image courtesy of Miu Miu
Did Miu Miu just say 'Free Britney!' for SS22?
With ever-so-slutty school uniforms reminiscent of the infamous 'Baby One More Time' outfit), Miuccia Prada sent out a detention-worthy collection.
Image courtesy of Miu Miu
As anyone who has ever worn a school uniform knows, rules are there for breaking. Who hasn't rolled up their skirts or customised the fit of their shirts and ties in the playground? Broad-shouldered black blazers, blue shirts, grey skirts and beige chinos could be considered the most conformist clothes in the world — which is what makes them so ripe for subversion. With her latest Miu Miu outing, Miuccia Prada broke the rules of schoolyard uniforms and set a detention-worthy curriculum of very sexy, highly exposed uniforms. Think Britney Spears in the …Baby One More Time video, pleated skirts and crisp cotton shirts hiked up to reveal as much skin as possible. Belts became bandeau tops à la Jodie Marsh, cable-knit sweaters were shredded to bralette proportions à la Britney, and waists were so low-slung that underwear became outerwear.
This was one of Mrs P's sexiest — and most subversive — Miu Miu collections in recent memory, presciently tapping into the current mania for anything Y2K. However, more than just obvious Gen-Z bait (as if Mrs P would ever stoop to algorithms), this was a collection that felt like a response to the times we find ourselves in. "A reaction to and reflection of reality, an economy, a freshness found in iterations of eternal, universal garments," as the show notes put it. And though Mrs P wasn't available to elaborate, we're going to guess that it has something to do with the world and its workplaces reopening after a year-and-a-half of us sitting at home wearing whatever we want. The idea of a uniform, whether it's academic or corporate, now seems somewhat exotic — perhaps even erotic. Watching the show seated on swivelling Eames office chairs, it became apparent that Mrs P wanted to take that notion to extremes.
Where she always excels is the nuanced subtlety of her subversion of archetypes, almost as if she wants to reveal the absurdities of everyday life. You might notice that, mixed in with the gym-honed abs and bare legs, there were plenty of roomy, low-slung trousers, full-length shirts and cable-knit sweaters and classic cashmere coats, notably modelled by Ella Emhoff. They served as yardsticks by which to measure the exposed-skin elsewhere – a camel coat slung over a bandeau and microskirt highlighted its absurdity, while pulled-up grey socks and brogues punctuated bare legs. The proportions of many looks are tiny, but the fit was always roomy. Sweaters looked genuinely hacked down, as though they were too big to begin with — and in the more covered-up looks, sweaters were shrunken to sinuously cling to the body. Exposed underboob bras were almost humorously beige and mumsy, as were elastic boxer-short waists peeking above the low skirts and trousers.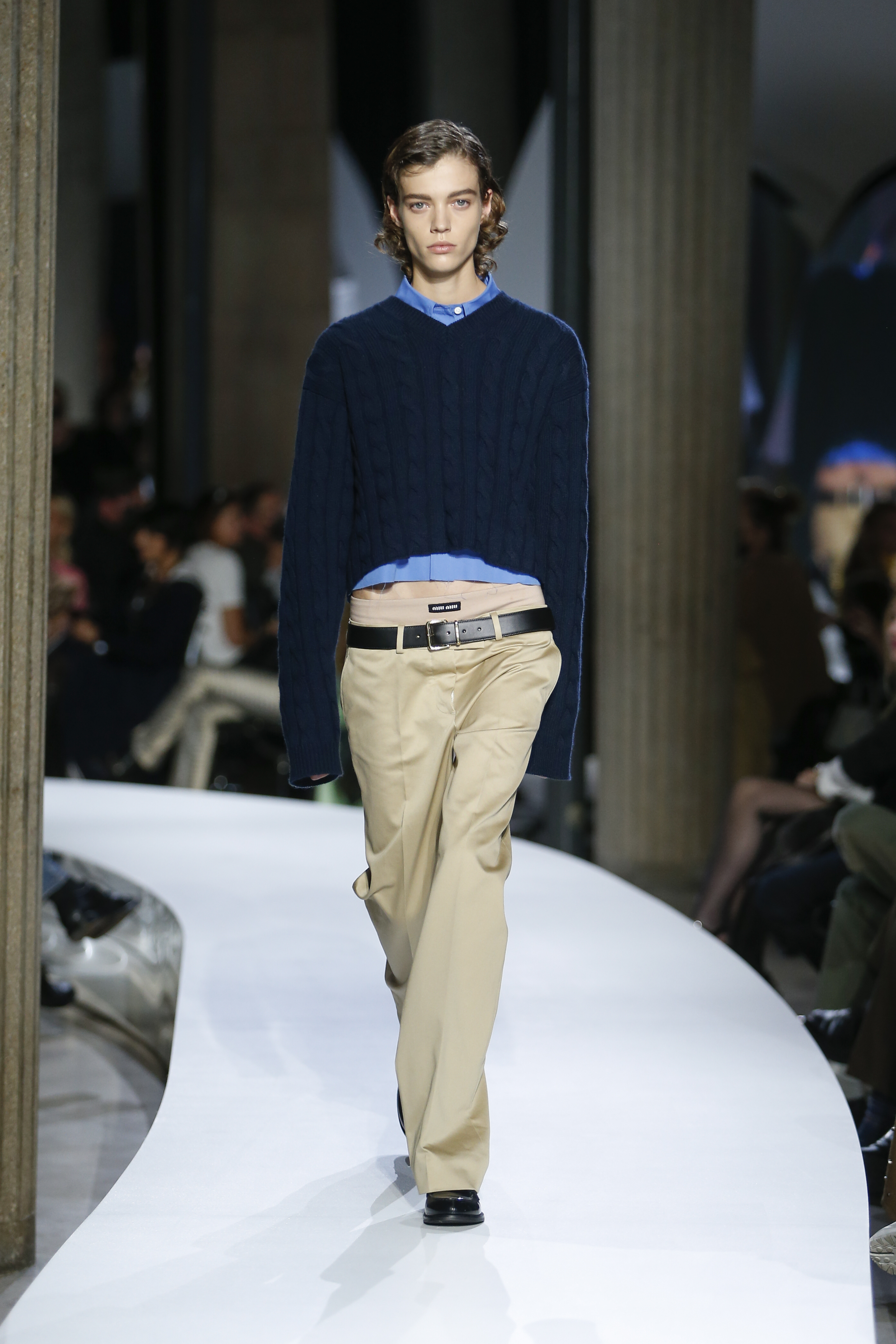 Maybe the message was that you don't have to show it all in order to look sexy. After all, Miuccia once famously quipped that "the more you dress for sex, the less you will have it".
Instead, here was an indication that sexy is subjective and the important thing is to feel confident. For one woman, wide-leg chinos will do the trick; and for another, it'll be a miniskirt. And in a season that has been all about the bronzed, oiled-up 2000s idea of 'sexy' – here was a dialogue between masc and femme that felt equally weighted in its sex appeal.
Increasingly, Miu Miu is almost like a naughty little sister to the well-read, grown-up Prada. And whereas the latter is known for its oh-so-serious tailoring and browns, beiges, greys and blues — this felt like Miuccia was revelling in the rebellious act of screwing it all up. Therein lies her fashion superpower — you never know what she's going to do next.