From left: Photo by Pietro D'aprano/Getty Images; Photo by Victor VIRGILE/Gamma-Rapho via Getty Images; Photo by Eamonn McCormack/BFC/Getty Images for BFC
7 of Héctor Bellerín's most iconic outfits
The Arsenal defender is the ultimate pioneer of the football-fashion crossover.
From left: Photo by Pietro D'aprano/Getty Images; Photo by Victor VIRGILE/Gamma-Rapho via Getty Images; Photo by Eamonn McCormack/BFC/Getty Images for BFC
As the recent Air Jordan x PSG collaboration, swirling rumours of Virgil Abloh designing a kit for Liverpool in the near future, and the Burberry x Marcus Rashford campaign all well attest, the overlap of the worlds of fashion and football is becoming increasing culturally significant. Of course, any revolution requires a leader to open people's eyes to its cause, and here, that leader is Héctor Béllerin.
Indeed, referring to the 26-year-old Arsenal as just 'a footballer' does him an injustice. For years now, he has transcended the typical player's mould to become a bonafide fashion star, proving his chops in the spheres of modelling, activism and design. He's also placed sustainability at the core of his creative philosophy, recently committing to only adding second-hand and vintage threads to his own wardrobe going forward.
For those not yet familiar with the Spanish footballer, though, a quick intro. After a youth spent in Catalonia, where he trained at FC Barcelona's prestigious La Masia academy, Héctor signed for Arsenal as a teenager and moved to London. On the pitch, his contributions have been an indispensable addition to the North London club. It is, however, Bellerín's off-the-pitch life that stands him apart as one of the most influential cultural changemakers in recent years.
He's a polemical figure in the football community, with critics quick to suggest that his veganism, environmental activism and creative pursuits detract from his on-field performance. He was one of the first professional footballers to speak candidly about mental health, as well as to openly engage in projects outside of football, for example, by giving talks at the Oxford Union, or creating his own podcast, More Than. Héctor received (and still does to this day) serious online abuse for publicising his creative interests. His unwavering authenticity has, however, instigated a tangible cultural shift in the football community, leading others to feel able to express themselves in more organic, more open ways.
Here, we take a look at London's favourite adopted Spaniard, through his most iconic outfits.
Modelling the Arsenal x 424 formalwear collection, 2019
The Arsenal x 424 collaboration came about through Héctor's close friendship with LA-based designer and co-founder of 424, Guillermo Andrade. The collaboration saw 424 - a streetwear boutique known for combining East and West Coast style - become Arsenal's first ever formalwear partner. Through B-Engaged (the creative agency which he runs with his friend and business partner Ehsen Shah) Héctor spearheaded the collaboration. This was the first of its kind in the Premier League, and was notable for its inclusivity - suits were also designed for Arsenal Women FC and backroom staff of both teams. When it came to the campaign launch shoot, Arsenal had to look no further than their own in-house model, Héctor Bellerín.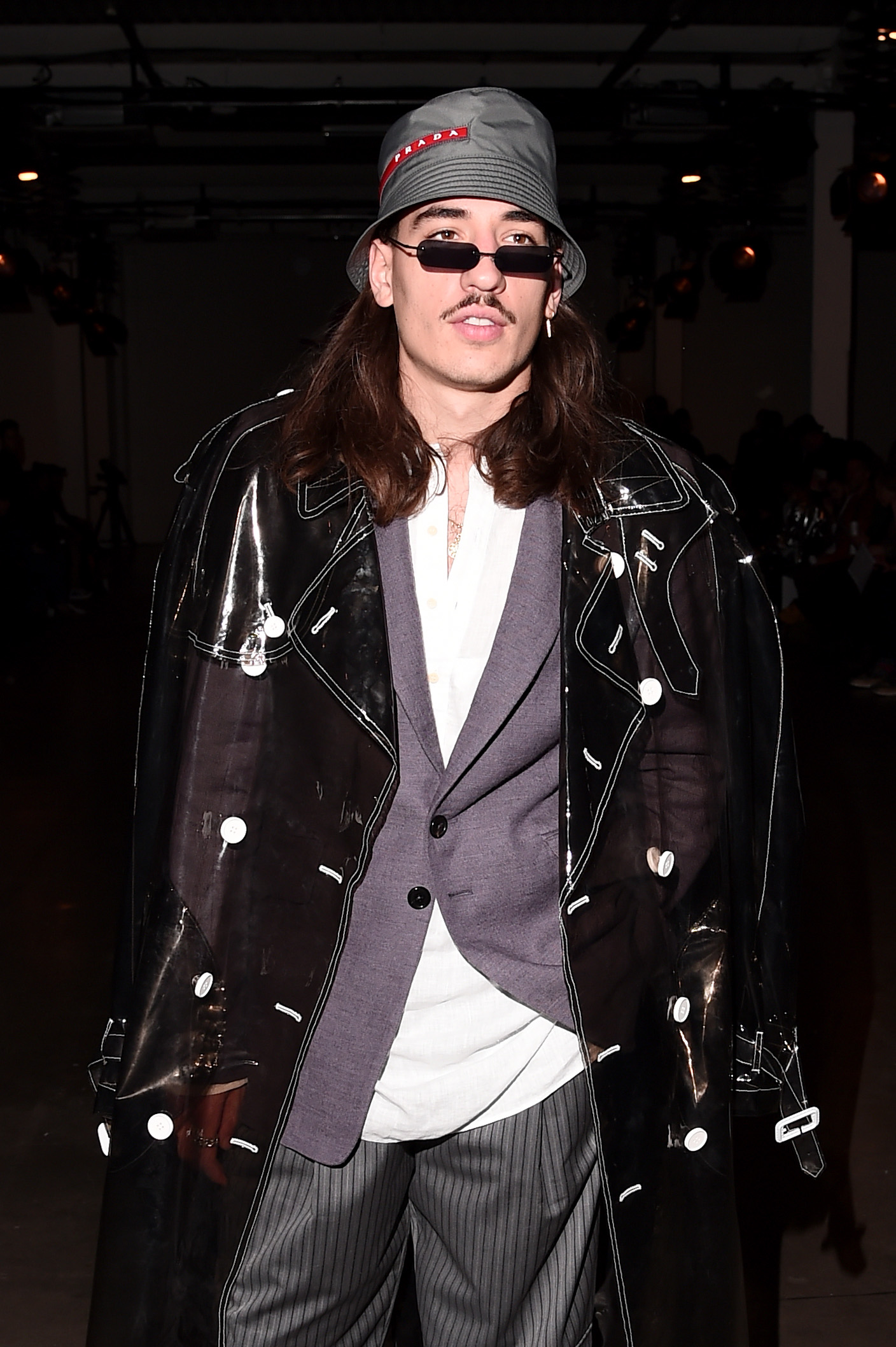 At London Fashion Week Men's AW19, 2019
It's fitting that London is the city where Heccy first made his name in fashion. Despite his Catalan origins, he's as authentic a London boy as they come. In an episode of More Than, he reminisces on his early days in London as a teenager, spent heading into the city's centre to soak up the atmosphere by attending as many events, shows and parties as he could manage in the time he had outside of training. Here, we see him at London Fashion Week Men's AW19 in a charcoal Prada Linea Rossa bucket hat, vintage sunglasses and an oversized see-through coat. The outfit is reflective of a shift in Héctor's approach to fashion, marking a moment when he made the conscious decision to be unapologetic with regard to his values, how he dressed and who he associated with away from football.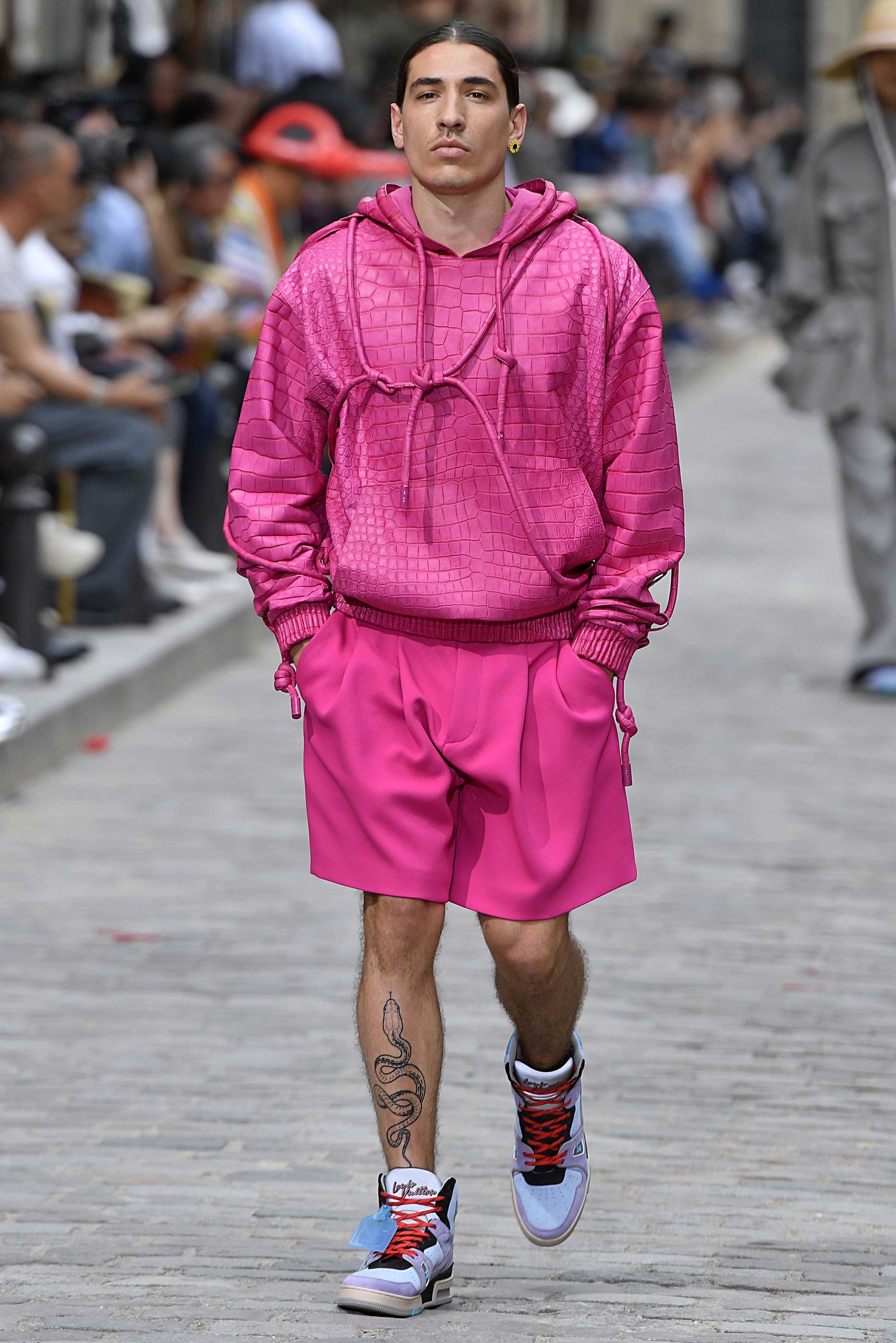 Walking for Louis Vuitton SS20, Paris Fashion Week Men's, 2019
In his self-produced documentary, Unseen Journey, Héctor describes this opportunity as one that was too good to turn down. Having just relearned to walk after being sidelined for a year by a devastating knee injury, the Spanish footballer was asked to walk for Louis Vuitton by his good friend Virgil Abloh. His year off the pitch gave him plenty of time to reflect on what else in life he was interested in, and he was able to fully engage in his love of fashion. An instant success on the cobbled runway at Virgil's third show for the Parisian house, Héctor wore an eye-catching fuchsia croc-embossed hoodie paired with matching shorts which revealed scarring from the recent surgery on his left knee. His runway debut was a sign of things to come, as Héctor's involvement in fashion grew exponentially from this moment onwards.
Starring in the LV² campaign, 2020
Building on his relationship with Louis Vuitton, Héctor revealed imagery from his latest campaign for Virgil and Nigo's LV² collaboration via his Instagram last year. In the shoot, Héctor is styled in a matching checked black and white shirt and trousers, with an LV backpack at his feet. Modelling is one of the many roles Héctor plays in the fashion industry, and he shared various other looks from self-shoots at home throughout the UK lockdowns in 2020.
Héctor for KidSuper x HB x Puma, 2020
Last year, Héctor announced he was working with LVMH Prize 2021 finalist Colm Dillane, founder of streetwear label KidSuper, on a football boot design for a limited edition drop of the legendary Puma King boot. Héctor's working relationship with KidSuper began when Héctor posted a picture of himself wearing a KidSuper tracksuit on Instagram. In true Héctor style, a mini-documentary detailing the design process of the boot from its inception to completion was released on his YouTube channel when the boot was launched. Héctor announced the collaboration on his Instagram, head-to-toe in KidSuper x Puma, with the camera slung around his neck a nod to his love of photography, one of his many other creative pursuits.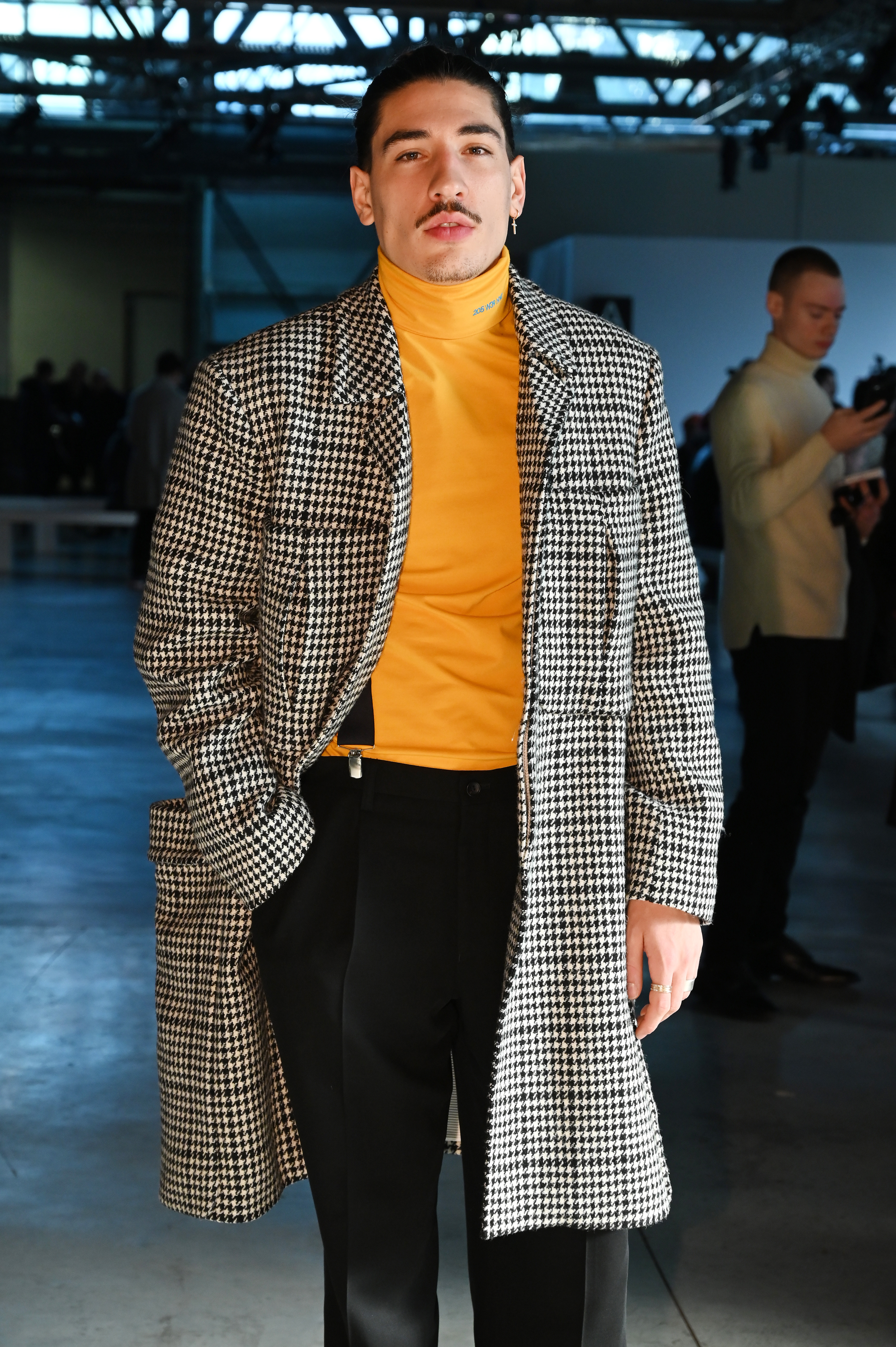 Héctor at Milan Fashion Week Men's AW19, 2019
A quintessentially Héctor look, this strikes the balance between fashion week chic and street style that he's come to be known for. Pictured attending MSGM's AW19 show at Milan Fashion Week Men's, he wore a bright-yellow Calvin Klein 205W39NYC turtleneck paired with black suit trousers and braces, beneath a tailored houndstooth check coat. Yet another iconic fashion week moment served by the Spaniard.
At home in his garden, 2020
Posting on his Instagram last autumn, Héctor shared news of how "during lockdown & my holidays I've been keeping busy with channeling my creativity into a purposeful direction," announcing his new role as Creative Director for VOLTA, the unofficial successor to the FIFA Street video game franchise of the early 2010s. It was a fitting match, given his status as one of the fastest players in world football. At home, though, he chose to adopt a rather more relaxed pace, sporting a cozy oversized orange and green cardigan over a crew-neck crisp white tee. We stan a casual king!