This Call Me by Your Name scene is officially the hottest in movie history
We're not going to argue with science. Or Timothée Chalamet's face, for that matter.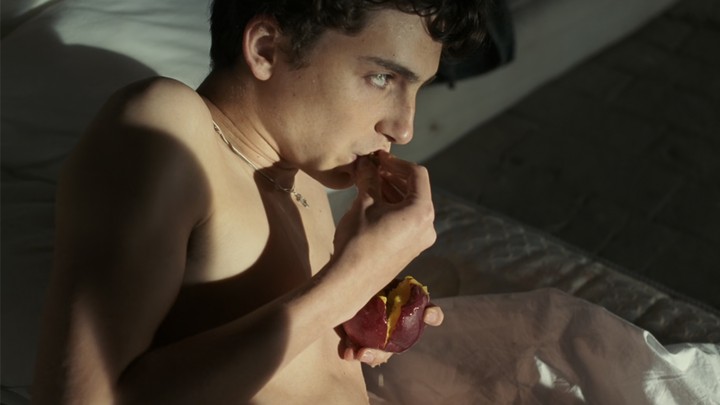 Sony Pictures Classics
It's hard to deny the cultural moment that peaches seem to have sustained for themselves over the past half decade or so. After an incredibly, uh, memorable appearance in Luca Guadagnino's heart-wrenching summer romance flick Call Me by Your Name (2017), the stone fruit became the emoji du jour, later cropping up right the way through Justin Bieber's "Peaches" — a kind of weird flex about the popstar's ability to source the finest produce, and Lorde's "Solar Power", metaphorically speaking at least. Lest we forget it also played an instrumental role in 2019's Parasite, as a weapon in Bong Joon-ho's cinematic battle between the privileged and the desperate.

But let's get back to the seminal (sorry) peach scene that started it all, because it's just been crowned one of the top 10 sexiest in modern film history. Online fan discussion platform FandomSpot took it upon themselves to test its hotness with a study conducted over two weeks: the platform provided 100 people with heart rate monitors — Love Island lie detector-style — and tracked their arousal accordingly.
Though Timothée Chalamet goring open a peach to masturbate with it is, inarguably, extremely hot, the scene raised test audiences' heart rates by an average of 29 per cent, meaning that the fruity cinematic moment clocked in at number four on FandomSpot's ranking. Above it ranked the infamous bed breaking scene from Marvel's raunchy Netflix series Jessica Jones, and the sensual pottery moment in Ghost (1990) between Demi Moore and spirit Patrick Swayze, coming in at number three and number two respectively.

The number one sexiest scene, raising heart rates by a whopping 38 per cent is, of course, an entry from the emerging Sally Rooney Cinematic Universe (or, SRCU) — the final sex scene in the TV adaptation of Normal People. One could argue that Paul Mescal and Daisy Edgar-Jones probably have better on-screen chemistry than Timothée Chalamet and an inanimate fruit, but we will not.

Besides, if we are talking about the hottest film scenes, then Timmy and the Giant Peach have only technically been beaten out by Ghost. Which we're choosing to ignore! You can relive the newly-acclaimed, still-sexy peach scene at the link below.
Follow i-D on Instagram and TikTok for more hard-hitting news.