You can buy Timothée Chalamet's Harry Styles look from SNL
That full Gucci outfit from Saturday Night Live? It's yours to own today.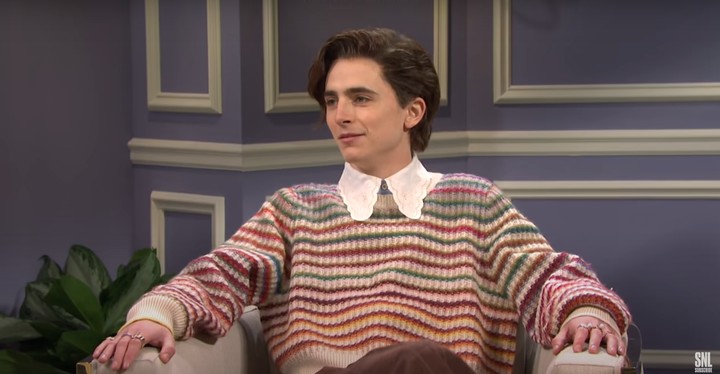 Screenshot via Youtube
Remember Timothée Chalamet sending the stan armies into a frenzy when, during his gig on Saturday Night Live last December, he played Harry Styles in a sketch? Well fans of both (or either) parties can cement their love for the stars by buying the outfit Timmy wore in it.
An auction being held today in New York's Doyle Auctioneers is celebrating the stage and screen, with old props from movies, vintage Oscar brochures and the odd Golden Globe up for grabs. But there's also a clearing out of the SNL wardrobe, and that includes the Gucci look Timothée actually wore that night. Donated by SNL creator Lorne Michaels and Tom Broecker, the show's Costume Designer, you can grab that gorgeous rainbow-striped knitwear, the blue dress shirt with the lace collar and a pair of billowy-legged checked slacks.
If you need reminding of exactly what sketch it was, you can watch it back here:
The look has been put up for auction to benefit The Actors Fund, a charity organisation that supports those in the entertainment industry with financial help, housing and healthcare. In the wake of the coronavirus pandemic, creatives, their work disrupted or cancelled, are in need of support with these things more than ever. 10% of the profits from all items in the Stage & Screen category of Doyle's auction will be donated to the Actor's Fund, but for certain pieces -- including the Timmy outfit -- all money earned from the auction will go towards the cause.
The current asking price for the full Timmy x Harry SNL get-up is $300-500, though don't be surprised if the stans band together and bid a lot more than that. After all, when you think about it, you're getting a practically brand new item of Gucci knitwear for half the retail price, plus a shirt and trousers.
Place your bids here but be quick: absentee entries have to be in by 10am New York time. Good luck!
Follow i-D on Instagram and TikTok for more on Timmy and fashion.