Saint Laurent menswear and Gucci's new archive: What's in fashion?
Your one-stop-shop for this week's fashion news to know.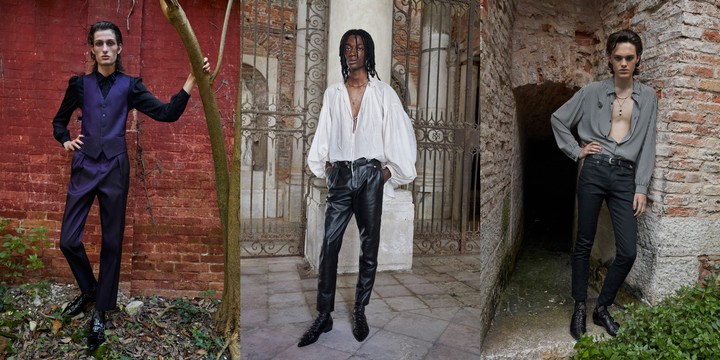 Images courtesy of Saint Laurent
Hello, hello! Have you been relishing the fashion reviews we've been lovingly labouring over for you over the past month or so? You have?! Well, good news — in this week's round up, we're bringing you more! It's been a big week on the menswear front, with everyone from Saint Laurent to Per Götesson dropping SS22 lqqks. That's not all, though! From the Gucci archive's new home to new Yeezy Gap, it's been a juicy seven days on Planet Mode. Bon appetit! Here's what's in fashion.
Saint Laurent's show was all about Venetian vampires
Venice is the new Paris. This week, Saint Laurent and Valentino both chose to stage shows in the Italian city (menswear and couture, respectively) which last year saw dolphins return to its canals and just announced a ban on cruise ships. Could this be the dawn of a new fashion capital? Rick Owens seems to think so, given he's staged three shows on the Lido Beach. But Saint Laurent, perhaps more than any other, captured the magic of the city and its legendary masquerade balls and decadent glamour. Anthony Vaccarello's show was a "fantasy on a Victorian dark romance", as he put it. Vampiric crepe-de-chine capes, ruffled blouses (very Mick Jagger on stage at Hyde Park in 1965) and, of course, a slew of leather cigarette pants, velvet le smoking suits and plenty of louche shirts, unbuttoned to the naval. He borrowed from the archives of Yves Saint Laurent's majestic womenswear, turning them into androgynous gender-fluid menswear for modern fashion goths. In fact, he upcycled more than just styles — many of the pieces were made from fabrics from previous womenswear collections. The set was a large-scale installation by the California artist Doug Atkins, who won the International Prize at the 1999 Venice Biennale and created a hall-of-mirrors greenhouse, containing lush bushes of ferns, on the Isola della Certosa. A metaphor perhaps? Reflecting on the past can be a vital tool for fertile growth. OA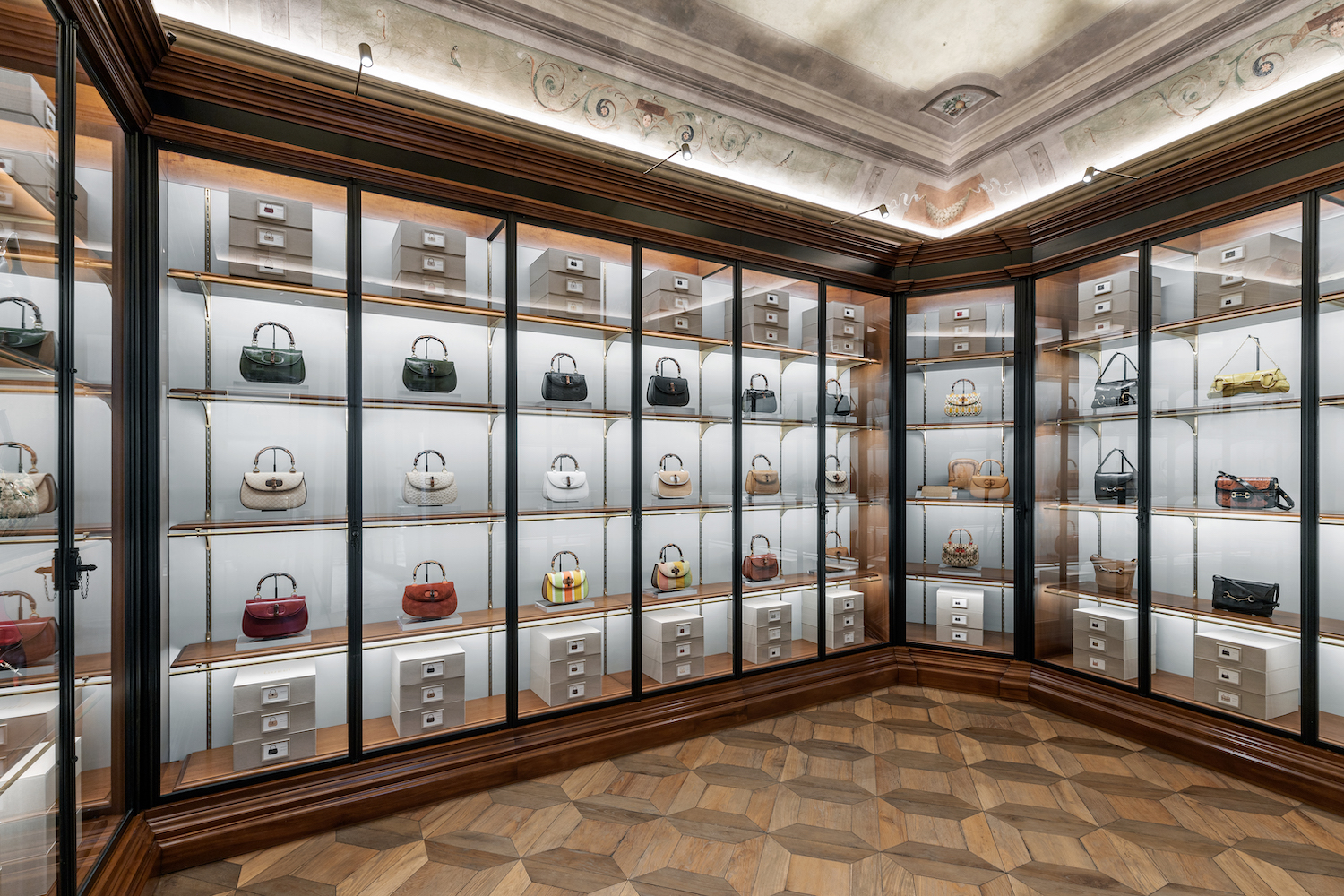 Gucci's archive finds a new Florentine home
As if there weren't already enough reasons to visit Florence, without doubt one of Europe's prettiest cities, Gucci just gave you another. Yes, the house, which famously calls the Tuscan capital home, sent the city rocketing up our post-panny must-visit list when it opened the doors to the Palazzo Settimani, a new home for its legendary archives. Located on the city's left bank, close to the Palazzo Pitti, the Renaissance edifice has been divided into themed rooms under the watch of creative director Alessandro Michele, each christened with a mantra-like name lifted his idiosyncratic lexicon. Radura, for example, houses porcelain and household items, while the Hortus Deliciarum hall is given over to Gucci's collections of vintage handbags. Despite the fact that it's rammed full with priceless artifacts, it's "a magical place to which I have restored a sense of porousness: you pass through it, air gets in, you can walk through it as if it were a journey," Alessandro says. "I envisaged it as a sort of secret place within the House, an inner sanctum from where one sets out for Gucci's holy lands." If you're keen to visit more Gucci grails on your Florentine sojourn, then we recommend that you stop into Gucci Garden for a browse of the house's celebrated museum and the Gucci Osteria da Massimo Bottura for a well-earned snack. Prego! MS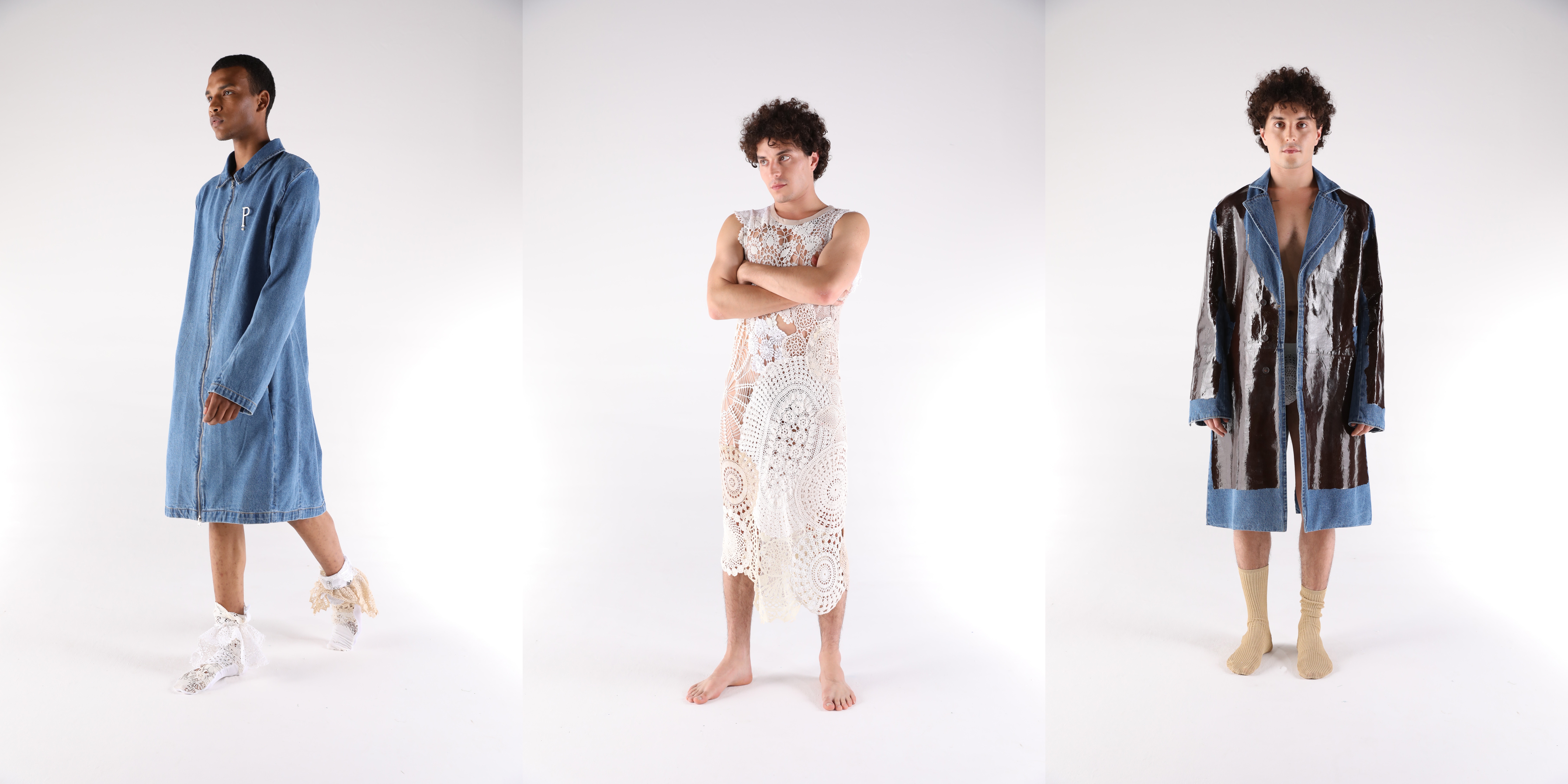 Per Götesson unpicks the seams of masculine archetypes
Over the course of the past decade or so, conversations around issues of identity have simultaneously become more nuanced, more precise and more complex. This, of course, is all for the better. As we collectively unburden ourselves of the responsibility to assimilate into binary-skewed archetypes, once-limiting stereotypes have become matter from which we can all playfully fashion our identities anew. Thoughts like these are what lie at the heart of Per Götesson's SS22 collection, fittingly titled 'Posing'. By filtering the sartorial language associated with masculine caricatures through a shamelessly queer perspective, Per playfully picks at the seams of identity frameworks that we're taught to believe are infallible. The starting point, though — as ever with Per — remains the fabrics. "It was about material posing as something else," the designer says, "like the patent vinyl that we printed on to denim. Swedish army surplus was chopped up and collaged together with shirting, denim, womenswear references like doily lace," which also figures elsewhere as a calf-skimming dress. Pieces like these are hardly 'menswear' in the traditional sense, but that's exactly what makes Per's work so pertinent. It's born of an interest "in people that represent whatever is outside the norm, the other and, to some extent, visualise these ideas within a menswear context. It's about a masculinity that is much more nuanced and inclusive," he says. MS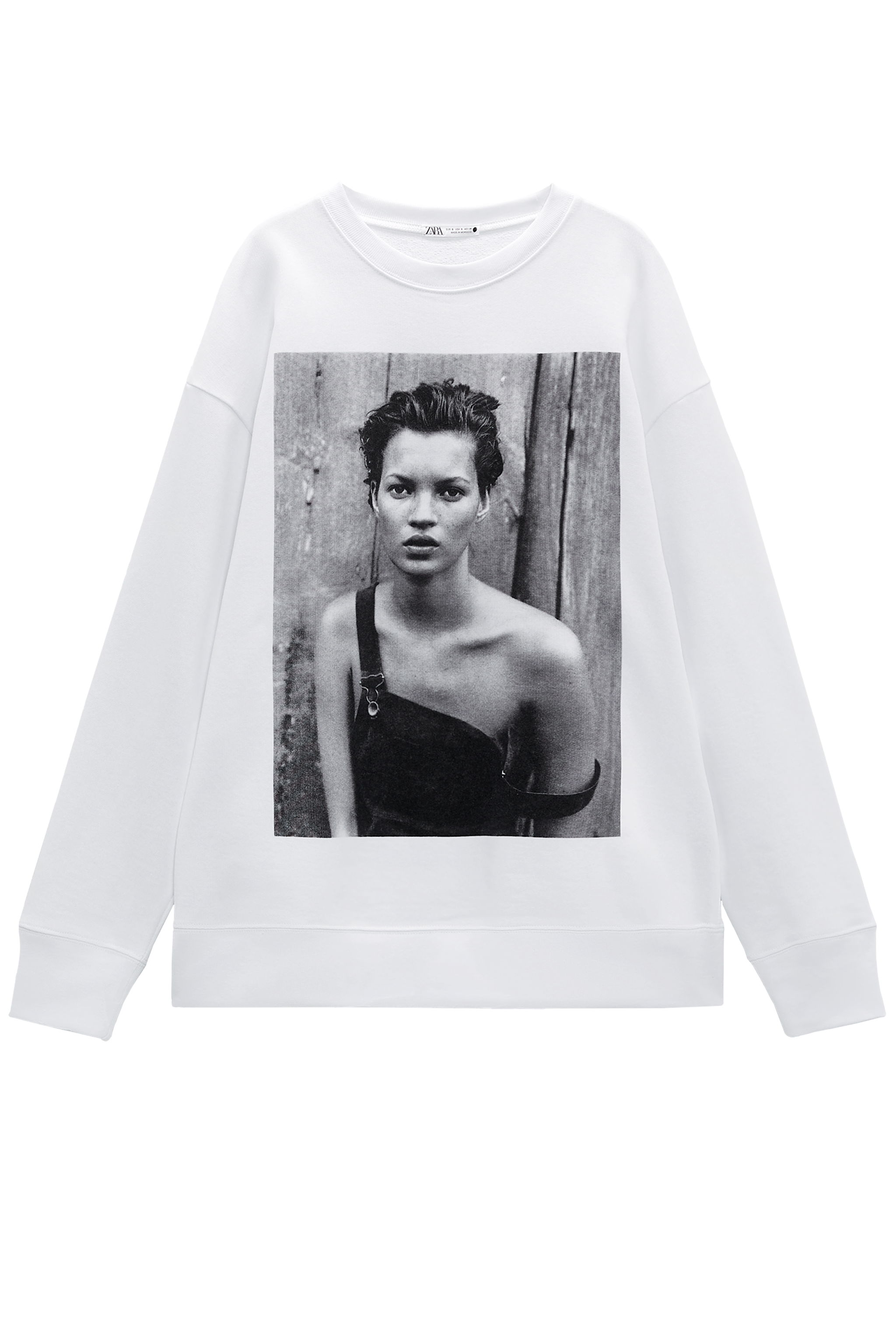 Zara's new capsule is the supermodel equivalent to band tees
Peter Lindbergh's black-and-white photographs helped usher in a kind of sensual realism in the 80s and 90s, arguably fashion's golden age for spectacular imagery. The late German photographer's body of work, which often appeared in Italian Vogue under the editorship of Franca Sozzani, featured some of the most famous faces of the 90s, famously unretouched and cinematically framed, always with a sense of simplicity. So, it's fitting that this week, some of Peter's most iconic images appear on a line of T-shirts in Zara's first-ever 'Tribute' collection. Curated by his friend and colleague, art director Fabien Baron, sales of the line benefit the Franca Sozzani Fund for Preventive Genomics, a nice way to honour his relationship with the late editor. You can choose your player: Linda! Amber! Kate! Helena! Consider them fashion's equivalent to band tees. OA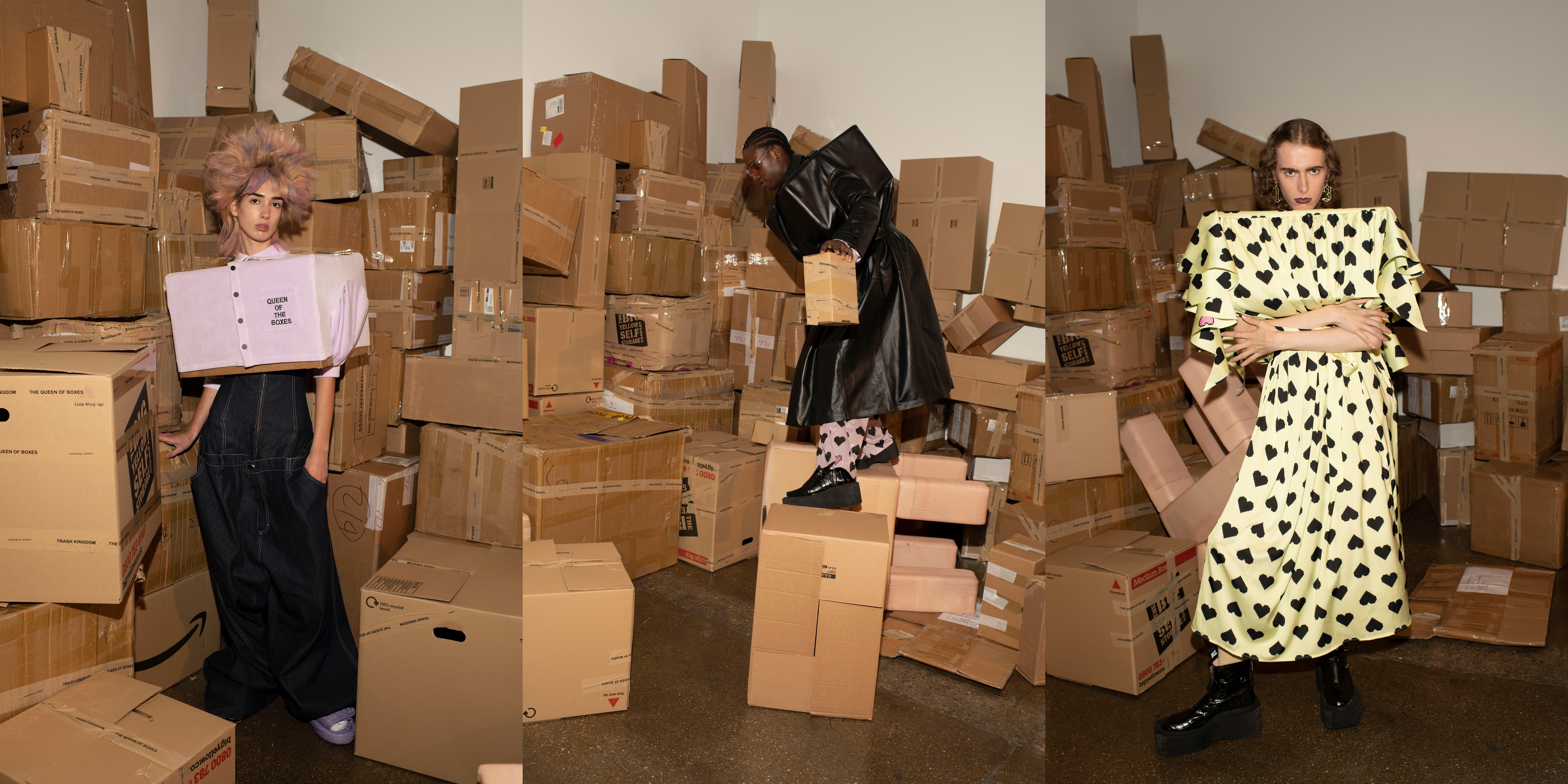 Natasha Zinko thinks outside the box for SS22
Natasha Zinko's SS22 collection is all about thinking outside the box while dressing within one. Inspired by the past 18 months of isolation, which saw us all confined within four walls, the London-based designer took inspiration from her setting, placing cardboard boxes on her own body, eventually upcycling them to create perpendicular cut silhouettes. "The boxes came from me looking at these everyday items that surround our lives," she explains. "I started wearing the boxes, creating silhouettes and draping fabric over them. I found that I became more overt wearing them, as if I was in a suit of armour. That's when I realised that I could be cheeky here and create something that's both editorial and conceptual with these household items." Some of our favourite pieces from the post-Covid collection are the mock-croc boots that come with their own cubic pockets, the leather coat, the breathtaking floral tulle gown and the corseted bodices that allowed for that square-shouldered, snatched-waist look. Extreme fashion to reflect the extreme times we're living in! KK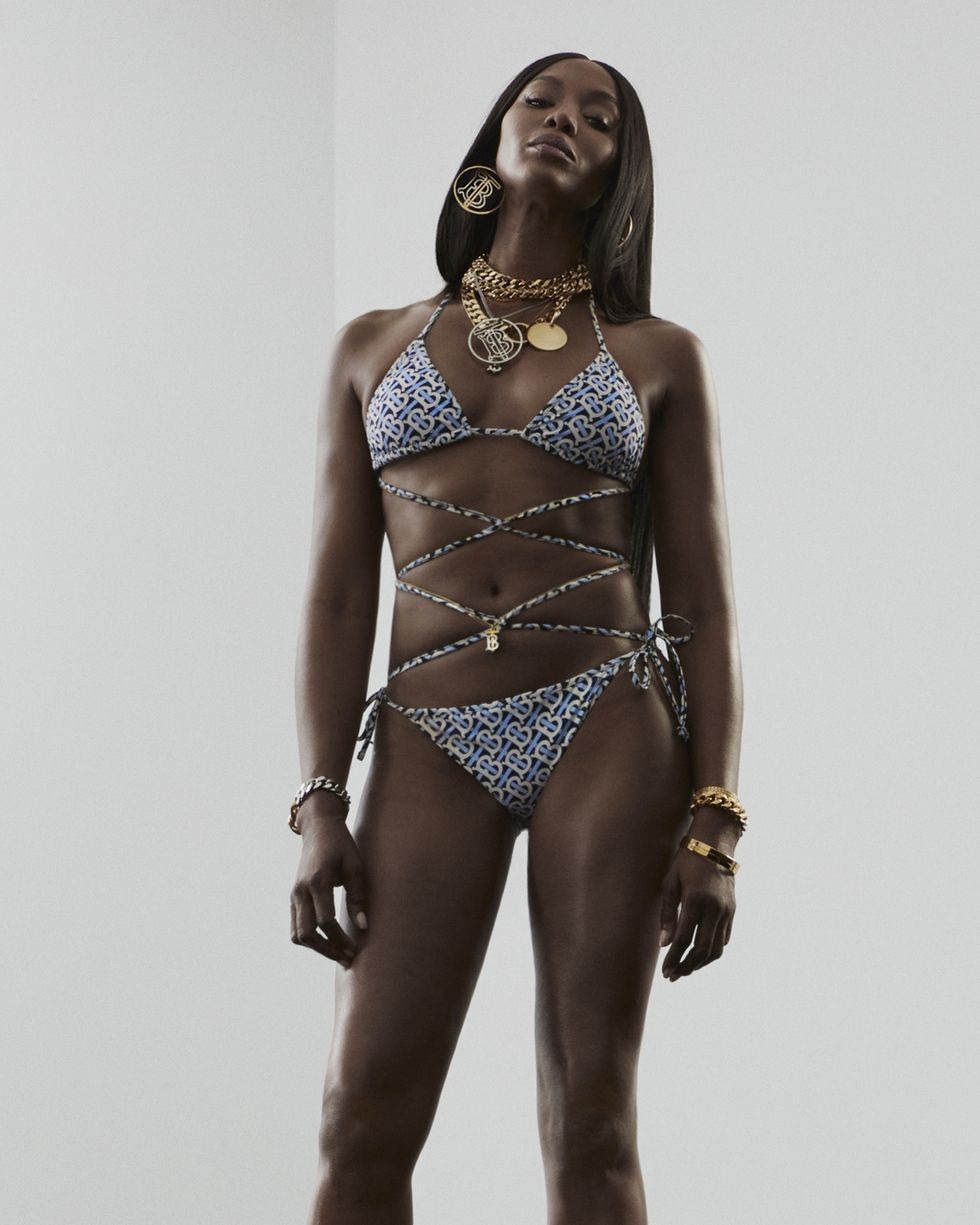 Mother Naomi is the star of Burberry's new campaign
How does she do it all? None other than new mum Naomi Campbell stars in Burberry's new campaign, which marks the launch of a summer collection entirely devoted to Riccardo Tisci's monogram for the house. Streatham's finest dons a distinctly Saaf London dancehall look for the campaign — photographed by Dank Steiner and coiffed by i-D's own Jawara — donning monogrammed hoop earrings, a bucket hat and a wraparound bikini worn with tracksuit bottoms. "It's a British institution and has been since it started in 1856 — in a way, you feel like you're representing your country," Naomi said in a statement. "I feel that British style and attitude always lead the trends. We don't just wear it, we live it." Damn right, Naomi! Rep-re-sent! OA
RCA's graduates tee up
After a long year of carrying the future of fashion on their shoulders, The Royal College of Art's graduate designers are back at work. This time they have collaborated with Hit and Run, a company producing print-to-order organic garments, to bring us a new line of T-shirts. And no, these aren't just any ordinary tees. Organically made and environmentally-friendly, RCA's new annual enterprise will help raise funds to support new students. The collection which is currently available to purchase here consists of T-shirt designs from over 40 designers including Colin Horgan, Kira Goodey and artist Pandemonia. Each shirt will explore a vast array of societal issues, from gender identity to body image. "This artwork is a direct reference to protest posters and speaks about the state of despair I believe we all faced during the pandemic's multiple lockdowns," says MA Textiles student, Victoria Petitjean. "Gazing at the windows, trapped inside, but also inevitably caught up in intense thoughts. I called these 'flaming thoughts', causing eventually an inside blaze." KK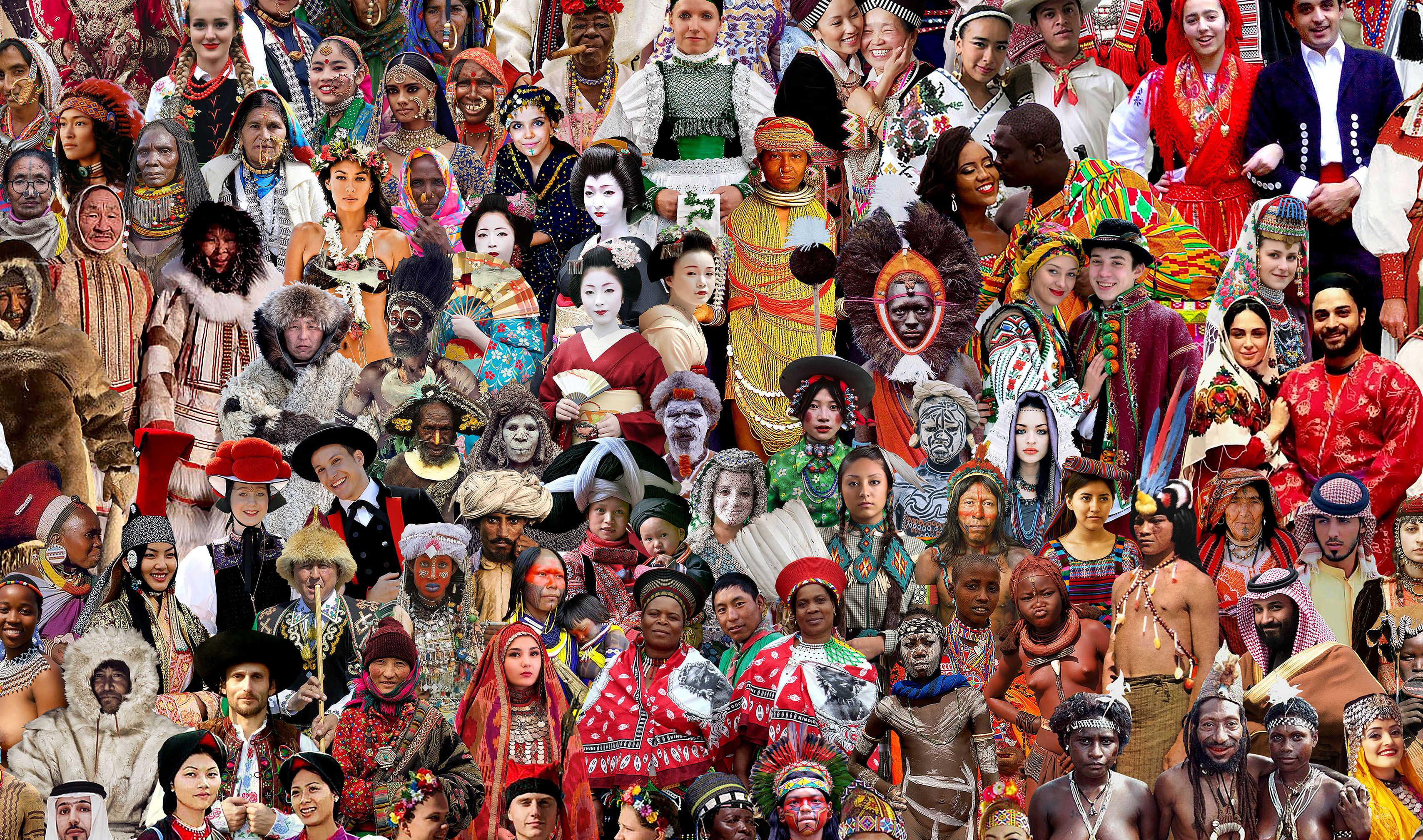 Get to know Dick Jewell's many Faces
You might recognise multimedia artist Dick Jewell's work from his film, Kinky Gerlinky, first released in 2003 — and made available for streaming last summer — about an infamous club night of the same name in the late 80s/early 90s. Or perhaps you've caught one of his other videos, collages or photographs at one of the many exhibitions he's participated in across the world, from the Tate in Liverpool to the MoMA in Sydney? If not, and you're London-based, here's a good place to start. Dick's latest show at Sion and Moore will present Faces, a film that sets "a carefully sequenced progression of still images in relation with the rhythm and lyrics of "Faces" by Run-DMC, and "One Blood", a large-scale digital collage that examines "cultural appropriation as enacted en masse". A collaborator of Neneh Cherry and Judy Blame, Dick's work was part of the cultural explosion that i-D was born from, so check it out if that's your bag. The exhibit is open 28 July – 7 August 2021, from Wednesday to Saturday 12 - 6 p.m. RW

Yeezy Gap is here!
All hail Yeezus! After announcing a decade-long partnership with Gap last year, the first (well, technically second) piece of the collab is finally here. We're talking about the Round Jacket, the padded coat famously worn by Kanye West at the recent Balenciaga couture show in Paris. The polished puffer inspired by Yeezy's minimalistic design is made from 100% cotton poplin with a matte rubberized finish, and the exclusive YZYGAP logo. It's currently available for pre-order on the GAP website for £160 (a bargain, considering what its resale value will most likely be) and is set to ship in winter. You know what to do — on your marks, get set… KK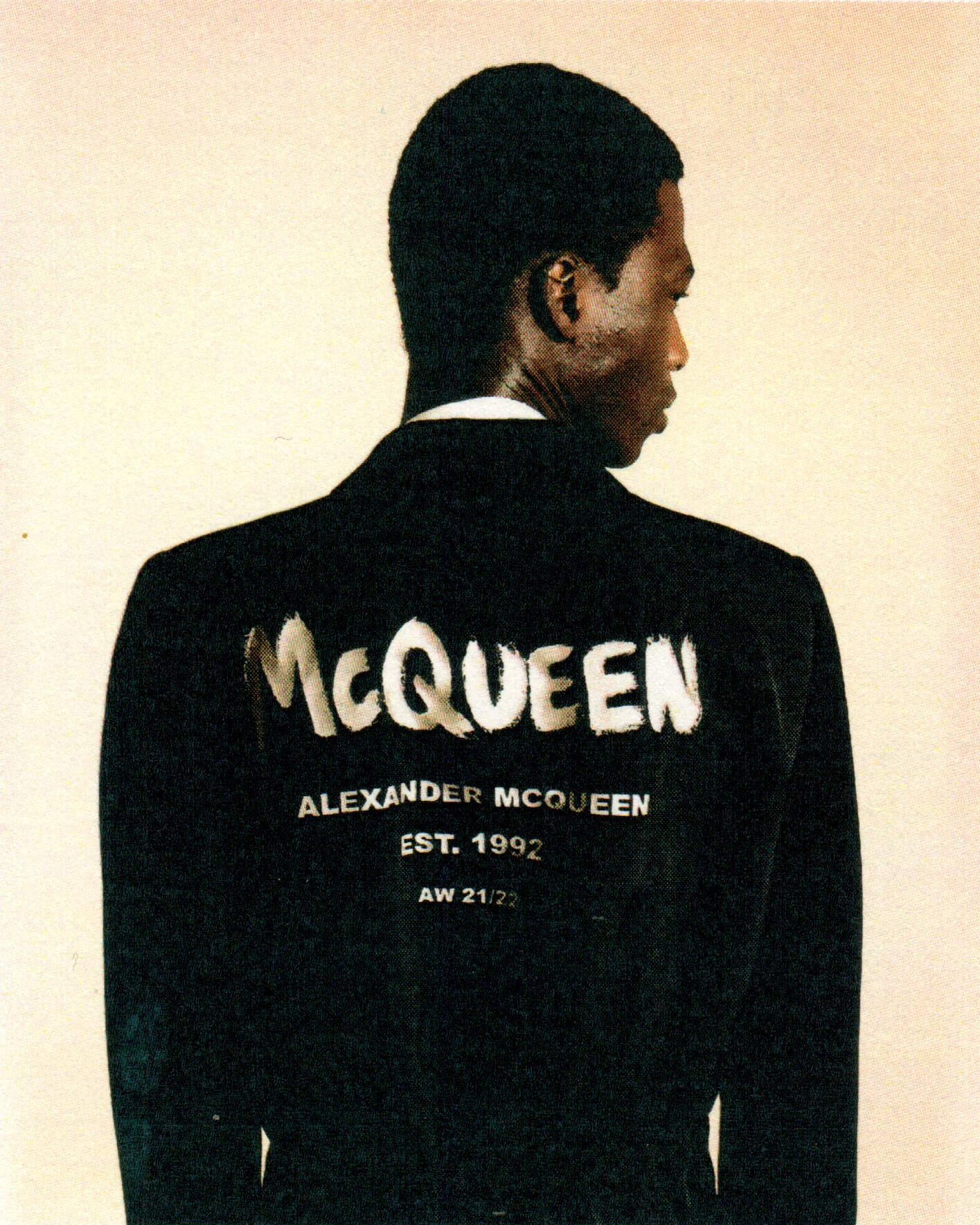 Alexander McQueen gets graffed up
This week, Alexander McQueen launched McQueen Graffiti, a cross-season graphic featured in their men's and women's SS21 and Pre-AW21 collections across ready-to-wear, bags and shoes. Harking back a little to the brand's SS99 show when two robotic arms spray painted all over Shalom Harlow's white dress, this graffiti print has a nod to the past, but also feels like a moment for a label that typically shies away from direct branding. To kick things off, McQueen launched a guerrilla marketing campaign around the world, placing the graphic on the side of buildings, taxis, tube stations, buses, trucks, airplane banners and pavements. RW