Ghetto Gastro is fighting against racism with new merch and free meals
The chef collective is raising funds for civil rights organizations and groups that address food insecurity with T-shirts.
The ambitious Ghetto Gastro chef collective does a lot more than cater exclusive parties and events for legends like Michele Lamy and hip high-end labels like Off-White. Formed in 2012 by Bronx natives Jon Gray, Lester Walker, Pierre Serrao, and Malcolm Livingston II, the group has always been at the vanguard of using food to create social change and forge cross-cultural communities.

In the past few months, this mission has become even more important as the scourge of the coronavirus pandemic has disproportionally decimated black people across the nation and militarized police forces have waged war against American citizens protesting institutional racism.
After it became clear this spring that their hometown burrough of the Bronx had become the "coronavirus capital," Ghetto Gastro teamed up with the non-profit Rethink, which collects the food wasted by restaurants and turns that into meals for New Yorkers in need. Together, the two groups focused their efforts on providing emergency food to Bronxites facing food insecurity related to the pandemic.
Natural and organic ingredients for the meals were donated by organizations like Sky High Farms. While local spots like La Morada, a popular Mexican restaurant run by a family of undocumented immigrants, served as distribution points for the free meals. In exchange, the restaurants received financial relief to keep their staff employed and their business entact. This collaborative effort facilitated by Ghetto Gastro has already served more than 35,000 meals and they intend to continue the effort until they surpass at least 75,000.
After local protests began in New York against the extra-judicial murder of George Floyd, Ghetto Gastro also made efforts to feed those who took to the streets in protest. Working alongside Rethink again and several food trucks, they provided meals to the people in Brooklyn and Manhattan marching for justice.
To help support the cause, Ghetto Gastro have expanded their merch selection to include charitable limited-edition T-shirts. The first drop was a black shirt with the phrase "Food Is a Weapon" scrawled across the back, which is a perfect encapsulation of the way Ghetto Gastro uses what we eat to create change. In addition to Rethink, funds for this already sold-out shirt went to Color of Change, the nation's largest racial justice organization; and SUMMAEVERYTHANG Community Center, a non-profit in Los Angeles that provides free produce to the people of Watts and South Central.
For Juneteenth, they had a "Cook-In" with Kelis, Chef Nyesha Arrington, HealHaus founder Elisa Shankle and The Roots' Black Thought, debuted a Red Espelette custom spice blend, and released two new T-shirts (they also re-released the now iconic "Food Is a Weapon" T). One T-shirt, made with New Studio, celebrates Juneteenth 2020, while the other model, "Choppa", is a collaboration with artist Kezia Harrell that illustrates the hands of a Black Woman adorned in the colors of The Pan African Flag. "Black Women are often at the forefront of innovation in addition to being on the frontlines in the battle to break the chains of historic and contemporary oppression," says Harrell.
To get more insight into Ghetto Gastro's broader political mission, I spoke over the phone with co-founder Jon Gray. He shared his history of dealing with cops as a black man in America, how he felt the coronavirus has exacerbated the harsh realities of racism, and what he hopes the nation can get out of this unprecedented moment.

Let's start with the fundraising T-shirt. Why did you choose to use the phrase "Food Is a Weapon" at a time when we're dealing with the coronavirus and the systemic racism of the police?
Jon Gray: Because it is the truth. There are many battlefields of systematic oppression. There's white supremacy, capitalism... And there is a war on our bodies. We've been able to see the impact of that war in the way certain people have been disproportionately affected by Covid. This is especially true in my hometown of the Bronx, where we saw people like Fred the Godson perish. It has been hard seeing these people who have underlying health conditions that are a result of poverty taken away. So yeah, food is a weapon. It goes alongside police brutality and all of these other means of white supremacy that afflict black people.
Speaking of police brutality, when did you first see cops as a threat?
When I was young and I stepped off the porch, my mother said to me, "You've got two strikes against you. You're black, and you're a black man. You can't make mistakes, because it could cost you your life." That was when I was nine years old. I had to understand that was my reality, which is tragic.
What were your encounters with police like growing up?
When I was going to Truman High School, I had to go through metal detectors. They had a precinct within the school. So it was this constant state of surveillance and policing. And when I left school, I had to deal with stop and frisk. Before I turned 25, I was probably harassed and arrested by police more than 15 times. I've been fucked up and beat up by them. I've had crooked cops try to sell me guns…. And beyond me, both of my brothers are products of the prison industrial complex. They've done lots of time.
As black people, we know that none of this violence is new. What do you think is different about this recent uprising?
With the murder of George Floyd, it's a visceral image. White people were able to empathize and realize that racism is not only our problem. It's a human problem. Now people are feeling connected for the cause. I also think the pandemic played a big part with people being cooped up inside. They see that even during a lockdown, they're still killing us. And people don't have to go to work, so there's no distractions from what's happening. People have the time to protest and gather to make their presence felt. It's just a unique situation for all of these things to explode.
You're a very successful and well-traveled black man. Has that prominence changed your relation to police?
Not at all, at the end of the day, cops look at me like I'm just another black man. I remember going down to Atlanta for the premiere of Atlanta. Since we were in Georgia, we were like, "Let's drive down to Savannah." And we got pulled over. I was so shook. This might have been right after the shooting of Philando Castile. Everything ended up OK, but I hadn't been that scared in a minute. It takes a lot to shake me up, but these police will kill you with no trepidation.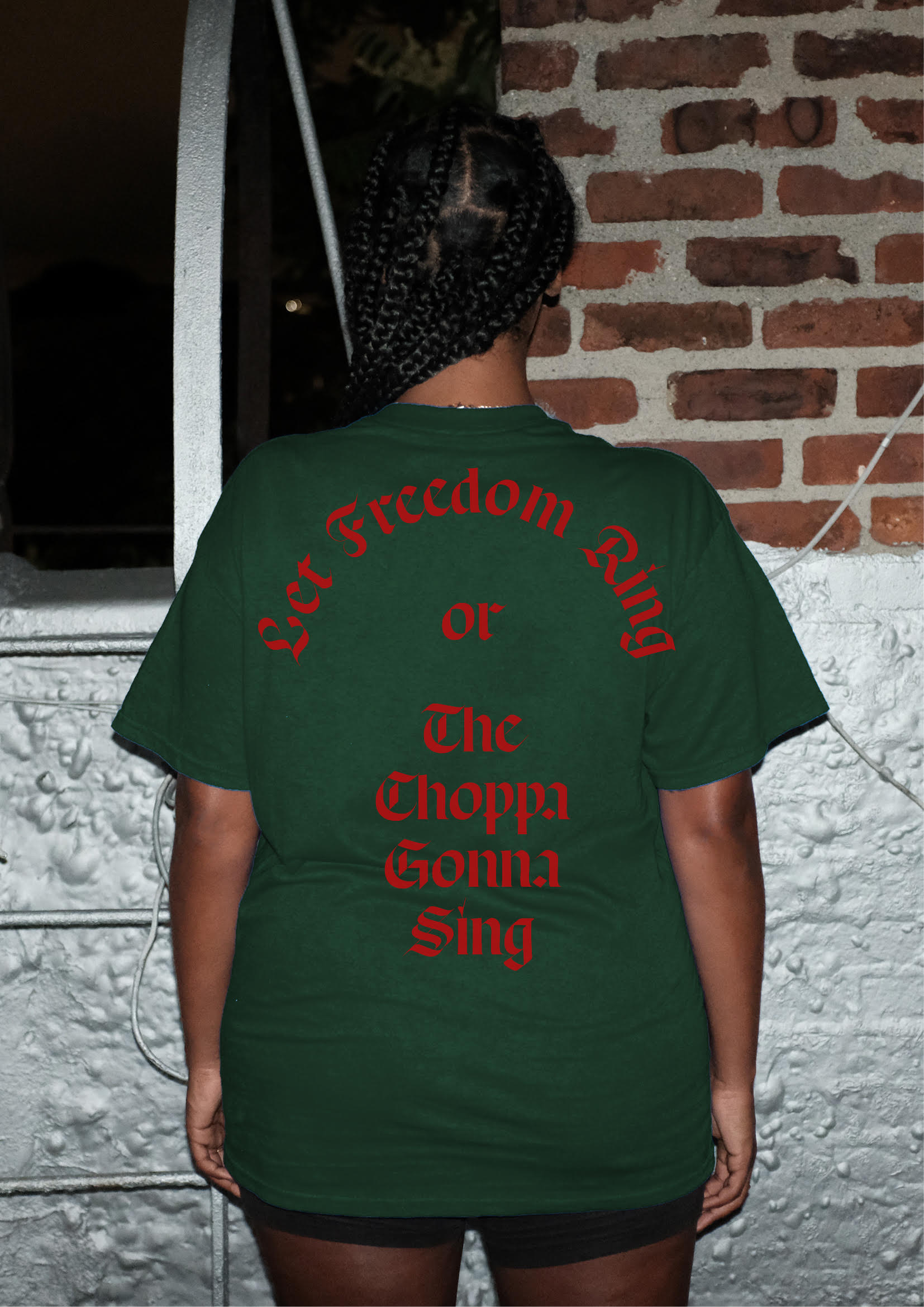 While it's become widely accepted that police reform is needed, Ghetto Gastro have promoted more forward-thinking ideas. When you post a call on Instagram to "defund the police," what do you mean?
Look at the budgets that go to police versus the budgets that go to healthcare. Let's use the pandemic as an example. Look how prepared these police were to go to war with peaceful protestors versus how well our front-line workers were prepared to combat this virus. They didn't have gloves and masks. These cops have tear gas, rubber bullets, military equipment. There's a total imbalance.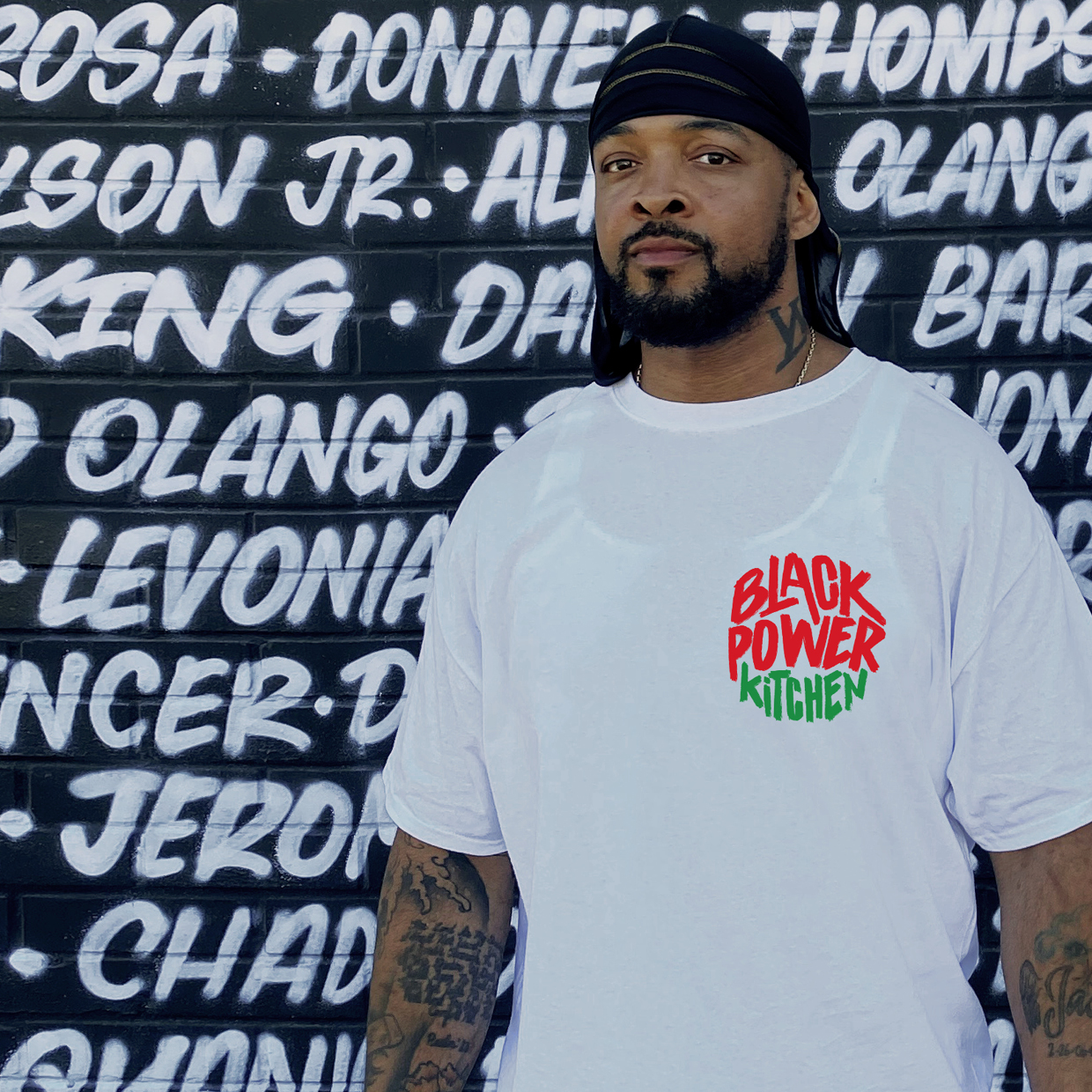 When the free meal efforts with Rethink started, how did you get the ball rolling? And how did that transition to helping feed protestors, too?
We organized with our team at Rethink and we've just been facilitating. It's all about solidarity. We hadn't fed protestors before, but we know what it is to feed kids and their parents at a school on a Saturday or for Thanksgiving. We're just one with the people. It's one thing to do stuff for fancy brands and get paid a bunch of money. But when you're able to be on the front lines with the people in your community, and break bread and spread love all for the cause, that's what really matters.
How does all the work you're doing from new T-shirts to the free meals fit in with the broader trajectory of the Ghetto Gastro brand?
We've been on this. We've been calling ourselves the "Black Power Kitchen" since day one. We've been representing the red, black, and green. We've never closed our mouths on these issues. So it's dope that people are receptive and want to learn and engage. The rest of the world is catching up and understanding.
VICE Media Group is celebrating Juneteenth, the day all enslaved Black Americans were emancipated in the U.S., by highlighting stories important to the diaspora across VICE, i-D, Garage, and Refinery 29. Tune in to VICE TV for a full day of television honoring Black voices.
Tagged: