Photography Klara Gordon.
Meet the young creatives of Kosovo
Six inspiring artists tell us about their everyday lives, their hopes for the future and why it's so difficult to pursue the arts in Kosovo.
Photography Klara Gordon.
Although Kosovo still remains a question mark to many people around the world, the country has brought numerous successful artists into the mainstream scene. Albanian pop stars Dua Lipa, Rita Ora and Bebe Rexha have become household names and covered glossies in the US and UK, but actually making it as an artist in Kosovo proves much more challenging.
While coronavirus ravages through countries around the world, forcing cities into lockdown, a tongue in cheek social media post went viral in Kosovo: "We'll teach you our 20 years of quarantine practice." It might sound like a joke, but it's not far from the truth. Following the Yugoslav Wars, the liberation of Kosovo from Serbian forces in 1999 and their independence in 2008, its people have been largely cut off from the outside world. The process of applying for a visa to travel abroad is a difficult one that involves many bureaucratic hurdles and strict employment requirements. Kosovo has high unemployment rates and creative jobs don't often make the cut.
In a country of two million people, half of the population is under the age of 25. Kosovars walk around, breathe and work freely in whatever field they choose, but only within their borders. Under the rule of Yugoslavia, their mothers and fathers were free to visit the rest of the world in their teens, but national and global politics have prevented two generations of Kosovars from seeing the rest of the world. Each year a new local political party promises that they will make visas more accessible, so that young people can study and work abroad, or perhaps gain recognition for their art elsewhere, but none have been successful.
We spoke to a number of young creatives living in Kosovo about their everyday lives, the challenges they face as artists and their hopes for their country's future.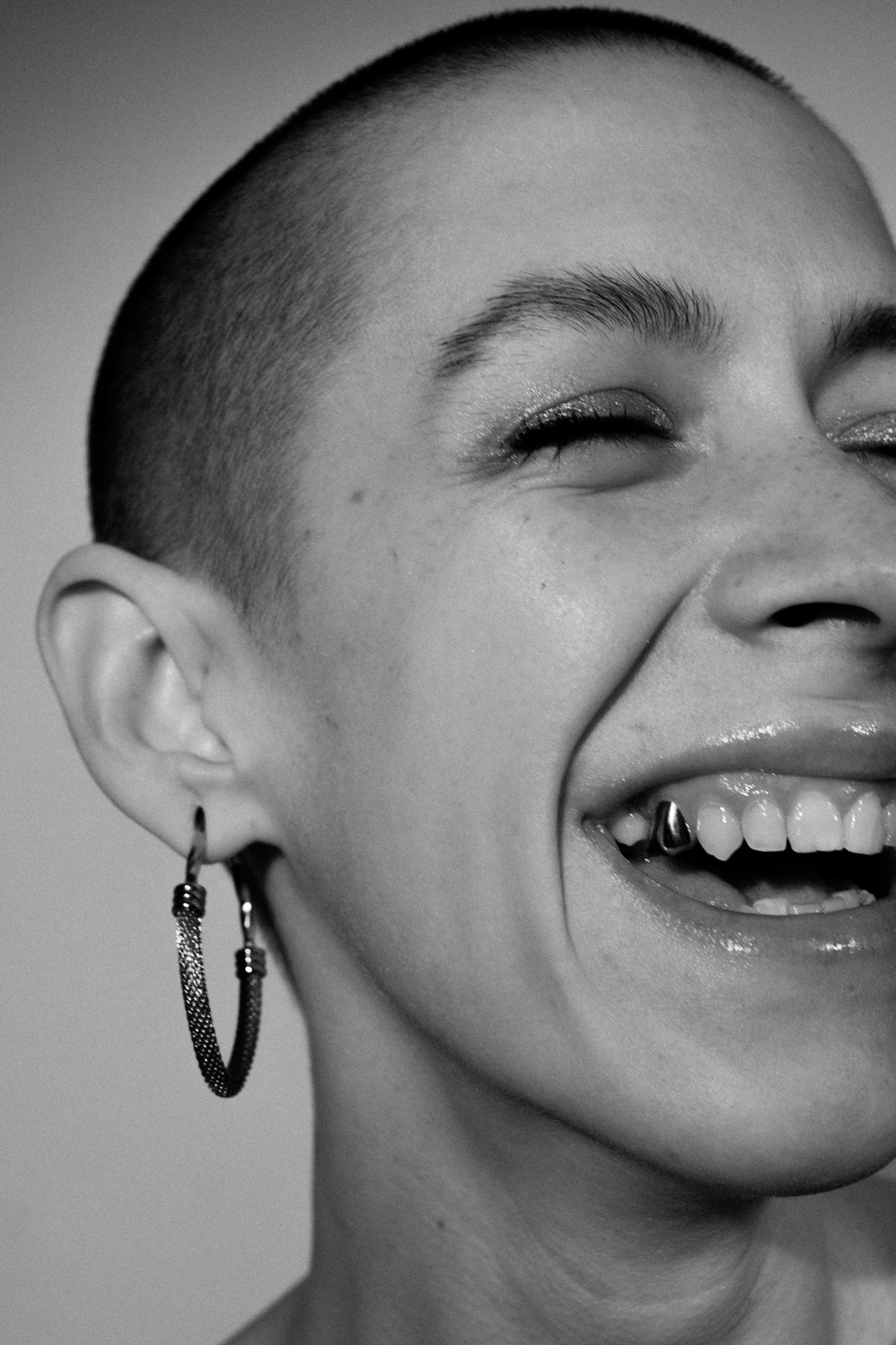 Albana Berisha, tattoo artist
Do you remember the first time you thought about going into tattooing?
I remember being really young, maybe five. I recall a memory of walking down the neighborhood with my mum and seeing a group of [guys], tattooed and all, and that impressed me more than anything. In the weeks following, I saved some change money here and there. I finally went to the shop and bought myself one of those large spider sticker tattoos! I was excited all day.
What was your first real tattoo?
While peer and parental pressure is a part of everyone's life, women and taboo subjects are a match made in Kosovo hell. I just saw no way other than my way. My first tattoo was at the age of 14. A neighbor who had just come out of prison, he was using batteries as a substitute for ink and he gave me my first tattoo.
Tell us about your daily experiences living with tattoos.
I'm shunned and harassed. It's just the cold reality of things. I mean, even men with tattoos are given the stare here in Kosovo, but women are completely alienated. Somewhere along the line I got used to the catcalling, but some people are aggressive. I had a guy come straight up to my face, who proceeded to grab my arms and lick them. And this is just the tip of the iceberg. I had to open my first tattoo parlor under the name of a man, dubbed Gjergj the goat head. The other option was sexual harassment and weird comments. Ironically it was first peer pressure, but I eventually embraced the idea. Besides the unique tattoos, my parlor is a safe haven for a lot of people who want their skin inked but couldn't bring themselves to trust anyone with it.
How does the whole situation in Kosovo make you feel?
Unfortunately, I don't get to get out of here as easily as I'd want to... You don't need to run away completely, you just need a different space once in a while. Breathe something different.
I know where I can find [tattooing supplies abroad], in specific shops, because my friends that travel have shown me pictures. But I can't visit those shops. I can't buy those items without going through a mountain of paperwork. And sometimes when I want to get out for just a weekend I can't breathe anything but the Pristina air, which gets a little toxic sometimes.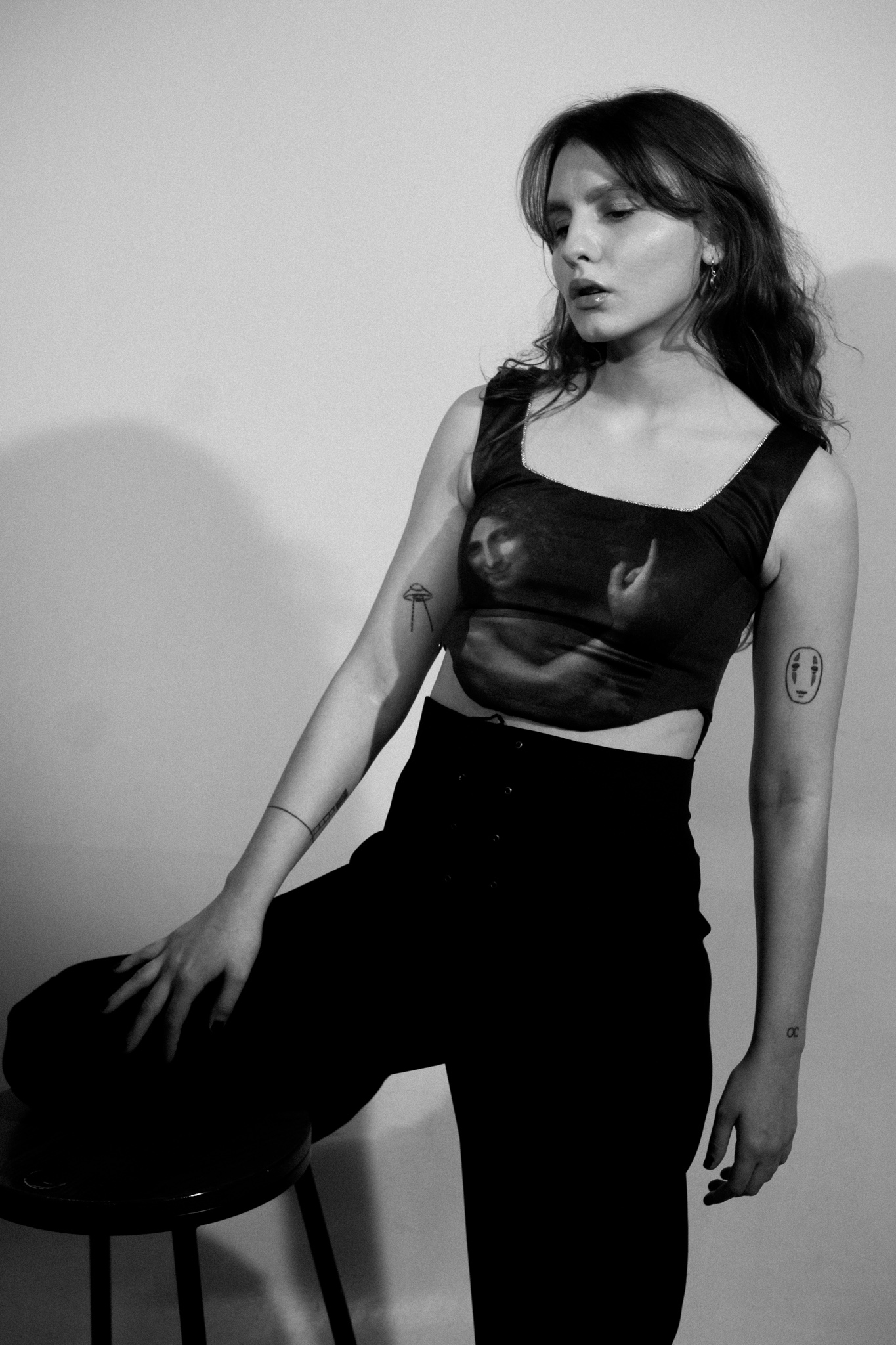 Edona Vatoci, musician
What are your influences and what's the music scene like in Kosovo?
I am part of the few alternative singers in Kosovo. My music has a strong foundation of classical and baroque piano, consisting of a lot of Bach. A mix of Albanian [folk music] and of course, strong icons such as Björk, PJ Harvey and Nina Simone.
What was your first performance and how did that help you pursue a solo career?
My first relevant performance was in the punk scene. I found an early interest in the genre and was invited to perform with Elektorati Intelektual, a band from Kosovo that makes post-punk/alternative music. Back in 2012, their sound was more heavily leaning towards synth and electronics. This was at an age where visas didn't matter as much because there was so much to do here in Kosovo.
I spent the next two years performing in the growing art scene in Pristina, but also performing in different neighboring countries, slowly adding to my repertoire of performances and songs. Starting in 2015, my first solo song "Hala" (Still) was a success with fans that had grown accustomed to hearing me perform. It was an alternative sound from a woman singing in Albanian. The language is a statement on its own. I managed to put out another song just a year later, called "Mirëmëngjes" (Good morning), and what followed was a short hiatus before coming back in 2019.
What are some of the issues you have to face in Kosovo as an artist?
Besides the obvious lack of movement, there can be a tendency for audiences to not grow into mature listeners and sometimes it becomes only what's fashionable... There was once a very popular metal scene going on here in Pristina and Mitrovica, which had a lot of bands show up five and ten years ago, but has now been reduced to small gigs from artists looking to keep things alive rather than keep it going and growing. Bands are still there and creating. It's not as alive as it was half a decade ago. There's only a small audience in a small country. Although the scenes are growing, the culture itself is going through a transition and a large part of promoting your art is performing it in spaces, which are very few in numbers.
How do you think we can address issues like this?
We can promote culture through art. This is a long shot, but an odd example of this is K-Pop, a scene so ingrained with governmental regulation, but still manages to set examples of Korean culture all around the world. And that's what us Kosovars could do as well, if given some basic opportunities.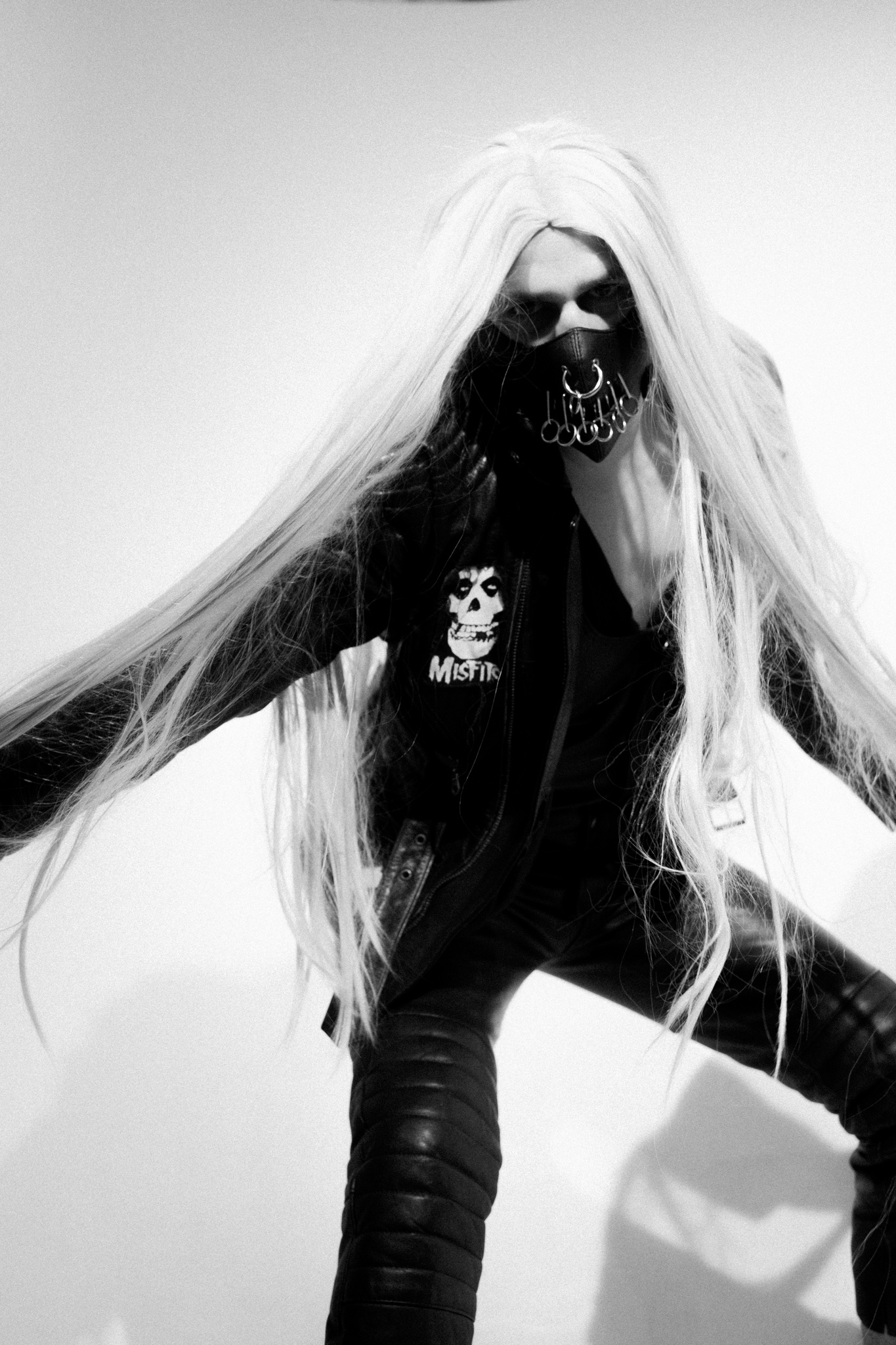 Valon Sejdiu, drag queen
What is your work all about?
Besides being a big advocate for LGBTQ+ rights, I am one of the members of this community who continually has fought against the general consensus in Kosovo. The subjects of homosexuality, transgender people and drag is a complete taboo here in Kosovo. My influence started from "Club Kids". I remember them being the driving force behind my youth, especially Leigh Bowery. His flamboyant queerness influenced my own drag persona. Of course, there's also RuPaul, which over the last two years has become mainstream here in Pristina as well.
How did you first get into drag?
It all started as a kid. My scrawny attributes got me bullied quite a lot. All of these comments and perceptions fueled my idea of what "being" was, and especially of what being a "man" meant to me and the people around me. In the end, it was all about challenging those stereotypes. First, the stereotype of a man, then that of a woman and finally, that of drag.
How would you define your drag persona?
I'm what you call 'a spooky queen' and my drag persona is called Agatha Bones. My theme heavily relies on bondage. That in itself is taboo in Kosovo -- the idea of a woman wearing spandex and leather and acting "immorally".
How hard is it to be a member of this community, especially here in Kosovo?
Although RuPaul might be "a thing" in Pristina, the practice of drag shows is kept largely private. The common practice for hosting any drag event in Kosovo is to first notify the police a month earlier. There isn't much public discussion on these topics, and although many resort to expressing their banter on social media, there are a number of attacks made against the LGBTQ+ community, specifically targeting us for our sexuality and nothing else.
The biggest and most recent achievement that Kosovo has made towards acknowledging the LGBTQ+ community was back in January 2020, when Blert Morina was permitted by law to officially change his name and his gender from "F" to "M". This was after a two year fight in and out of courts, but he finally did it and set the case for everyone else. There's been change for the last two years now, but there's still very little support from anyone.
Misogyny exists inside the community as well, but I don't dwell on that too much. What I really want is for queer culture to be able to express itself publicly, without fearing for their personal and professional lives. It should all be out in the open. No more underground. The people should know we're here to stay. That's what Agatha Bones stands for.
Hana Zeqa, designer
How did you get into design?
Growing up a musician, I was the lead singer in the band Gillespie. But before all of this, I was a kid growing up during the Kosovo War, slowly developing a passion for clothing, costumes and fashion. I remember going to perform in these youth festivals that were led by Gili, a famous Kosovar singer who wore fairytale and girlish dresses, and as a kid I really, really loved that.
What is your work about? How would you define it?
As a costume designer, I'm all about wearable technology. There are emotions in clothes and what we wear emphasizes certain traits of our character. The next step is also integrating technology, and this isn't just for fashion shows. These fashionable pieces are slowly becoming more and more applicable in real life.
How did you breakout, considering there isn't much appreciation for wearable technology in Kosovo?
Instead of wasting all this energy on things that had to happen in Pristina in order to get things going, I decided to do my best and leave to get my masters degree at London College of Fashion. There are things that are happening out there -- Kosovo definitely isn't on the leading end of it. And with visas, it becomes an uphill battle trying to catch up with the rest of the world. Naturally in London I found the necessary tools and people as passionate as I was. My love for tech and fashion grew more and more. Ideas came pouring and for once I saw the potential of hard work.
So, what brought you back to Kosovo so soon?
All of this wasn't for long. I was forced to go back to Kosovo because my visa expired. I had finished my two years and it was my time to leave. Although fashion design wasn't the first thing I wanted to do, I took a risk and decided to launch a clothing brand. Very soon after, I had to switch to a clothing and merchandise line because my art apparently wasn't a "viable business option" here. It's tough. I also want to work on movie costumes, but there aren't enough movies happening. I really didn't want to come back so quickly. I needed some more time to work in London, but all that experience really did help because I had fundamentally changed the way I perceived my work.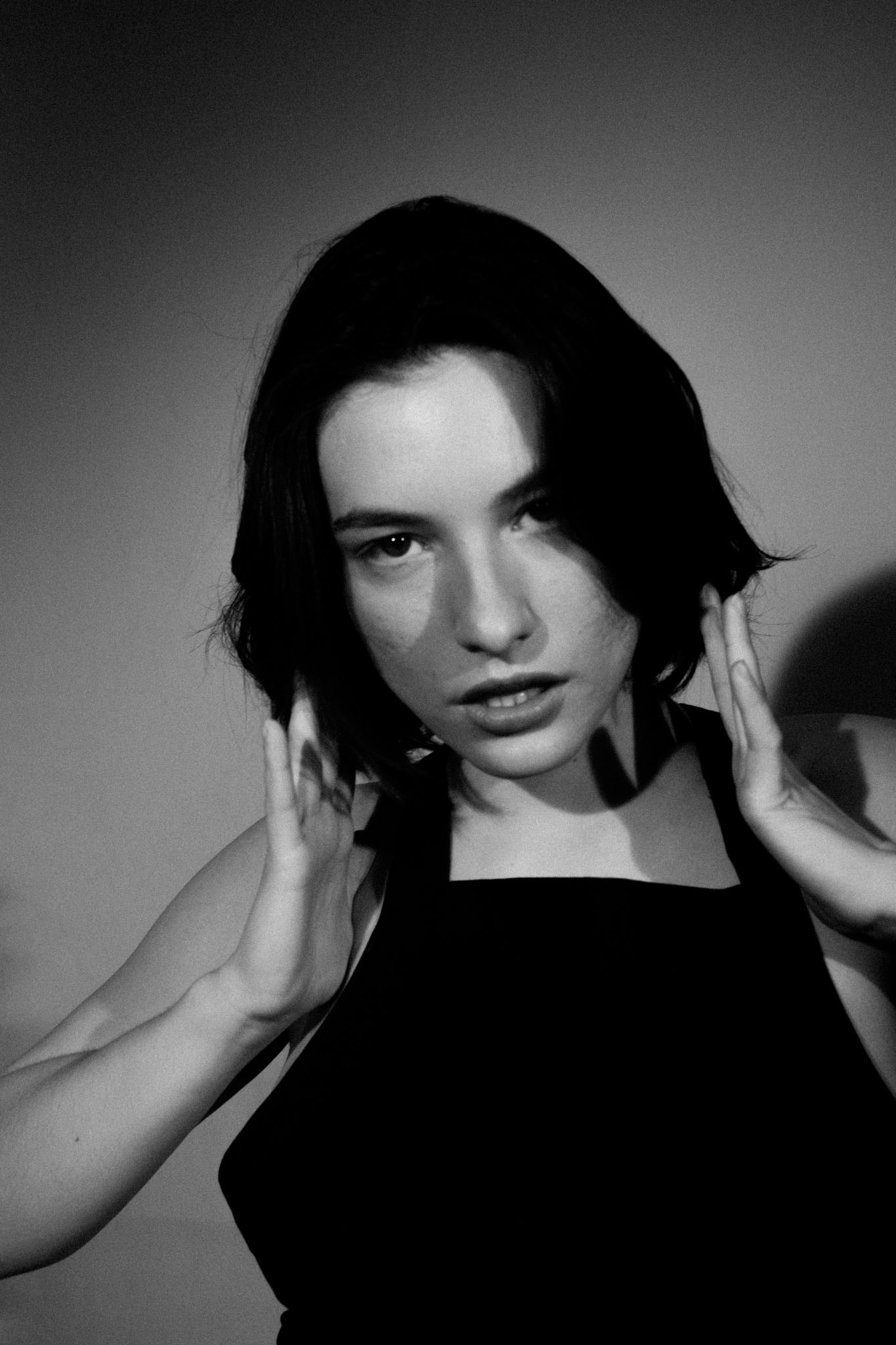 Nita Kaja, musician
What can you share with us about your work so far?
I have been making rounds around Kosovo and neighboring countries for these past two years with my band Sytë (Eyes). I'd say we've been successful so far. We've managed to make two albums and create a fan base of our own.
Who are the members of Sytë and what do they do?
There's me, as the lead singer, Drin Tashi on guitar and keyboards, Granit Havolli on drums and Fatlind Ferati on bass. We're part of a growing independent artist scene in Kosovo, and I'd say that the band's sound is somewhere between indie, dream pop and R&B.
Can you tell us more about the albums you've made?
Sytë first came out with their self-titled EP in 2018. This album was influenced heavily by synths, backed up by catchy drums, pop guitars and bass lines. It managed to be a success and it gave our earliest fans their first taste of what we were about. I couldn't believe it when people walked up to me telling me that they were streaming my music. Especially to other people! Our latest project was released on March 20, 2020, "Divine Computer ". We started better understanding what we wanted to sound like with the second album.
What are some of the issues that come with living in Kosovo?
It's weird because here in Pristina you know or at least pretend to know everyone. And since everyone's your friend, they all want to give you friendly advice. I can't count the times where I've been told to try making something "dancier" for the radio, or write songs in Albanian. It's just not what I want to do. It's not me. Sometimes it's hard when you try to stand out and be different in front of everyone. Of course I want to make a living off of what I do, but it's too early to think about that. But as it stands, we're not making money off of this, and what little we make we use to buy more equipment and gear.
Someone will break the ice... We might. Who knows? I know for certain everyone who works here needs to be much more persistent. Your luck and plans for traveling and performing abroad could be at the hands of someone in the embassy who's having a bad day. Or you failing to fund your album could be because of someone else having a bad day at the office. There's just a lot of weird issues that you wouldn't ever think are issues, let alone that you'd have to deal with, but you have to. That's why you have to be so convinced about what you want to do because you can't afford the middle ground: you either do it and go all out, or you don't.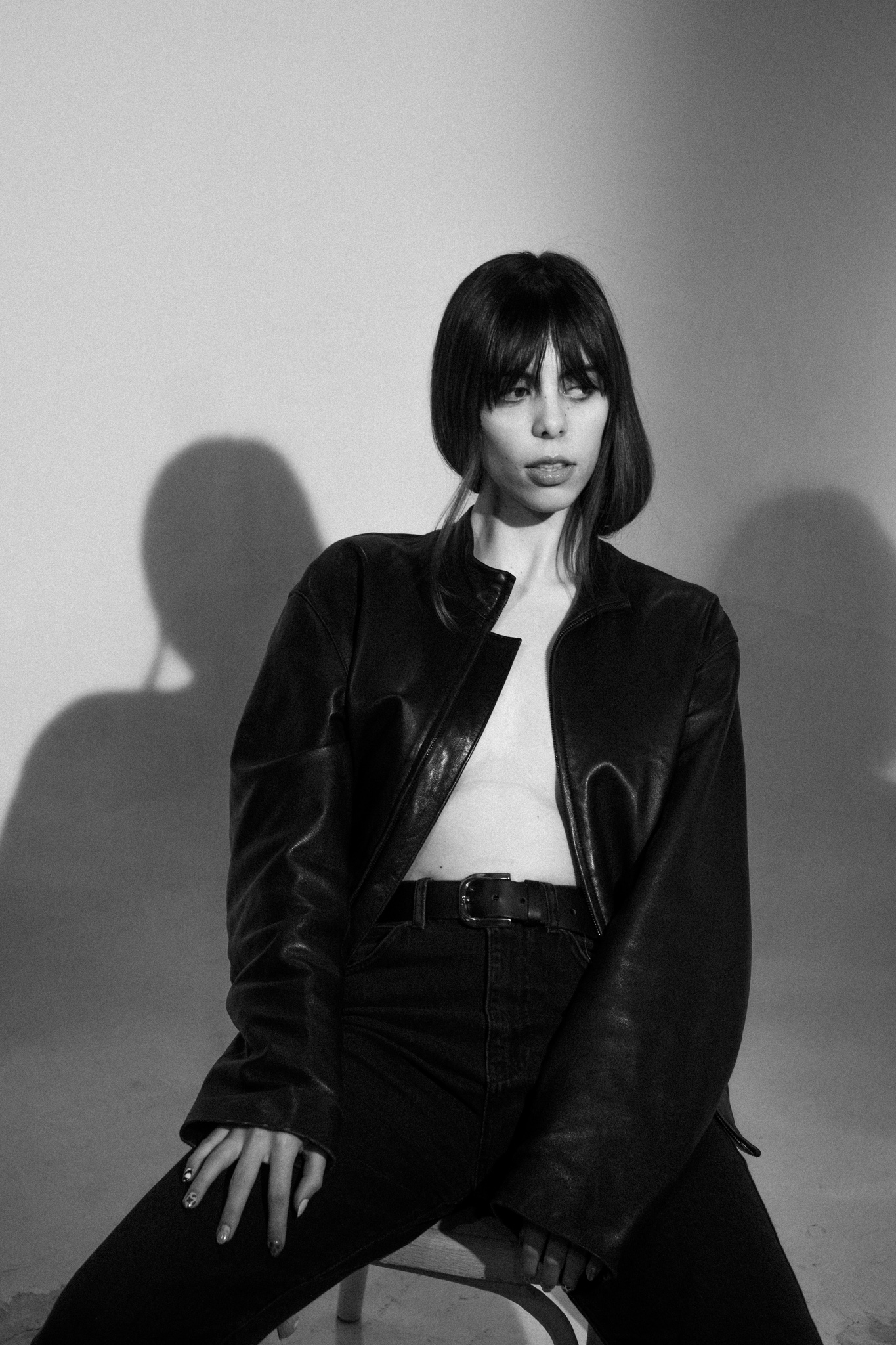 Rina Statovci, photographer
What is your work all about?
I'm still discovering what I love doing, but it's a stark contrast to living in Pristina -- a city with relics of brutalist architecture. After growing up and graduating from high school I enrolled in the International Business School of Budapest, majoring in art. In a city with a full schedule, there's always something new and exciting to see.
How did Budapest help you grow your art? What projects did you pursue?
During my studies there, I became a local at all the clubs, museums and exhibits. One thing in common between Pristina and it was their fair share of homeless [people]. You couldn't help but notice. I knew I couldn't do anything right then to get them out of their situation, but I just went and sat with them and talked to some of them. My friends usually helped me translate. It was nothing special, you know. We just talked, had a laugh and if they'd let me, I would take their picture. It's a collection of stories about Budapest and some of its streets, I just chose the people who saw a lot of it.
How was the reception of this project?
This little project of mine was exhibited in Budapest and the people there enjoyed it, gave me all sorts of praises and most importantly, constructive criticism. The photos were as lively as you would expect the streets to be. Budapest is a rainy city, so some people got really creative. And when it was all said and done, the exhibition hadn't proved much when it was time to go back to Pristina where I found myself having to take a step back.
What are some of the challenges with being a woman photographer in Kosovo?
There are general expectations out of a photographer, it just comes with some extra steps. Some people really want 'this' or 'that' even though it's completely out of touch with what you do and your style of photography. I'm a woman in a man's business, which is a tough nut to swallow considering there's not a large business in fashion photography, per se. Wedding photos make the majority of profits in Kosovo. There are groups of photographers who form very exclusive relationships in this business and it's very hard to get access and learn about exciting jobs. Some of these groups are predominantly male and have a tough time accepting women in their circles. It's usually the odd one out that you get to see working with the men.
I would love to do more here, but a lack of more experimental photography in Kosovo is gradually killing my drive. The only way to approach this is to [get rid of] the stigma of women with cameras first, then deal with all the lack of endeavoring. You can't expect to do anything serious if you're never taken seriously in the first place. So, I have to work on that or just move along somewhere where this isn't an issue.