Photography Eddie Whelan. Styling Max Pearmain
The London-based label creating poetic gorpcore
Making clothes that hold up as well in Iceland's temperamental weather as they do on the streets of any major city, Arnar Mar Jonsson is the menswear label is challenging stereotypes around technical fashion.
Photography Eddie Whelan. Styling Max Pearmain
Dressing for the weather in London is a chore, isn't it? If I were writing this a week ago, I'd have bemoaned the inferno that raged outside, which made me sweat through anything I chose to wriggle my clammy body into in 10 seconds flat. If I were to leave the house today (I won't), I'd be soaked through just as quickly -- this time, though, it would be down to the rain, its drab pitter-patter the effective backing track to life on these sullen isles.
This constant to-and-fro between rain and shine makes choosing your look for the day a bit of a conundrum. But it's exactly such fickle circumstances that the pair behind London-based menswear brand Arnar Mar Jonsson look to for inspiration. Proposing transitional garments as suited to muggy cities as they are to being lashed by gale-force winds out on a barren plain, the young label's ethos owes much to the provenance of its namesake co-founder. "Coming from Iceland, you have to dress for the weather -- it's just something you have to think about," he explains. Understandably, given its isolated position near the top of the globe, as well as its inhabitants' love for exploring the haunting beauty of its landscapes, dressing is typically considered a purely functional act: "It's to help you avoid getting wet or cold, and to shield you from the wind," Arnar says. "Most people in Iceland dress as if they could be going off to climb a mountain at any given moment."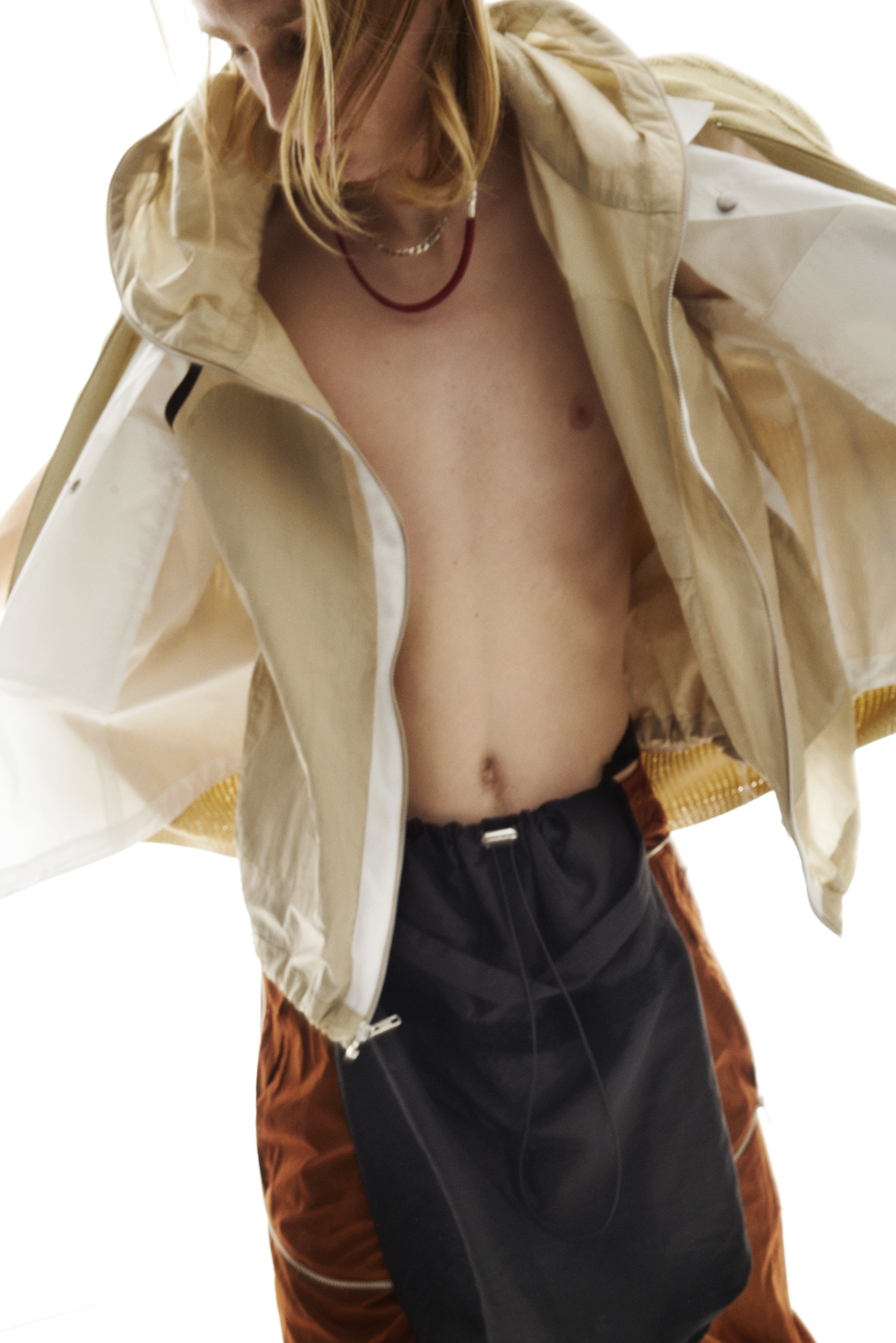 He and Luke Stevens, his partner in business and design, adopt a similar mentality in their approach, "considering how each piece would be worn in certain weather conditions or how it would be worn in the city -- making it breathable but still waterproof, all that sort of stuff," Arnar says.
It's an attitude that's gained currency in contemporary fashion circles, too -- think gorpcore and the trendiness of performancewear brands like The North Face, Patagonia and Arc'teryx. There are indeed surface comparisons to be made between these examples and Arnar and Luke's SS21 collection, though they're keen to underscore what sets them apart. "Our work isn't 'functional' functional in that sense," Luke says, "but we always work with the idea in mind that our clothes are primarily designed to be worn, rather than being made for the sake of producing an image."
That's not to say that their clothing isn't conducive to powerful image-making, as their campaign shot by Eddie Whelan and styled by Max Pearmain proves. They are still fashion designers, after all -- they met while studying on the MA programme at RCA -- and there's a distinct aesthetic, artistic value to their work. Mind you, that value often derives from the functional consideration that guides their making process. "Much of our aesthetic has evolved from how we develop the garments," Luke says, pointing out the herringbone tape that neatly conceals internal seams as a case in point. Only available in black or white, it visibly highlights a jacket's skeleton through its translucent fabric. It also allows certain pieces to be fully reversible, with the exposed seams creating a bold graphic impact.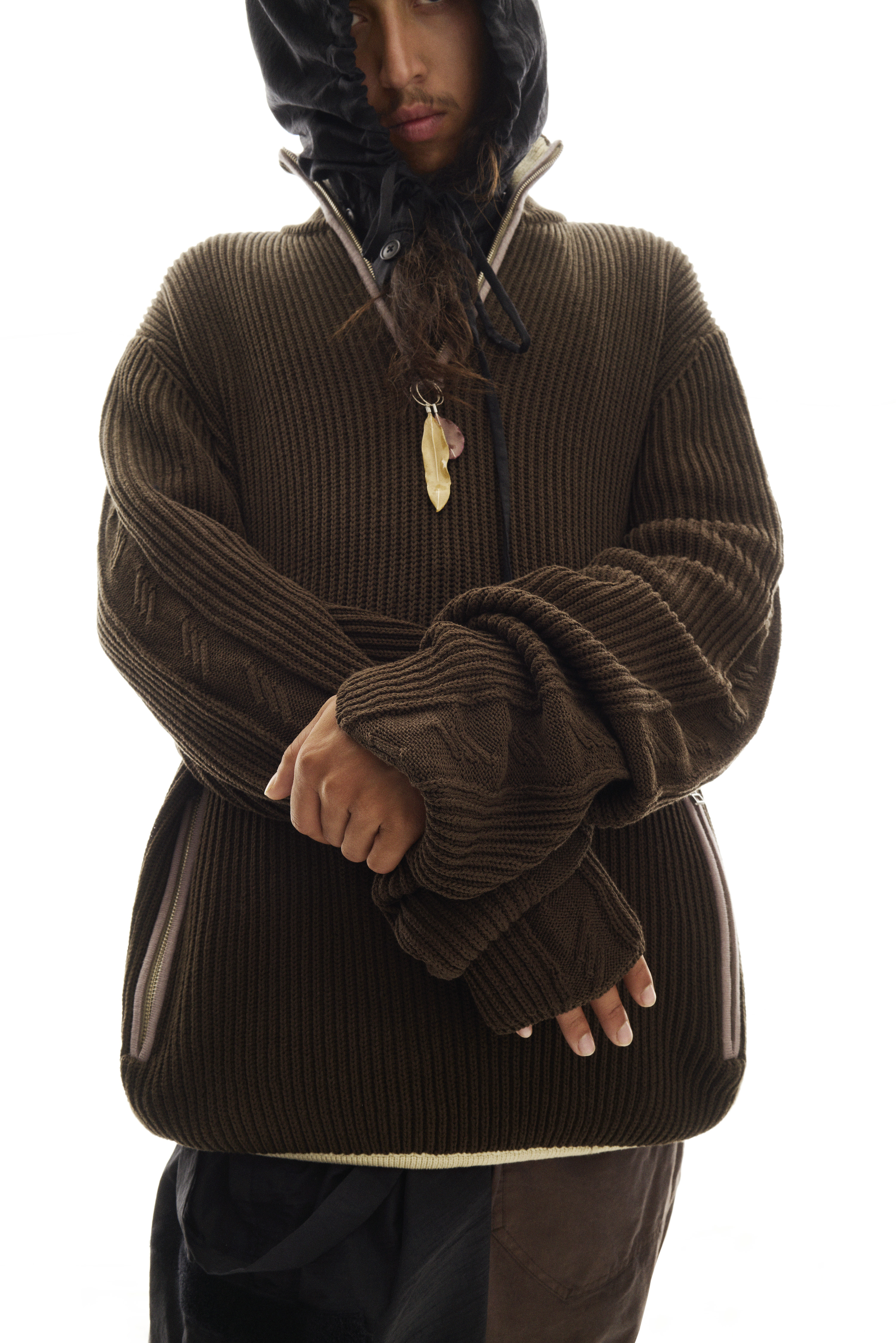 Elsewhere, chrome zippers on a pair of trousers allow you to remove the lower leg panels, transforming them into a pair of 3/4 length shorts. And the contrasting chevron bands on tops and jackets are the result of a unique cooling system. "The dark stripes are polyester and the white stripes are 100% cotton, which is completely breathable. It's also really tightly woven, so it's waterproof, too," Arnar says. "Wearing a polyester shirt in hot weather, you'd get so sweaty. Normally, you would insert eyelets or laser-cut holes, but by mixing the stripes the breathability is sorted.
"It's quite nerdy, and very technical," he continues, "but we don't necessarily tell the wearer all these things -- we like the idea of them figuring it out for themselves." You might decide to wear a jacket inside out, for example, only to discover a hidden pocket. Or you might suddenly clock that the boxy ones on the outside can serve as bags that you can pack the piece into when you're not wearing it. For Arnar and Luke, their easter-egg tactic is about more than just technical showboatmanship. It's their way of "ensuring a piece's longevity -- it means that you wear the pieces more than one way, and so you don't get bored of them." says Luke. "We're evolving and building on the same techniques season to season, but just because we're doing that doesn't mean that previous pieces become obsolete."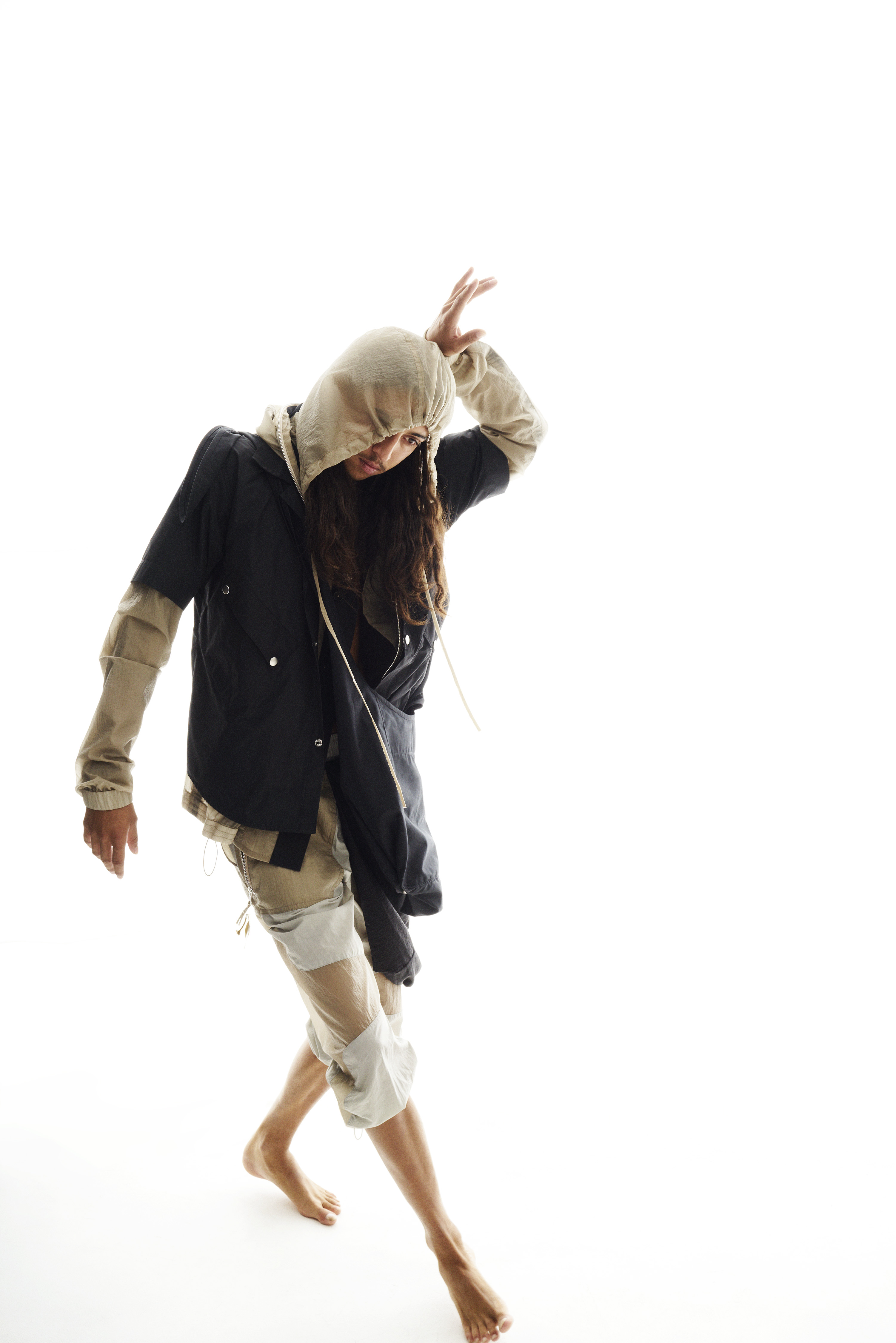 This new collection exemplifies their approach, with numerous advancements on the core elements they've had in place since their first season. Not to mention the introduction of some new ones, too. For the first time, there's knitwear, drawing upon the Nordic craft heritage of Arnar's homeland. Another major addition is less a particular piece or product category than it is an energy: sexiness.
"'Sexy' and 'seductive' were probably two of the main words we used in developing the collection," Arnar concurs. "It's something we've always talked about, but it took us a long time to be able to find the right type of fabrications for the idea." Across the menswear landscape, it's something we've been seeing more of -- clothes for boys who aren't afraid to show a little skin.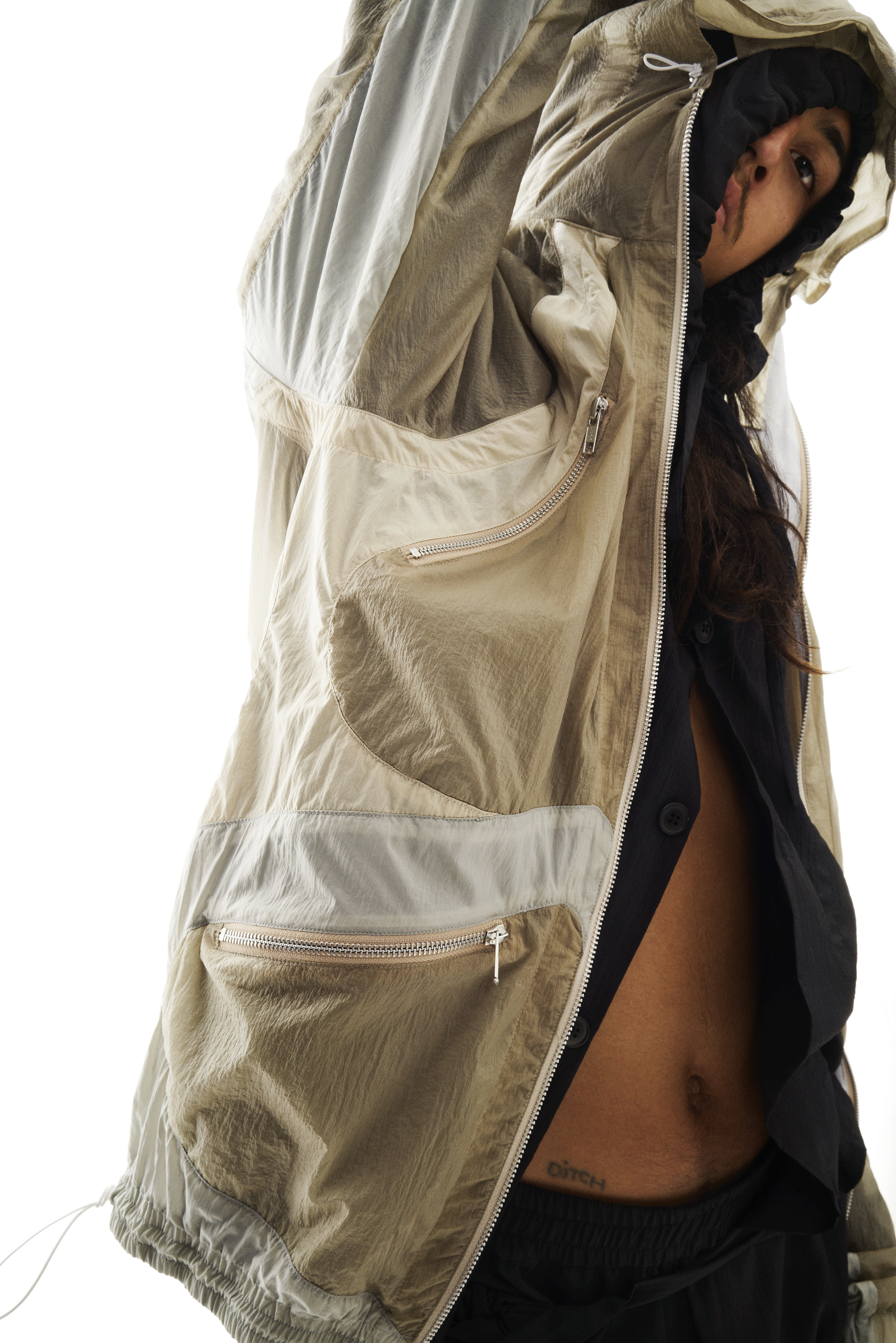 For SS21, this newfound sensuality translates to curvilinear pattern-cutting, with panels of translucent, papery polyester offering peeks of arms, shoulders and thighs. Accordingly, Arnar Mar Jonsson positions itself beyond the heteronormative stereotypes associated with performancewear. And in its subtle fluidity, it's an accurate reflection of how an increasing number of men today want to dress. "It's just the way that we both think about kind of dressing, it's much more nuanced than this straight up, technical menswear thing," says Luke. "Hopefully it has a more poetic sensibility to it."
Credits
---
Photography Eddie Whelan
Styling Max Pearmain