Why art schools must become less corporate and more radical again
With no access to studios, vital resources or physical degree shows, this year's graduates are frustrated. But, pandemic aside, many believe the problems art students are facing have been mounting for years.
|
07 September 2020, 3:00pm
Photography Ed Compson
In light of the COVID-19 crisis, many art schools across the UK decided to cancel their annual degree shows and replace them with online 'showcases' of students' work. The Glasgow School of Art (GSA) was no exception, but in an act of protest — after months of difficulties with management at the school — almost all students graduating from its prestigious Masters in Fine Art refused to show their work in the digital space allocated to them. Instead they'd planned en masse to share a link to their own website.
It was there that they planned to share two letters they'd sent to management at the school, highlighting grievances concerning the mishandling of the last four months of their education. The students claim they have as yet received no direct response, aside from a recognition of complaint.
The letters were not intended as an official complaint, but were sent to implore management to listen to what the students needed and to open up serious conversations about the future of their education. But an hour before the site was to go live, they reportedly received an email co-signed by the Head of Fine Art, Dr. Alistair Payne, telling them that they hadn't submitted work as requested so management had taken it upon themselves to issue a blanket statement on the university's official website for students without consultation. The statement read: "Under the current conditions I refuse to showcase either finished pieces or work in progress as I've not had access to my studio and to facilities".
The student group was aghast, as they felt the reasons for not showing their work were much more nuanced, and sent an email back to Dr. Alistair Payne asking that the statement not be released. They claim to have received an out-of-office email in response, but the statement was eventually taken down a few days later.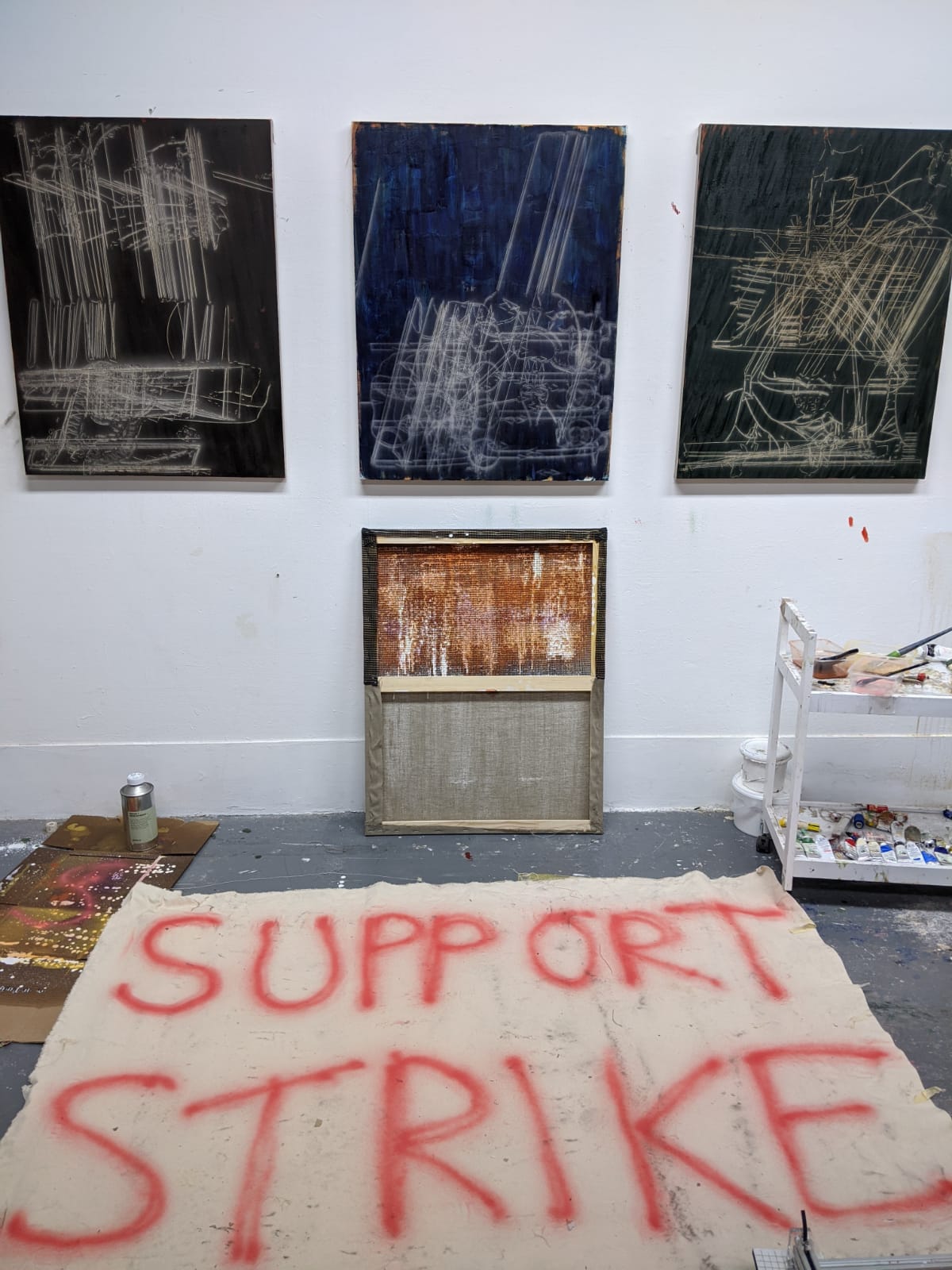 "At the beginning it just felt like we could actually do something about this," says Ayla Dmyterko, former student rep for their class, "if we get on this we can write these letters, and they'll listen to us." She had initially hoped to convince management to let the class pause for a term and graduate later in 2021, a sentiment shared by many graduating students across the UK — illustrated by the Pause or Pay campaign — a pressure group formed by students to either postpone classes until universities reopen or receive financial compensation for lack of a proper education. But they say it soon became apparent that management had no interest in considering this as a valid option for students.
"I would have expected some sort of support," says Ragini Chawla, another recent graduate of the GSA Masters of Fine Art degree, "even if there was some attempt at continuing education in any way, like lectures or reading groups." But students were told they'd be assessed on work submitted before the 16th of March, essentially ending their education four months early without any kind of compensation. This follows disruption in the weeks preceding lockdown due to the University and College Union (UCU) strike of February and March, where tutors at 74 universities across the UK withheld their labour for 14 days to protest two separate disputes: the unsustainable nature of the Universities Superannuation Scheme (USS), which means university staff are paying far more into their pensions than they will eventually get out of them; and the failure of universities to improve wages, casualisation, equality and unmanageable workloads.
The GSA MFA students say the strike was supported by their year group wholeheartedly but they have now worked out that the lack of access to resources or education equates to a combined loss of £91,191.17 worth of their fees between them. This figure includes other workshop closures and disruption due to staff shortages and illness.
Dr. Gordon Hush, Head of the Innovation School at GSA, has been dealing with the school's academic continuity plans since March, and explained that the decision to stop teaching and assess students on previous grades was made "to prevent the differing levels of personal access to digital or physical resources privileging some students over others". He further explained that to concede to the Pause or Pay campaign would bankrupt the entirety of the higher education sector in the UK. He adds: "GSA staff, almost all of whom went to art or design school themselves at one point, are sympathetic to the points that […] our students are making." However, the bottom line is they are "constrained by the financial realities of our institutions."
Even so, the students have become, as Ed Compson, recent graduate of the Painting MA at the Royal College of Art describes, "non-consensual donors". They had entered into a contract as a consumer of a certain kind of education but, on not receiving it, were being told they had to pay up anyway.
Ed is part of the RCA Action Group, formed by students at the Royal Collage of Art in London, who teamed up to apply pressure on university management after claiming treatment not dissimilar to students at the GSA. But instead of being told they would graduate without further assessment or education, students at the RCA were offered digital learning through Zoom. For studio-based practises, such as painting, students felt this was an inadequate stand-in for access to studios, workshops and face-to-face tutorials.
"The GSA MFA students say the strike was supported by their year group wholeheartedly but they have now worked out that the lack of access to resources or education equates to a combined loss of £91,191.17 worth of their fees between them."
The group quickly sought legal advice to confirm whether or not the education RCA was offering them was as promised at the beginning of their course, and claim the outcome was a legal opinion that swung in their favour. But this had no effect on how RCA management proceeded. In response, the group decided to take action and organise a mass withholding of fees. This, however, only resulted in students being threatened with expulsion and claims that international students would be reported to the Home Office if they did not pay within a two-week period, as reported in this letter.
Feeling they had nothing left to lose, the RCA Action Group teamed up with the University and Colleges Union (UCU) to organise a vote of no confidence in the RCA management. This involved an official vote organised by the RCA UCU and an open letter signed by over 800 students, alongside Jeremy Deller and the four winners of last year's Turner Prize.
The Action Group are still in a long, drawn-out internal complaints process regarding their right to compensation for their lack of learning, but through issuing this vote of no confidence have managed to gain some traction on other issues. According to Ed, the RCA has agreed to put aside £200,000 for physical degree shows for students who have graduated in 2020, which will take place early next year. Although this means many international students may not be able to participate due to travel costs, it's still more than they'd originally been offered.
This vote of no confidence has also been successful in pressuring the school to allocate budget for visiting lecturers next year, meaning that a good portion of the 90% of staff at the RCA who do not have permanent contracts -- many of whom work on zero-hour contracts -- will not lose their jobs. This is a complete U-turn following the announcement in April of a hiring freeze, which would have possibly resulted in an estimated 200 to 400 lecturers not being invited back. Though RCA does not keep equal opportunities data, at Goldsmiths and the University of the Arts London, The Justice for Workers campaign group reports that 75% of casualised university staff being laid off in the UK are from Black and minority ethnic backgrounds, with a large number of these staff members being women.
"Not only did [tuition fees] introduce a significant level of marketisation into higher education, it was really a first move in shifting students towards jobs that were considered 'economically useful', which is bad for arts and humanities subjects."
"The UCU strikes happened largely because staff feel that the environments being created are bad for the students," Juliet Jacques, writer, filmmaker and casualised staff member at the RCA explains, "the students noticed that and tended to join us on the picket line."
Juliet believes that the managerial issues which have come to light during the last five months are part of a wider, more structural problem with its roots in the late 90s. In 1998, one year after Tony Blair came into government, New Labour introduced tuition fees to replace student grants that had allowed students to study debt-free. "Not only did that introduce a significant level of marketisation into higher education, it was really a first move in shifting students towards jobs that were considered 'economically useful', which is bad for arts and humanities subjects."
But it's more than just the forcing of students to think about routes to financial success, it's an ideological move. "You really see during the 21st century, towards the end of the 90s, a foreclosing of this idea of cultural democracy," she explains, "there's been been an attempt to socially engineer less interest in [the arts] because the government don't want all these troublesome artists, writers and creative people who tend to criticise their view of the world." It's a conscious "gentrification of the art school", by making it harder to access financially and the education received less thorough and radical, which has gone hand-in-hand with conservative politics under neoliberalism.
British art schools are some of the best in the world (with the RCA being ranked as number one for art and design by QS World University Rankings) and these reputations, she explains, "have been very carefully built up through decades of innovation and intelligence." She believes that these reputations will be lost in the near future if art schools don't alter how they operate.
George Lynch, who has just graduated from the RCA's Writing MA, agrees that the issues lie in the treatment of staff and students by the upper echelons of management. George chose not to share her work on the digital showcase, instead choosing to issue a damning statement on the way that the school is being run. The final decision not to participate came in late May, after the wave of Black Lives Matter protests spread across the world. She was reflecting on racism she'd witnessed at the RCA and had "this strong feeling that actually it's important to be rude, it's important to be disruptive", adding "I think we need to all get a bit better at not being so fucking nice."
As for an alternative, it doesn't seem like there is one that gives students the privileged access to their industries that higher education currently provides. There does, however, seem to be a growing interest in grassroots alternative arts education. As well as more established initiatives such as Antiuniversity, a group who aim to challenge institutional education by reigniting the spirit of the 1968 Antiuniversity of London or School of the Damned, a cooperative, student-run alternative to an art MA, the recent BLM protests have sparked an interest in other forms of education that specifically aim to decolonise the art school. Dark Study, a decentralised, digital educational program founded by the American artist Caitlin Cherry, focuses on bolstering the education of students by validating the perspectives of "Black, Indigenous, First Generation, and low-income students who… experience little support".
There is a general consensus that the next few years of higher education will continue to get worse, as the pandemic affects numbers of international students coming to study in the UK and universities slide into more and more debt. But with the recent mobilisation of students across the UK, there is hope that internal campaigns to hold university management accountable will remain active. In the last six months, links have been formed between student campaign groups and the UCU, giving the fight for a better arts education system a broader, more solid foundation. Graduating students are working to involve those in the years below them so that new students can take over the fight. It seems that, right now, art schools are at the beginning of a long, slow process of change, but what that change will look like is yet to be revealed.