Photos courtesy of Reuben Selby
Reuben Selby is crafting maximalist clothes for introverts
The designer discusses his Paris Fashion Week debut, making clothes sustainably and why comfort is key in a new age of luxury.
Photos courtesy of Reuben Selby
A few days ago, as Reuben Selby was preparing for his eponymous brand's first presentation during Paris Fashion Week — in the gardens of The Ritz, no less — a friend asked if he was nervous about things. "I get anxious," Reuben said. The friend responded: "Isn't that the same thing?"
Anxiety represents fear and unease, but we can also be anxious to achieve something: it can be a productive emotion that represents keenness and desire. "I trust everyone I'm working with right now," Reuben says. "But I just get anxious when I know I could be doing something better. That's what pushes me to make sure I'm doing everything I can."
A creative director who has played a hand in plenty of parts of fashion already, still aged just 23, he's spent the past half-decade building up to this point. As a kid, he was torn between creative direction and architecture. "But I quickly realised the route to becoming a really good architect and seeing your work actually come to life is a very, very long process," he says, "and I'm quite an impatient person." Instead, the intensity of fashion drew him in. He ran a small streetwear brand with his brother during his teens, before doing an art foundation course at college while helping out with project management for fashion designers. In 2018, based on his own modeling experiences, he launched CONTACT, an agency that exists to provide flexibility for both models and clients, allowing the former far more control over the jobs they do.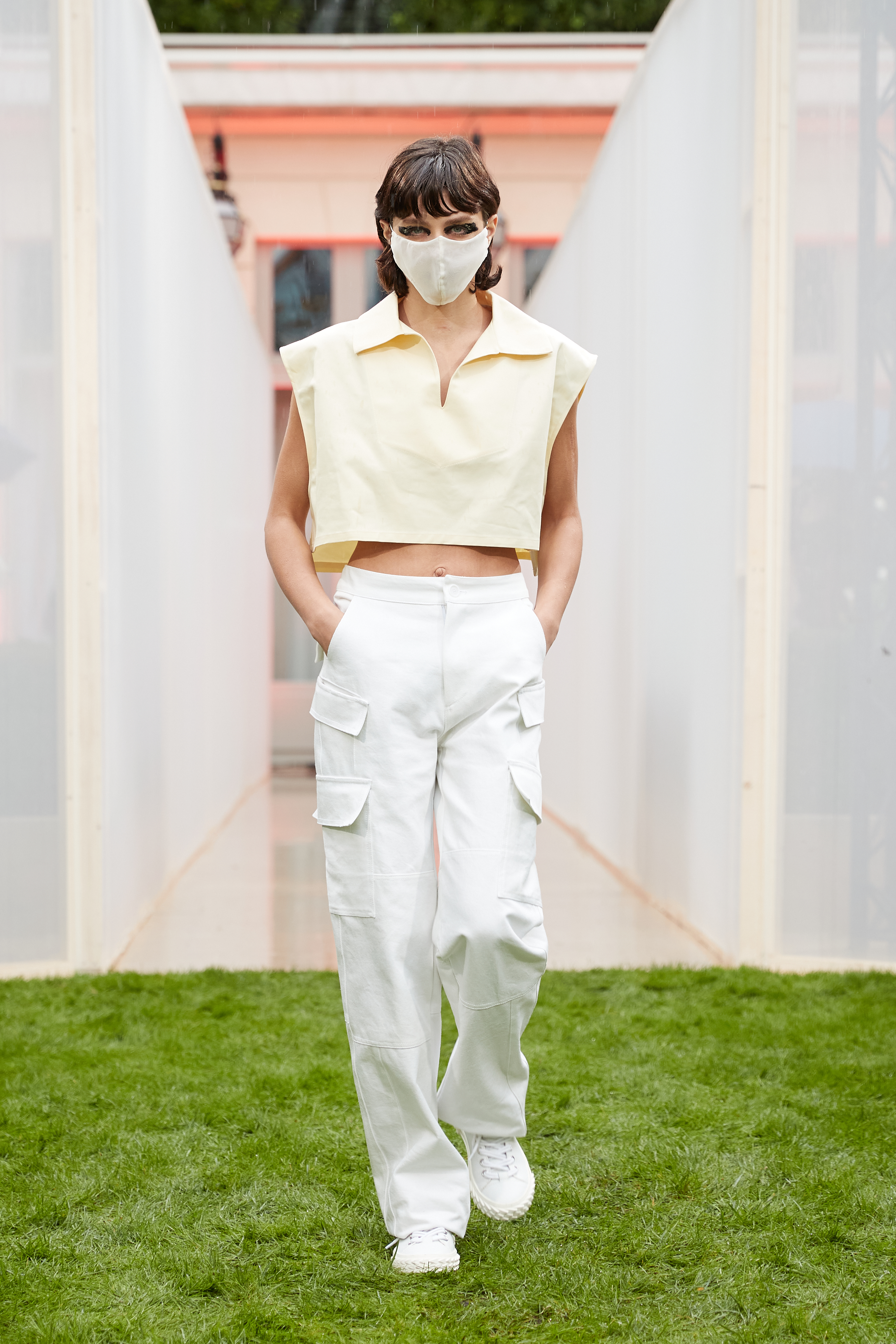 When the pandemic set in earlier this year, Reuben found himself exploring his desire to create more robustly. What he has presented — the work of a great, loyal team, he wants to add — are clothes that are imbued with a philosophy he believes in. Styled by i-D's Claire Thomson-Jonville and with a set designed by PLAYLAB (the team responsible for Louis Vuitton's SS21 show in Shanghai), it's a tender yet elevated first step, titled (In)visible Barriers.
Inspired by the idea of comfort, something Reuben describes as "the core value of the brand", it offers pieces that are designed to feel like they're part of your wardrobe before you've even touched them — natural extensions of the person who wants to wear them. There's an oversized two-piece suit in a comely shade of lavender. Sleeveless camp collar shirts bound by skewed, genderless bodices. Casual, cable knit sweaters crafted in marine shades are thrown over and tied around the shoulders, styled just as wealthy tourists on the Italian Riviera might. Lemon yellow crop tops get a sartorial reinvention, their open collars cut and shaped as if from one piece of fabric. These are clothes that are both contemporary and classic, exhibiting atelier-standard craftsmanship, but with warmer, more familiar connotations.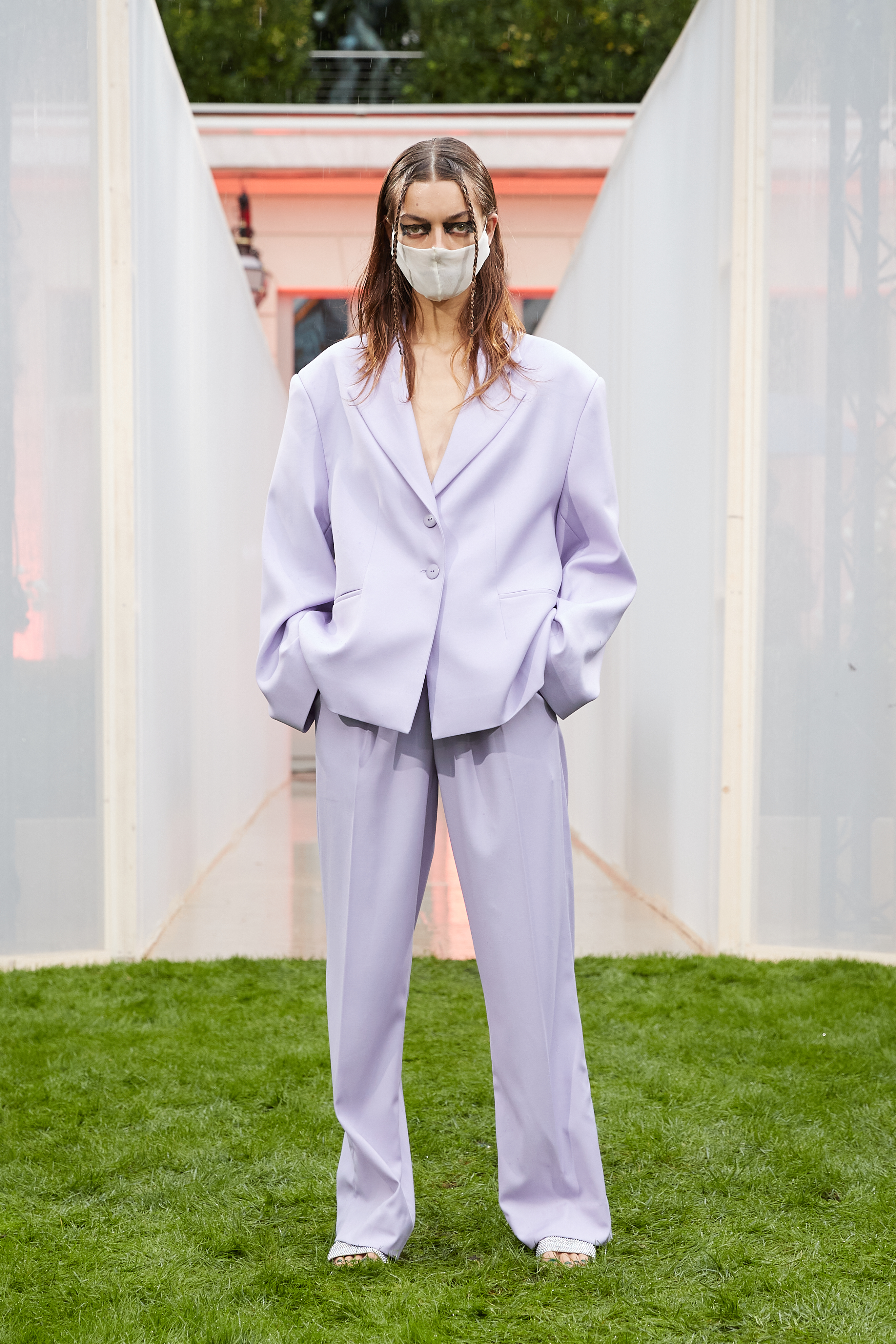 "It's a brand for introverts," he continues, which makes sense when you see how the garments fit the models, for the most part unrestrictive and freeing. Sustainability, too, is key here. While other, more established names in luxury are working out how to create sustainably having operated less cautiously in the past, Reuben knew there was no excuse to create something new without being conscious of its ecological impact. As such, it's been built into the business from day one. "That is one of the reasons why it's taken me so long to do it," he says. "I just didn't think that it was worth it." The collection, which comes following years of contemplation, was crafted using a variety of traceable and sustainable materials from the Infinited Fiber Company, a Finnish company that transforms pre- and post-consumer textiles into a material with a similar feel to cotton. The knitwear was crafted in collaboration with Sheep Inc, who bill themselves as the world's first carbon-negative brand.
Barely a year ago, launching his label was a lifelong pipe dream for Reuben, but persistence, proactiveness and the support of those around him has helped him reach this point. Hannah Sheridan, who he met on his art foundation and recently graduated from Kingston School of Art's Fashion BA is his head of design. And he credits his girlfriend Maisie Williams as a hugely influential part of this process too. "It's as much her brand as it is mine," he says. "We're starting from scratch, and that's a very lucky position to be in because we can make all the right decisions," Reuben says. It's a responsibility he's taking seriously, and a smart element that only elevates his accomplished, desirable debut.